MTB index page for all MTB content
NORBA US national series #1 - 2
Fontana, CA, USA, May 5-7, 2006
Schedule
NORBA comes to Fontana, CA
By Steve Medcroft
In '05 Adam won his first-ever NORBA at the season opener.
Photo ©: Mike Gladu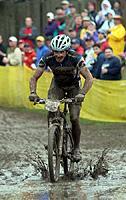 Although the NORBA series technically opened with a marathon near Phoenix, Arizona in March, the first venue to feature the full set of NORBA competitions in one weekend is Fontana, California. As well as the second race in the marathon series on Friday, leadership in cross country, short track, downhill, four-cross and Super D will all be for grabs in the California desert this weekend, May 5-7.
With a more compressed schedule (the NORBA season covers seven events in just over four months), and an injection of prize money from USA Cycling (see below), the series is once again becoming 'the' place for North American pros to strut their stuff. They're a tattered bunch though - Adam Craig (Giant) said he felt rusty at the beginning of the season and is late come into race form, Jeremy Horgan-Kobelski (Subaru/Gary Fisher), Shonny Vanlandingham (Luna Chix) and Geoff Kabush (Team Maxxis) all buckled to illness pre Sea Otter and Ryan Trebon spent six weeks of prime winter training time off his bike with mononucleosis.
The sickened A list are individually recovering but what will all that collective downtime do to the caliber of competition this weekend? Open the races up to riders normally deeper in the field? Expect veteran riders like Todd Wells (GT/Hyundai), Jeremiah Bishop and Sue Haywood (Both Trek/VW), Mary McConneloug and Mike Broderick (both Kenda/Seven and currently the two highest UCI-ranked Americans) to be battling for position with a strong field of up-and-comers (like Kiara Bisaro (Team R.A.C.E.), Heather Irmiger (Subaru/Gary Fisher) and Wendy Simms (Velo Bella).
Dry and fast courses are expected with temps in the seventies and lightly overcast skies. "The cross country course is very technical, there's some good singletrack, and while there aren't any particularly big climbs there's collectively a lot of elevation gain and loss," says Team Big Bear's Tom Spiegel. "Cross country riders will be challenged. No one will be disappointed," he adds, throwing down the gauntlet to potential naysayers of the Southridge Park venue where races have been held the past 12 years.
What you won't see in Fontana is the full contingent of gravity stars. A scheduling conflict with the World Cup in Vigo, Spain means the likes of Brian Lopes and Jill Kintner (both GT, both winners at the Sea Otter four-cross at the beginning of April) will be chasing World Cup glory instead of NORBA pride. It doesn't mean the gravity events will be dull; Yeti-sponsored Sea Otter downhill winner Jared Graves is expected to be there. As is 21-year old American national downhill champion Cody Warren. And in women's four-cross, Kintner's absence means that the hugely talented group of women-who-are-tired-of-second-place (think Melissa Buhl (KHS) and Tara Llanes (Giant)) will get a chance to shine.
UCI Points and prize money return to the NORBA series
Thanks to $33,000 in support from USA Cycling, the NORBA series once again carries the cache of UCI status. Fontana is classified UCI C2, (as a first-year event, it can't earn the same C1 status as NORBA races in West Dover, Vt., June 17-18, Park City, Utah, July 8-9, Brian Head, Utah, August 5-6 and Snowmass Village, Colo., August 12-13).
The classifications are especially important to the Americans at the events; points earned between Jan. 1, 2006 and Dec. 31, 2007 will count towards a nation's ranking and factor into the number of start positions a country receives at the 2008 Olympic Games.
USA Cycling is on a public mission to boost the number of spots its countrymen and women earn for Beijing but the prize money contributed by USA Cycling for the national series events will be specific to men's and women's cross country races because they are only recognized mountain bike disciplines at the Olympic Games.
It all starts with a marathon
As is becoming a tradition in NORBA series, racing for the weekend kicks off with a marathon. The close proximity of Friday's marathon to Saturday's cross-country race means that riders like six-time 24-hours of Adrenalin solo world champion and defending NORBA marathon champion Chris Eatough (Trek/VW), solo 24 hour national champion Cameron Chambers and Cyclingnews diarist Nat Ross (both Subaru/Gary Fisher) won't have to content with cross-country pros looking for a tune-up before the weekend.
Stay tuned to Cyclingnews May 6-7 for results, race reports and photos from Fontana.