MTB index page for all MTB content
Oceania mountain bike championships - CC
Rotorua, New Zealand, March 3-5, 2006
Main Page Results Overall standings Previous Day
Day 3 - March 5: Downhill
Fabien barrels to fastest time
Mighty quick Quin & Hill take titles
By Mikkeli Godfree in Rotorua
Fabien Barel
Photo ©: Mikkeli Godfree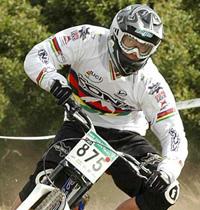 French fastman Fabien Barel (Kona-Les Gets) and New Zealand DH queen Vanessa Quin (Intense) have taken out wins in the Oceania Championships, each beating a quality field on the course which hosts the World Championships in August. Owing to Barel's nationality, the Oceania title in the men's event went to second placed Sam Hill (Iron Horse - SRAM - Rock Shox).
The showdown between Hill and Barel was much anticipated as it was Barel who beat Hill in their last meeting - at the World Championships in Livigno last year. Unfortunately for Hill the result of their last meeting was repeated here in Rotorua, leaving the Aussie far from impressed.
Barel on the other hand was very happy to have started '06 the way he finished '05 - winning. "I'm really happy, I worked really hard all week. It was a long way to come just to see the track. Now we've seen the design, the grip, the organisation and met all the people so I think it was really interesting. I'm really happy for sure with the win but everything else around it is more of a pleasure I would say."
Quin was equally happy with her win showing her intentions for the World Championships in her home country in '06. "I was quite nervous because I didn't know how things would work out. It's a great start for an important year - bit of a dress rehearsal at this venue and on this course. I'll just make small improvements from here."
How it unfolded
Elite Women
Clear and cold conditions greeted the riders on Sunday morning. With a light breeze, conditions looked perfect. Despite the conditions, not everything was running to plan with practice finishing half an hour early and many riders missing out on their race-day practice run/s.
The morning's seeding runs often mean little with many riders playing games - some going hell for leather to demoralise the competition and others coasting down so as not to be the last down the hill in the final.
Vanessa Quinn
Photo ©: Mikkeli Godfree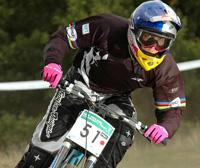 In any event, Vanessa Quin posted the fastest time in what looked to be a concerted effort ahead of Brit Tracy Moseley (Kona-Les Gets), Frenchwoman Sabrina Jonnier (Iron Horse), Junior World Champ Scarlett Hagen (GT NZ) and 17yo Aussie Tracey Hannah (Edge Cycles).
The final was a straight forward affair with Quin dominating the women's field with an authoritative 3:36.80, over three seconds ahead of Jonnier to take the race and the Oceania championship. The 2004 World Champion Quin seems to have her eye on the prize when the Worlds come to her home country this August. Beating a quality field including Moseley and Jonnier is a great start, "it was good to win against this field. I'm glad things worked out my way. It was a great start for Rotorua. I liked the course and it roughed up really well."
Jonnier wasn't over the moon with second, especially given that it is the same colour medal that she won in her last international event - the World Championships in Livigno. "My day didn't play out like I had planned in the beginning - I wish I had won but 2nd is not bad…it's ok. This is my second race of the year. I got my new bike in January so I'm just warming up! I like the track, it's not the best track for me. I like the technical bit and the fast bit at the top."
2005 World Cup Champion Moseley rode a great race to finish only 0.83 of a second behind Jonnier dropping one spot from qualifying. "Today pretty much went to plan. I'm pretty much in the middle of my winter so I didn't feel race fit today. The track was very pedally and that made it a very physical track so I'm really pleased considering that. I think today was a great test for the course. It has some great fast stuff, some slower technical stuff so the rider who wins will be a pretty good all-round rider which I think means it is a true World's track - I think it's going to be a great race in August."
5th place youngster Hannah was "pretty happy" with her race as she gains more and more experienced against the world's best. "The course was pretty hard. It was really pedally. Maybe if I was stronger I might have gone a bit better because of that. It was good though, I liked it. I was pretty nervous racing against those girls. It was interesting to see how well I could go against them. Now I know I need to train harder because they are really fast!"
New Zealand superstar John Kirkcaldie
Photo ©: Mikkeli Godfree

Elite Men
The men's field was jam packed with talent and none of the big names would disappoint, throwing down to give the very vocal crowd with something to yell about. Qualifying was straight forward with Mick Hannah (Cannondale) posting a 3m 12 ahead of World Champ Barel, racer-extraordinaire Hill, style-master Cedric Gracia (Commencal) and Kiwis Justin Leov (Yeti) and John Kirkcaldie (Maxxis Turner).
As the finals loomed, the clouds came over and with the clouds, a bit of wind to make the exposed section at the top of the course a little hairy. This didn't deter the spectators though who filled the most technical section of the course half-way down to support the racers.
After various interruptions, the elite men's final was under way as the wind started to whip. Justin Havukainen (Iron Horse) was in the hot-seat for a long time but knowing his time was well off the best qualifying time, he never got comfortable. Kiwi Kieran Bennet was the first surprise posting a time of 3:15.28 which would see him finish the day in 5th as best New Zealander - but the big boys were still yet to play.
NZ hopefuls Kirkcaldie and Leov didn't have the best of runs finishing 10th and 8th respectively before the final four hit the course. Fourth last was Gracia, clearly fast on his new rig. He made the crowd go wild in the mid-section boosting through the woods amid a sea of camera flashes. By the bottom he had recorded a 3:12.11 and was in the hot seat.
Sam Hill
Photo ©: Mikkeli Godfree
Hill was the next down and after some trouble up top had worked his way back to be two seconds up on Gracia by the mid-point. He was clearly on the hunt but not looking his usual effortless self. His time of 3:10.34 put him in front but was not likely to be enough for the race win.
World Champ Barel was down next and by the mid-point he was equal with Hill and looking hungry. Barel smoked the bottom part of the course with his rainbow stripes, making it down in 3:08.60. Would Hannah be able to take 4 seconds off his qualifying time to beat the World Champ? In a word: no. Hannah's mid-point time was 2 seconds down on that of Hill and Barel and the same as that of Gracia. By the finish line banner, Hannah had fallen off the pace just slightly to be post a 3:12.57, 0.46 of a second down on Gracia.
Barel had won ahead of the new Oceania Champ Hill with Gracia and Hannah 3rd an 4th.
Despite ending up fourth, Hannah was animated after the finish. "The day started pretty well with getting the best qualifying time. I missed practice this morning so to do that on my first run of the day was great. This run I just pinned it as hard as I could. I was a bit ragged in places but it was a pretty good run. It's the most fun I've ever had in a race. There's nice jumps up there at the top section and there's one speed section in the middle that I hit and it was deep powder - it was kind of out of control because I was going a bit quicker than I wanted to - I was lucky to save it. It's a sick course, especially with a few little additions that they will make for the World's - it's going to be really good."
Gracia was ecstatic with third, especially being so close to powerhouses Hill and Barel. "New bike, new race-track, first race of the year, first time on this new downhill bike, , first race for my new team, first time I've been back on the bike since the World Championships last year - everything is new - third is not bad at all! Watch out now - people need to be worried! I'm a little bit confused when I ride. I'm still learning where the limits are and what I can do. This bike kicks ass! Before I used to have a limit on my speed before, now I feel like I don't have any. Now I feel like I'm the limit, not the bike. Now I need to work to make it so I'm not holding the bike up. That's my job."
Fastest qualifier Mick Hannah
Photo ©: Mikkeli Godfree

Hill was not happy with second despite being taking the Oceania Championship with this result. It was not a great day for the Hill/Jonnier camp, both trying to make amends for second places at World Championships and both getting silver again on the track that will host the World's in '06. The salt in Hill's wound was that it was Barel again who beat him to the top spot. The run was not smooth for Hill, a victim of the gusty winds up the top f the course, "I brake-checked a jump after a gust of wind hit me before a jump up top. As a result I came up short and lost a lot of speed. It seemed like the ['05] World's all over again with the gusty winds up the top."
Barel was happy to notch up a win on this course, especially given his World Championship ambitions. Barel has won the last two World Championships and wants to make it three. "Winning always gives you confidence, especially one at the start of the season - I usually find early races hard. All those big jumps a the top, I really needed to build up my confidence with them. The last two years all I have really aimed to win the World Championship and we are going to keep on going like that - if we win one race in the whole year and it's that one, the whole season is good. I don't know if I'll aim to win one race and win it seven times like Lance Armstrong as you say but I will do my best. I really like these kinds of challenges but my only rule when I do races like this is to do my best - that's what I did today."
Photography
For a thumbnail gallery of these images, click here
Images by Mikkeli Godfree/Cyclingnews.com
Results

Men
 
1 Fabien Barel (France)              3.08.60
2 Sam Hill (Australia)               3.10.34
3 Cedric Gracia (France)             3.12.11
4 Michael Hannah (Australia)         3.12.57
5 Kieran Bennett (New Zealand)       3.15.28
6 Sam Blenkinsop (New Zealand)       3.15.76
7 Glenn Haden (New Zealand)          3.15.93
8 Justin Leov (Christchurch)         3.16.76
9 Amiel Cavalier (Australia)         3.18.43
10 John Kirkcaldie (New Zealand)     3.19.00
 
Women
 
1 Vanessa Quin (New Zealand)         3.36.80
2 Sabrina Jonnier (France)           3.40.12
3 Tracy Moseley (United)             3.40.95
4 Scarlett Hagen (New Zealand)       3.43.00
5 Tracey Hannah (Australia)          3.47.99
 
Junior
 
1 Cameron Cole (New Zealand)         3.12.49
2 Samuel Blenkinsop (New Zealand)    3.14.17
3 Ben Bell (Australia)               3.17.51
4 Michael Davis (New Zealand)        3.22.62
5 Matthew Scoles (New Zealand)       3.28.29
6 Alex Swann (Australia)             3.28.55
7 Luke Gowen (Australia)             3.29.16
8 James Maltman (Australia)          3.30.17
9 Edward Masters (New Zealand)       3.33.98
10 Michael Langford (New Zealand)    3.34.57