MTB index page for all MTB content
Oceania mountain bike championships - CC
Rotorua, New Zealand, March 3-5, 2006
Main Page Results Overall standings Previous Day Next Day
Day 2 - March 4: Cross-country
Leuchs & Joseph take championships for host country
By Mikkeli Godfree in Rotorua
Leuchs in hot pursuit
Photo ©: Mikkeli Godfree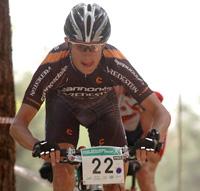 Kashi Leuchs (Cannondale) and Rosara Joseph (Giant) made it a clean sweep for New Zealand today in the Oceania Championships taking convincing wins over their fellow Oceania rivals. It was Geoff Kabush (Maxxis-Turner) however who stole the show as the Canadian - not eligible for the Oceania title obviously owing to his north American residence - stomped all over the brutal course to show he is the man to watch for the Commonwealth Games on the Lysterfield course in two weeks.
"Today was great," said Kabush, "these guys have been doing a lot of races and this is my first one. There are quite a few guys not here like the Brits so it will be an interesting race at Lysterfield."
NZ hero Leuchs echoed Canadian's words saying, "Kabush's result here today is a serious indication that he is firing already. I wasn't sure how he was going to go because it is his first race of the season. It's a bit of a worry but it all comes down to the day and I'll be out there at Lysterfield giving it my best and I'll see how I go."
As with the 4X on Friday, the XC course had to prove itself with the racers as a World-class course given the impending World Championships in Rotorua in August. Leuchs was impressed by how good the course was to race on saying, "the course proved to be really tough. There were many leader swaps and that means it is an exciting going to be exciting to watch. It's definitely hard enough. The climb was pretty brutal and that's where the selection was often made."
Kabush's appraisal wasn't so glowing, "it is quite a straight forward course except for the last five minutes. It's not exactly suited to my strengths - it wasn't too bad today…and any course I can run my Maxlight 310s…well, it's not too technically challenging. And technical stuff is what suits me. I expect this sort of course in Europe but I was hoping for it to be a little bit more technical here. The weather might make it a lot more challenging though and we'll see whether that's the case later in the year."
Rosara Joseph
Photo ©: Mikkeli Godfree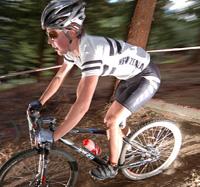 The course was fairly straight forward with a start loop in the lower paddock which led up to a 10-13min climb straight up to the top of the course where it traversed over to the downhill course before twisting and turning through some fantastic off-camber sections in the pine trees near the finish.
While the track hadn't been open for the locals to practice the course, there was a definite home-track advantage for both Leuchs and Joseph - one they will hope to capitalise on at the World's. Joseph said of the spectators, "The support out there was fantastic. It was on our side and it definitely helped us ride the way we did today."
In the U23 categories, Aussie Shaun Lewis (Trek) beat local fast-man Clinton Avery (Specialized) whilst Aussie Lisa Mathison won the women's category despite coming in behind non-Oceania Nathalie Schneitter.
How it unfolded
Elite Women
The women's race was a straight forward one with Rosara Joseph tearing the race apart from lap 1. Joseph led straight off the start line absolutely punishing the rest of the Oceania field. Joseph was never challenged as she put about thirty seconds into her nearest rival every lap for four laps. It was in impressive display by the road-rider turned mountain biker and Joseph never looked to be in any difficulty, even down the tricky off-camber descents.
Myra Moller (Cook Islands)
Photo ©: Mikkeli Godfree

By the finish Joseph had amassed a gap of over two minutes on hear nearest rival, fellow New Zealander Annika Smail. Smail's race was also relatively trouble free save for an intense first few laps where she was battling with Canadian Kiara Bisaro for second spot. Smail was able to consistently creep away from the Canadian though and come home over a minute ahead in the end.
Robyn Wong rode a strong race to finish fourth, making three New Zealanders in the first four whilst the first Aussie home, Tory Thomas had a far from easy ride as she battled with another New Zealander Sonia Foote for the last place on the podium. The two swapped positions often throughout the race but it was Thomas who got the better of the local, eventually sneaking in 11 seconds ahead to take the last spot on the podium.
Joseph was very happy with her win saying, "It was a great relief to win. I wasn't feeling super-confident coming into this race. I was in Australia last week doing a road tour and the World Cup. I had a huge stack in the World Cup - I was really lucky, coming out of it only a bit stiff and sore…I wasn't feeling super-smooth on the MTB and wasn't feeling 100% but I pushed myself hard and enjoyed myself."
Elite Men
Kabush taking control
Photo ©: Mikkeli Godfree

The Elite Men's race was super exciting with many lead-changes, aggressive tactics, foxing, fading and fighting. The start was furious with Chris Jongewaard (Avanti-Rock Shox) making his signature move straight off the line hitting the course flat out. It was an impressive start by the Aussie which must have had many wondering whether he could hold it on and hoping that he couldn't.
By lap's end Jongewaard had only managed to skip away from a serious-looking Kashi Leuchs (Cannondale) by a handful of seconds with Geoff Kabush (Maxxis - Turner) just around the next corner - the Canadian being hawkishly shadowed by Jongewaard's teammate Sid Taberlay (Avanti-SRAM-Rock Shoz). Shaun Lewis (Trek) was working hard with Daniel McConnell (Team South Australia) to gain an advantage in the U23 category only twenty seconds behind the big boys.
On lap two it was Taberlay's turn to crank up the screws, the Tasmanian hit out hard, putting thirty seconds into the chasers by the start of lap 3. The chasers were still being led by Leuchs but this time it was Jongewaard's turn to sit on the kiwi as he watched his teammate try to put his hands around the neck of the race. Kabush was still hovering ten seconds behind these chasing two whilst the U23 pair had dropped back to be 50s behind Kabush.
By the Start of lap 4 Taberlay's lead was still thirty seconds, however Kabush had moved up to join Jongewaard while it became Leuchs' turn to hover behind in fourth twenty seconds back. The U23 lads consistently slipped back and their deficit was out to over a minute.
Having enough of the shenanigans and game-playing by the Aussies, Kabush stepped up and laid his cards on the table for the race win. Taberlay fought hard to stay with the flying Kabush, holding him at about five seconds before the Canadian started to ramp it up and pull away from the fading Aussie. Leuchs was perched in third only fifteen seconds back but was not quick enough to get on terms with Kabush as the Canadian flew the coup. Jongewaard meanwhile was paying for his early efforts as he slipped to nearly one minute behind Kabush.
Jongewaard
Photo ©: Mikkeli Godfree

In the U23 race Lewis had left a fading McConnell and put his efforts into staying away from a late-charging New Zealander in the form of Clinton Avery (Specialized). In the end Lewis was able to do this, finishing just under minute in front of the kiwi.
On lap 5 Kabush cemented his lead, riding that lap 45sec faster than anyone else as the gaps started to blow open. On lap 6 Kabush kept it on to increase his lead over everyone to cruise in just over the two hour mark, 1m 31s ahead of the new Oceania Champion Leuchs.
"I haven't raced a lot with Chris but I know he goes out hard. Sid really poured it on in the second lap and he opened up a great lead by the top. I haven't raced with these guys for a while so I didn't know if he was going to have the strength to keep going or not but lucky for me he came back. My pacing is my strength so I was happy that I let him go and was able to catch him before the end," said Kabush.
Of his first race of the season, Kabush noted, "I have a lot of confidence in my preparation and I usually come out of it fairly strong. I felt really good in training coming into this but you never know how you will race until you actually do one. And I also know that the Commonwealth Games course in Lysterfield is a lot different to this."
With regard to the World Championships later this year Kabush said, "It's great that we were able to come down here and figure out where the good coffee shops are. We are going to hang out here for another week so it will feel like home when we come back."
Second place Leuchs was glad that this result yielded the Oceania Championship but would have preferred to have been top dog going into the Commonwealth Games in two weeks. However, Leuchs was happy with his race, especially given the brutal pace that Jongewaard and Taberlay set at the start of the race.
U23 winner
Photo ©: Mikkeli Godfree

"I was really impressed by how well those guys worked with each other - they can really turn it on when they need to. They were playing the game and were playing it well but I guess they didn't judge the difficulty of the terrain. They definitely had me worried, especially when Sid [Taberlay] took off - he went off really hard. If he could have kept up that pace it would have been all over. I backed off and rode my own race then and it paid off. They really tried to attack us here today and I think they blew themselves up in the process…too bad!"
Taberlay didn't have a whole lot to say about the race, although in his usual style he spoke his mind, "I was feeling pretty good but the other guys were just a bit better than me today. I'll have to see if I can find some form in the next few weeks before the [Commonwealth] Games. As for the course, it was like any Euro course, straight up a hill with a lot of mowed grass sections and some bits of mountain biking. It was pretty insane having to race at the same time as the women and very dangerous. We had to pass the them as early as our third lap. I hope the organisers look at their strategy and look out for the riders' interest rather than it being organised for logistical convenience."
U23 Oceania Champion Lewis was very happy with the win saying, "Clinton [Avery] is a very strong competitor - I saw him coming up to me on the back climbs. I started to panic and I made a few mistakes but was able to hold him off until the finish. I raced against him in juniors as well. He beat me in '04 when we raced but he has had some bad luck since then with mechanicals and flats. It was good to beat him fair and square today."
Will the real Geoff Kabush
Photo ©: Mikkeli Godfree

The Championships conclude on Sunday with the downhill.
Photography
For a thumbnail gallery of these images, click here
Images by Mikkeli Godfree/Cyclingnews.com
Results


Elite Men

1 Geoff Kabush (Canada) – Not eligible for Oceania medal
2 Kashi Leuchs (New Zealand) – Oceania Champion
3 Sid Taberlay (Australia) – 2nd Oceania Championships
4 Christopher Jongewaard (Australia) – 3rd Oceania Championships

Elite Women

1 Rosara Joseph (New Zealand) – Oceania Champion
2 Annika Smail (New Zealand) – 2nd Oceania Championships
3 Kiara Bisaro (Canada)
4 Robyn Wong (New Zealand) – 3rd Oceania Championships

Under 23 Men

1 Shaun Lewis (Australia)          2.04.32
2 Clinton Avery (New Zealand)         0.51
3 Daniel McConnell (Australia)        1.54

Under 23 Women

1 Lisa Mathison (Australia)        1.53.06
2 Myra Moller (Cook Islands)          2.12
3 Fiona Lindsay (New Zealand)         2.51

Under 19 Men

1 Daniel Johnston (Australia)
2 Daniel Braunstein (Australia)
3 Duncan O'Regan (New Zealand)

Under 19 Women

1 Monique Avery (New Zealand)
2 Katie O'Neil (New Zealand)
3 Hayley Robertson (New Zealand)

New Zealand Community Trust National Series

Elite Men

1 Clinton Avery (Rotorua)
2 Marcus Roy (Te Anau)
3 Michael Northcott (Taupo)

Elite Women

1 Annika Smail (Rotorua)
2 Robyn Wong (Wellington)
3 Sonia Foot (Rotorua)