MTB index page for all MTB content
NORBA Finals, Snowmass, Colorado - NE
USA, August 10-13, 2006
Schedule
Preview
NZ Worlds team member Liam Panozzo in '05 Snowmass NORBA DH action
Photo ©: Robbie George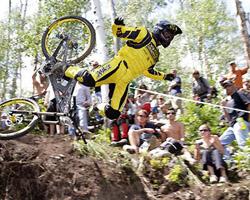 The 2006 National Mountain Bike Series culminates a year of big ups and screaming descents August 10-13 in the beautiful alpine mecca of Snowmass Village, Colorado. Coming off a weekend of similar high-altitude racing in Brian Head, Utah, the world's top mountain bike racers will again compete in Cross-Country, Short Track, Downhill, Super D, and Dual Slalom with Mountain Cross replacing the Marathon event to round out the six competitive disciplines.
"Snowmass Village welcomes the National Mountain Bike Series, participants, fans, and spectators for the third year. Between the village staff and the crews building the courses, it's been a real team effort to support and enhance this world-class event," says Susan Hamley of Snowmass Village."
Colorado-based husband and wife pair (and Subaru/Gary Fisher teammates) Jeremy Horgan-Kobelski and Heather Irmiger are expected to be the favorites for the top podium spots in the men's and women's Cross-country races on the 12-mile loop course that advertises 2300 feet of climbing -- per lap."
Horgan-Kobelski (current men's series point leader) and Irmiger (currently with the second most points among women) took top XC honors in the thin air of Brian Head, Utah.
"The Fox Racing Shox Banzai DH is full-throttle wide-open rough ski run madness dropping over 2500 feet in 2.6 miles of Rocky Mountain nastiness," reads the Snowmass National Web site regarding the gnarly downhill course. The DH description also touts that another 500 feet of vertical have been added along with some new features "just for fun".
'Fast and furious' will be the theme for most of the events, not the least of which will be the conclusion to the always-exciting Short Track series in which riders attack and counter attack around a one-mile course at a lung-busting pace right in the middle of the Snowmass venue.
Check back on Cyclingnew.com for full coverage of the NORBA Finals at Snowmass Village.