MTB index page for all MTB content
World Cup XC # 2 - B
Madrid, Spain, May 8, 2005
Main Page Results Previous Race
Race 2 - Men
Olympic Champ does the double
By Rob Jones in Madrid
Julien Absalon (Bianchi Agos)
Photo ©: Rob Jones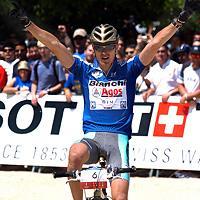 Local favourite Jose Hermida ((Multivan Merida) said it best, when he stated: "It was a war out there, just without the countries involved."
The race started fast, and got faster, with the lead group gradually getting whittled down to five. Constant attacks and counter attacks made it appear to be more of a road race than a mountain bike race.
Marco Bui (Full Dynamix) started the action with an attack inside the first kilometre. Absalon, Hermida, Roel Paulissen (Giant), Christoph Sauser (Siemens Cannondale), Jean-Christopher Peraud (Lapierre International), Fred Kessiakoff (Siemens Cannondale), Miguel Martinez (Commencal Oxbow) and Lado Fumic (Fumic Bros. Racing) were all part of the lead group initially, but some couldn't hang on as the pace increased and the attacks intensified.
By the final two laps it was down to five riders - Absalon, Hermida, Sauser, Paulissen and Bui. Sauser was thinking "if we go into the last lap with five guys it is going to be f***ing hard, and it was."
The attacks kept coming, but then Hermida made a slight mistake in a loose gravelly corner, according to Sauser. "His wheel slipped, and he had to jump off his bike. Julien passed him, and I did as well, but Julien was going flat out and I could not stay with him."
Roel Paulissen (Giant)
Photo ©: Rob Jones

"Jose came back to me, and we chased, but Jose is so explosive in the corners that he got away again. This isn't my course - I need longer climbs - and I have been doing marathon races, so I have lots of power but suffer sprinting out of the corners."
Paulissen hung on for fourth, and Bui, probably the most aggressive rider in the race, took fifth.
Absalon is beginning to look unbeatable, having now won on a technical, muddy course in Spa and a dry fast one in Madrid. "It is like Athens here, with the heat and dry air." he commented afterwards, looking much fresher than many of his rivals, who were wilting. However, he does not feel that the course, in its present form, is suitable for the Olympics.
José Hermida (Multivan Merida)
Photo ©: Rob Jones

"For a World Cup it is okay, the overall winner needs to be strong on all tracks, but this is too tactical for an Olympic course, it is too much like the road. It needs more hard climbs, longer climbs and more technical pieces. But, the amount of spectators was very impressive, we need to see more of that in the World Cup."
The last word goes to Jose Hermida, who was soaking up the support of the partisan crowd. "Julien and I, we are good friends but when we are racing it is different. He has me two to nothing now, but I will get him back."
Photography
For a thumbnail gallery of these images, click here
Images by Rob Jones/www.canadiancyclist.com
Results - 51.73 km
1 Julien Absalon (Fra) Bianchi Agos                    2.06.11 (24.6 km/h)
2 JosÚ Hermida Ramos (Spa) Multivan Merida Biking Team    0.15
3 Christoph Sauser (Swi) Siemens Cannondale Mtb           0.25
4 Roel Paulissen (Bel) Giant-Racing-Team                  0.56
5 Marco Bui (Ita)                                         1.09
6 Lado Fumic (Ger) Fumic Racing Team                      1.20
7 Bart Brentjens (Ned) Giant-Racing-Team                  1.34
8 Liam Killeen (GBr) Specialized Factory Racing           2.49
9 JÚrome Chevallier (Fra)                                 2.59
10 Marti Gispert Labarta (Spa) Maxxis-Msc                 3.01
11 Kashi Leuchs (NZl) Bianchi Agos                        3.14
12 Fredrik Kessiakoff (Swe) Siemens Cannondale Mtb        3.21
13 Martin Gujan (Swi) Athleticum-Mtb-Team                 3.25
14 Florian Vogel (Swi)                                    3.26
15 Christoph Soukup (Aut)                                 3.55
16 Carlos Coloma Nicolas (Spa) K2-Zero Rh+                4.05
17 Oli Beckingsale (GBr)                                  4.12
18 Adam Craig (USA)                                       4.23
19 Marc Trayter Alemany (Spa)                             4.41
20 Jochen Kńss (Ger) Giant-Racing-Team                    5.18
21 Manuel Fumic (Ger)                                     5.31
22 Ruben Ruzafa Cueto (Spa)                               6.02
23 Jean-Christophe Peraud (Fra) Lapierre International    6.08
24 Sid Taberley (Aus) Specialized Factory Racing          6.12
25 Miguel Martinez (Fra) Commencal Oxbow                  6.22
26 Ralph Naf (Swi) Multivan Merida Biking Team            6.42
27 Erwin Bakker (Ned) Heijdens-Ten Tusscher               6.59
28 Ivan Alvarez Gutierrez (Spa)                           7.16
29 Milan Spesny (Cze) Multivan Merida Biking Team         7.38
30 Michael Weiss (Aut)                                    7.44
31 Thomas Dietsch (Fra) Bianchi Agos                      7.50
32 Peter Riis Andersen (Den)                              8.02
33 Christof Bischof (Swi)                                 8.09
34 Johannes SickmŘller (Ger)                              8.17
35 Nino Schurter (Swi)                                    8.35
36 Andreas Kugler (Swi) Athleticum-Mtb-Team               8.44
37 Thijs Al (Ned) Giant-Racing-Team                       9.00
38 Jakob Fuglsang (Den) Heijdens-Ten Tusscher             9.06
39 Wolfram Kurschat (Ger)                                 9.23
40 Roman Rametsteiner (Aut)                               9.29
41 Miha Solar (Slo)                                       9.32
42 Thomas Frischknecht (Swi) SwissPower                   9.38
43 Radim Korinek (Cze) Ceska Sporitelna Mtb               9.40
44 Ludovic Dubau (Fra) Devinci-Pro Race                   9.45
45 Karl Platt (Ger)                                       9.51
46 Silvio Bundi (Swi) Athleticum-Mtb-Team                 9.57
47 Nicolas Filippi (Fra) Lapierre International          10.00
48 Yury Trofimov (Rus)                                   10.09
49 Tim B÷hme (Ger)                                       10.14
50 Alejandro Diaz De La Pena Lo (Spa) Maxxis-Msc         10.38
51 Moritz Milatz (Ger) Multivan Merida Biking                 
52 Bas Peters (Ned)                                      10.48
53 Martino Fruet (Ita)                                   10.51
54 Klaus Nielsen (Den)                                   10.56
55 Eloi Gispert (Spa) Massi-Abarth                       11.06
56 Michael Broderick (USA)                               11.22
57 Hannes Metzler (Aut)                                  11.30
58 StÚphane Tempier (Fra)                                11.32
59 Haakon Austad (Nor)                                   11.50
60 Stefan Sahm (Ger) Giant-Racing-Team                   11.57
61 Jose Manuel Garcia Rodriguez (Spa) Maxxis-Msc         12.03
62 Simon Richardson (GBr)                                12.11
63 Friedemann Schmude (Ger)                              12.24
64 Martin Kraler (Aut) Giant-Racing-Team                 12.38
65 Emil Lindgren (Swe) Bianchi Agos                      12.43
66 Guillermo Bogas Oliva (Spa)                           13.07
67 Jiri Friedl (Cze) Multivan Merida Biking              13.13
68 Inaki Lejarreta Errasti (Spa) Orbea                   13.16
69 Pierre Lebreton (Fra) Devinci-Pro Race                13.36
70 Raffael Schmid (Swi) Fischer-Bmc                      13.44
71 Thorsten Marx (Ger)                                   13.51
72 SÚbastien Hansen (Fra)                                13.56
73 Antonio Ortiz Barranco (Spa)                          13.58
74 Maxim Gogolev (Rus)                                   14.23
75 Andras Melts (Hun)                                    14.57
76 Franšois Bailly Maitre (Fra)                          15.14
77 Denis Vorontsov (Rus)                                 15.16
78 James Ouchterlony (GBr)                               15.34
79 David Couto Cerqueiro (Spa)                           15.54
80 Carl Friberg (Swe) Bikin'cyprus Int.                  16.45
81 Zak Toogood (GBr)                                     17.06
82 Maarten Tjallingii (Ned) Heijdens-Ten Tusscher        17.34
83 Emil Jamnicz (Cze) Max Cursor                         17.45
84 Kryspin Pyrgies (Pol) Lotto                           18.16
85 Mathijs Wagenaar (Ned)                                20.02
 
1 lap behind
 
86 Jody Crawford (GBr)                                        
87 Till Marx (Swi)                                            
88 Rick Evers (Ned)                                           
89 Lukas Vlach (Cze) Multivan Merida Biking Team              
90 Marc G÷lz (Ger)                                            
91 Fco. Javier Macias Bona˝o (Spa)                            
92 Eric Diaz Martin (Spa)                                     
93 Jose Carlos Macias Bona˝o (Spa)                            
94 Marco Lourenšo (Por)                                       
95 Jose Antonio Segovia Botella (Spa)                         
96 SÚbastien Delfosse (Bel) Massi-Abarth                      
97 Damien Bynens (Bel)                                        
98 Jean-Eude Demaret (Fra) Devinci-Pro Race                   
99 Onno Houwer (Ned)                                          
 
2 laps behind
 
100 Dario Steinacher (Ita)                                    
101 Pierre Geoffrey Plantet (Fra)                             
102 Thomas Roccaro (Swi) Univega Pro Cycling Team             
103 Benjamin Giraux (Fra) Lapierre International              
104 Ludovic Mottet (Bel)                                      
105 Mirko Pirazzoli (Ita)                                     
106 Hubert Pollinger (Ita)                                    
107 Jordi Garrido Oca˝a (Spa)                                 
108 JosÚ Silva (Por)                                          
109 Daniel Marques (Por)                                      
110 Jose Luis Arce Ballesteros (Spa)                          
111 David Escolar Ballestero (Spa)                            
112 Miguel Angel Calvente Alonso (Spa)                        
 
3 laps behind
 
113 Dror Pekatz (Isr)                                         
114 Nuno Oliveira (Por)                                       
115 Jordi Carnicer (Spa) Massi-Abarth                         
116 Davide Marques (Por)                                      
117 Lukas Hanus (Svk)                                         
118 Oscar Vazquez Crespo (Spa)                                
119 Carlos Tenorio Hernandez (Spa)                            
120 Joao Marinho (Por)                                        
121 Sebastian Blanco (Arg)                                    
122 David Matos (Por)                                         
123 Rui Narigueta (Por)                                       
124 Eloy Suarez Huerta (Spa)                                  
 
5 laps behind
 
125 Felix Javier Gomez Diezma (Spa) 
                          
DNF CÚdric Ravanel (Fra) Orbea                                
DNF Marek Galinski (Pol) Orbea                                
DNF Balz Weber (Swi) Univega Pro Cycling Team                 
DNF Andreas Dilger (Ger)                                      
DNF Max Plaxton (Can) Maxxis-Msc                              
DNF Gion Manetsch (Swi) Athleticum-Mtb-Team                   
DNF Sergio Mantecon Gutierrez (Spa)                           
DNF Jelmer Pietersma (Ned) Merlan Duo-Be One                  
DNF Fabio Bernasconi (Swi) Athleticum-Mtb-Team                
DNF Oriol Morata Abril (Spa)                                  
DNF Philip Spencer (GBr)                                      
DNF Flavio Derungs (Swi) Univega Pro Cycling Team             
DNF Tomas Vokrouhlik (Cze) Ceska Sporitelna Mtb               
DNF Juan Pedro Trujillo (Spa) Massi-Abarth                    
DNF Xavier Carnicer (Spa) Massi-Abarth                        
DNF Jordi Riera Valls (Spa) Maxxis-Msc                        
DNF Joan Llordella Prat (Spa)                                 
DNF Gonšalo Pereira (Por)                                     
DNF Fabien Manfe (Fra)                                        
DNF David Angulo Saborit (Spa)                                
DNF Victor Lobo Ramirez (Spa)                                 
DNF Joao Martins (Por)                                        
DNF Miguel Angel Galan Garcia (Spa)                           
DNF Alejandro Carrion Herranz (Spa)                           
DNF William Bjergfelt (GBr)                                   
DNF Bronson Duenas (USA)                                      
DNF Stephan Augscheller (Ita)                                 
DNF AndrÚ Fernandes (Por)                                     
DNF Carlos Hernandez Garcia (Spa)                             
DNF Juan JosÚ Chinchilla Ramirez (Spa)                        
DNF Timothy Madewick (NZl)                                    
DNF David Alfonso Casado (Spa)                                
DNF Roberto Villa Garcia (Spa)                                
DNF Daniel Ortiz Martinez (Spa)                               
DNF Philip Tavell (Swe)                                       
DNF Diego Andres Escudero Escriba (Spa)                       
DNF Javier Heras Salichs (Spa)                                
DNS Robert Vrecer (Slo)                                       
DNS Pedro MelitŃo (Por)                                       
 
World Cup Standings after round 2

1 Julien Absalon (Fra) Bianchi Agos                        500 pts
2 Roel Paulissen (Bel) Giant-Racing-Team                   350
3 Christoph Sauser (Swi) Siemens Cannondale Mtb Ra         320
4 Jose Hermida Ramos (Spa) Multivan Merida Biking Te       290
5 Jean-Christophe Peraud (Fra) Lapierre International      223
6 Marco Bui (Ita)                                          185
7 Lado Fumic (Ger) Fumic Brothers Racing                   170
8 Thomas Frischknecht (Swi) Swiss Power                    164
9 Fredrik Kessiakoff (Swe) Siemens Cannondale Mtb Ra       162
10 Liam Killeen (GBr) Specialized Factory Racin            145
11 Jerome Chevalier (Fra)                                  136
12 Miguel Martinez (Fra) Commencal Oxbow                   131
13 Oliver Beckingsale (GBr)                                126
14 Marti Gispert Labarta (Spa) Maxxis-Msc                  125
15 Jochen Kass (Ger) Giant-Racing-Team                     118
16 Sid Taberley (Aus) Specialized Factory Racin            113
17 Erwin Bakker (Ned) Heijdens-Ten Tusscher                112
18 Kashi Leuchs (NZl) Bianchi Agos                         107
19 Carlos Coloma Nicolas (Spa) K2-Zero Rh+                 105
19 Martin Gujan (Swi) Athleticum-Mtb-Team                  105
21 Manuel Fumic (Ger) Fumic Brothers Racing                104
22 Ralph Naf (Swi) Multivan Merida Biking Te               101
23 Michael Weiss (Aut)                                      99
24 Marc Trayter Alemany (Spa)                               94
25 Adam Craig (USA)                                         91
26 Bart Brentjens (Ned) Giant-Racing-Team                   90
27 Jakob Fuglsang (Den) Heijdens-Ten Tusscher               90
28 Nino Schurter (Swi)                                      89
29 Christof Bischof (Swi)                                   87
30 Silvio Bundi (Swi) Athleticum-Mtb-Team                   87
31 Sergiy Rysenko (Ukr)                                     85
32 Yury Trofimov (Rus)                                      82
33 Milan Spesny (Cze) Multivan Merida Biking Te             78
34 Wolfram Kurschat (Ger)                                   78
35 Thijs Al (Ned) Giant-Racing-Team                         74
36 Moritz Milatz (Ger) Multivan Merida Biking Te            72
37 Marek Galinski (Pol) Orbea                               71
38 Thomas Dietsch (Fra) Bianchi Agos                        65
39 Florian Vogel (Swi)                                      62
40 Christoph Soukup (Aut)                                   61
41 Balz Weber (Swi) Univega Pro Cycling Team                59
42 Johannes Sickmueller (Ger)                               58
43 Peter Pouly (Fra)                                        58
44 Ruben Ruzafa Cueto (Spa)                                 54
45 Michael Broderick (USA)                                  52
46 Haakon Austad (Nor)                                      51
47 Bas Peters (Ned)                                         49
48 Ivan Alvarez Guttierrez (Spa)                            48
49 Ludovic Dubau (Fra) Devinci-Pro Race                     47
50 Mirko Pirazzoli (Ita)                                    46
51 Peter Andersen (Den)                                     44
52 Andreas Dilger (Ger)                                     43
53 Andreas Kugler (Swi) Athleticum-Mtb-Team                 40
54 Gion Manetsch (Swi) Athleticum-Mtb-Team                  40
55 Jader Zoli (Ita)                                         39
56 Karl Platt (Ger)                                         38
57 Hannes Metzler (Aut)                                     38
58 Igor Bogdan (Ukr)                                        38
59 Inaki Lejarreta Errasti (Spa) Orbea                      37
60 Roman Rametsteiner (Aut)                                 36
61 Miha Solar (Slo)                                         35
62 Radim Korinek (Cze) Ceska Sporitelna Mtb                 33
63 Stephane Tempier (Fra)                                   31
64 Frederic Frech (Fra)                                     30
65 Nicolas Filippi (Fra) Lapierre International             29
66 Oleksandr Yakymenko (Ukr)                                28
67 Tim Boehme (Ger)                                         27
68 Johann Pallhuber (Ita)                                   27
69 Alejandro Diaz De La Pena Lo (Spa) Maxxis-Msc            26
70 Sergio Mantecon Guttierre (Spa)                          26
71 JŘrg Graf (Swi)                                          24
72 Martino Fruet (Ita)                                      23
73 Jelmer Pietersma (Ned) Merlan Duo-Be One                 23
74 Klaus Nielsen (Den)                                      22
75 Benjami Rudiger (Ger)                                    22
76 Eloi Gispert (Spa) Massi-Abarth                          21
77 Toni Longo (Ita)                                         21
78 Till Marx (Swi)                                          18
79 Filip Eberl (Cze)                                        17
80 Stefan Sahm (Ger) Giant-Racing-Team                      16
81 Emil Lindgren (Swe) Bianchi Agos                         16
82 Jose Garcia Rodriguez (Spa) Maxxis-Msc                   15
83 Simon Richardson (GBr)                                   14
84 Lars Nordhaug (Nor)                                      14
85 Friedemann Schmude (Ger)                                 13
86 Martin Kraler (Aut) Giant-Racing-Team                    12
87 Maarten Tjallingii (Ned) Heijdens-Ten Tusscher           12
88 Leonardo Zanotti (Ita)                                   11
89 Guillermo Bogas Oliva (Spa)                              10
90 Fabio Bernasconi (Swi) Athleticum-Mtb-Team               10
91 Jiri Friedl (Cze) Multivan Merida Biking Te               9
92 Kryspin Pyrgies (Pol) Lotto                               9
93 Oriol Morata Abril (Spa)                                  8
94 Pierre Lebreton (Fra) Devinci-Pro Race                    7
95 Raffael Schmid (Swi) Fischer-Bmc                          6
96 Philip Spencer (GBr)                                      6
97 Torsten Marx (Ger)                                        5
98 Sebastien Hansen (Fra)                                    4
99 Mike Felderer (Ita)                                       4
100 Antonio Ortiz Barranco (Spa)                             3
101 Jiri Novak (Cze)                                         3
102 Maxim Gogolev (Rus)                                      2
103 Flavio Derungs (Swi) Univega Pro Cycling Team            2
104 Andras Melts (Hun)                                       1
105 Fredrik Modin (Swe)                                      1