MTB index page for all MTB content
World Cup XC # 2 - B
Madrid, Spain, May 8, 2005
Race 1 - Women
Dahle back on top
By Rob Jones in Madrid
Gunn-Rita Dahle (Multivan Merida)
Photo ©: Rob Jones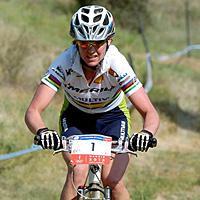 As expected, Madrid was hot, dusty and fast for the second round of the Mountain Bike Cross Country World Cup. World and Olympic champions Gunn-Rita Dahle (Multivan Merida) and Julien Absalon (Bianchi Agos) won their respective races, with Dahle taking the leader's jersey from Marie-Helene Premont (Rocky Mountain-Business Objects), while Absalon took his second straight win, to solidify his lead in the men's standings.
Premont, who, two weeks ago in Spa, Belgium had become the first woman to beat Dahle since 2002, knew that Madrid was not suited to her. "This is a fast road type course, and I prefer a more technical course; it is my least favourite course of the series here. I asked Gunn-Rita on the line how she liked the course, and she said she liked it, so I thought 'Oh no!' "
The course was indeed to Dahle's liking. After letting Premont lead through much of the first lap of the five lap race, the Norwegian went to the front on the steepest climb and powered away. For the next couple of laps the gap grew steadily, to over a minute by the start of the last lap. Then, Dahle backed off a bit to be more careful, and Premont was able to close to 42 seconds by the finish line.
Dahle said that the "biggest difference was my legs - Two weeks ago I had no feeling in my legs, but today I could feel that my legs were good. This is a hard, hard course, very fast, and no room to make any errors. But this will not be the end (of the battle with Premont), I think I will have to battle Marie-Helene all season."
Alison Sydor (Rocky Mountain Business Objects)
Photo ©: Rob Jones

Behind the two leaders it was a race of attrition. Premont's team mate Alison Sydor initially held third, but is still recovering from having been ill, and having raced the Marathon World Cup in Italy the weekend before. She was overtaken first by Dahle's team mate Irina Kalentieva and Spanish favourite Marga Fullana (K2-Zero RH+). Sabine Spitz (Specialized) bridged up to the duo, and then Kalentieva and Spitz got away from Fullana in the last lap when the Spaniard crashed. Spitz made sure she went into the final section first, and Kalentieva couldn't come by her at the line.
Photography
For a thumbnail gallery of these images, click here
Images by Rob Jones/www.canadiancyclist.com
Results

1 Gunn-Rita Dahle (Nor) Multivan Merida Biking Team          1.42.49
2 Marie-Helene Premont (Can) Rocky Mountain Business Objects    0.42
3 Sabine Spitz (Ger) Specialized Factory Racing                 1.07
4 Irina Kalentieva (Rus) Multivan Merida Biking Team            1.09
5 Lene Byberg (Nor) Multivan Merida Biking Team                 1.48
6 Margarita Fullana (Spa) K2-Zero Rh+                           2.01
7 Alison Sydor (Can) Rocky Mountain Business Objects            2.29
8 Mary Mcconneloug (USA) Seven Cycles                           3.20
9 Maja Wloszczowska (Pol) Lotto                                 3.44
10 Ivonne Kraft (Ger)                                           4.01
11 Annabella Stropparo (Ita)                                    4.09
12 Katrin Schwing (Ger)                                         4.45
13 Katrin Leumann (Swi) Fischer-Bmc                             4.55
14 Petra Henzi (Swi) Fischer-Bmc                                5.07
15 Bernardine Boog Rauwerda (Ned)                               5.11
16 Adelheid Morath (Ger)                                        5.44
17 Anna Szafraniec (Pol) Lotto                                  5.59
18 Kiara Bisaro (Can) Gears Racing / Smith                      6.00
19 Maroussia Rusca (Swi) Univega Pro Cycling Team               6.14
20 Saskia Elemans (Ned) Multivan Merida Biking Team             6.36
21 Nina G÷hl (Ger)                                              6.54
22 Kelli Emett (USA)                                            7.12
23 Cristina Mascarreras Sabria (Spa)                            7.48
24 Susan Haywood (USA)                                          7.58
25 Patricia Sinclairs (Can)                                     8.06
26 Joseph Rosara (NZl)                                          8.07
27 Sonia Foote (NZl)                                            8.33
28 Nicole Cooke (GBr)                                           8.58
29 Magdalena Sadlecka (Pol) Lotto                               9.23
30 Elena Giacomuzzi (Ita)                                       9.40
31 SÚverine Hansen (Fra)                                        9.56
32 Robyn Wong (NZl)                                            10.47
33 Franziska Roethlin (Swi) Univega Pro Cycling Team           10.52
34 Laura Turpijn (Ned)                                         10.54
35 Bńrbel Jungmeier (Aut)                                      11.27
36 Rocio Gamonal Ferrera (Spa)                                 11.33
37 Eva Lechner (Ita) Colnago Cap Arreghin                      11.35
38 Sandra Klose (Ger)                                          11.47
39 Jenny Copnall (GBr) Subaru-Gary Fisher                      11.52
40 Asa Erlandsson (Swe)                                        12.04
41 Ruth Moll Marques (Spa)                                     12.42
42 Sarka Chmurova (Cze) Max Cursor                             13.25
43 Elina Sophocleous (Cyp) Bikin'cyprus Int.                   14.23
44 Nadja Walker (Swi) Athleticum-Mtb-Team                      14.37
45 Sandra Walter (Can)                                         14.55
46 Cecile Rode (Fra) Orbea                                     15.21
47 Catherine Delfosse (Bel) Massi-Abarth                       15.35
48 Katy Middlehurst (GBr)                                      15.36
49 Nina Homovec (Slo)                                          16.00
50 Caroline Jackson (GBr)                                      16.43
51 Emma Colson (Aus)                                           16.56
52 Lucia Vazquez Crespo (Spa)                                  17.19
53 Sabrina Enaux (Fra) Lapierre International                  17.43
54 Anna Villar (Spa) Massi-Abarth                              18.46
 
1 lap behind
 
55 Carmen Gonzalez-Simarro (Spa) Massi-Abarth                       
56 MercÚ Tussel (Spa) Massi-Abarth                                  
57 Petra Hofs (Ned)                                                 
58 Ursula Serrano Pimentel (Spa)                                    
59 Beth Mccluskey (Irl)                                             
60 Beth Serrano Muntal (Spa)                                        
61 Elisabeth Allione (Fra) Massi-Abarth                             
62 M. Del Carmen Hernan Ure˝a (Spa)                                 
63 Ruth Mcgavigan (GBr)                                             
 
2 laps behind
 
64 Vanesa Fernandez Vidueira (Spa)                                  
65 Sophie Johnson (GBr)                                             
66 Isabel De Pablos (Spa)                                           
DNF Sandra Santanyes Murillo (Spa)                                  
DNF Sonia Campos (Por)                                              
DNF Daniella Louis (Aus)                                            
DNF Caroline Besseyrias (Fra)                                       
DNF Maria Ostergren (Swe)                                           
DNS Ann-Christin Bettenhausen (Ger)                                 
 
World Cup Standings after round 2

1 Gunn-Rita Dahle (Nor) Multivan Merida Biking Team              450 pts
2 Marie-Helene Premont (Can) Rocky Mountain Business Objects     450
3 Sabine Spitz (Ger) Specialized Factory Racing                  320
4 Irina Kalentieva (Rus) Multivan Merida Biking Team             320
5 Maja Wsoszczowska (Pol) Lotto                                  210
6 Lene Byberg (Nor) Multivan Merida Biking Team                  192
7 Margarita Fullana (Spa) K2-Zero Rh+                            190
8 Mary Mcconneloug (USA)                                         175
9 Bernardine Boog-Rauwerda (Ned)                                 146
10 Annabella Stropparo (Ita)                                     138
11 Katrin Leumann (Swi) Fischer-Bmc                              138
12 Ivonne Kraft (Ger)                                            123
13 Adelheid Morath (Ger)                                         121
14 Petra Henzi (Swi) Fischer-Bmc                                 119
15 Katrin Schwing (Ger)                                          118
16 Anna Szafraniec (Pol) Lotto                                   118
17 Nicole Cooke (GBr)                                            111
18 Kiara Bisaro (Can) Gears Racing / Smith                       110
19 Magdalena Sadlecka (Pol) Lotto                                102
20 Barbel Jungmeier (Aut)                                         99
21 Severine Hansen (Fra)                                          98
21 Robyn Wong (NZl)                                               98
23 Cristina Mascarreras Sabria (Spa)                              94
23 Sonia Foote (NZl)                                              94
25 Alison Sydor (Can) Rocky Mountain Business Objects             90
26 Maroussia Rusca (Swi) Univega Pro Cycling Team                 90
27 Cecile Rode (Fra)                                              90
28 Elena Giacomuzzi (Ita)                                         86
29 Laura Turpijn (Ned)                                            85
30 Saskia Elemans (Ned)                                           84
31 Sabrina Enaux (Fra)                                            80
32 Nina Homovec (Slo)                                             76
33 Asa Erlandsson (Spa)                                           75
34 Jenny Copnall (GBr)                                            73
35 Maria Oestergren (Swe)                                         71
36 Nadja Walker (Swi)                                             70
37 Sarka Chmurova (Cze) Max Cursor                                69
38 ?                                                              67
39 Elina Sophocleous (Cyp) Bikin'cyprus Int.                      62
40 Evelyn Staffler (Ita)                                          56
41 Nina Goehl (Ger) Multivan Merida Biking Team                   55
42 Kelli Emett (USA)                                              54
43 Susan Haywood (USA)                                            52
44 Patricia Sinclairs (Can)                                       51
45 Joseph Rosara (NZl)                                            50
46 Elisabeth Osl (Aut)                                            50
47 Sarah Koba (Swi)                                               47
48 Maaris Meier (Est) Alexela Pro Team                            46
49 Daniela Louis (Swi)                                            44
50 Franziska Roethlin (Swi) Univega Pro Cycling Team              43
51 Trish Sinclair (Can)                                           42
52 Rocio Gamonal Ferrera (Spa)                                    40
53 Eva Lechner (Ita) Colnago Cap Arreghin                         39
54 Sandra Klose (Ger)                                             38
55 Arielle Van Meurs (Ned)                                        37
56 Ruth Moll Marques (Spa)                                        35
57 Maria Osl (Aut)                                                34
58 Petra Hofs (Ned)                                               32
59 Sandra Walter (Can)                                            31
60 Beth Mc Cluskey (Irl)                                          31
61 Hazel Wakefield (GBr)                                          30
62 Catherine Delfosse (Bel) Massi-Abarth                          29
63 Katy Middlehurst (GBr)                                         28
64 Emilie Siegenthaler (Swi)                                      27
65 Caroline Jackson (GBr)                                         26
66 Laurence Leboucher (Fra Heijdens-Ten Tusscher                  26