MTB index page for all MTB content
Crocodile Trophy - NE
Australia, October 21-November 2, 2003
Main Page Results Previous Stage Next Stage
Stage 7 - October 27: Mt.Surprise - Chillagoe 166 km
Elli on fire in the dessert
By Christi Anderson
Alberto Elli en route to victory
Photo ©: Mark Watson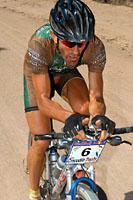 Jacob's Creek-Shimano Dream Team's Alberto Elli took his second stage win in a successful solo effort over 136 km. Elli attacked 8 km before the first feed, just as the temperature was reaching 40 degrees in the shade, but of course, there was no shade today.
At first Mauro Bettin, the race leader, threatened to escape but only for a few kilometres, as a simple show of strength. Evidence of his good morale as the Crocodile Trophy passes through the half way point, was his flashy mono as he passed the camera car. Bettin, who has dominated this race from stage one is showing no signs of the pain and suffering which is clear each day to the peloton.
Queenslander Adam Hansen attacked several times after Elli escaped. The first few attacks were reeled in, but finally an exhausted field let him go. Hansen was successful in escaping the peloton containing the race leaders but never got closer than 14 minutes to Elli. The powerful 22 yr old finished at 18 minutes to Elli, who is 39.
This is the second stage that Elli and Hansen have been away and finished first and second in the same order. Elli said of Hansen, "He is incredibly strong rider. He lacks a few technical skills, but I am sure he will perform well on the road."
It was so blazing hot and completely unprotected on the road, that when the cyclists passed the cow that was lying dead in the middle of the road, they all instantly could relate to the impression it left. There were many Kangaroos both alive and dead along the 166 km course.
Photography
Images by Mark Watson
Results
1 Alberto Elli (Ita) Dream Team              5.19.01
2 Adam Hansen (Aus)                            18.49
3 Mauro Bettin (Ita) Red Bull                  31.08
4 Jaap Viergever (Ned) TTTSW                        
5 Phil Anderson (Aus) Dream Team                    
6 Roland Stauder (Ita) Red Bull                     
7 Tim Vincent (NZl)                                 
8 Robert Hotter (Aut) Team Sport Nora               
9 Bart Bosmans (Bel) Tom Taylor Team                
10 Adrian Laing (Aus) TTTSW                         
11 Oyvind Aas (Nor) Dream Team                      
12 Dennis Teeuwen (Ned) TTTSW                       
13 Peter Paelinck (Bel) www.reevax.be          59.18
14 Dominiek Sacre (Bel) www.reevax.be               
15 Kris Lapere (Bel) Tom Taylor Team                
16 Michael Bösiger (Chi)                     1.02.55
17 Reinhard Desmedt (Bel)                    1.05.36
18 Karl Arnold (Chi) Arnold                  1.07.10
19 Rainer Rosenberger (Aut)                  1.37.02
20 Manfred Liszt (Aut)                       1.37.09
21 Lisi Hager (Aut) MBR 2radChaoten SWAT     1.50.36
22 Rosi King (Aus)                           1.50.37
23 Frans Verbeeck (Bel)                      1.50.38
24 Perry Moermann (Blz) Dream Team           2.16.50
25 Mark Fraeyman (Aut)                       2.23.02
26 André Vögele (Aus)                        2.25.23
27 Gerard Looijstyn (Ned) TTTSW              2.25.24
28 Toru Watanabe (Jpn)                       2.26.44
29 Ulrich Strasser (Aut)                     2.33.38
30 Charles Blanc (Fra)                       2.57.19
31 M. Apperman/R. Donckers (Bel) Tandem      3.17.19
 
Women
 
1 Lisi Hager (Aut) MBR 2radChaoten SWAT      7.09.37
2 Rosi King (Aus)                               0.01
 
Light
 
1 Kel Boers (Aus)                                   
2 Peter Johnson (Aus)                               
3 Jon Johnson (Aus)                                 
 
General classification after stage 7
 
1 Mauro Bettin (Ita) Red Bull               34.13.49
2 Roland Stauder (Ita) Red Bull                 0.19
3 Jaap Viergever (Ned) TTTSW                   17.41
4 Alberto Elli (Ita) Dream Team                21.19
5 Robert Hotter (Aut) Team Sport Nora          36.08
6 Adam Hansen (Aus)                            45.12
7 Tim Vincent (NZl)                            48.29
8 Bart Bosmans (Bel) Tom Taylor Team         1.19.39
9 Kris Lapere (Bel) Tom Taylor Team          1.52.16
10 Phil Anderson (Aus) Dream Team            1.52.49
11 Oyvind Aas (Nor) Dream Team               2.02.11
12 Adrian Laing (Aus) TTTSW                  2.59.05
13 Peter Paelinck (Bel) www.reevax.be        3.34.54
14 Reinhard Desmedt (Bel)                    4.42.30
15 Dominiek Sacre (Bel) www.reevax.be        4.47.49
16 Michael Bösiger (Chi)                     5.33.01
17 Dennis Teeuwen (Ned) TTTSW                5.46.58
18 Frans Verbeeck (Bel)                      6.47.14
19 Rainer Rosenberger (Aut)                  6.59.20
20 Perry Moermann (Blz) Dream Team           7.37.38
21 Rosi King (Aus)                          10.11.34
22 Mark Fraeyman (Aut)                      11.12.14
23 Manfred Liszt (Aut)                      11.45.21
24 Charles Blanc (Fra)                      12.41.27
25 André Vögele (Aus)                       12.41.36
26 Lisi Hager (Aut) MBR 2radChaoten SWAT    14.07.49
27 M. Apperman/R. Donckers (Bel) Tandem     15.12.16
28 Ulrich Strasser (Aut)                    16.41.38
29 Toru Watanabe (Jpn)                      20.00.27
 
Women
 
1 Rosi King (Aus)                           44.25.23
2 Lisi Hager (Aut) MBR 2radChaoten SWAT      3.56.15
 
Light
 
1 Kel Boers (Aus)                                   
2 Peter Johnson (Aus)                               
3 Jon Johnson (Aus)                                 
 
Points classification
 
1 Mauro Bettin (Ita) Red Bull                     79 pts
2 Jaap Viergever (Ned) TTTSW                      60
2 Adam Hansen (Aus)                               54
4 Alberto Elli (Ita) Dream Team                   54
5 Roland Stauder (Ita) Red Bull                   50
6 Robert Hotter (Aut) Team Sport Nora             30
7 Tim Vincent (NZl)                               30
8 Bart Bosmans (Bel) Tom Taylor Team               5