MTB index page for all MTB content
Crocodile Trophy - NE
Australia, October 21-November 2, 2003
Main Page Results Previous Stage Next Stage
Stage 6 - October 26: Greenvale - Mt. Surprise 168 km
Vincent on the scoreboard
By Christi Anderson
Robert Hotter and Tim Vincent
Photo ©: Mark Watson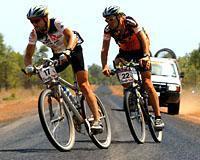 Kiwi Tim Vincent put one on the scoreboard for New Zealand in his first Crocodile Trophy. With the first twenty kilometres behind them, the trio of Tim Vincent, Robert Hotter and Bart Bosman jumped away from the peloton and rapidly put 8 minutes into the non-chasing field. They worked efficiently together for 100 kilometres until the race passed through what can only be described as a moonscape. Sharp, jagged lava rock covered the course with bone rattling obstacles, which combined with the 46 degree temperatures and no shade made the field reluctant to chase.
When Bart Bosman was forced to stop and change a wheel, the three escapees lost 5 minutes to the peloton with 50 km to go. It was a bad moment to loose time, as they would soon be forced to ride without benefit from working together. The former four-time winner Jaap Viergever began to chase taking the two Italians Bettin and Stauder with him, as well as the Dream Team's Alberto Elli.
Tim Vincent was able to get away from Hotter and Bosman finishing on his own at two minutes to Hotter. Jaap Viergever made up an incredible amount of time passing Bosman alone in the final meters of the stage. The two riders from the Tom Taylor squad sprinted for third.
Rosi King going strong
Photo ©: Mark Watson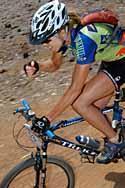 Alberto Elli really felt the heat today. He made several rather colourful observations about the conditions and his suffering. Elli seemed to have lost the ability to speak English as he relayed his thoughts to the his team manager with great zeal.
Other Italians, Mauro Bettin and Roland Stauder still leading the race by 14 minutes to Jaap Viergever in overall standings. Bettin broke his chain today allowing Viergever to get another 6 mins back today.
All the racers were suffering in red bull dust and baking in the sun. Two Victorians, Debra Eason and David Olle with drew from the race. Olle dehydrated to a dangerous level during stage 5 of the race and simply could not continue. Olle will restart for the final five stages. Debra suffered a broken wrist yesterday and after 50 kilometres today climbed off the bike for fear of crashing on the corrugations and the rocks.
The women are proving to be very strong in the 2003 Crocodile Trophy. Australian Rosi King still dominating with cool, calm steady riding.
Jacob's Creek-Shimano Dream Team
Polar Heart Rate Info
Philip Anderson - Max 165 Avg 124
Øyvind Aas - Max 163 Avg 139
Perry Moerman - Max 170 Avg 140
Alberto Elli - Max 162 Avg 146
Photography
Images by Mark Watson
Results
1 Tim Vincent (NZl)                          6.14.52
2 Robert Hotter (Aut) Team Sport Nora           5.19
3 Jaap Viergever (Ned) TTTSW                    5.41
4 Bart Bosmans (Bel) Tom Taylor Team            6.07
5 Mauro Bettin (Ita) Red Bull                  11.35
6 Roland Stauder (Ita) Red Bull                     
7 Oyvind Aas (Nor) Dream Team                  23.32
8 Phil Anderson (Aus) Dream Team               36.00
9 Alberto Elli (Ita) Dream Team                36.02
10 Kris Lapere (Bel) Tom Taylor Team           40.49
11 Adrian Laing (Aus) TTTSW                         
12 Peter Paelinck (Bel) www.reevax.be          44.43
13 Adam Hansen (Aus)                           46.52
14 Perry Moermann (Blz) Dream Team             56.58
15 Dennis Teeuwen (Ned) TTTSW                  56.59
16 Reinhard Desmedt (Bel)                    1.04.10
17 Rainer Rosenberger (Aut)                  1.20.41
18 Michael Bösiger (Chi)                     1.23.28
19 Dominiek Sacre (Bel) www.reevax.be        1.47.04
20 Rosi King (Aus)                                  
21 Manfred Liszt (Aut)                       1.47.05
22 Charles Blanc (Fra)                       2.33.40
23 Toru Watanabe (Jpn)                       3.02.13
24 Frans Verbeeck (Bel)                      3.03.48
25 M. Apperman/R. Donckers (Bel) Tandem      3.06.45
26 André Vögele (Aus)                        3.18.42
27 Ulrich Strasser (Aut)                     3.23.41
28 Lisi Hager (Aut) MBR 2radChaoten SWAT     3.26.13
29 Mark Fraeyman (Aut)                       3.31.36
30 Paul West (GBr)                           3.33.58
31 Thomas Lenzenhofer (Aus)                  5.09.23
 
Women                                               

1 Rosi King (Aus)                            8.01.56
2 Lisi Hager (Aut) MBR 2radChaoten SWAT      1.39.09
 
Light    
                                           
1 Kel Boers (Aus)                                   
2 Peter Johnson (Aus)                               
3 Jon Johnson (Aus)                                 
 
General classification after stage 6
 
1 Mauro Bettin (Ita) Red Bull               28.23.42
2 Roland Stauder (Ita) Red Bull                 0.17
3 Jaap Viergever (Ned) TTTSW                   17.39
4 Robert Hotter (Aut) Team Sport Nora          36.06
5 Tim Vincent (NZl)                            48.27
6 Alberto Elli (Ita) Dream Team                52.35
7 Adam Hansen (Aus)                            57.34
8 Bart Bosmans (Bel) Tom Taylor Team         1.19.37
9 Kris Lapere (Bel) Tom Taylor Team          1.24.04
10 Phil Anderson (Aus) Dream Team            1.52.47
11 Oyvind Aas (Nor) Dream Team               2.02.09
12 Adrian Laing (Aus) TTTSW                  2.59.03
13 Peter Paelinck (Bel) www.reevax.be        3.06.42
14 Reinhard Desmedt (Bel)                    4.08.00
15 Dominiek Sacre (Bel) www.reevax.be        4.19.37
16 Michael Bösiger (Chi)                     5.01.12
17 Dennis Teeuwen (Ned) TTTSW                5.46.56
18 Perry Moermann (Blz) Dream Team           5.51.54
19 Rainer Rosenberger (Aut)                  5.53.24
20 M. Apperman/R. Donckers (Bel) Tandem      5.30.30
21 Frans Verbeeck (Bel)                      5.27.42
22 Rosi King (Aus)                           8.52.03
23 Mark Fraeyman (Aut)                       9.20.18
24 Manfred Liszt (Aut)                      10.39.18
25 André Vögele (Aus)                       10.47.19
26 Charles Blanc (Fra)                      10.15.14
27 Paul West (GBr)                          12.42.11
28 Lisi Hager (Aut) MBR 2radChaoten SWAT    12.48.19
29 Ulrich Strasser (Aut)                    14.39.06
30 Toru Watanabe (Jpn)                      18.04.49
31 Thomas Lenzenhofer (Aus)                 20.46.52
 
Women Classification
 
1 Rosi King (Aus)                           37.15.45
2 Lisi Hager (Aut) MBR 2radChaoten SWAT      3.56.16
3 Debra Eason (Aus) Eason                           
 
Light Classification
 
1 Kel Boers (Aus)                                   
2 Peter Johnson (Aus)                               
3 Jon Johnson (Aus)                                 
 
Points classification
 
1 Mauro Bettin (Ita) Red Bull                     69 pts
2 Jaap Viergever (Ned) TTTSW                      55
2 Roland Stauder (Ita) Red Bull                   50
4 Adam Hansen (Aus)                               39
5 Alberto Elli (Ita) Dream Team                   34
6 Robert Hotter (Aut) Team Sport Nora             30
7 Tim Vincent (NZl)                               30
8 Bart Bosmans (Bel) Tom Taylor Team               5