MTB index page for all MTB content
Crocodile Trophy - NE
Australia, October 21-November 2, 2003
Main Page Results Previous Stage Next Stage
Stage 3 - October 23: Irvinebank - Koombooloomba Dam 99 km
Elli Rocks in the wilderness
By Christi Anderson
Alberto Elli leads Adam Hansen in their two man break
Photo ©: Mark Watson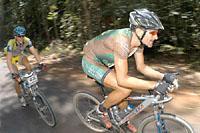 The Jacob's Creek-Shimano Dream Team tasted victory with Alberto Elli's aggressive stage dominance today. Australian Adam Hansen attacked from the start of the paved road, and the only rider who responded immediately was Elli. Hansen said, "I attacked on the bitumen because I have no skills on the dirt. This is my first mountain bike race and I knew that with over 50 km of paved roads today I could try something."
Hansen has had eight touchdowns in the first three stages including today's fall just 2 meters before the line on the off-cambered gravel. When queried about that last minute crash, he responded with tongue in cheek," The stage was almost over and I had to get it in."
Hansen is a strapping big fella. He has the physique of milk fed farm boy, and according to Elli who rode with him all day he has the power to go with the look.
The usual suspects consisting of Viergever, Anderson, Stauder, Hotter and of course race leader Bettin chased the two up of Elli and Hansen until the 75 km point where it became obvious that the two were not to be caught. Anderson's badly bruised backside finally beginning to subside was able to put in a few hard efforts before dropping off with Lapere and Vincent. Viergever, Bettin, Stauder and Hotter maintained the chase but lost five minutes to Elli who eventually dropped Hansen as soon as the race went back to dirt. Elli was clearly stronger on this day than he has been, evidence of that great condition was his Polar heart Rate max of 176 and average of 146.
Race leader Mauro Bettin cruising along in the dust
Photo ©: Mark Watson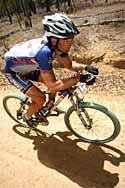 Viergever crossed the line visibly unhappy. After speaking to Hotter who rode with Viergever for the last 60 km apparently Jaap was experiencing a technical problem with his wheel. It was a slow leak that was worrying him and he was yelling to the others to wait. Hotter wasn't sure this was what he should be doing, but he stayed with the race leaders and also lost 5 mins to Elli.
The race finished at a beautiful Dam and Elli rode straight to water's edge and jumped in. He did not realise that there were sharp rocks and shallow water and as a result has two very skinned knees. Later at the dinner prepared by Telekom Team Chef Walter Groezinger, there was a sighting of an aggressive Taipan.
Photography
Images by Mark Watson
Results

1 Alberto Elli (Ita) Dream Team                  3.04.44
2 Adam Hansen (Aus)                                 1.45
3 Jaap Viergever (Ned) TTTSW                        4.50
4 Robert Hotter (Aut) Team Sport Nora               4.51
5 Mauro Bettin (Ita) Red Bull                       4.55
6 Roland Stauder (Ita) Red Bull                     4.56
7 Tim Vincent (NZl)                                11.22
8 Phil Anderson (Aus) Dream Team                   11.31
9 Kris Lapere (Bel) Tom Taylor Team                12.45
10 Peter Paelinck (Bel) www.reevax.be              20.00
11 Bart Bosmans (Bel) Tom Taylor Team              20.02
12 Adrian Laing (Aus) TTTSW                        21.16
13 Oyvind Aas (Nor) Dream Team                     21.19
14 Frans Verbeeck (Bel)                            21.22
15 Michael Bösiger (Chi)                           21.59
16 Reinhard Desmedt (Bel)                          22.23
17 Dominiek Sacre (Bel) www.reevax.be              22.42
18 Perry Moermann (Blz) Dream Team                 56.08
19 Rainer Rosenberger (Aut)                      1.01.19
20 Dennis Teeuwen (Ned) TTTSW                    1.02.07
21 David Olle (Aus) Dream Team                   1.02.08
22 André Vögele (Aus)                                   
23 Rosi King (Aus)                               1.02.09
24 Manfred Liszt (Aut)                           1.02.10
25 Karl Arnold (Chi) Arnold                      1.02.26
26 Charles Blanc (Fra)           	             1.12.40
27 Lisi Hager (Aut) MBR 2radChaoten SWAT         1.20.41
28 Miguel Blanco (Spa) Blanco                    1.23.57
29 Mark Fraeyman (Aut)                           1.27.24
30 Daniele Modolo/Attillio Santi (Ita) Tandem    1.38.27
31 M. Apperman/R. Donckers (Bel) Tandem          2.05.04
32 Paul West (GBr)                               2.12.50
33 Debra Eason (Aus) Eason                       2.23.39
34 Martin Meier (Aut) Team Sport Nora            2.40.10
35 Thomas Lenzenhofer (Aus)                      2.40.13
36 Bernd Lautner (Aut)                           2.48.37
37 Ulrich Strasser (Aut)                         2.51.02
38 Gerard Looijstyn (Ned) TTTSW                  2.56.14
39 Toru Watanabe (Jpn)                           3.09.18
39 Mario Appermans (Bel) Tom Taylor Tandem              
39 Jan Jelinek CZR Jelinek                              
39 Manuel Pino (Spa) Blanco                             
39 Daniele Modolo (Ita) Bike & More                     
39 Steven Pauwels (Bel) www.reevax.be                   
39 Karsten Kaas (Den)                                   
 
Women
 
1 Rosi King (Aus)                                4.06.53
2 Lisi Hager (Aut) MBR 2radChaoten SWAT            18.32
3 Debra Eason (Aus) Eason                        1.21.30
 
Light
 
1 Kel Boers (Aus)                                       
2 Peter Johnson (Aus)                                   
3 Jon Johnson (Aus)                                     
 
General classification after stage 3
 
1 Mauro Bettin (Ita) Red Bull                   10.40.52
2 Roland Stauder (Ita) Red Bull                     0.11
3 Robert Hotter (Aut) Team Sport Nora              19.06
4 Jaap Viergever (Ned) TTTSW                       23.32
5 Adam Hansen (Aus)                                24.42
6 Alberto Elli (Ita) Dream Team                    27.58
7 Tim Vincent (NZl)                                36.33
8 Kris Lapere (Bel) Tom Taylor Team                42.59
9 Bart Bosmans (Bel) Tom Taylor Team               52.19
10 Phil Anderson (Aus) Dream Team                1.05.04
11 Oyvind Aas (Nor) Dream Team                   1.13.03
12 Adrian Laing (Aus) TTTSW                      1.22.23
13 Peter Paelinck (Bel) www.reevax.be            1.34.09
14 Frans Verbeeck (Bel)                          1.36.31
15 Dominiek Sacre (Bel) www.reevax.be            1.36.51
16 Reinhard Desmedt (Bel)                        2.14.09
17 Michael Bösiger (Chi)                         2.19.00
18 Karl Arnold (Chi) Arnold                      2.36.41
19 Dennis Teeuwen (Ned) TTTSW                    2.49.25
20 Rainer Rosenberger (Aut)                      2.49.28
21 Mark Fraeyman (Aut)                           2.59.05
22 Perry Moermann (Blz) Dream Team               3.21.28
23 David Olle (Aus) Dream Team                   3.25.28
24 André Vögele (Aus)                            3.44.29
25 Charles Blanc (Fra)                           4.19.58
26 Rosi King (Aus)                               4.22.37
27 Daniele Modolo/Attillio Santi (Ita) Tandem    4.27.59
28 Paul West (GBr)                               5.25.38
29 Lisi Hager (Aut) MBR 2radChaoten SWAT         5.31.22
30 Miguel Blanco (Spa) Blanco                    6.11.11
31 M. Apperman/R. Donckers (Bel) Tandem          6.15.51
32 Manfred Liszt (Aut)                           6.16.09
33 Ulrich Strasser (Aut)                         7.24.41
34 Debra Eason (Aus) Eason                       7.58.35
35 Thomas Lenzenhofer (Aus)                      8.04.59
36 Gerard Looijstyn (Ned) TTTSW                  8.28.25
37 Martin Meier (Aut) Team Sport Nora            8.47.31
38 Toru Watanabe (Jpn)                          10.10.34
39 Mario Appermans (Bel) Tom Taylor Tandem              
40 Jan Jelinek CZR Jelinek                              
41 Manuel Pino (Spa) Blanco                             
42 Daniele Modolo (Ita) Bike & More                     
43 Steven Pauwels (Bel) www.reevax.be                   
44 Karsten Kaas (Den)                                   
45 Bernd Lautner (Aut)                                  
 
Women
 
1 Rosi King (Aus)                               15.03.29
2 Lisi Hager (Aut) MBR 2radChaoten SWAT          1.08.45
3 Debra Eason (Aus) Eason                        3.35.58
 
Light
 
1 Kel Boers (Aus)                                       
2 Peter Johnson (Aus)                                   
3 Jon Johnson (Aus)                                     
 
Points classification
 
1 Mauro Bettin (Ita) Red Bull                         42 pts
2 Roland Stauder (Ita) Red Bull                       30
3 Alberto Elli (Ita) Dream Team                       22
4 Jaap Viergever (Ned) TTTSW                          20
5 Adam Hansen (Aus)                                   17
6 Robert Hotter (Aut) Team Sport Nora                 15
7 Tim Vincent (NZl)                                   10