MTB index page for all MTB content
Crocodile Trophy - NE
Australia, October 21-November 2, 2003
Main Page Results Previous Stage Next Stage
Stage 2 - October 22: Mt. Mulligan - Irvinebank 101 km
Bettin and Stauder add to their lead
By Christi Anderson
Roland Stauder
Photo: © Mark Watson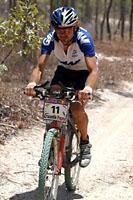 Today's stage was challenging on many fronts. First the terrain it was mixed, from paved roads to concave cliffs falling onto jagged rocky floors to a series of leg searing ascents of over 1000 meters in length climbing 200 meters. It was a ripper stage in the 42-degree temperatures, and the field of 45 cyclists suffered as a result.
Mauro Bettin and Roland Stauder had another two up day as they motored to the finish 2min 18 seconds in front of Robert Hotter, the Austrian riding for Team Sport Nora. The Jaap Viergever we know from years past reappeared as he soloed to fourth place, dropping Alberto Elli of the Jacob's Creek-Shimano Dream Team. Viergever said, "Yes, today my mind was clear. I was riding like myself again, possibly not as strong as last year, and certainly not as strong as the Italians (Bettin & Stauder), but I was OK."
Mauro Bettin, the race leader and two time stage winner, also spoke about today's ride, "I was alright. I am used to technical mountain biking and this stage suited me."
Alberto Elli, who is still riding at his pro racing weight of 70 kg, commented that, "I liked the stage today, well, the technical up hill section was good for me. I prefer that sort of climbing to the long non-technical corrugations. The non-technical stuff is going really fast. I prefer to climb."
The tandem...
Photo: © Mark Watson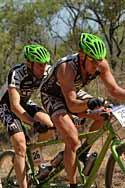 There was mayhem in the tandem competition as it turned out the Italians have considered withdrawal and the Tom Taylor Belgian duo finished only with one rider. But the funniest thing I have seen so far was the Italian Tandem with Attillo Santi on the front and Daniele Modolo on the back. The two roll into the feed station and the Big Santi sporting bulging biceps and a baldhead, begins what can only be described as a series of guttural grunts, which launch Modolo into action. The little stoker leaps from the back of the tandem and runs to the table sourcing food and drinks for the team. Then with one loud bark Santi calls his man back and begins to roll out of the feed. Modolo is forced to sprint along side the two man bike and has to do flying remount to resume his position behind the Big Guy. It was a scenario that took less than 2 minutes and contained zero words in any language.
In the women's competition Rosi King won her second stage and put a few more minutes into Lisi Hager & Debra Eason. All women looking strong but suffering from the long hours in the saddle.
At the end of the 101 km stage there are a few riders who have considered withdrawal. It was a tough day in the outback!
Photography
Images by Mark Watson
Results
1 Mauro Bettin (Ita) Red Bull                    4.00.10
2 Roland Stauder (Ita) Red Bull                         
3 Jaap Viergever (Ned) TTTSW                        2.18
4 Robert Hotter (Aut) Team Sport Nora               6.33
5 Alberto Elli (Ita) Dream Team                     6.34
6 Kris Lapere (Bel) Tom Taylor Team                11.11
7 Adam Hansen (Aus)                                14.17
8 Bart Bosmans (Bel) Tom Taylor Team               18.07
9 Tim Vincent (NZl)                                20.23
10 Oyvind Aas (Nor) Dream Team                     21.57
11 Phil Anderson (Aus) Dream Team                  34.10
12 Peter Paelinck (Bel) www.reevax.be              38.43
13 Dominiek Sacre (Bel) www.reevax.be                   
14 Frans Verbeeck (Bel)                            46.24
15 Adrian Laing (Aus) TTTSW                        46.56
16 Mark Fraeyman (Aut)                             54.47
17 Karl Arnold (Chi) Arnold                      1.06.33
18 Reinhard Desmedt (Bel)                        1.08.34
19 Rainer Rosenberger (Aut)                      1.13.17
20 Dennis Teeuwen (Ned) TTTSW                    1.14.42
21 André Vögele (Aus)                            1.17.04
22 David Olle (Aus) Dream Team                   1.25.11
23 Perry Moermann (Blz) Dream Team               1.25.12
24 Michael Bösiger (Chi)                         1.26.08
25 Daniele Modolo/Attillio Santi (Ita) Tandem    1.44.35
26 Charles Blanc (Fra)                           1.50.28
27 Manfred Liszt (Aut)                           2.02.42
28 Paul West (GBr)                               2.07.02
29 Rosi King (Aus)                               2.25.29
30 Lisi Hager (Aut) MBR 2radChaoten SWAT         2.35.57
31 Ulrich Strasser (Aut)                         2.46.08
32 M. Apperman/R. Donckers (Bel) Tandem          2.47.42
33 Miguel Blanco (Spa) Blanco                    3.01.04
34 Debra Eason (Aus) Eason                       3.09.22
35 Thomas Lenzenhofer (Aus)                      3.38.09
36 Gerard Looijstyn (Ned) TTTSW                  3.49.59
37 Martin Meier (Aut) Team Sport Nora            4.19.59
37 Toru Watanabe (Jpn)                                  
37 Mario Appermans (Bel) Tom Taylor Tandem              
37 Jan Jelinek CZR Jelinek                              
37 Manuel Pino (Spa) Blanco                             
37 Daniele Modolo (Ita) Bike & More                     
37 Steven Pauwels (Bel) www.reevax.be                   
37 Karsten Kaas (Den)                                   
37 Bernd Lautner (Aut)                                  
 
Women
 
1 Rosi King (Aus)                                6.25.39
2 Lisi Hager (Aut) MBR 2radChaoten SWAT            10.28
3 Debra Eason (Aus) Eason                          43.53
 
Light
 
1 Kel Boers (Aus)                                       
2 Peter Johnson (Aus)                                   
3 Jon Johnson (Aus)                                     

General classification after stage 2

1 Mauro Bettin (Ita) Red Bull                           
2 Roland Stauder (Ita) Red Bull

Women

1 Rosi King (Aus)                                       
2 Lisi Hager (Aut) MBR 2radChaoten SWAT                 
3 Debra Eason (Aus) Eason