December 15, 1997
Today I am Talking Cycling with Lance Armstrong, who is about to make his comeback to the professional peloton after a season away coping with bigger things. Some have called him precocious, brash, confident and other things. He won a World Title before he had completed a full season as a professional. He was a rider I admired because he was a real tearaway - aggressive and assertive.

A summary of his career to date shows that after a great first season, the performances through 1994-95 were less spectacular. By 1996, he was pumping again and looking to threaten. And then we were told about his cancer.

And it was then that you saw how classy Lance is. He become a really top person generally in the face of the biggest test of them all - far bigger than most of us big heads could contemplate. Even those that had used the words brash and the like as negatives, jealous of his early success, could now do nothing but have the highest respect and hopes. Lance has said that the experience has mellowed him. He has seen perspective. But thankfully, for all of us, he has a burning desire to get back to the top and show us his talent.

After a year of all sorts of medical invasions, a public row with the French Team, Cofidis and a new contract opportunity with the US Postal Service team, Lance is heading to southern California with his heart rate monitor and a program designed to get him back into top nick.

My feeling is that his career has just begun. Here is my talk with Lance Armstrong, bike rider and a class act of a guy.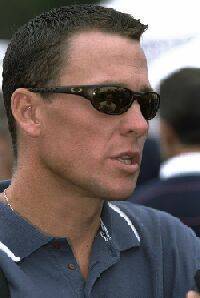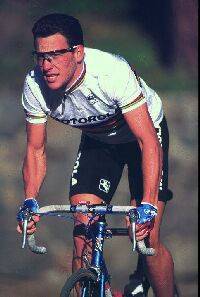 Photos available at:
Lance Armstrong On-Line
Bill: - Thanks very much for your time Lance. I have read a lot of interviews with you over the last year and they all concentrate on your health problems. I want to ask only one question in that regard. You were asked in an Interview, which went into great detail about your operations, whether "your disease has changed your perspective on priorities in your work or in other areas of your life?" You replied about being given a choice by a magician where the first choice was to never race again and live a normal healthy life and the second choice was to race, win World Championships, win the Tour de France, but all with a 1% chance that the cancer returns. Your choice: "no doubt which choice I'm taking: that's Choice #1--my first priority is just to live"
Now, my question is this - you would not have said that before the disease. To really maximise your comeback to racing you will have to work your body very hard. Is there just the slightest worry that the hard work will lower your resistance while the cancer is in remission and bring on the "second choice"? If there is, how are you going to push hard enough in training and go for it to ease the doubts that people have about being "damaged goods"?
Lance: - Now I don't have those thoughts. After I passed the one year marker, and my doctors became more optimistic - I became less scared. My doctors feel as if I can continue as I did before, and so do I.
Bill: - But you could probably maximise your chances of a healthy recovery by not pushing it to the limits in training and racing?
Lance: - That's what taking a year off was intended to do.
Bill: - You emphatically won the 1993 World Championship in Oslo at the age of 22 and within 12 months of turning professional for Motorola. That raised a lot of expectations about what you did not really show your skills fully again until the excellent 1996 season.
Do you think that in retrospect that you won the World Championship at too younger an age? Do you think it would have been better, to use the cliche, to have "paid your dues" before have this glory thrust upon within a year of turning professional? What effect did it have on you after only one year of professional racing?
Lance: - Actually, I won the World Championships at 21. In retrospect, perhaps I was too successful too soon. But at the same time, the sport of cycling changed a lot in 1994. Of course, I wouldn't change a thing. Cycling is a traditional sport and the rider crowned the World Champion comes under tremendous scrutiny and at the time I probably wasn't prepared. But also, I wasn't paying much attention either.
Bill: - I guess one of the reasons I asked that question relates to the way the American media treated it. The following year one of the big US TV stations followed the Tour with an own camera team (unprecedented) and focused on you. They were not really interested in the race but on the individual. They looked for emotions, back in the peloton. Only looking for the sensational - the tears and pain. Yet since then I get the impression that there is very little attention paid by TV in the States to cycling. That relates to the "false" expectations.
Is it hard being an American when your media is not really aware of the sport per se but is only wanting success by Americans. When it is there they are all over you, when it is (as is normal) tempered by failure they give you the flick?
Lance: - Bill, I have learned a lot about the flick over the past 12 months and in comparison it is nothing like 1994.
Bill: - Am I right that in the first Tour de France (1994) Motorola's director sportif sent you home before the mountains because you were too young?. Was that a good decision?
Lance: - It was the Team's intention for me to go home at some point but there was some confusion as to exactly when. I ended up leaving before they wanted me to.
Bill: - You have now started working hard with your trainer Chris Carmichael. You have been doing about 1000 kms per week with base level work and lots of fixed gear work. I recall you saying Nothing!!!!! in response to a question about what was it you liked about fixed gear training.
At this time of year (building base) I love fixed gear training for the great pedalling discipline it provides. Do you think about riding at that level when you are out on your own? Pedalling technique, tempo? What do you think about when you are riding?
Lance: - I do think a lot about that because I am not a particularly smooth rider and I need all the help with that I can get. What do I think about while riding...sex, of course.
Bill: - Often I see reference to a role played by your Mum, Linda. She was even involved in a sort of "diplomatic" incident with the King of Sweden after your World's victory. She has also been very strong in your recovery over the last year. Is she very important to your overall view of things? How has she helped your cycling?
Lance: - Actually he was the King of Norway. But that incident was very symbolic of our relationship in that we have grown up together (because she's young) and are very close. Yes, she is very important as an overall force in my life. She hasn't contributed in a training or racing sense to my cycling, just as an influence while growing up, displaying her strength and courage.
Bill: - Oops. sorry to all our Norwegian readers. Oslo is in Norway, Oslo is in...
Bill: - Bike racing in Australia and the USA is a minority sport. We have 18 million people and the USA much more than that. Yet in recent times there are a lot of Australians doing well in the European professional ranks but less Americans. Have you any thoughts about why America doesn't produce a lot of great bike riders - why you and Greg Lemond have been exceptions?
Lance: - Andy Hampsten as well.... I also think Kevin Livingston and Bobby Julich have done a tremendous job representing US Cycling this year. As for why we don't produce great bike riders, our society doesn't support and reward our potential champions. Our kids are more interested in football, baseball and basketball.
Bill: - I was talking with Scott Sunderland about the difficulty of going to Europe and racing bikes when you have come from a "non-bike racing" culture. In addition to the problems of being competitive, there are basic everyday problems - like how do you relate to girls at parties and the like when you cannot speak Flemish well enough (if at all) to show them your nuances and subtleties. Normal everyday stuff like that. Greg Lemond seemed to adopt the fly-in/fly-out approach (to Belgium) spending a lot of time in the USA.
How have you handled that? Has the cultural gap been a problem?
Lance: - It has been a tremendous problem and probably wasn't made any better by the fact that I raced for an American team my entire career as opposed to Lemond who was thrown into the European culture immediately.
Bill: - I would like to ask a question about the 1996 Olympic Road Race. To most observers Frankie Andreu was the strongest rider in the USA team that day. Yet, at one stage when he seemed to be making a decisive break you contributed to the effort to chase him down. Did your teams have any plans that day? Were you working as a team or as individuals?
Lance: - I don't recall chasing him down. It was a very strange race tactically and very difficult to understand (with only 5 riders per country and a relatively easy course).
Bill: - Is the Sydney Olympic Road Race in 2.5 years in your plans at this stage?
Lance: - No.
Bill: - It seems that there are not going to be any Eddy M's anymore. The rider who dominates everything. Erik Zabel said in a recent interview that cycling has changed. That years ago there was a Merckx who won everything. Then came Lemond and Indurain who concentrated only on the Tour and Ullrich is the perfect copy of Indurain. The Italians seem to concentrate on the World Cup.
Let's assume and hope that you hit form early and all the uncertainty about being "damaged goods" is behind you and you can determine your own plans again. What sort of campaign is of interest to you? The World Cup, the Tour, the Giro, the Worlds?
Lance: - For 1998 I am focusing on the World Cup and the World Championships.
Bill: - Do you think you can win the Tour? Have you the time trial and the climbing skills?
Lance: - Bill, I'm not sure I could hold your wheel right now. I've had a rough year...
Bill: - You have won one World Cup classic (San Sebastian). You have had two second places in the toughest of classics - Luik-Bastenaken-Luik. You don't go well in the Tour of Flanders and you don't seem to ride Paris-Roubaix.
Every Belgian cyclist lives to win the Ronde van Vlaanderen. Are the classics a big deal for you? Which ones?
Lance: - I will continue to focus on The Ardennes.
Bill: - What is your favourite race?
Lance: - L-B-L
Bill: - What has been your most memorable moment on a bike?
Lance: - Winning the Stage in the 1995 Tour de France for Fabio.
Bill: - I don't want the next question to be like a Truth Commission. But it is an issue that is not going to go away and there have been sensational revelations in recent weeks in the Netherlands describing large-scale use of banned substances by a lot of riders, team doctors, team officials and more. During the Giro last year we had the amazing story of the Italian police waiting to bust the team cars at Brindisi and the managers getting a tip off and making an almost surreal escape around the Adriatic with their cars brimful of car fridges full of ampules of whatever. John van den Akker said recently that riders know a lot more but won't talk. The known attitude in Europe is that the UCI makes the rules and then "Elke ploeg gaat over het randje" - that is, each team goes to the edge - exploring the limits and sometimes going over them. The problem is that riders have died and other left ill in later life. There is also a large black market associated with the doping.
Do you think it is time to legalise all of this and to put the rider's health into the hands of responsible doctors and to cut out all of the underworld (black market) activity? If it isn't time what is the solution?
Lance: - The UCI should continue to enforce and explore the problem with doping but let's not forget that cycling is not unique in this sense. Unfortunately, drug abuse is pervasive.
Bill: - The UCI has just announced that they are going to ban fancy bikes from January 1, 2000 and introduce "standardised" specifications for racing bikes to give the poorer nations and riders a chance. So we will get a sort of Volkswagen Beetle racing specification. The Americans have always been into the cutting edge of technology in bike design.
What is your attitude to the UCI decision?
Lance: - I don't agree. The industry of cycling is very high tech and continues to improve upon an original design. To stop their progress is not right.
Bill: - Your own WWW site has your own surfing links - 3 financial investment sites, 2 links to the Wallflowers (one of your favourite bands with which you have a personal relationship), the LAF, the Testicular Cancer site, 1 sports site, and 2 Cycling sites (one of which we won't mention aloud, the other being Velonews).
Does that encompass your interests? Money, Music, Cycling, and the Cancer work?
Lance: - No. Actually I'm engaged to Kristin Richard and will be married in May.
Bill: - Congratulations.
Bill: - The Wallflowers. One of your favourite bands. And the guitarist Michael Ward rides a bike. They have been described as a real rock 'n' roll band by the Rolling Stone magazine. One of their songs, is The Difference ...

 The only difference
 That I see
 Is you are exactly the same
 As you used to be

 You always said that you needed some
 But you always had more, more than anyone

I think of that song given your association with the band when in terms of your own struggle for 1998.

What is going to motivate you in 1998? Something to prove? Just a competitive streak? What?

Lance: - I still feel like a professional cyclist and I feel I was born to be a cyclist. Now it is much more complicated. I'm riding for a lot of reasons...mainly to prove to the Cancer community that it is possible to return to a normal and successful life after treatment. Not to mention the fact that the sport of cycling was not very supportive of my comeback. If I do have success it will be very sweet.

Bill: - That has to be enough. Of-course, everyone out there is really hoping that you have great success this year Lance. So, as they would say at the start of the season in the Netherlands - Success! or in Aussie - good luck mate. But of-course, if it is down to you and Stevo or Scotty for a big classic then I am hoping you puncture before the sprint! Take care and thanks for your time.

Lance: - Thanks Bill, I really enjoy your website.

Bill - Time for me to go Training

Birthdate: September 18, 1971

Before 1991:

Professional triathlete at the age of 16 in Dallas competing in the "Iron Kids" triathlon program. Last year in high school, USCF invitation to train with Junior National Cycling Team.

1990:

Junior Worlds squad and competed in Moscow.

1991:

US National Team, signed with Subaru-Montgomery (pro-am). US Amateur Champion in 1991. Won Settimana Bergamasca (Amateur).

1992:

US National Team (amateur)

Won First Union Grand Prix (amateur), Won Thrift Drug Classic (amateur), Won Race 2, Triptyque Premondial (Marostica), 12th, Tour DuPont (as amateur), 12th, Olympic Road Race (as amateur). Turned professional after Olympics.

First Pro event - 1992 San Sebastian Classic - came last (111th) but 80 did not finish ("My mum would have killed me if I'd quit"). Motorola formally signs Lance after San Sebastian. Wins a stage in Tour of Galicia. Hits big time with a 2nd in the Championship of Zurich.

17th, Montreal G.P., 8th, Coppa Bernocchi (Italy)

1993

Riding with Motorola.

10 wins: Trophee Laigueglia; Stage win Tour DuPont; US National Pro Road Race; U.S. Thrift Triple Crown (Thrift Drug Classic, K-Mart Classic, The CoreStates); Stage win Tour of Sweden; Stage 8 Chalons-sur-Marne to Verdun of the Tour de France; Tour of America Race Series.

1993 World Road Champion (Olso) easily. Again the relationship with your mum comes through.

Other notable outcomes: 9th Paris-Nice; 2nd Tour DuPont; 3rd Tour of Sweden; 5th Leeds International Classic; 14th Championship of Zurich.

1994:

Riding with Motorola.

Wins: Stage win and GC Tour DuPont, Thrift Drug Classic

Other notable outcomes: 9th Laigueglia Trophy; 10th Tour du Haut Var; 12th Tour of Valencia, 2nd Liege-Bastogne-Liege; 13th Amstel Gold, 2nd Tour DuPont; 7th Tour of Switzerland; 2nd Classica San Sebastian; 20th Leeds International Classic; 9th Championship of Zurich; 7th World Professional Road Race Championship.

1995:

Riding with Motorola.

Wins: 5th stage Paris-Nice (Murat-St. Etienne by 8 seconds from Bourguignon); Tour DuPont - Stage 2 (Lynchburg-Blacksburg by 2.10 from Peron), Stage 5 (ITT by 8 seconds from Ekimov), Stage 9 (Asheville-Beech Mountain by 11 seconds from Jaskula), and GC (by 2.00 from Ekimov); Overall GC (by 4.31 from Andreu) and 1 stage in K Mart West Virginia Mountain Classic.

Won the emotional Stage 18 win inthe 1995 Tour de France - Fabio Casartelli dedication.

Won the Clasica San Sebastian (by 2 seconds from Stefano della Santa).

Other notable outcomes: 6th Liege-Bastogne-Liege; 2nd Thrift Drug Classic; 5th Corestates National Pro Championship to Norm Alvis (Philadelphia) at 1.02; 36th Tour de France; 10th Tour of Burgos; 10th Championship of Zurich (at 0.07 to Museeuw); 73rd Milan-San Remo (at 5.50 to Jalabert); 45th Ronde Van Vlaanderen (at 11.57 to Museeuw); Didn't ride the Worlds; 10th 1995 World Cup with 74 Points (Museeuw winner on 199 points).

Velonews 1995 American Male Cyclist of the Year.

1996:

Riding with Motorola.

Wins: Fleche Wallone (by 8 seconds from Rous); Tour DuPont - Stage 2 (Fredericksburg-Richmond by 1 second from Magnussen), Stage 3b (ITT by 23 seconds from Rominger), Stage 5 (Mount Airy-Roanoke in sprint from Robin), Stage 6 (Salem-Blacksburg by 1.10 from Herve), Stage 12 ITT by 29 seconds from Nardello), and GC (by 3.15 from Herve); Fresca International (Milwaukee).

Other notable outcomes: 11th Milan-San Remo (at 0.32 to Colombo); 28th Ronde van Vlaanderen (at 4.03 to Bartoli); 2nd Luik-Bastenaken-Luik (losing sprint to Richard, Gianetti third); 17th Amstel Gold Race (at 22 seconds to Zanini); 14th Clasica San Sebastian (at 1.01 to Bolts); 4th Leeds International (at 20 seconds to Ferrigato); 4th GP Suisse (in 7 person sprint); 7th in World Cup with 81 points (Museeuw winner on 162 points); 12th Olympic Road Race (at 1.29 to Richard); 6th Olympic ITT (at 2.23 to Indurain).

He signs a $US2 million contract to ride for the French team Cofidis in 1997.

October - "We're sad to report that Lance Armstrong was diagnosed October 2 1996 and next day October 3, he had surgery to remove a testicle."

Soon after the contract is signed it is reported: On this beautiful Indian summer afternoon, his magnificently decorated house was overflowing with close friends. "I'm the happiest man in the world," Armstrong remarked to his mother, Linda Walling.

Later that month on October 24, The surgery on Armstrong, 25, was successful and resulted in the removal of two "superficial lesions" on the brain during a procedure at Indiana University Hospital.

1997:

October 16, 1997 signs with US Postal Service Team.
References
Research from the fabulous Wielerrevue Jaarboek by Herman Harens et al, various editions.

Testicular Cancer Research Centre

Testicular Cancer Research Centre

Other Talking Cycling Interviews