An interview with Tim Duggan, March 4, 2009
Never walking alone
Tim Duggan is back racing
Photo ©: Roberto Bettini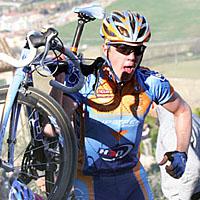 Reams of news print have been spent on the return of Lance Armstrong, although there's another pro rider quietly making his return to the paid ranks. He's also American, and like Armstrong, plies his trade clad in pale blue. Garmin-Slipstream's Tim Duggan's comeback is very different to his countryman's as Cyclingnews' Les Clarke discovers.
It's tough returning to the bike after an accident, particularly if that crash could have killed you. From distant muscle memory in the legs to the mental aspect of confronting the 'demons' of the road, getting back in the saddle is no easy task.
An accident on a descent during stage three of last year's Tour de Georgia left one of Garmin-Slipstream's 'foundation riders' in a critical state in hospital. A broken collarbone and scapula were the outward indication that he had fallen, although according to the 26-year-old there was a more sinister effect of the impact that occurred at around 80km/h.
"I was on the cusp of having brain surgery where they'd have to go in and relieve some of the pressure [on my brain]," says Duggan. "I was on the redline for that over a couple of days... luckily they never had to do that, it went down on its own. He adds that the recovery was, "Just a case of a lot of time, a lot of rest and a lot of cognitive and psychological rehab."
"He lost his career because he just can't take the risk of hitting his head again."
-Duggan says his injuries are nothing compared to Saul Raisin's.
Duggan says he avoided dealing with the worst part of the crash - the initial aftermath. "I kind of got the good end of the deal - I don't remember anything; I don't remember any part of the race. I remember being on the starting line, but I don't remember any part of the crash, and I don't have any memory until three days later. I was on the cusp of having to go into brain surgery to relieve the pressure; I can't believe how bad my wife and my parents were feeling down there at the time.
"On day four all of a sudden I just got better - I was coherent, and lucid, and by the time I remember things I was doing pretty good! I was ready to go out and get some ice cream or something... by the time I came round I was like, 'What's the big deal?' I missed out on the scary part, which is good for my mental state."
Another rider who wasn't so lucky in being able to return to the sport as a professional was Saul Raisin. The promising American, riding for Crédit Agricole at the time, fell during the Circuit de la Sarthe in 2006 and suffered severe brain injuries. He was in a coma for several days. He and Duggan and good friends, and the latter gives him plenty of credit in assisting with his recovery.
"Saul is a good buddy of mine and we used to race on the national team together. He's been a huge help during my recovery," says Duggan. "Seeing what he's gone through, and his injury was way worse than mine - mine is nothing compared to what he went through - he really lost a lot. He lost his career because he just can't take the risk of hitting his head again. I'm lucky enough that although it took time and it was hard [to recover] I get my career back."
The crash scene
Photo ©: Jon Devich

It wasn't just within cycling that Duggan found similar scenarios to his. Other athletes from other sports have faced similar recovery processes to Duggan. The Denver native learnt this and the facts about brain injuries during his rehabiliation. It has also given him something to work towards outside the sport in the future. "Another huge help I had was an alpine ski racer on the US national team named Scott McCartney. He had a really bad crash in a world-famous downhill last January. He had a really similar injury to mine and he cashed, knocked himself out and was convulsing on the snow... it was terrible. He lost his whole season and had to go through a long recovery.
"Head injuries are so crazy; first of all, you can't compare two injuries. You can't be like, 'This guy had the same injuries as me - what did he go through to come back? Oh, mine will be just like that.' No, not at all. Secondly, even the best neurologist can't tell you, 'Since you have this injury, this is what it's going to be like...' They can't tell you that.
Antipodean flavour
The Garmin-Slipstream team has more than its fair share of Australian staff and riders. From directeur sportif Matt White to riders Trent Lowe, Chris Sutton and Cameron Meyer, there's definitely an Antipodean flavour there. Cricket is a passion for many Australian men, and Garmin's Aussies are no exception, according to Duggan. Like many Americans his awareness of cricket wasn't very high, but has he learnt about the game from his teammates?
I didn't know anything about it [previously]," admits Duggan. "It's funny you ask... the other day I was watching [cricket] with my roommate CJ [Sutton], who's Australian and knows all about it, like all the Aussies on my team. They're all into it.
"He was giving me the 10-minute rundown on the rules and I felt like a 12-year-old girl trying to understand NFL football. The drift I got was: it's kind of like having two baseball games going at once, in both directions. And they don't use gloves, which seems pretty hardcore. And I'm amazed that every pitch [delivery] they hit the ball. That's what I think about it - I think it's kinda cool."
Duggan says that he enjoyed his time racing in Australia and is keen to sign up for more in the future, so there should be plenty of opportunities to learn more about this unique game.
"I was on the phone to him quite a bit, just working out that both of us can get back to being normal people. We can work a normal job and be normal people, but what about going from 98 to 99 to 100 per cent so you have what it takes. In his case that means bombing down a hill at 90 miles an hour on a sheet of ice, or in my case doing a similar thing down a mountain with 200 guys around me.
"There's just not a lot of information about head injuries and elite athletics out there. I told my doctors at Craig Hospital in Denver that anything I can do to help athletes in a similar situation in the future or further the research in this area, I'd love to be a part of. It's a pretty thin area."
Returning to the heat of battle
Tim Duggan set a fast pace during the 2007 TT championships
Photo ©: Rob O'Dea

That process of getting to 100 per cent was close to complete when he took to the start line in January's Tour Down Under, the first race ProTour Garmin-Slipstream undertook as a team of the same classification, and an unofficial 'homecoming' to the pro peloton for Duggan. So how would he assess himself?
"It's all coming back pretty quickly. Two days before the race started we were out on a training ride and mostly going easy, then on the last hour we threw it down and I got dropped by my teammates! We were rotating in a paceline up a hill and I just got flat out dropped," he explains.
"Then three or four days later in the race I was just getting better and stronger, and I could do a bigger effort after more work. That's what I wanted to do; I hoped it would come back, and it has. I'm happy with that."
Duggan says that coming back has been satisfying personally, although team manager Jonathan Vaughters and the Garmin-Slipstream staff must be just as pleased. Duggan has been with team since it was known as TIAA-CREF (check out some of Tim's old diary entries on Cyclingnews) and as such they've got one of the family back.
Timothy Duggan time trials back to form
Photo ©: Jon Devich

"The support I've had during the recovery process with the team - management, staff, my teammates - is incredible. It takes a load off and makes it easier to come back; when you have that faith behind you," says Duggan.
"The ideals this team had way back when it started - I joined in 2004 - to be where I am now, with this team, is exactly what I had in mind back then. It's exactly what JV and everyone else had in mind. Just to see that whole process through to where I am in the sport and in the team now is really cool. I think I kind of epitomise the goal of this team from the get go. That's really satisfying for me.
As for his personal ambitions, Duggan says, "Down the road I'd like to continue to evolve into a GC contender but in the meantime I want to be a really good super-domestique and be there with guys like Ryder and Christian at the end of hards parts of the race. That's my goal for now."
A noticeable aspect of my conversation with Duggan is his willingness to direct credit to those around him, which should help him in his role as a super-domestique. He saves his biggest praise for those who helped him through his recovery.
"The biggest thanks would go to my family and my wife. Plus JV, Doug and my coach Allen Lim, and all the directeurs on the team and my teammates who were behind me. All the doctors at the Craig Hospital, the psychologists I worked with, Bruce and Julie. I'm really lucky I have such a great network of people that I can go to in the situation.
I was never by myself. And Saul, too... Saul has been huge. My source of inspiration."
Related articles:
Slipstream team camp interview: Julian Dean & Timmy Duggan

Photography
For a thumbnail gallery of these images, click here
Images by Jonathan Devich/

Images by Roberto Bettini/www.bettiniphoto.net
Images by Rob O'Dea/www.RobODeaPhotography.com