44th Grafton to Inverell - NE
Australia, September 18, 2004
Climb any mountain
Jessica Ridder
Photo ©: Mark Gunter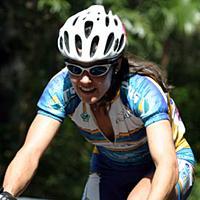 A former rock climber from Cooma found herself scaling an even bigger heights in yesterday's Grafton to Glen Innes Challenge, where Jessica Rider made her mark on the infamous 17 kilometre climb of the Gibraltar Range. Karen Forman reports from Inverell.
The new Grafton to Glen Innes World Heritage Way Ladies Challenge couldn't have come at a better time for rising talent Jessica Ridder.
As the winner of the women's road series last year, the 30 year-old drug education school teacher from the NSW Snowy Mountains town of Cooma has been looking forward to coming head-to-head with Olympic hero Kathy Watt - who is leading this year's series.
And what better place to do that, than in a race which offers a mountain similar in terrain to that Jessica has been racing this year in Italy, during a stint with the Australian national team?
While Watt won today's event, Ridder's second was a definite credit to her, particularly considering she has only been racing bicycles for a couple of years and is pretty much the green horn.
Before becoming a cyclist, she was a rock climber, competing at national level for seven years.
But everything changed when a friend saw a segment on the Today Show calling for expressions of interest in a national cycling talent identification program and suggested Jessica give it a go.
"You're kind of fit," she told her. Jessica hadn't done any cycling at all previously, apart from a bit of mountain biking. "I liked it, but I never thought of doing it competitively. My background, from school, was athletics - cross country mostly," she says.
And so the Cooma girl turned up and had her ability to jump, fat levels and height tested. As a result, she was one of 22 women from the Sydney region chosen from a total of 400 to join an eight-week training program which culminated in a race at the national track championships in 2002.
And despite being somewhat older than her peers, Jessica quickly staked her claim as one of the women who would go on to achieve in the cycling world.
"I was the second TID [talent identification] girl on the track and rode at the event with Rochelle Gilmore and Rebecca Borgo in the teams sprint," she says. "We came second, which was a real confidence boost."
However, her physiology showed she was more suited to road riding than the track; along with geography. "Living in the mountains, a great place to train for the road, but I was a bit far from the track," she said. "I was lucky, as I picked it up really quickly. Perhaps if I hadn't, I may not have decided to go on. But I am glad I did."
Her next step to a cycling career was joining the Bathurst Cycling Club and getting some coaching from Mark Windsor and later Mick Chapman, who had also worked with Olivia Gollan and Peter Milostic.
She then competed in the full domestic road cycling series in 2003 - which to her delight and somewhat surprise, she won. She also won the NSW women's road title that year.
She hasn't been around this year to defend her title, instead heading to Italy for two months as a development rider with the Australian Institute of Sport to train and race.
Home now for a month, she says it was a fantastic experience. "It was very good, very very different to racing in Australia," she says.
"I would say to girls wanting to go on to race professionally that they should get to Europe. That's the level they need to be racing at and the terrain they need to be riding on. It has made me a lot more tactically astute than I was before. Also they race in teams over there, which we don't at home and I really like that. It seems to make racing a full experience."
The Grafton to Inverell, she believes, is the most important race in Australia for women seeking professional careers.
"Of all the races, it most represents the types of racing over there," she says. "A similar type of terrain."
Probably by virtue of her birth place (as well as the right DNA), Jessica is a true mountain goat. "I love climbing and being in the mountains. To me that's what bike racing is all about. "
She is rapt that the Grafton to Inverell offered women the chance to climb the Gibraltar Range for the first time this year.
"With Oenone Wood winning the World Cup series and Sara Carrigan winning the gold medal at the Olympics, I think it's a really exciting time for women's cycling in Australia. I am so happy the organizing committee has put this race on for the women. Sending us over the range shows they are taking us seriously. Women need hard racing rather than being just a support event."
Jessica has been training for the Grafton since returning to Australia after her European stint, in August. She had ridden up Gibraltar, but had been doing most of her training on Brown, near Cooma, which offers a 10km climb averaging seven percent incline.
It was her first opportunity to come head to head with Kathy Watt, who is leading the national women's series this year.
Jessica said she had been looking forward to the challenge. "I won the last series, Kathy is leading this year and we haven't had a chance to go head to head until now. I feel that I will be strong in the hills and am fairly confident. I know she is an aggressive rider and likes to dominate the pack, but I think that as long as the pack is aware of that...
Jessica had also named Kate Nichols as a chance. "As a young rider, I think she has the biggest potential of any young rider I've see in Australia. She has started so young and she has the genes (Olympic gold medalist Kevin Nichols is her dad and now training partner).
Besides hoping to beat race favourite Watt at Grafton, Jessica's next immediate goal is to gain a full AIS scholarship for next year.
"There's not a lot of racing now for the women until next January, so I will be having a bit of a rest then getting into training again. For the women this next couple of weeks is the only time to take a break, because after that it's full on - the Bay series, the nationals, the Adelaide crits...
As for the Grafton to Inverell, Jessica admits she would love to be able to ride the full distance.
"I can understand why we can't, because the UCI legal distance for women is 140km," she says, "but man, I would love dearly to do it."
"I think the men see what we do as a lesser event, but in actual fact the women train just as hard. But the fact the organizers are letting us race up the range; that's awesome."
She said she believed her experience in Italy would stand her in good stead. And it did. It was just that she couldn't get around the high Wattage with a few more years' experience...