Tales from Ben Kersten's corner, January 2, 2006
One of Australia's fastest men on two wheels, Sydney rider Ben Kersten is back in Tasmania for the Christmas carnivals. Winner of the Devonport wheel race in 2004, Kersten is looking to ramp up his preparations for the Commonwealth Games while sampling the tough conditions the Apple Isle has to offer. Cyclingnews will catch up with Kersten throughout the National Grid Christmas Carnivals to get his thoughts on a week in Tassie.
The curse of Latrobe
Ben Kersten
Photo ©: Shane Goss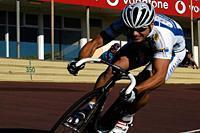 Latrobe's always hard for the riders - coming out of Christmas and trying to get back into race mode; you can see the way everyone's riding that they're still relaxed. I think the rest day after that helps them come into Launceston a little more excited.
The crowds are really responsive, but it takes a little while to get them warmed up - a lot of the crowd that go to Latrobe follow the rest of the racing and it's kind of like a snowball effect; they get a little more into it each time. The first one's not as exciting as the rest, but that's just due to everyone building momentum; by the end of the carnivals people are jumping the fence and greeting the riders if they win!
The first carnival was a little windy and rainy, so the tempo was a little down. Personally, I think Latrobe has a bit of a witch curse on me; last year I travelled up the coast, got an hour's sleep and missed every final. I just managed to win the keirin and was falling asleep between rounds - this year I came into it with three hours sleep and thought I was on top of the world! I came into Latrobe with good form this year, missed out on every final again and won the keirin again - a repeat of last year.
Latrobe is one of the biggest money days, and although you don't race for money, leaving your family and friends at Christmas isn't easy so you want to make sure it's worth your while. I've come down two years now and both times I've ended up down. What do you do, eh?
This year we haven't got the same level of riders - Olympians and the like - as in previous years, and I wondered how things were going to go; but I think some of the younger riders actually ride better in these sort of conditions, and they're well-equipped for the big, hard tracks here in Tasmania. There aren't many rainbow jerseys, but I'm sure plenty of the young riders here will be able to get one sometime. Guys like Leigh Howard and Gossy [Matt Goss] and the TIS crew - there's some really deep potential there. If someone misses a wheel, there's ten of these type of guys that can slot in there and win a race.
There's so much depth - with the Argentineans and guys like Christian Lademann, there's not just one guy who can win the race. It's hard to race against, especially in the longer races.
During the rest day I went for a little roll, had a coffee, wrote some emails and watched some movies. I just relaxed and had some pasta and a couple of James Boag's finest - when in Rome...it's great to be able to have a few beers and relax.
Full coverage of the Latrobe carnival here