Tales from the peloton, November 25, 2008
Garmin launch: Winning is the word
The boys in argyle transformed the sport with its clean-cut image this year, but as Cyclingnews' Mark Zalewski found out, the team is determined to add a somewhat missing element next year: winning.
Team Garmin 2009 on a training ride in Boulder, Colorado
Photo ©: Slipstream Sports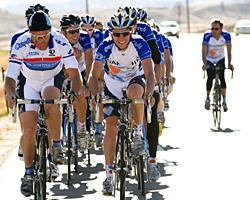 As they did last year, the Garmin-Slipstream team members assembled for the upcoming 2009 season, earlier than most teams, at their home base in Boulder, Colorado, for a relatively laid-back 'training' camp and public presentation. The camp serves more of an introduction to the team's culture than a hard-core workout, giving the staff and riders time to meet each other and take care of the mundane business that is associated with a new season – from bike fits to sponsor meetings to media interviews.
To boil down the Garmin-Slipstream team into one word, it would have to be 'culture.' From both within the team and to outsiders looking in, the most highlighted aspect is that the foundation of how management runs this team is different from any other.
Last year this camp was a newer concept within the sport, being so early before the season and comprised of so many off-the-bike aspects designed to create a coherent team. Having a pre-camp allows the staff and riders to get a lot of the necessary, but time-consuming, aspects of beginning a new season out of the way, so that when the actual training camp rolls around in January the riders can focus on riding without distractions.
The time spent before getting down to the actual training and racing seemed to pay off last year, and it created a team of riders that enjoyed actually being together. The team took this idea to new levels beyond the camp, including housing most of the riders together in a European base in Girona, Spain. As a result the 2008 season was a big success, and the team continues with these plans heading into 2009.
"I feel that we owe you – the people that believed in us, the fans, our sponsors – we owe you the beauty and emotion of victory!"
-Vaughters on the 2009 plans
There were differences at this year's camp and launch and, if you had to choose one word to describe those, it would have to be 'win!' "Last year we raced with dignity, passion and honour," said Team Manager Jonathan Vaughters as he introduced the team to the public. "But we were so happy to be with the best in the world, riding on the front and in the mix... so happy were we to perform clean and with ethics, that we forgot one last little step – we forgot to go ahead and win. We could win a hell of a lot more than we did this year!
"Though succeeding beyond anyone's wildest dreams in 2008, I feel that we owe you – the people that believed in us, the fans, our sponsors – we owe you the beauty and emotion of victory!"
Vaughters based the whole tone of the evening on the concept of victory – that the team underestimated itself in 2008 and that it had a score to settle in 2009 because of it. During the Q & A session with the audience, one fan asked that since the team now has so many time trial experts on hand – with the addition of world silver medallist Svein Tuft to go along with Dave Zabriskie, Christian Vande Velde and Danny Pate – will they be challenging the likes of Fabian Cancellara next year? To which Vande Velde assured the crowd that yes, indeed they would.
Magnus Backstedt, not to be left out, grabbed the microphone and said that he and teammates such as Martyn Maaskant, Mike Friedman and others were going to make sure he would not find success in Paris-Roubaix as well. This theme continued throughout the evening, including a question for Vande Velde about his impressive ride on stage 10 of the Tour de France. He admitted to the crowd that he gave his competitors too much respect, and himself not enough.
"I could have gone faster and made it harder," he said, and then assured the crowd that he would not let that happen again.
Smooth operations
Team Manager Jonathan Vaughters
Photo ©: Slipstream Sports

Another noticeable difference this time around, especially during the camp itself, is that everything is running smoother. This is attributable to last year being a virtual first-year for the team and its staff. Everyone had to learn his own roles from scratch. "It's definitely a different vibe," said Vande Velde. "Everyone knows their place this year and there is not as much insecurity. The staff is coming back for a second year. We know how things work... It took the whole year for that to happen, and of course there are things that needs to still be made better, but it's much better."
One aspect of the week that Vande Velde really appreciated was accomplishing tasks will allow more time in the real training camp, held in January at altitude in New Mexico. "This is all about trying to be proactive," he said. "We get all the things out of the way that you don't want to be thinking about in January – fit, wind tunnel, media, clothing... you want to be able to take off running in January."
This idea is especially important to this team, which spends so much time, effort and money on getting every detail right. This means extra time spent on issues such as bike fit and wind tunnel testing, led by the team's physiologist Dr. Allen Lim. Many of the riders spent upwards of an hour getting their fit dialled in using the latest in optical measurement technology, all with the goal of squeezing out every possible advantage to attain their stated new goal – to win.
The new guys
Britain's Bradley Wiggins joins the team from Team Columbia
Photo ©: Slipstream Sports

Achieving the goal of winning will be aided by some key additions to the team next year, including two in particular – multiple Olympic track gold medallist, Bradley Wiggins, and 2008 time trial Worlds silver medallist, Svein Tuft.
Tuft is an interesting case study, having raced against many of his now teammates in North America for his career, as well as coming from a team that is aptly described as the opposite end of the spectrum in terms of the resources but identical in terms of team culture, the now defunct Symmetrics team.
"It is a culture shock, but it's a good culture!" said Tuft. "It was important there too, picking the right guys for the team, not based on results as much as what will work within the culture of the team. Guys being happy and motivated to ride with each other and then for each other... that is the most important thing. I always heard from the guys on [this] team and I always knew that this was the team I would be on if it wasn't for Symmetrics. It wasn't until this year that it changed."
"I have a lot of respect for what he has done on the track... and road for that matter."
-Vande Velde on new teammate Wiggins
So strong was the team at Symmetrics that even without a budget or salaries for the second-half of the season, the team still rode as if they were the richest team on the planet. "We were still riding as if we were all getting paid a great salary, the way the guys rode for me in Missouri. This is just like that, but in a bigger scheme."
One of the shocks was undergoing a bike fit with Allen Lim. "I've never seen anything like the Retul thing in my life! I've never even written down my measurements, ever. All these guys know so much, so much knowledge. I'm finding that part to be amazing, all the resources that we have."
British track superstar Wiggins comes to the team after a brief layover with the other American ProTour team, Columbia. His 2008 road season was rather light, and that was by design and in agreement with the management of Columbia. Now with a few more medals earned in Beijing, Wiggins turns his full attention to the road.
Wiggins also said that the culture is quite different from what he is used to, spending most of his road career before Columbia with French teams that he said were not at all concerned with a team that got along with each other.
"Wiggins is going to be pretty neat," said Vande Velde. "I have a lot of respect for what he has done on the track... and road for that matter! And that is without giving himself a chance to succeed on the road. It will be exciting to see what he will do on the road this year."
Different kind of team, different kind of sponsor
Garmin executive
Photo ©: Slipstream Sports

The differences between this team and most other teams, particularly in North America, is that the title sponsor, Garmin, is involved with the team for purely business senses. All too often the sponsor's company has some corporate officers that is a category three masters rider, or loves cycling as a sport – and then wants to get the company involved, dragging them in kicking and screaming, wondering how sponsoring a bunch of men in Lycra with no leg hair can make sense on an Excel spreadsheet.
But Garmin's VP of communications, Jon Cassat, said that his company started as a small sponsor and then carefully measured the return on investment capabilities.
"I came out to this event last year and stood in the shadows and just observed," he said. "I took my experience back and shared it with the leaders of the company. We were not exposed to that level of passion before, seeing a theatre full of people wowed by this team. It had an impression on me, and it was part of the progression of observing the team and gathering information. It prepared us to make the decision, and it was a great decision.
"We looked at the CPM [cost per thousand] and it made business sense," he said. Much of that comes from Garmin wanting to expand its position in Europe and other markets, with Cassat saying that having their Edge 705 on the handlebars only goes so far, but having the team name puts their brand in front of exponentially more eyeballs. Cassat said that none of the corporate officers of Garmin are racers, and that early on in the process he had to go talk to the engineers and designers to ask about the team.
Still, hearing a sponsor say that cycling sponsorship makes for good advertising, and not asking when he will get his team issue bike, is quite refreshing.
Unorthodox training
Daniel Martin works with Dr. Allen Lim
Photo ©: Slipstream Sports

Even with a handful of rides during the week, the riders had a variety of excursions to get acquainted – from hikes in the mountains to brewery tours, with an impromptu drinking contest, to paintball. Yes, shooting your new teammate with a high-velocity pellet of paint. Normally that does not hurt, unless you take off your shirt and run around, virtually asking the others to shoot you... a la Steven Cozza.
"Paintball was fun," Christian Vande Velde said. "It was one of the cliché team bonding things, but it was still a lot of fun. It was the first time we saw each other for a long time."
Vande Velde said that it was largely easy going, though the 'killer instinct' did surface for some. "We were hunting some guys down at the end, but no names. Cozza kind of invited it without a shirt. He was running out there asking for it!"
Tuft lightened up when asked about paintball. "It was fun, and good for bonding in the sense that for the new guys. We were thrown in there with a massive group. You split into two groups and then groups within that and it was all about the communication. It helped work in a cohesive group," he said.
Tuft explained that all of the non-cycling activities only solidified that he made the right decision in signing with the team. "Being here has really amplified that and made me really happy. I knew back in Missouri it was the right choice but it is great being here together."
Photography
For a thumbnail gallery of these images, click here
Images by Slipstream Sports
Images by Mia Sullivan Watts