Tech feature: Garmin-Chipotle team camp, November 24, 2008
Getting fit with Christian Vande Velde
Christian Vande Velde warms up
Photo ©: James Huang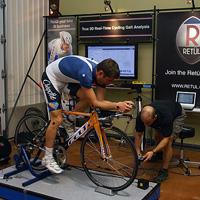 The 2009 road season is still several months off but preparations for the Garmin-Chipotle squad have already begun. Cyclingnews technical editor James Huang checks in with Christian Vande Velde on the eve of the official team presentation in Boulder, Colorado.
2009 will witness among the most dramatic changes in pro team sponsorship in recent memory and each of those teams will have a lot of work to do in the off-season to get the bikes and components set up and adjusted for each rider. Team Garmin-Chipotle, on the other hand, conveniently heads into next year with most of the same gear and can therefore spend more of its valuable time on refining existing setups instead of making gross adjustments.
One notable exception is with bars and stems as the team will switch sponsorship from Oval Concepts to 3T for 2009. While getting the road bikes set up should be fairly straightforward, the two brands' various aero bars are vastly different in shape so far more work and care will be required in setting up the time trial machines, especially for team leader Christian Vande Velde who has a long history of back and hip issues.
Retül me up
Active LED markers are placed at key locations on the body…
Photo ©: James Huang

Velde and his teammates had already used returning sponsor Retül's novel 3-D motion and spatial capture system to fine-tune their body positions last year but a new system widget dubbed 'The Zin' now allows for much more precise characterizing of the bikes as well.
When used for bike fit, the Retül system uses a wearable harness of active LED markers placed at key body locations such as knee, ankle and hip. The rider is set up on a stationary trainer, a standalone sensor array records each marker position roughly thirty times per second (to a claimed resolution of just 1mm in any direction), and the information is then analyzed with the Retül software.
The Zin, on the other hand, is basically just a single LED emitter on a stick - simply place the end of the Zin on the spot of interest and tell the system to record its location. Obviously, all of the typical hard points and measurements are included in the list of usual suspects such as the bottom bracket and hub centers, saddle height and setback, stem length, and handlebar width. However, the Zin can also characterize surfaces such as the saddle top and lever hood contours which provide far more useful information in terms of replicating exactly how a bike feels to the rider.
Retül's newest software version even prompts the user as to where to place the wand for a complete characterization. Total time from start to finish is less than ten minutes and the resultant computerized bicycle model contains all of the pertinent setup information that can then be transferred over to another bicycle frame or piece of equipment.
Lessons learned
This is what you get once a bike is fully characterized.
Photo ©: James Huang

It turns out that the aero bar swap will be anything but a mere plug-and-play operation. Vande Velde's new 3T Brezza setup uses a level base bar while his old Oval Concepts A911 JetStream has 80mm of drop. Moreover, the Oval base bar grips are positioned substantially further forward.
As a result, team mechanics will have to use a healthy stack of spacers to recreate the height differential between the base bar grips and the aero extensions, and the stem clamp position will have to be substantially lower and further back than before. Complicating matters is Vande Velde's rather extreme amount of handlebar drop relative to his saddle height and his Felt DA's integrated Bayonet front end.
As a temporary solution, Felt had to insert an extra segment into the DA's articulated stem so the team could at least make the best use of its limited - and pricey - wind tunnel time but the decidedly Rube Goldberg-like contraption is certainly less than ideal. Ultimately, Vande Velde - and others in his situation - will require custom stems and Felt may even have to modify the upper portion of its Bayonet fork system to accommodate the extreme position.
The Retül system also revealed that Vande Velde's slight lower body asymmetries puts more pressure on one side of his saddle than the other, thus resulting in different rates of wear and compression. Most riders would never notice such a difference but it can have very significant effects on power output and long-term comfort for a rider of Vande Velde's caliber.
The solution? Vande Velde will have to swap out his fi'zi:k saddle at unusually short intervals - perhaps as little as a single month - in order to maintain a constant position for that critical contact point. With the help of Retül's new Zin tool, though, team mechanics will at least be able to make sure that each replacement is exactly where it's supposed to be.
Photography
For a thumbnail gallery of these images, click here
Images by James Huang/Cyclingnews.com