News feature, February 9, 2007
Looking forward - the 2007 BMC Professional Cycling Team
The BMC Pro Cycling Team came together for a ten-day training camp in sunny Solvang, California at the end of January. After an inaugural season as a regional Elite domestic team, an infusion of cash from BMC Bicycles has allowed Team Director Gavin Chilcott to elevate his program to UCI America Tour Continental status. It also freed him to staff-up with a mix of seasoned US pros, two European wild cards and a handful of faces so fresh that much of the US Pro Peloton will be learning their names for the first time. Steve Medcroft of Cyclingnews was at the camp to find out more.
BMC training
Photo ©: Mark Adkinson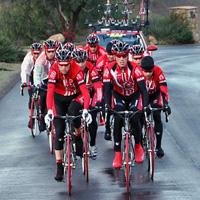 On the roster for 2007 are former Health Net veterans Mike Sayers and Scott Moninger. As are former Phonak teammates Alexander Moos and David Vitoria. Along with 2006 Lancaster winner Jackson Stewart and former Kodakgallery.com/Sierra Nevada teammate Dan Schmatz, US Elite time trial champion Ian McKissock, Chad Hartley from TIAA/CREF, Nathan Miller from Monex, the team features new Continental pros David Galvin, Jonathan Garcia, Ken Hanson, Scott Nydam and ex-pro Jacob Rosenbarger.
If the team seems stacked for stage racing, Chilcott will tell you that was the point. "This is a team that needs be able to advance to the international level and to do that, you need to be able to ride an international style race," Chilcott said at the camp. "In the American context, the only thing that closely resembles international racing is the stage races."
This means BMC has a stated goal to forego the traditional American goal of high-placement on the NRC and focus on stage racing. "Top to bottom, rider to management, if we are to achieve our long-term goals, we have to get good at stage races, at running the races, at being prepared for them, at executing at them. That's our measure of success for this year."
A humble beginning
In wine country
Photo ©: Mark Adkinson

Only its second year, the 2007 BMC Professional Cycling team is an evolution of the regional elite program Chilcott formed in 2006. "Just like any business, there's some up front costs; an investment in time and energy," Chilcott, who first turned professional with Selle Italia in 1987 and has a PhD in Microbiology said. "In 2006, we demonstrated that we could manage a team. We put the business systems in place."
Chilcott says that willingness to do whatever was needed led to stronger support than they expected for 2007. "Andy Rihs [BMC's owner] is passionate about the sport, and is as enthralled with the development of an organization as he is with the promotion of his brand in the short term," Chilcott said. "He has a big-picture view. He is providing a level of sponsorship that may not make sense in year one on a balance sheet but is seed money that in the long run will help him sell a lot of bikes."
Because of the help, Chilcott says that although he hasn't built a team that can "overpower everybody like some of the teams have done," he's tried to assemble a squad that can challenge at America's new Continental Tour. "Our focus is on the stage races more than any other thing," he said. "We're lucky to have an increased UCI calendar in the US, races that are raced by international-calibre fields and in the international style. So we've designed the team with that goal in mind; doing well in bigger stage races. The Tour of California, Tour of Georgia, Tour of Utah and Tour of Missouri are our four biggest events."
With the first of those goals, the Tour of California, only weeks away, does Chilcott feel his team is ready? "It's the most important race of the year for everybody. We're ready. The guys have worked hard. I'm confident that we will make a good showing."
New guys
The BMC brain trust
Photo ©: Steve Medcroft

During the ten-day camp, Chilcott ran the riders through physical testing, therapy, training rides and simulated racing. A contingent even made the trek south to the Low Speed Wind Tunnel in San Diego for positioning and equipment adjustments.
"There are only two full-time guys from the original team; Ken Hansen and David Galvin," said Training Director Charlie Livermore (former Volvo/Cannondale mountain-bike team director, USA Cycling Elite coach and founder of the CA-based Endurance Performance Training Centers). "We also brought back three guys that joined us as visiting riders in 2006 at races like Cascades and the Tour of Utah; Scott Nydam, [Jacob] Rosenburger and [Jonathan] Garcia."
"I've never been on a team with such huge names," said 2006 Lancaster winner Jackson Stewart. "Alexander Moos has done the Tour. Moninger is top notch. Sayers and David Vitoria are experienced. It's exciting. These guys are full of knowledge. That kind of stuff is priceless. There's a lot of expectation on us for the big races."
But the team is not all veterans and named riders. "There are some guys on the team I had never seen or met before," said Scott Moninger.
The older guy
Huffing up the
Photo ©: Mark Adkinson

2006 Tour of Utah winner Scott Moninger, who has earned more than 250 career-victories (the most of any active US rider) and will anchor BMC in some of the major stage races, says timing and fate that brought him to the team. "When I joined Health Net in 2003 and signed a two-year deal I thought I might retire in that jersey," he said. "But at the end of 2005, I won the individual NRC title and thought well, why not go for another year. I didn't like the way 2006 played out, never felt like I was on top of my game, so I didn't want to go out like that. I started looking around and this popped up on the radar. The more I talked to Gavin and learned about the program, it seemed like an ideal fit."
The team's focus on stage racing was motivating as well. "It made it a better fit. And having Moos and Nydam along means we're well suited to mountainous races. And not having to fly all over the country for the one-day NRC races is nice too."
Moninger says even though he waits to form an opinion on new riders until he sees them under the challenge of racing, he feels confident about Chilcott's European signings. "We had a four-day orientation camp in November in Mill Valley and Moos and David Vitoria were both there. It was hectic and a tight schedule – some testing and fitting for bikes and clothing - but the guys seemed really motivated. Moos did the Tour of California and the Tour of Georgia last year, and he understands what US racing is like; he understands what he's in for. Even though he'll be splitting his time between us and the mountain-bike circuit in Europe, I think he'll be valuable to us."
And, Moninger says, the team will need that experience because of the strength of the US peloton for 2007. "I think it's going to be a competitive year. Every team seems to have made good off-season acquisitions and I think there will be real parity in the sport."
The 2007 BMC Pro Cycling team is sponsored by BMC Bicycles, Shimano, PRO, Schwalbe, Vermarc, Clif Shot, Endurance Performance Training Centers, Smith Optics, Thule, Kerley Ink, Conformable Insoles and the Fast Freddie Foundation.
2007 BMC Professional Cycling Team roster: David Galvin, Jonathan Garcia, Ken Hanson, Chad Hartley, Ian Mckissick, Nathan Miller, Scott Moninger, Alexandre Moos, Scott Nydam, Jacob Rosenbarger, Mike Sayers, Dan Schmatz, Jackson Stewart, David Vitoria. Also see the 2007 Cyclingnews Teams Database.
Photography
For a thumbnail gallery of these images, click here
Images by Mark Adkison/hcphoto.smugmug.com
Images by Charlie Livermore/BMC Pro Cycling Team
Images by Steve Medcroft/www.cyclingnews.com
The BMC brain trust discusses the variations in McKissick's position they want to test in the Wind tunnel
McKissick concentrates during wind tunnel testing
Wind tunnel staff monitors the athlete on monitors in the control room