Commerce Bank Triple Crown
USA, June 4-11, 2006
Main Page Results Race Details Live report Next Race
Race 1 - June 4: Tom Bamford Lancaster Classic, 91 miles/ 25 miles
Stewart turns lead-out into win, Teutenberg ready for repeat
KodakGallery-Sierra Nevada stands up in Lancaster
By Mark Zalewski, North American editor in Lancaster, PA
Jackson Stewart (Kodak-Sierra Nevada)
Photo ©: Jon Devich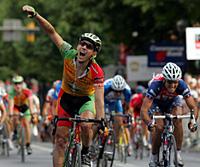 The first leg of the Commerce Bank Triple Crown was held on the fast and undulating circuit of Lancaster. And as in previous editions the high speeds were evident in the attrition rate -- with almost eighty percent of the field not finishing. But unlike in previous editions, or in previous races this year, Jackson Stewart of the KodakGallery-Sierra Nevada team surprised everyone, leading the final sprint from almost the entire last kilometer to take the win.
"I was going to lead-out Martin Gilbert, but I just hit it a little too hard which caused a gap and I decided to let the gap go," Stewart told Cyclingnews as he celebrated with his teammates. "I looked back once and thought, 'Whoa, I'm gonna make it!!!' I was stoked. I hit it way too hard but I was excited to get it!"
The win is clearly the biggest for the team as the celebration among riders and staff went on well after the awards ceremony. "this is the biggest win since the inception of this team, from Ofoto-Lombardi to now KodakGallery-Sierra Nevada," said team director Robin Zellner. "This is a stepping stone for us, and for Jackson especially. He's gotten two second places in NRC races this year and has just been on himself -- upset that he couldn't get that elusive win. He was the lead-out, but had the speed and sometimes that happens -- sometimes the lead-out guy wins!"
Trying to close the gap behind Stewart was one of the race favourites, Juan Jose Haedo (Toyota-United Pro). "In the end I was in sixth position and that gap went," Haedo said. "I was coming really fast, and I don't know if I would have made it with a longer finish, but it would have been close. My rear wheel was slamming so hard in the final straight. I hit a bump and my wheel jumped so high! I almost crashed!"
Alex Candelario (Jelly Belly)
Photo ©: Jon Devich

Also closing was Navigators Insurance's Sergey Lagutin, who was also very aggressive in the final laps launching multiple attacks that shook-up the remaining forty-rider field. "I just felt good today," Lagutin shrugged. "I felt good in the breakaway but the Toyota-United team was strong -- they have a lot of strong riders. But I will feel good for the next races."
How it unfolded
The racing went fast from the gun, with attacks coming and breaks trying desperately to organise. None seemed to be to everybody's liking, with riders not taking equal pulls and the field easily reeling things in. Occasionally, a break of four or five would assemble with the best intentions, gain half a minute, but then lose it on the climb in the feed zone. The field would make the catch on the bottom of the hill along the river, and the scenario would repeat.
The undulation of the course, with many short but steep sections kept the riders on high alert, adding mental fatigue to their already physical tiredness. "We lost about half our team," Stewart said. "It is just hard to stay on. There are so many gaps and attacks, gaps and attacks -- you just suffer all day. I'm not that good at staying up front like I should -- like yesterday's crit, sitting too far back. When I am hurting I don't think right. But I managed to close the gaps today."
One break did form on the seventh lap with a good combination of riders, including Tony Cruz (Toyota-United Pro), Kirk O'Bee (Health Net), Jonathan Page (Colavita-Sutter Home), Caleb Manion (Jelly Belly), Scott Zwizanski (KodakGallery-Sierra Nevada), Mark Walters (Navigators Insurance) and Mike Friedman (TIAA-CREF).
The break
Photo ©: Jon Devich

The group found a rhythm and quickly built a lead of a minute with short and equal pulls; but with six laps remaining the success of the break would depend on that gap growing much more. Nonetheless, many teams were happy to have a rider up the road so that they could finally give a rest to their sprinters. "We had Tony in the break so it was a perfect ride," said Heado.
Even though the break had a good combination of top teams, the shrinking field found it easier and easier to move more efficiently. With less than three to go the field dug into the break on the feed zone climb and eventually made the catch in the usual spot at the bottom. From there it was game on and back to the repeated attacks from Lagutin and Valeriy Kobzarenko (Navigators), Ivan Stevic (Toyota-United Pro), and a hose of other riders.
Some breaks worked for short times, but again the arguing within the breaks doomed their success. "With the last breaks we were on the front trying to keep it together," said Haedo. On the final lap it was Lagutin again trying solo. With three kilometers to go he was caught and the small field assembled for the sprint. However, it was not the usual Health Net-Maxxis or Toyota-United Pro train on the front, but the yellow helmets of three Kodak riders on the downhill leading up to the final turn at 250 meters.
Sergey Lagutin (Navigators)
Photo ©: Jon Devich
"That race was pretty much won on the downhill, coming out of the turn," said Zellner. "Scottie [Zwizanski] is riding unbelievable now. Two years ago he was on top of his game when he had that accident. It's really taken him two years to get back to that point."
"Scott was also in the break today -- he is riding like an animal!" said Stewart. "He was in the breaks in every race this week, can still attack at the end and can still lead us out in the end."
Stewart was riding behind Zwizanski, ready to take over and escort Gilbert through the final turn. But when Zwizanski swung off and Stewart went, no other rider came around. "This was different [for us], leading out Gilbert," Stewart explained. "He has a great sprint and I thought if anything we have to take it out from the front. So Scottie and I just took it, I got a gap and just went. It could have turned out differently -- I was really hurting in the end!"
Robin Zellner is eager to get to Reading for Thursday's race because he wants to show that this was not just a flash in the pan. "We are going to go out fighting now. I think these guys will be motived a lot by this. You'll be seeing us a lot the rest of this week!"
You can follow the entire Commerce Bank Triple Crown live on Cyclingnews. Join us on Thursday for the new race in Reading, and on Sunday for the women's Liberty Classic and Philadelphia International.
Teutenberg makes easy work in Lancaster
Ina Teutenburg (T-Mobile)
Photo ©: Jon Devich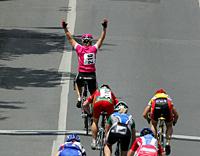 For the first time in the history of the Philly week series, a professional women's criterium series is joining the men's races in both Lancaster and Reading, giving the women who race the Liberty Classic a warm-up and the domestic pros a chance to race with some international riders. One of those internationals was Ina-Yoko Teutenberg (T-Mobile) who, with the help of two teammates, lit-up the streets with an impressive sprint win.
The surprise of the day was the tactics of the Colavita-Cooking Light team, who used their start sprinter Tina Pic as a decoy to set-up their other sprinter Gina Grain. So any rider fighting for Tina's wheel found herself on the fuzzy end of the lollipop. "It was a long sprint and I didn't realize that Tina was working for Gina," said third place Laura Van Gilder (TEAm Lipton).
"Colavita did a really good lead out for Gina [Grain]," said Teutenberg. "I was lucky that I was on Gina's wheel. I waited for her to jump but she didn't so I went first with about 120m to go."
"The sprint is tricky because it is bumpy and downhill," said Gina Grain (Colavita-Cooking Light). "So you can't go too early and lead the person out behind you or too late and miss it, like any sprint only amplified! I knew Ina was right behind me -- the sprint really happened in the last 100 meters. Tina was a decoy and started the lead-out really early. She ramped it up really well."
Laura Van Gilder (Lipton) and Ina Teutenburg (T-Mobile)
Photo ©: Jon Devich

A lot of breaks formed in the race, with many top riders. At one point early in the race, Teutenberg and Van Gilder found themselves off the front looking at each other. "I was thinking about that, but it was pretty animated overall behind us."
A bigger break contained Teutenberg's T-Mobile teammate Kim Anderson, who's presence meant that Teutenberg and teammate Mari Holden could relax in the field. "It was good because we had Kim in the break so I could wait till the sprint."
Also in the break was Aaron's Corporate Furnishing's Hellen Kelly, who easily was the most aggressive on the day. "I had good legs today," she said. "I was surprised because I finished third at Tour of Montreal. The break was working with Laura Van Gilder and Lauren Franges doing a lot of work. But the break stopped working because their were two Colavita girls attacking us. So I felt it best to attack the break because I don't have a chance sprinting against Tina or Laura."
The podium
Photo ©: Jon Devich

Photography
For a thumbnail gallery of these images, click here
Images by Jonathan Devich/epicimages.us
Images by Dennis Smith/dennisbike.com
Images by Todd Leister/leister.smugmug.com
Images by Fj Hughes/www.fhughesphoto.com
Results
Men

1 Jackson Stewart (USA) Kodak Sierra Nevada                   3.09.20
2 Juan Jose Haedo (Arg) Toyota-United                                
3 Sergey Lagutin (Uzb) Navigators Insurance                          
4 Hilton Clarke (Aus) Navigators Insurance                           
5 Richard Faltus (Cze) Sparkasse                                     
6 Danny Pate (USA) TIAA CREF                                         
7 Emile Abraham (Tri) AEG-Toshiba-JetNetwork                         
8 Alex Candelario (USA) Jelly Belly                                  
9 Mark McCormack (USA) Colavita-Sutter Home                          
10 Ben Brooks (Aus) Navigators Insurance                             
11 Mark Walters (Can) Navigators Insurance                           
12 Trent Wilson (Aus) Jittery Joe's                                  
13 Jairo Hernandez (Col) Colombia Es Pasion                          
14 Gordon Fraser (Can) Health Net-Maxxis                             
15 Stefan Parinussa (Ger) Sparkasse                                  
16 Tony Cruz (USA) Toyota-United                                     
17 James Perry (RSA) Barloworld                                      
18 Martin Gilbert (Can) Kodak Sierra Nevada                          
19 Davide Frattini (Ita) Colavita-Sutter Home                        
20 Taylor Tolleson (USA) TIAA CREF                                   
21 Andrew Guptill (USA) TargeTraining                                
22 Mike Friedman (USA) TIAA CREF                                     
23 Facci Mauro (Ita) Barloworld                                      
24 Caleb Manion (Aus) Jelly Belly                                    
25 Robbie King (USA) Priority Health                                 
26 Frank Pipp (USA) TargeTraining                                    
27 Christian Valenzuela (Mex) Team Monex                             
28 Ivan Dominguez (Cub) Toyota-United                                
29 Ivan Stevic (SCG) Toyota-United                                   
30 Emanuel Suarez (USA) Team Monex                                   
31 Bobby Julich (USA) Team CSC                                       
32 Chris Wherry (USA) Toyota-United                                  
33 Kasper Klostergaard (Den) Team CSC                            0.10
34 Heath Blackgrove (NZl) Toyota-United                              
35 Sean Sullivan (Aus) Toyota-United                             0.16
36 Andrea Peron (Ita) Team CSC                                       
37 Valeriy Kobzarenko (Ukr) Navigators Insurance                     
38 Karl Menzies (Aus) Health Net-Maxxis                              
39 Scott Zwizanski (USA) Kodak Sierra Nevada                     0.28
40 Jose Garcia (Mex) Toyota-United                               1.21
41 Brent Brookwalter (USA) Priority Health                           
42 Diego Montoya (Col) Colombia Es Pasion                        1.25
43 Francisco Colorado (Col) Colombia Es Pasion                   2.16
44 Jonathan Page (USA) Colavita-Sutter Home                          
45 Francois Parisien (Can) TIAA CREF                                 
46 Jeff Louder (USA) Health Net-Maxxis                               
47 Kyle Wamsley (USA) Colavita-Sutter Home                           
48 Igor Astarloa (Spa) Barloworld                                    
49 Kirk Albers (USA) Jelly Belly                                 3.05
50 Eric Keim (USA) AEG-Toshiba-JetNetwork                            
51 Matti Breschel (Den) Team CSC                                 9.02
DNF Aleajandro Acton (Arg) TargeTraining                             
DNF Jason Allen (NZl) Kodak Sierra Nevada                            
DNF Marc Anderson (USA) Jittery Joe's                                
DNF Jesse Anthony (USA) Kodak Sierra Nevada                          
DNF Gustavo Artacho (Arg) Colavita-Sutter Home                       
DNF Rahsaan Bahati (USA) TIAA CREF                                   
DNF Andrew Bajadali (USA) Jelly Belly                                
DNF Spencer Beamer (USA) VMG                                         
DNF Zach Bell (Can) Rite Aid                                         
DNF Zach Bolian (USA) VMG                                            
DNF Giosue Bonomi (Ita) Barloworld                                   
DNF Brooke Boocock (Can) Calyon-Litespeed                            
DNF Alexander Boyd (USA) VMG                                         
DNF Gabriel Brizuela (Arg) Colavita-Sutter Home                      
DNF Diego Caccia (Ita) Barloworld                                    
DNF Glen Chadwick (Aus) Navigators Insurance                         
DNF Enrico Degano (Ita) Barloworld                                   
DNF John Delong (USA) Rite Aid                                       
DNF Ryan Dewald (USA) Rite Aid                                       
DNF Michael Dietrick (USA) Kodak Sierra Nevada                       
DNF Joel Dion-Poitras (Can) Calyon-Litespeed                         
DNF Evan Elken (USA) Jittery Joe's                                   
DNF Glenn Fant (USA) Team Monex                                      
DNF Tom Flammang (Lux) Sparkasse                                     
DNF Chris Frederick (USA) AEG-Toshiba-JetNetwork                     
DNF Sebastian Frey (Ger) Sparkasse                                   
DNF Eneas Freyre (USA) TargeTraining                                 
DNF Hayden Godfrey (NZl) Team Monex                                  
DNF Dan Greenfield (USA) TargeTraining                               
DNF Kyle Gritters (USA) Health Net-Maxxis                            
DNF Hoyt Halvorson (USA) Nerac.com                                   
DNF Jon Hamblen (USA) Nerac.com                                      
DNF John Hanson (USA) Nerac.com                                      
DNF Chad Hartley (USA) TIAA CREF                                     
DNF Wes Hartman (USA) TargeTraining                                  
DNF Peter Hatton (Aus) Jittery Joe's                                 
DNF Todd Henriksen (USA) VMG                                         
DNF Christoph Herby (USA) Rite Aid                                   
DNF Todd Herriott (USA) Colavita-Sutter Home                         
DNF Daniel Holt (USA) Nerac.com                                      
DNF Timo Honstein (Ger) Sparkasse                                    
DNF Johnny Hoogerland (Ned) Netherlands National Team - Altipower    
DNF Jeffrey Hopkins (Aus) Jittery Joe's                              
DNF Brad Huff (USA) TIAA CREF                                        
DNF Brian Jensen (Den) Jelly Belly                                   
DNF Tim Johnson (USA) Health Net-Maxxis                              
DNF Brice Jones (USA) Jelly Belly                                    
DNF Michael Jones (USA) Health Net-Maxxis                            
DNF Austin King (USA) Jittery Joe's                                  
DNF Edward King (USA) Priority Health                                
DNF Frank Kwanten (Ned) Netherlands National Team - Altipower        
DNF Christian Ladermann (Ger) Sparkasse                              
DNF Russell Langley (USA) Rite Aid                                   
DNF Bruno Langlois (Can) AEG-Toshiba-JetNetwork                      
DNF Viktor Laza (SCG) AEG-Toshiba-JetNetwork                         
DNF Stefan Loffler (Ger) Sparkasse                                   
DNF Erick Lyman (Can) Calyon-Litespeed                               
DNF Dustin Macburnie (Can) TargeTraining                             
DNF Ian Macgregor (USA) TIAA CREF                                    
DNF Wilson Marentes (Col) Colombia Es Pasion                         
DNF Lars Michailsen (Den) Team CSC                                   
DNF Nathan Miller (USA) Team Monex                                   
DNF Shawn Milne (USA) Navigators Insurance                           
DNF Glen Mitchell (NZl) Priority Health                              
DNF Hugh Moran (USA) AEG-Toshiba-JetNetwork                          
DNF Adam Myerson (USA) Nerac.com                                     
DNF Tommy Nankervis (Aus) Priority Health                            
DNF Mike Norton (USA) Nerac.com                                      
DNF Kirk O'Bee (USA) Health Net-Maxxis                               
DNF David O'Loughlin (Irl) Navigators Insurance                      
DNF Martin Pedersen (Den) Team CSC                                   
DNF Peter Penzell (USA) Rite Aid                                     
DNF Dominique Perras (Can) Kodak Sierra Nevada                       
DNF Jean-Sebastien Perron (Can) Calyon-Litespeed                     
DNF Thijs Poelstra (Ned) Netherlands National Team - Altipower       
DNF Prokic Predrag (SCG) AEG-Toshiba-JetNetwork                      
DNF Viktor Rapinski (Blr) Colavita-Sutter Home                       
DNF Nick Reistad (USA) Jelly Belly                                   
DNF Matty Rice (Aus) Jelly Belly                                     
DNF Rudy Robaina (USA) VMG                                           
DNF Luke Roberts (Aus) Team CSC                                      
DNF David Robinson (USA) Kodak Sierra Nevada                         
DNF Gerardo Rodriguez (Col) Colombia Es Pasion                       
DNF Alexis Rojas (Col) Colombia Es Pasion                            
DNF Jacob Rytlewski (USA) Priority Health                            
DNF Jairo Salas (Col) Colombia Es Pasion                             
DNF Michael Sayers (USA) Health Net-Maxxis                           
DNF Brian Sheedy (USA) Priority Health                               
DNF Neil Shirley (USA) Jittery Joe's                                 
DNF Matt Shriver (USA) TargeTraining                                 
DNF Ger Soepenberg (Ned) Netherlands National Team - Altipower       
DNF Tom Southam (GBr) Barloworld                                     
DNF Justin Spinelli (USA) Nerac.com                                  
DNF Yovanny Torres (Col) Colombia Es Pasion                          
DNF Frank Travieso (Cub) AEG-Toshiba-JetNetwork                      
DNF Brad Viera (USA) Rite Aid                                        
DNF Devon Vigus (USA) Team Monex                                     
DNF Charly Vives (Can) Calyon-Litespeed                              
DNF Maxim Vives (Can) Calyon-Litespeed                               
DNF Frank Wierstra (Ned) Netherlands National Team - Altipower       
DNF Jon Wirsing (USA) Rite Aid                                       
DNF Peter Woestenberg (Ned) Netherlands National Team - Altipower    
DNF Phillip Wong (USA) Jittery Joe's                                 
DNF Todd Yezefski (USA) Nerac.com                                    
DNF Taylor Zachary (USA) VMG                                         
DNF Tom Zirbel (USA) Priority Health                                 

Women

1 Ina Teutenberg (T-Mobile Pro Cycling Team)      54.21
2 Gina Grain (Colavita Cooking Light)                  
3 Laura Van Gilder (Team Lipton)                       
4 Theresa Cliff-Ryan (Verducci Breakaway Racing)       
5 Shannon Hutchison-Krupat (Aaron's)                   
6 Brenda Lyons (Victory Brewing Cycling Team)          
7 Laura Yoisten (Victory Brewing Cycling Team)         
8 Annette Beutler (Aaron's)                            
9 Tina Pic (Colavita Cooking Light)                    
10 Lara Kroepsch (Team Lipton)                         
11 Rachel Heal (Victory Brewing Cycling Team)          
12 Rebecca Larson (Tri State Velo Amoroso)             
13 Kelly Benjamin (Cheerwine)                          
14 Mackenzie Dickey (Aaron's)                          
15 Katharine Carroll (Victory Brewing Cycling Team)    
16 Lauren Franges (Victory Brewing Cycling Team)       
17 Emma Nelson (Advil-Chapstick)                       
18 Sarah Caravella (Team Lipton)                       
19 Catherine Powers (Aaron's)                          
20 Helen Kelly (Aaron's)                               
21 Beth Leasure (Team Spirit Cycling)                  
22 Iona Wynter (Colavita Cooking Light)                
23 Courtenay Brown (McGuire Pro Cycling)               
24 Clara Beaerd (McGuire Pro Cycling)                  
25 Rebecca Wellons (Gearworks/Spin Arts)               
26 Mara Miller (Advil-Chapstick)                       
27 Charm Breon (Cheerwine)                             
28 Megan Esmonde (Travelgirl Magazine)                 
29 Laura Bowles (Victory Brewing Cycling Team)         
30 Alison Fischer (East Coast Velo)                    
31 Michele Bote (Hub Racing)                           
32 Sima Trapp (Colavita Cooking Light)                 
33 Brooke O'Connor (Hub Racing)                        
34 Kim Geist (Victory Brewing Cycling Team)            
35 Lisa Jellett (Verducci Breakaway Racing)            
36 Kathleen Billington (Advil-Chapstick)               
37 Sheba Farrin (Hub Racing)                           
38 Liz Young (Hub Racing)                              
39 Elizabeth Morse Hill (Team Fuji/Bolt Brothers)      
40 Katie Lambden (Team Lipton)                         
41 Candice Blickem (Aaron's)                           
42 Becky Broeder (Hub Racing)                          
43 Janet Olney (ADG-Joe's Bike Shop)                   
44 Kathryn Clark (Team Fuji/Bolt Brothers)             
45 Amity Elliot (ADG-Joe's Bike Shop)                  
46 Monique Hein (Monstr Health Cycling)                
47 Heather Labance (Advil-Chapstick)                   
48 Sarah Tillotson (Colavita Cooking Light)            
49 Mari Holden (T-Mobile Pro Cycling Team)             
50 Kimberly Anderson (T-Mobile Pro Cycling Team)       
51 Meshy Holt (Colavita Cooking Light)             1.34
DNF Lisa Vible (ADG-Joe's Bike Shop)                   
DNF Reem Jishi (Advil-Chapstick)                       
DNF Lenore Imhof (Colavita Cooking Light)              
DNF Cory Bemis (Hub Racing)                            
DNF Jessie McKinney (Hub Racing)                       
DNF Nikki Raspa (Hub Racing)                           
DNF Rebeca Jones (Hub Racing)                          
DNF Anna Webb (Karl Strauss/SDBC)                      
DNF Jacqueline Paull (Team Alliance Environmental)     
DNF Donna Kerby (Team Fuji/Bolt Brothers)              
DNF Christina Becker (T-Mobile Pro Cycling Team)       
DNF Judith Arndt (T-Mobile Pro Cycling Team)           
DNF Caroline Hacker (Tri State Velo Amoroso)           
DNF Lynda Maldonado (Tri State Velo Amoroso)           
DNF Beth Mason (U.S. Armed Forces)                     
DNF Diane Castor (Velo Bella-Kona)                     
DNF Marcie Massaro (Velo Bella-Kona)                   
DNF Nonnie Howard (Verducci Breakaway Racing)          
DNF Tara Walhart (Verducci Breakaway Racing)           
DNF Tricia Carnila (Verducci Breakaway Racing)         
DNF Chrissy Ruiter (Victory Brewing Cycling Team)