Tales from the Peloton
The iteamNova demise: what next?
Victoria, Australia, November 13, 2003
After braving a couple of years in the European peloton, the member-funded iteamNova squad folded at the end of 2003 due to lack of funds. It was a disappointment for the driving force behind the idea, Susan Stewart, but as she tells Karen Forman, she has no regrets about the last two years and would do it all over again.
Flanders-iteamNova in Langkawi
Photo: © Gennie Sheer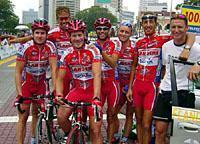 There's an adage about "always going out on top" and another that says something like, "If you're gonna go, be sure to do it in style." Sometimes in a kind of karmic way, it just turns out like that anyway.
That was certainly the case for one of the world's first subscription-based professional cycling teams, the Division II iteamNova.com squad, which announced its demise this month after a two year battle to attract enough paying members to make it a viable entity on the international professional road scene.
Captain David McKenzie knocked over the inaugural Jayco Tour of Queensland in the team's final performance together on November 8, and to make it a double banger on the same day, Kiwi born team member Scott Guyton was off winning the Tour of Southland in New Zealand for the second time.
But the wins were bittersweet for team manager and McKenzie's wife Susan Stewart, who was the brainchild behind the iteamNova concept launched with pomp and hope in a gala ceremony in Melbourne's glitzy Crown Casino in December, 2001.
Stewart, who dreamed up the concept of an Australian team funded entirely by members subscribing via a website when McKenzie's old pro team fell apart in 2001, is understandably disappointed that after two seasons of racing, the team has had to announce its early retirement due to lack of funds.
But the mother of two (Lulu, 3 yrs in January was born in Australia while son Leroy made his appearance in Belgium during the current season) is realistic - and most importantly, she doesn't regret a thing.
"I'd definitely do it all over again," she tells Cyclingnews from country Victoria, where she, her husband Dave and the kids are taking an end of season break with her parents. "We had some fantastic experiences, the guys got some good overseas racing experience, we put some good results on the board...and I have learned a lot about how to do it better next time."
Where did it go wrong?
Not enough memberships for a start. And then, not enough sponsor dollars.
While Stewart isn't willing to say just how many people signed up for membership at $220 a pop (which gave them a distinctive team jerseys, access to the members only section of the website www.iteamnova.com and various other benefits, she concedes that she needed 5000 members to see a viable team racing at Category II level. And although support, particularly in the beginning, was huge, ultimately the numbers just didn't add up.
"...all indications were that it would be a viable thing."
- Susan Stewart on her hopes for the team in 2003
Starting out as a Category III team, iteamNova, which comprised McKenzie, Jamie Drew, Allan Iacuone, Guyton, Trent Wilson, Dom Perras and Brett Lancaster (Russell Downing and Aaron Olson were signed up but didn't race due to financial cuts) fared reasonably well in its first year. Lancaster won a race in Holland. McKenzie won a race in Belgium and the team collected three stage wins, second overall, fourth and fifth overall in the Sun Tour back home in Australia.
Drew celebrating at the Sun Tour
Photo: © Shane Goss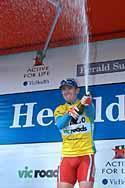 "Things were pretty successful," Stewart says. "I think probably the main thing was testing out the whole concept, trying to create a membership market as a funding for the whole team...The reaction was pretty positive, especially to start with. We probably didn't reach the figures we hoped for initially but all indications were that it would be a viable thing."
A hopeful second year
So the team moved into its second year. Brett Lancaster moved from iteamNova to Panaria and funding was growing tight, so Stewart began to look at sourcing funding from sponsors. It hadn't been something she had wanted to do, but she figured sponsorship funds could provide the start-up money she needed to keep the team racing and further set up the membership base.
Jayco Caravans came on board and then, at the end of 2002, in a somewhat unexpected move, iteamNova merged with Belgian Division II team Flanders to become Flanders-iteamNova for the 2003 season. What did that mean for the Australian component?
"The merger meant we would be one team and financially just pooling resources," Stewart explains. "It did become a Belgian team and gave us the opportunity for our guys to race in a Cat II team. "
But it also meant the team lost its "Australian-ness" and Stewart is the first to admit that a lot of members signed on because they liked the idea of supporting an Australian professional cycling team. There were 12 riders in all on the newly merged team. Stewart went from team manager to membership manager, which she says "was fine by me because I have always believed you should leave jobs to people who are experts."
"I pretty much stuck to doing the membership," she says. "In hindsight, the merger was a bit disappointing. It took a bit away from what we were trying to achieve with iteamNova. I think people saw it moving away from being an Australian team and moving away from the whole philosophy of being a members based thing."
Macca wins a Sun Tour stage
Photo: © Shane Goss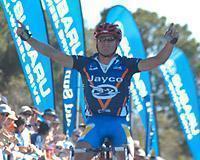 As well as appearing in races throughout Europe, the team raced in Le Tour Le Langkawi in Malaysia in January, the Dodge Tour de Georgia in the USA in April and the Tour of Qinghai Lake in China in August. According to Stewart it was "more of a global racing team because a lot of the European teams don't race outside of Europe."
Highlights of the past season were McKenzie's recent Tour of Queensland win and Guyton's Tour of Southland win. As well, Perras won the Canadian national championship, Iacuone had a good season, with no wins but a lot of consistent top 10 placings, and the team as a whole performed well in the Sun Tour with stage wins (Drew, McKenzie) and a third overall by Lancaster. McKenzie also won a stage in the Tour of Qinghai Lake.
"When you're moving up to Cat. II all of a sudden you really are racing against the top teams," Stewart says, adding that she would have loved to have seen the team stick it out for at least another season (particularly as at the launch the team vowed to be in the Tour de France within five years). But she said finances won in the end.
Feeding the 5000
How much did they need? "It's an interesting thing," she says. "To run a reasonably successful Cat II team, if we're talking about generating the members to do that, we probably need about 5000 members paying $220 each per year."
Stewart said she had endeavoured to seek additional funding in recent months but had been unsuccessful and had started advising team members to look at other options for next year. "I guess what I envisaged was that we reach the membership in order to put the structure in place in order to grow the membership," she says. "What I was looking for was a sponsor to put the structure in...but then that takes away from the whole membership concept. It was a bit of Catch 22. I was looking for funding but questioning the reality of it being a member based team.
"In the end I didn't find the funding. I let the guys know to start looking around for other things a couple of months ago. You have to be realistic in this economic climate."
Where do we go from here?
Photo: © Shane Goss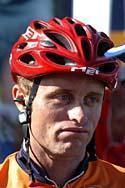 Sponsor or no, she says she had already decided not to renew the merger with Flanders. "From a merger point of view it wasn't entirely successful," she concedes. "We had different ideas...although I don't regret doing it at all. I think you have to be thankful that the team had another year of racing. It gave the guys another opportunity to be on the road racing, and cyclists looking for contracts have to be out there being seen, to get the opportunity."
So is there any hope of an eleventh-hour save, or a resurrection? "I think iteamNova will completely disappear," Stewart says pragmatically. "It will be difficult to resurrect something like that. But I see a renovation of the membership concept."
It appears that Stewart hasn't given up the idea entirely. "The things that are happening in cycling with sponsors pulling out indicate that there is another need for alternative funding. Look at other sports, which have stadium fees and other funding...which can be beneficial to sponsors as well.
"I think sponsors are looking for other opportunities. Of course, hindsight is a wonderful thing. I can't regret it at all. You've got to try things, get out there and do things, otherwise, what's the point? I think it was a good idea and a lot of people supported it. Everyone who was there was behind it 100 per cent. The riders were fantastic and I have had a lot of people help me out free of charge.
"What we do next will definitely be in cycling and will mean we'll be living overseas again."
- Susan Stewart on her family's future plans
"When I made the announcement that the team wouldn't be going ahead I had that many emails from people really sad it was all stopping. But we had no choice."
Personally, despite the seeming glamour of being based in Ghent, Belgium for eight months of the year while her husband raced and she worked on the team, Stewart admits it was a struggle. "It's been hard for Dave to separate his racing from the running of the team as well," she says. "I think it's been an added stress for him. Another reason we couldn't push on was the addition to the family. Leroy was born on Bastille Day.
"You have your own personal limitations I guess. But if you weigh it up, well, I've been travelling overseas with Dave for seven years now. It's an important thing for women married to cyclists...if you go away with your husband and just sit at home and twiddle your thumbs till he gets back from races, it can be really hard. For me it has been good to get up to do something every day. That's my thing."
So what's next? There is something in the air, but Stewart is keeping mum at the moment. "The membership has to evolve into something better than it is at the moment," she hints. "What we do next will definitely be in cycling and will mean we'll be living overseas again."
Stay tuned...