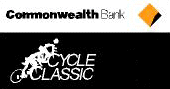 Stage 6, Salamander Shores - Bumble Hill, 156 km
Tuesday, November 7, 2000, 9:30 - 13:25
---
Main Page
Results
Previous stage
Stage map
Polish power
By Jeff Jones

Wojciechowski wins
Photo: © Tom Balks
The longest stage of the Commonwealth Bank Cycle Classic was a tough, 156 kilometre journey ending with the steep ascent of Bumble Hill. By the finish, the Polish Mroz team had established themselves firmly in the lead after three of them made the decisive break. Grzegorz Wajs successfully defended his jersey, but only just after placing third behind teammate Dariusz Wojciechowski (1st) and Julian Winn (2nd, Dupont).
The stage was dedicated to the late Darren Smith, an Australian rider who won here exactly 10 years ago but was tragically killed shortly after the Barcelona Olympics in 1992. Jackie Panter, the daughter of Smith's former coach, Bob Panter, presented the winners trophies and read a touching tribute to the former cyclist.
The race started from Salamander Shores in the usual aggressive fashion. Riders continually attacked in an attempt to gain an advantage for the long day ahead, and the race averaged 44 km/h in the first hour. At 51 kilometres a group of nine were successful, with race leader Grzegorz Wajs bridging to make it 10: Dan Smith (QANTAS), Chris White (Caravello), Julian Winn (DuPont), Peter Milostic (NSW Sport & Rec), Scott Suckling (Glen Parker Cycles), Baden Burke (Peugeot), Martin Lonie (Bates Bikes), and three Poles: Dariusz Wojciechowski, Pawel Niedzwiecki, and Grzegorz Wajs (Mroz).
A crash at an inopportune time prevented Phil Thuaux (Sport & Rec), from making the break. He was forced to chase back to the main peloton while Grzegorz Wajs was up front urging the break to work. Work they did as their gap grew to 1'40 as they approached the first King of the Mountain Sprint (Freemans Waterholes, km 91.8). The sprint to the top was taken by Julian Winn, closely followed by Wajs and Scott Suckling, and the rest of the break. Behind them, Thuaux tried to bridge but gave up after a few kilometres.
As they made the turn onto Yarramalong Road, Thuaux latched himself onto Jans Koerts' wheel in another attempt to bridge. By this stage, the gap was three minutes and the pair had little hope. Indeed, Koerts did not last long and Thuaux rode by himself to eventually catch the last rider of the break inside the last kilometre of the stage.
Mroz drives it
Photo: © Tom Balks
The break itself had stuck together until they reached the bottom of the final 3 kilometre climb. Wajs' teammates Dariusz Wojciechowski and Pawel Niedzwiecki set a high tempo to the foot of the climb, at which point Niedzwiecki pulled off. It didn't take long for the break to reduce to four riders: Wajs, Wojciechowski, Winn and Suckling as they approached the 20 percent grade that marked the steepest part of the climb.
It was here that Winn attacked, gaining an immediate advantage on Wajs and Wojciechowski. The latter was unsure what to do as he saw his teammate in trouble. In the end, Wojciechowski chased down Winn with 200 metres to go to take the stage, with Wajs finishing third, 34 seconds down. The result (after bonuses were counted) was that Wajs still leads the Classic by 5 seconds from Wojciechowski, with Winn in third at 17 seconds.
32 year old Warsaw born Wojciechowski has ridden this stage before, and knew what was in store. He said afterwards that he was working for the team's leader, Wajs. However, when Winn attacked he saw that he could win. "I'm really happy, because it is my first win in Australia. I did this race four years ago but I didn't have a chance to win the stage then. I was 10 minutes behind."
"It was a little bit of a strange stage. Normally we should work for the leader but we decided today to attack. It was a little bit of a risk but it was good," he said. "All the riders were working together because it was a really important stage for GC. In the last few kilometres Grzegorz stopped working, but the rest of the time we were all working."
Second placed Julian Winn came close to taking the lead. "Yeah, in hindsight maybe a little bit too early but I took my chance when I thought it was quite a good point to go when it was quite steep." "He just caught me. I think I was panicking a bit because I kept looking behind but really I should have just on with the job."
"I've done this race twice before so I knew it [the climb] but I was still a little bit unsure. I knew it leveled off in certain places and I had to pick the point to go."
Winn moved up to second on GC and is probably main rider who could threaten the two Poles. "I'm happy where I am and I feel confident that I could outclimb them. Jamberoo and Kangaroo Valley are going to be harder stages so I won't make any predictions. We'll see."
Finally, what was Winn riding on today - was it rice? "No it was just pasta," said the Welshman.
Results
1 Dariusz Wojciechowski (Pol) Mroz              3.55.30 (39.75 km/h)
2 Julian Winn (GBr) Dupont                         0.09
3 Grzegorz Wajs (Pol) Mroz                         0.34
4 Scott Suckling (Aus) Glen Parker-Fondriest       0.42
5 Dan Smith (GBr) Qantas-One World                 1.14
6 Chris White (Aus) Team Caravello                 1.19
7 Peter Milostic (Aus) NSW Sport & Rec             1.39
8 Baden Burke (Aus) Peugeot                        2.21
9 Pawel Niedzwiecki (Pol) Mroz                     2.44
10 Phil Thuaux (Aus) NSW Sport & Rec               3.12
11 Martin Lonie (GBr) Bates Bikes                  3.34
12 Hilton McMurdo (Aus) Glen Parker-Fondriest      3.41
13 Glen Chadwick (Aus) Peugeot                     4.14
14 Henk Vaassen (Aus) NSW Sport & Rec              4.54
15 Steve Williams (Aus) Team Caravello             6.01
16 Giles Baudet (Aus) Team Caravello               6.25
17 Brent Dawson (Aus) Qantas-One World             6.50
18 Tino Haakman (Ned) Websdale                     7.06
19 Heiko Szonn (Ger) Qantas-One World              7.32
20 Bart Duraj (Aus) Mroz                           7.32
21 Cameron Jennings (Aus) Peugeot                  7.44
22 Darren Rolfe (Aus) NSWIS                        8.03
23 Danny Clark (Aus) Qantas-One World              8.14
24 Yento Barker (GBr) Dupont                       9.20
25 Adam Cox (Aus) Bates Bikes                      9.30
26 Scott Bradburn (Aus) NSW Sport & Rec            9.43
27 Rory Sutherland (Aus) Casino Canberra           9.46
28 Jeremy Hunt (GBr) Qantas-One World             11.05
29 Stephan Gottschling (Ger) Bosch                11.05
30 Anthony Malarczyk (GBr) Dupont                 11.12
31 Jans Koerts (Ned) Websdale                     11.14
32 Ben Brooks (Aus) NSWIS                         12.24
33 Andrew Payne (Aus) Team Caravello              23.00
34 Cameron Hughes (Aus) Peugeot                   23.34
35 Russel Van Hout (Aus) Bates Bikes              23.45
36 Joshua Collingwood (Aus) NSWIS                 24.31
37 Edmund Hollands (Aus) Glen Parker-Fondriest    24.36
38 Ashley Hutchinson (Aus) NSWIS
39 Paul Van Schalen (Ned) Websdale
40 Bjorn Hoeben (Ned) Websdale
41 Dariusz Skoczylas (Pol) Mroz
42 Timo Scholz (Ger) Bosch
43 Brent Millar (Aus) Casino Canberra
44 Ben Day (Aus) Bates Bikes
45 Tomas Buchacek (Cze) Bates Bikes
46 Mark Chadwick (Aus) Peugeot
47 Alan Sieper (Aus) Casino Canberra
48 Danilo Klaar (Ger) Bosch                       24.48
49 Jono Davis (Aus) NSW Sport & Rec               25.04
50 Michael Tolhurst (Aus) Casino Canberra         25.21
51 Mark Renshaw (Aus) Team Caravello              25.38
52 Thorsten Wilhelms (Ger) Bosch                  25.50
53 Matt Illingworth (GBr) Dupont                  25.57
54 Huw Pritchard (GBr) Dupont
55 Martijn Simons (Ned) Websdale                  26.23
56 Dirk Schumann (Ger) Bosch                      27.49
57 Dennis Mungovern (Aus) Casino Canberra         27.57
58 Graeme Brown (Aus) NSWIS
DNF Jaarod Poad (NZl) Glen Parker Cycles-Fondriest

Coca Cola King of the Mountains

Freemans Waterhole - Cat. 2, km 92.8

1 Julian Winn (GBr) DuPont                            6 pts
2 Grzegorz Wajs (Pol) Mroz                            4
3 Scott Suckling (Aus) Glen Parker Cycles-Fondriest   3
4 Dariusz Wojciechowski (Pol) Mroz                    2
5 Martin Lonie (GBr) Bates Bikes                      1

Bumble Hill - Cat. 1, km 156

1 Dariusz Wojciechowski (Pol) Mroz                   10 pts
2 Julian Winn (GBr) DuPont                            8
3 Grzegorz Wajs (Pol) Mroz                            6
4 Scott Suckling (Aus) Glen Parker Cycles-Fondriest   4
5 Dan Smith (GBr) QANTAS-One World                    2

General classification after stage 6:

1 Grzegorz Wajs (Pol) Mroz                      8.18.22
2 Dariusz Wojciechowski (Pol) Mroz                 0.05
3 Julian Winn (GBr) Dupont                         0.17
4 Scott Suckling (Aus) Glen Parker-Fondriest       1.14
5 Dan Smith (GBr) Qantas-One World                 1.43
6 Peter Milostic (Aus) NSW Sport & Rec             2.16
7 Baden Burke (Aus) Peugeot                        2.58
8 Pawel Niedzwiecki (Pol) Mroz                     3.05
9 Chris White (Aus) Team Caravello                 3.39
10 Glen Chadwick (Aus) Peugeot                     4.45
11 Phil Thuaux (Aus) NSW Sport & Rec               5.18
12 Hilton McMurdo (Aus) Glen Parker-Fondriest      5.32
13 Martin Lonie (GBr) Bates Bikes                  6.08
14 Brent Dawson (Aus) Qantas-One World             7.08
15 Henk Vaassen (Aus) NSW Sport & Rec              7.14
16 Steve Williams (Aus) Team Caravello             8.14
17 Giles Baudet (Aus) Team Caravello               8.45
18 Tino Haakman (Ned) Websdale                     9.26
19 Yento Barker (GBr) Dupont                       9.57
20 Cameron Jennings (Aus) Peugeot                 10.04
21 Bart Duraj (Aus) Mroz                          10.07
22 Heiko Szonn (Ger) Qantas-One World             10.07
23 Darren Rolfe (Aus) NSWIS                       10.23
24 Danny Clark (Aus) Qantas-One World             10.34
25 Rory Sutherland (Aus) Casino Canberra          10.45
26 Jans Koerts (Ned) Websdale                     11.06
27 Adam Cox (Aus) Bates Bikes                     11.43
28 Scott Bradburn (Aus) NSW Sport & Rec           12.18
29 Jeremy Hunt (GBr) Qantas-One World             13.03
30 Stephan Gottschling (Ger) Bosch                13.25
31 Anthony Malarczyk (GBr) Dupont                 13.32
32 Ben Brooks (Aus) NSWIS                         14.44
33 Edmund Hollands (Aus) Glen Parker-Fondriest    24.55
34 Andrew Payne (Aus) Team Caravello              25.20
35 Ashley Hutchinson (Aus) NSWIS                  25.25
36 Paul Van Schalen (Ned) Websdale                25.42
37 Cameron Hughes (Aus) Peugeot                   25.54
38 Russel Van Hout (Aus) Bates Bikes              26.05
39 Mark Renshaw (Aus) Team Caravello              26.37
40 Bjorn Hoeben (Ned) Websdale                    26.39
41 Dariusz Skoczylas (Pol) Mroz                   26.49
42 Timo Scholz (Ger) Bosch                        26.56
43 Brent Millar (Aus) Casino Canberra             26.56
44 Ben Day (Aus) Bates Bikes                      26.56
45 Danilo Klaar (Ger) Bosch                       27.01
46 Tomas Buchacek (Cze) Bates Bikes               27.11
47 Jono Davis (Aus) NSW Sport & Rec               27.24
48 Mark Chadwick (Aus) Peugeot                    27.56
49 Michael Tolhurst (Aus) Casino Canberra         27.56
50 Dirk Schumann (Ger) Bosch                      28.11
51 Matt Illingworth (GBr) Dupont                  28.17
52 Graeme Brown (Aus) NSWIS                       28.17
53 Dennis Mungoven (Aus) Casino Canberra          28.56
54 Huw Pritchard (GBr) Dupont                     29.17
55 Joshua Collingwood (Aus) NSWIS                 29.38
56 Martijn Simons (Ned) Websdale                  29.43
57 Alan Sieper (Aus) Casino Canberra              31.31
58 Thorsten Wilhelms (Ger) Bosch                  32.08

Giant Sprint King:

1 Jans Koerts (Ned) Websdale                         11 pts
2 Grzegorz Wajs (Pol) Mroz                           10
3 Pawel Niedzwiecki (Pol) Mroz                        5
4 Hilton McMurdo (Aus) Glen Parker Cycles-Fondriest   5
5 Dariusz Wojciechowski (Pol) Mroz                    5
6 Dirk Schumann (Ger) BOSCH                           3
7 Julian Winn (GBr) DuPont                            3
8 Graeme Brown (Aus) NSW Institute of Sport           3
9 Bjorn Hoeben (Ned) Websdale                         3
10 Jeremy Hunt (GBr) QANTAS-One World                 3
11 Brent Dawson (Aus) QANTAS-One World                3
12 Ashley Hutchinson (Aus) NSW Institute of Spo       2
13 Edmund Hollands (Aus) Glen Parker Cycles-Fondriest 2
14 Dan Smith (GBr) QANTAS-One World                   2
15 Phil Thuaux (Aus) NSW Sport & Recreation           1
16 Scott Suckling (Aus) Glen Parker Cycles-Fondriest  1
17 Glen Chadwick (Aus) Peugeot                        1

Coca Cola King of the Mountains:

1 Julian Winn (GBr) DuPont                           14 pts
2 Dariusz Wojciechowski (Pol) Mroz                   12
3 Grzegorz Wajs (Pol) Mroz                           10
4 Scott Suckling (Aus) Glen Parker Cycles-Fondriest   7
5 Dan Smith (GBr) QANTAS-One World                    2
6 Martin Lonie (GBr) Bates Bikes                      1


Back Home
Overall Map Stages & Results Teams History Photography Contact