Cyclo-Cross World Cup #8 - CDM
Roubaix, France, January 18, 2009
Main Page Results Overall standings Previous Race Next Race
Race 2 - January 18: U23 Men, 50 minutes
Walsleben takes World Cup fourth
By Brecht Decaluwé in Roubaix, France
Philipp Walsleben (BKCP-Powerplus)
Photo ©: Cyclingnews.com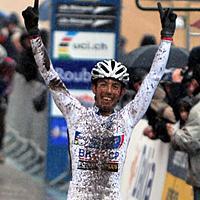 German champion Philipp Walsleben won the fourth and final cyclo-cross World Cup round for Under 23 men in Roubaix, France. He won ahead of French talent Aurélien Duval and the surprisingly strong Czech Ondrej Bambula.
This time, Walsleben dominated the competition at the legendary velodrome used at the end of the Paris-Roubaix road race. The 'cross specialist clearly knows his Classics and he crossed the line with a Johan Museeuw imitation, pointing to his wounded knee as the Belgian did in 2000.
"Once again it looked easy," Walsleben said. "I went full-out to develop my advantage to the maximum. I could play poker as well and maybe finish third. I chose not to think and just pedaled as hard as possible," the 21-year-old said.
Duval won the battle for second place, narrowly holding off Bambula. The latter started off better than Duval, but as the rain started to pour down Duval got into his rhythm and got back to the Czech rider.
In the last lap the 20-year-old Frenchman left Bambula behind and secured his second place overall in the World Cup. "I'm happy to be riding at this level and I'm still not at my best form. Tomorrow I leave for a training camp with Française des Jeux," Duval said.
When asked whether he feels there's a chance to beat Walsleben at the World Championships, Duval pointed out that he felt it was possible. "That's what I aim to do. It's a one-day event and anything can happen," Duval said.
Despite his strong performance in Roubaix, Bambula failed to claim a podium spot in the overall classification of the World Cup. Kenneth Van Compernolle secured third place overall with a sixth place finish in Roubaix.
Photography
For a thumbnail gallery of these images, click here
Images by Cyclingnews.com
Images by Mitch Clinton/www.clintonphoto.com
Images by Fabrice Lambert
Results
1 Philipp Walsleben (Germany)                                   51.03
2 Aurelien Duval (France)                                        0.56
3 Ondrej Bambula (Czech Republic)                                0.58
4 Vincent Baestaens (Belgium)                                    1.31
5 Guillaume Perrot (France)                                      1.32
6 Kenneth Van Compernolle (Belgium)                                  
7 Marcel Meisen (Germany)                                        1.39
8 Cristian Cominelli (Italy)                                     1.43
9 Jim Aernouts (Belgium)                                             
10 Matthieu Boulo (France)                                           
11 Kacper Szczepaniak (Poland)                                   1.53
12 Ramon Sinkeldam (Netherlands)                                 2.00
13 Boy Van Poppel (Netherlands)                                      
14 Mitchell Huenders (Netherlands)                               2.11
15 Quentin Bertholet (Belgium)                                   2.12
16 Jiri Polnicky (Czech Republic)                                2.41
17 Tom Meeusen (Belgium)                                         2.50
18 Tomasz Repinski (Poland)                                      3.01
19 Christoph Pfingsten (Germany)                                 3.02
20 Marek Konwa (Poland)                                          3.13
21 Elia Silvestri (Italy)                                        3.22
22 Arnaud Grand (Switzerland)                                    3.25
23 Clément Bourgoin (France)                                     3.31
24 Matteo Trentin (Italy)                                        3.38
25 Twan Van Den Brand (Netherlands)                              3.40
26 Joeri Adams (Belgium)                                         3.55
27 Robert Gavenda (Slovakia)                                     4.03
28 David Fletcher (Great Britain)                                4.11
29 Aurelien Gizzi (France)                                       4.21
30 Julien Taramarcaz (Switzerland)                               4.32
31 Micki Van Empel (Netherlands)                                 4.36
32 Sylwester Janiszewski (Poland)                                4.38
33 Thibault Taboury (France)                                     4.39
34 Romain Beney (Switzerland)                                    4.54
35 Sascha Weber (Germany)                                        5.13
36 Jonathan Cessot (France)                                      5.29
37 David Menger (Czech Republic)                                 5.30
38 Geert Van Der Horst (Netherlands)                             5.37
39 Valentin Scherz (Switzerland)                                 5.44
40 Paul Herman (France)                                          6.30
41 Yu Takenouchi (Japan)                                         6.50
 
One lap behind
42 Simon Le Brun (France)                                            
43 Roberto De Patre (Italy)                                          
44 Pit Schlechter (Luxembourg)
 
Two laps behind                                       
45 Nicholas Weighall (United States Of America)                    
 
Three laps behind  
46 Peter Kupec (Slovakia)                                            

Final World Cup standings
 
1 Philipp Walsleben (Germany)                     240 pts
2 Aurelien Duval (France)                         169
3 Kenneth Van Compernolle (Belgium)               139
4 Ondrej Bambula (Czech Republic)                 129
5 Cristian Cominelli (Italy)                      109
6 Vincent Baestaens (Belgium)                     104
7 Tom Meeusen (Belgium)                            87
8 Arnaud Jouffroy (France)                         85
9 Jim Aernouts (Belgium)                           83
10 Mitchell Huenders (Netherlands)                 76
11 Lukas Kloucek (Czech Republic)                  64
12 Joeri Adams (Belgium)                           64
13 Marcel Meisen (Germany)                         63
14 Quentin Bertholet (Belgium)                     61
15 Ramon Sinkeldam (Netherlands)                   51
16 Marek Konwa (Poland)                            46
17 Boy Van Poppel (Netherlands)                    46
18 Jiri Polnicky (Czech Republic)                  44
19 Lubomir Petrus (Czech Republic)                 43
20 Sascha Weber (Germany)                          42
21 Marco Ponta (Italy)                             41
22 Christoph Pfingsten (Germany)                   38
23 Twan Van Den Brand (Netherlands)                38
24 Guillaume Perrot (France)                       35
25 Robert Gavenda (Slovakia)                       35
26 Daniel Summerhill (United States Of America)    34
27 Matthieu Boulo (France)                         28
28 Micki Van Empel (Netherlands)                   24
29 Matthias Flückiger (Switzerland)                24
30 Kacper Szczepaniak (Poland)                     20
31 Elia Silvestri (Italy)                          18
32 Bjorn Selander (United States Of America)       18
33 Romain Beney (Switzerland)                      17
34 David Menger (Czech Republic)                   16
35 Kevin Eeckhout (Belgium)                        15
36 Ivar Hartogs (Netherlands)                      14
37 Tomasz Repinski (Poland)                        13
38 Julien Taramarcaz (Switzerland)                 10
39 Arnaud Grand (Switzerland)                       9
40 Rik Van Ijzendoorn (Netherlands)                 9
41 Wim Leemans (Belgium)                            9
42 Thomas Girard (France)                           9
43 Clément Bourgoin (France)                        8
44 Lukas Prihoda (Czech Republic)                   8
45 Matteo Trentin (Italy)                           7
46 Jan Van Dael (Belgium)                           7
47 Mattias Nilsson (Sweden)                         6
48 David Fletcher (Great Britain)                   6
49 Stef Boden (Belgium)                             5
50 Filip Adel (Czech Republic)                      4
51 Ole Quast (Germany)                              3
52 Aurelien Gizzi (France)                          2
53 Valentin Scherz (Switzerland)                    2
54 Gianni Denolf (Belgium)                          1
55 Geert Van Der Horst (Netherlands)                1
56 Yannik-Johannes Tiedt (Germany)                  1