Cyclo-Cross World Cup #2 - CDM
Tabor, Czech Republic, October 26, 2008
Main Page Results World Cup standings Previous Race
Race 4 - October 26: Elite Men
Albert wins first ever World Cup
By Brecht DecaluwÚ
Niels Albert (Palmans-Cras) gets his first elite World Cup
Photo ©: Photopress.be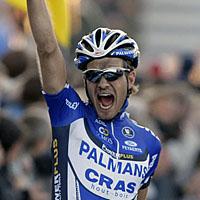 Niels Albert won the second World Cup race of the season in Tabor, Czech Republic where next year's world championships are held. For the 22 year-old Belgian it is the first World Cup victory of his career. Thanks to his second place in Kalmthout last week, Albert takes over the World Cup leader's jersey from compatriot Sven Nys who finished fourth in Tabor.
Albert had a slow start, but lap after lap he moved up to the front. He joined the front of the race in the sixth out of nine laps, before jumping away one lap later. Right behind him World Cup leader Sven Nys crashed when he rode into Francis Mourey's back wheel. Albert pulled out no more than fifteen seconds on a chasing group with Czech champion Zdenek Stybar, his compatriot Martin Bina and Nys. Nevertheless Albert held his lead to win solo with Stybar grabbing the second place before an impressive Bina, who pulled off his first ever podium result in a World Cup race. Nys was fourth ahead of the Fidea duo Bart Wellens and Kevin Pauwels.
"I'm super happy," said Albert, who was denied his first World Cup win in a tight spring against Nys in last week's World Cup. "This is the confirmation from my performance in Kalmthout." Today Albert didn't dominate as he was forced to come back after a poor start. "I started to get into the rhythm with three laps to go after encountering bad luck in the first lap. I attacked very fast and created a gap. Once I had more than ten seconds I knew the others wouldn't be coming back, not on this course," Albert said.
Niels Albert (Palmans-Cras) leads the World Cup
Photo ©: Photopress.be

Belgian champion and UCI-leader and former World Cup leader Sven Nys didn't feel Albert was better today. Nys explained that he was blocked by other riders and thus couldn't live up to his form. "More was possible for me today. I spotted Albert's attack and I tried to follow him. Mourey closed the door and when he couldn't get into his pedal. I couldn't avoid him and crashed," Nys said and indirectly continued to blame Mourey for his crash. "I feel that I could've won today but others hindered me."
Jonathan Page didn't have a great start and during the race he wasn't moving up either. Eventually the American finished on a disappointing 29th place. Compatriot Adam Myerson finished on the same lap as winner Albert in 46th.
Crash spoils start for Wellens and Albert
The weather conditions in Tabor were good, it had been dry for a couple of days so the course was hard and fast. Temperatures were around 10░ C under sunny skies. The race conditions proved to be ideal for a tactical race and that's what the spectators in Tabor witnessed; halfway through the race, the lead group still consisted of more than sixteen riders and it took a while before gaps were created.
Home rider Martin Bina pulled off the hole shot with world champion Lars Boom on his wheel. Belgian big guns Wellens and Albert had a bad start, and fell outside the top 20. "I got held up by a crash from Thijs Al. He crashed and I hit him with my handle bars," Albert said. The Belgian wasn't optimistic about his chances for the victory at that moment in the race. "I thought: here I go again... I thought the victory was gone," Albert said.
Meanwhile Bina entered the sand pit and behind him some riders were held up by a crash from Milan Barenyi. Halfway through the opening lap the speed dropped back, however Nys didn't want his rivals Albert and Wellens to come back too easily, so he took the lead. By the end of the first lap Albert chased at 13" while Wellens was five more seconds down on the first riders.
Home riders take the initiative in tactical race
Radomir Simunek (Palmans-Cras) is chased by World Champ Lars Boom
Photo ©: Photopress.be

Radomir Simunek led most of the second lap with Boom in second position. Nys tried to up the pace, but was getting no help at the front, and the lead group was still sixteen at the end of the lap. Simunek upped the pace on the climb towards the pit zone and the artificial bridge, taking Mourey with him, but eventually it was Boom who brought the others back.
Home riders Bina and Simunek pushed the pace, and Nys threw in an attack but neither action broke up the large lead group. This allowed Albert and Wellens to finally regain their place near front of the race. "I felt that I was good uphill and that's where I could make up time on the leaders," said Albert. "Once back in front I rested for two laps to recover from my efforts."
Albert's presence in the lead group was felt on the sixth lap, when his acceleration drew out Bina, Mourey and Nys, who quickly gathered a gap of ten seconds over a group with Boom, Wellens, Simunek and Pauwels. However, Mourey put himself in front and dropped the speed dropped allowing Boom to bring the chasers back.
Albert jumps away and Nys crashes
Zdenek Stybar (Fidea), the Czech champion
Photo ©: Photopress.be

With only two laps to go, ten riders were still in contention for the victory: world champion Boom; Belgians Nys, Albert, Pauwels and Wellens; French champion Mourey and home riders Stybar, Bina, Dlask and Simunek. Albert took the lead and kept the speed high during most of the seventh lap with Mourey in second position.
The critical moment of the race came when Albert accelerated after taking the stairs and suddenly Nys rode into Mourey's back wheel. The World Cup leader crashed and Albert didn't hesitate to accelerate away from the group. Nys dropped back to the last position in the chasing group where Boom was pulling to get back to Albert.
Wellens noticed that the Dutch man couldn't close the gap and he took over from the world champion just before the barriers. Nevertheless Albert kept increasing his lead. The young rider had ten seconds on Wellens, Bina and Stybar after one lap on the attack, and eight more on Boom and Nys.
Going into the last lap Albert had thirteen seconds on the first three chasers while Nys launched a comeback together with compatriot Pauwels. A few moments later at the barriers, Nys and Pauwels made it to the first chase group, but it was too late to bring back the charging Albert. With the finish in sight Bina kept the speed high and he got away together with compatriot Stybar and Nys. Albert grabbed the win and Stybar outsprinted Bina and Nys for second place. Wellens came in as fifth, fifteen seconds behind Albert.
Photography
For a thumbnail gallery of these images, click here
Images by Photopress.be
Results
1 Niels Albert (Bel) Palmans Cras                   1.02.10
2 Zdenek Stybar (Cze) Fidea Cycling Team               0.08
3 Martin Bina (Cze)                                        
4 Sven Nys (Bel) Landbouwkrediet - Tonissteiner        0.11
5 Bart Wellens (Bel) Fidea Cycling Team                0.15
6 Kevin Pauwels (Bel) Fidea Cycling Team               0.18
7 Radomir Simunek (Cze) Palmans Cras                   0.36
8 Francis Mourey (Fra) Franšaise Des Jeux                  
9 Lars Boom (Ned) Rabobank                             0.42
10 Kamil Ausbuher (Cze)                                1.00
11 Christian Heule (Swi)                               1.01
12 Petr Dlask (Cze) Fidea Cycling Team                     
13 Simon Zahner (Swi)                                  1.02
14 Enrico Franzoi (Ita) Liquigas                           
15 Bart Aernouts (Bel) Rabobank                        1.19
16 Sven Vanthourenhout (Bel) Sunweb Pro Job            1.26
17 Richard Groenendaal (Ned)                           1.28
18 Klaas Vantornout (Bel) Sunweb Pro Job               1.40
19 Marco Bianco (Ita)                                  1.43
20 Jonathan Lopez (Fra)                                1.48
21 Thijs Al (Ned)                                      1.58
22 Gerben De Knegt (Ned) Rabobank                      1.59
23 Erwin Vervecken (Bel) Fidea Cycling Team            2.20
24 Jaroslav Kulhavy (Cze)                              2.28
25 Wilant Van Gils (Ned)                               2.41
26 Eddy Van Ijzendoorn (Ned)                           2.51
27 Marcel Wildhaber (Swi)                                  
28 Vladimir Kyzivat (Cze)                                  
29 Jonathan Page (USA)                                 3.10
30 Rob Peeters (Bel) Landbouwkrediet - Tonissteiner    3.15
31 Pirmin Lang (Swi)                                   3.17
32 Vaclav Metlicka (Svk)                               3.25
33 Mariusz Gil (Pol)                                   3.33
34 Rafael Visinelli (Ita)                              3.44
35 Johannes Sickmueller (Ger)                          3.45
36 Roy Van Heeswijk (Ned)                              3.49
37 Joachim Parbo (Den)                                 3.50
38 Fabio Ursi (Ita)                                    3.51
39 Robert Glajza (Svk)                                 3.59
40 Martin Zlamalik (Cze)                               4.19
41 Peter Presslauer (Aut) Volksbank - Corratec         4.40
42 RenÚ Birkenfeld (Ger)                               5.58
43 Patrick Van Leeuwen (Ned)                           6.09
44 Martin Haring (Svk)                                     
45 Gerald Hauer (Aut)                                  7.03
46 Adam Myerson (USA) Time Pro Cycling                 8.15

One lap behind

47 Andre Sutton (Can)                                      

Two laps behind

48 Thomas Puhmer (Aut)                                     

World Cup standings after two rounds

1 Niels Albert (Bel) Palmans Cras                     150 pts
2 Sven Nys (Bel) Landbouwkrediet - Tonissteiner       140
3 Zdenek Stybar (Cze) Fidea Cycling Team              120
4 Kevin Pauwels (Bel) Fidea Cycling Team              115
5 Radomir Simunek (Cze) Palmans Cras                  108
6 Martin Bina (Cze)                                    99
7 Bart Wellens (Bel) Fidea Cycling Team                99
8 Bart Aernouts (Bel) Rabobank                         91
9 Francis Mourey (Fra) Franšaise Des Jeux              86
10 Lars Boom (Ned) Rabobank                            86
11 Klaas Vantornout (Bel) Sunweb Pro Job               79
12 Thijs Al (Ned)                                      78
13 Petr Dlask (Cze) Fidea Cycling Team                 76
14 Simon Zahner (Swi)                                  76
15 Erwin Vervecken (Bel) Fidea Cycling Team            67
16 Richard Groenendaal (Ned)                           66
17 Gerben De Knegt (Ned) Rabobank                      65
18 Christian Heule (Swi)                               61
19 Jonathan Lopez (Fra)                                57
20 Rob Peeters (Bel) Landbouwkrediet - Tonissteiner    52
21 Wilant Van Gils (Ned)                               50
22 Mariusz Gil (Pol)                                   48
23 Jaroslav Kulhavy (Cze)                              47
24 Marcel Wildhaber (Swi)                              46
25 Martin Zlamalik (Cze)                               44
26 Eddy Van Ijzendoorn (Ned)                           44
27 Johannes Sickmueller (Ger)                          43
28 Kamil Ausbuher (Cze)                                42
29 Enrico Franzoi (Ita) Liquigas                       37
30 Pirmin Lang (Swi)                                   36
31 Sven Vanthourenhout (Bel) Sunweb Pro Job            35
32 Dieter Vanthourenhout (Bel) Palmans Cras            35
33 Rafael Visinelli (Ita)                              35
34 Marco Bianco (Ita)                                  32
35 Nicolas Bazin (Fra) Differdange Apiflo Vacances     29
36 Vaclav Metlicka (Svk)                               29
37 Geoffrey Clochez (Fra)                              28
38 Aurelien Duval (Fra) Franšaise Des Jeux             25
39 Vladimir Kyzivat (Cze)                              23
40 Milan Barenyi (Svk)                                 23
41 Jonathan Page (USA)                                 22
42 Roy Van Heeswijk (Ned)                              22
43 Fabio Ursi (Ita)                                    22
44 Robert Glajza (Svk)                                 18
45 Gusty Bausch (Lux)                                  17
46 Joachim Parbo (Den)                                 17
47 Lukas Kloucek (Cze) Sunweb Pro Job                  15
48 Ian Field (GBr)                                     14
49 RenÚ Birkenfeld (Ger)                               14
50 Florian Le Corre (Fra)                              13
51 Oscar Vazquez Crespo (Spa)                          12
52 Patrick Van Leeuwen (Ned)                           12
53 Thijs Van Amerongen (Ned) Van Vliet Ebh Elshof      11
54 Peter Presslauer (Aut) Volksbank - Corratec         10
55 David Derepas (Fra) Groupe Gobert.Com.Ct             8
56 Martin Haring (Svk)                                  7
57 Gerald Hauer (Aut)                                   6
58 Adam Myerson (USA) Time Pro Cycling                  5
59 Andre Sutton (Can)                                   4
60 Thomas Puhmer (Aut)                                  3
61 Stefano Boggia (Ita)                                 2
62 Julien Laidoun (Fra)                                 1