Cyclo-Cross World Cup #3 - CDM
Pijnacker, Netherlands, November 9, 2008
Main Page Results Overall standings Previous Race Next Race
Race 2 - Under 23, 50 minutes
Second in a row for Walsleben
By Brecht Decaluwé in Pijnacker, The Netherlands
Walsleben makes it two for two in his World Cup appearances
Photo ©: Cyclingnews.com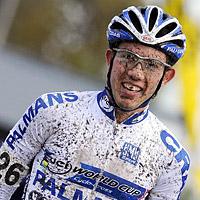 Philip Walsleben is dominating the races in the U23 category these days. The winner of the first World Cup race in Kalmthout and the Koppenbergcross in Oudenaarde grabbed the title at the European championships last week and continued his string of victories with another World Cup win in Pijnacker.
Obviously Walsleben strengthened his lead in the World Cup and he now has a massive lead of 46 points over Aurélien Duval from France.
Walsleben took a good start in Pijnacker and he waited a couple of laps before powering away. In the third lap he jumped clear and only Kenneth Van Compernolle was able to follow. The duo created a gap of fifteen seconds on a group with Marek Konwa, Marco Ponta, Tom Meeusen and Aurélien Duval.
Further back Americans Selander and Summerhill were struggling to make it to the front of the race; both riders didn't have an excellent starting position. Walsleben powered away in the fourth lap from Van Compernolle. The Belgian tried hard to keep up but he couldn't close the gap with the German prince of cross.
In the chasing group some riders started to drop back as plowing through the mud started to weigh on their bikes. Former junior world champions Joeri Adams moved to the front of the chase and he was followed by fellow Belgians Jim Aernouts and Tom Meeusen. Konwa, Ponta, Duval and Dutchman Mitchell Huenders were also still in touch with Adams.
Van Compernolle had a great race and finished second
Photo ©: Cyclingnews.com

With three laps to go Van Compernolle was trailing Walsleben by ten seconds while the main six-rider chasing group was riding twenty five seconds behind the German race leader. Going into the last lap Walsleben seemed sure of the victory while Van Compernolle seemed to be holding on for second place; Huenders, Konwa, Adams and Aernouts created a gap on the other chasers.
The first two spots didn't change anymore so Walsleben grabbed the win with 19 seconds on Van Compernolle. "Of course I'm very happy with this win," Walsleben said to Cyclingnews. "I didn't attack Van Compernolle and once I had a gap I paced myself a little. This is a course that doesn't suit me too much but clearly I'm riding very strong these days," Walsleben said.
Behind the two protagonists Aernouts won the battle for the remaining podium spot in a sprint against local rider Huenders who was disappointed to be missing out on the podium. Almost three minutes later Selander finished just ahead of compatriot Summerhill on the twenty-third place.
Photography
For a thumbnail gallery of these images, click here
Images by Cyclingnews.com
Results

1 Philipp Walsleben (Ger)         48.36
2 Kenneth Van Compernolle (Bel)    0.19
3 Jim Aernouts (Bel)               0.37
4 Mitchell Huenders (Ned)          0.39
5 Marek Konwa (Pol)                0.43
6 Joeri Adams (Bel)                0.48
7 Tom Meeusen (Bel)                1.01
8 Marco Ponta (Ita)                1.07
9 Aurelien Duval (Fra)             1.23
10 Arnaud Jouffroy (Fra)           1.24
11 Twan Van Den Brand (Ned)        1.27
12 Lubomir Petrus (Cze)            1.39
13 Quentin Bertholet (Bel)         1.43
14 Lukas Kloucek (Cze)             1.51
15 Vincent Baestaens (Bel)         2.04
16 Jiri Polnicky (Cze)             2.12
17 Ondrej Bambula (Cze)            2.18
18 Cristian Cominelli (Ita)        2.27
19 Sascha Weber (Ger)              2.42
20 Marcel Meisen (Ger)             2.46
21 Ivar Hartogs (Ned)              2.50
22 Rik Van Ijzendoorn (Ned)        2.52
23 Bjorn Selander (USA)            2.54
24 Daniel Summerhill (USA)         3.20
25 Mattias Nilsson (Swe)           3.23
26 Robert Gavenda (Svk)            3.27
27 Thomas Girard (Fra)             3.31
28 Ramon Sinkeldam (Ned)           3.38
29 Valentin Scherz (Swi)           3.50
30 Geert Van Der Horst (Ned)       3.53
31 Ole Quast (Ger)                 3.57
32 Nico Brüngger (Swi)             4.51
33 Micki Van Empel (Ned)           5.17
34 Edwin Arts (Ned)                5.25
35 Kaj Slenter (Ned)               5.29
36 Kobus Hereijgers (Ned)          5.59
37 Marek Canecky (Svk)             6.08
38 Julian Van Dijk (Ned)           6.15
39 Mark Thwaites (GBr)             6.45
40 Robert Bachraty (Svk)           7.40
41 Jordy Beuker (Ned)              8.37

Behind one lap

42 Michael Winterberg (Swi)            
43 Amadeusz Rudzinski (Pol)

World Cup standings after two rounds

1 Philipp Walsleben (Ger)             120 pts
2 Aurelien Duval (Fra)                 74
3 Tom Meeusen (Bel)                    73
4 Kenneth Van Compernolle (Bel)        69
5 Ondrej Bambula (Cze)                 54
6 Mitchell Huenders (Ned)              53
7 Lukas Kloucek (Cze)                  52
8 Arnaud Jouffroy (Fra)                50
9 Joeri Adams (Bel)                    48
10 Vincent Baestaens (Bel)             46
11 Jim Aernouts (Bel)                  45
12 Marco Ponta (Ita)                   41
13 Lubomir Petrus (Cze)                41
14 Marek Konwa (Pol)                   35
15 Cristian Cominelli (Ita)            33
16 Twan Van Den Brand (Ned)            32
17 Robert Gavenda (Svk)                31
18 Sascha Weber (Ger)                  29
19 Jiri Polnicky (Cze)                 29
20 Quentin Bertholet (Bel)             25
21 Matthias Flückiger (Swi)            24
22 Daniel Summerhill (USA)             18
23 David Menger (Cze)                  16
24 Marcel Meisen (Ger)                 13
25 Ramon Sinkeldam (Ned)               13
26 Ivar Hartogs (Ned)                  10
27 Rik Van Ijzendoorn (Ned)             9
28 Wim Leemans (Bel)                    9
29 Thomas Girard (Fra)                  9
30 Bjorn Selander (USA)                 8
31 Lukas Prihoda (Cze)                  8
32 Mattias Nilsson (Swe)                6
33 Matthieu Boulo (Fra)                 6
34 Filip Adel (Cze)                     4
35 Ole Quast (Ger)                      3
36 Valentin Scherz (Swi)                2
37 Geert Van Der Horst (Ned)            1
38 Yannik-Johannes Tiedt (Ger)          1