2008 Cyclo-cross World Championships - CM
Treviso, Italy, January 26-27, 2008
Main Page Results Previous Race Next Race
Race 3 - January 27: Elite Women
Fourth title for La Hanka!
Vos overtakes everybody but Kupfernagel
By Brecht Decaluwé and Gregor Brown in Treviso
Kupfernagel shows off her fourth gold medal
Photo ©: AFP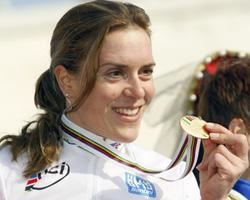 There was simply no defence against the power of 33 year-old Hanka Kupfernagel in sunny Treviso today. The current World Time Trial Champion started pulling from the second lap and dropped all the big names including UCI leader Daphny Van Den Brand. She dropped her last challenger at half distance and steamed on towards her fourth cyclo-cross rainbow jersey.
Behind the German champion from Frieberg, Marianne Vos probably rode the fastest race of all – except for the first lap - but a bad starting position ruined her chances. The 20 year-old Dutchwoman eventually finished 14 seconds behind Kupfernagel while France's Laurence Leboucher ended her career by winning the sprint for bronze against compatriot Christel Ferrier-Bruneau.
The four-time World Champion opted to aim for the Olympic Games this year, but when the cyclo-cross season started she decided to have a go at the mud anyway. "Normally, I wouldn't have done so many races – because I'm going to the Olympics – but now I'm so happy that I can enjoy this great day," a smiling Kupfernagel stated.
"It was a very hard race," Kupfernagel continued. "The start was hectic and I had a little crash in the first corner, but I kept cool as I knew the race would be long and hard – there is no time for recovery. In the final laps I got a bit scared because I heard that Marianne [Vos] was coming back. I was only sure about the victory in the last corner because so much can happen before that."
The Dutch
Photo ©: Gregor Brown

Talented Vos wasn't planning on riding cyclo-cross this season but eventually had a go as well, just like Kupfernagel. "I started in the national championships to qualify for the Worlds; I finished fourth and that was enough."
Vos made a very strong comeback during the race but eventually fell short for the world title although she wasn't too unhappy. "We were body-checking at the start, but I managed to get in the front [Vos was 12th after 200 metres - ed.], but then my chain came off and I was forced to try a comeback all race long. It didn't work out for first place, but second was good enough for me," Vos noted.
Behind these two protagonists Laurence Leboucher kept her compatriot Christel Ferrier-Bruneau from her first ever cyclo-cross medal. "This is my last World Championship, and to finish my career with a bronze medal isn't too bad," Leboucher commented on her performance. The 35 year-old Frenchwoman captured her fifth ever World Championship medal, including two titles in 2002 and 2004.
Canadian Wendy Simms led the race during the first lap, but eventually had to settle for seventh place after a sprint against UCI leader Van Den Brand. "I had a good start, I was in the lead for a bit," commented Simms. "You fade and it always feels like crap. ... Seventh definitely makes me happy. It is better than all my others."
Wendy Simms (Canada) exhausted
Photo ©: Gregor Brown

"It was very slippery," said American rider Rachel Lloyd, who challenged for the podium at one point but found the going tough and went on to finish ninth. "I did not get a good start, I crashed right in the beginning because I had too much air in my tyres, and I kept forgetting to tell the pit to let some out. However, there must have been a couple of pile ups became I was all of a sudden up there [in fourth]."
"It always seems easy to move up there in the big races, but I just could not hold it – my legs were just empty. It is so late in the season, I have been racing since mid-September. I was forced to back off. I was over my head in a sense, and I did not feel it too much but then I just disappeared. I started to recover on the little downhills which allowed me to finish fairly strong."
Runner-up at last year's World Championships, American Katie Compton, abandoned on the first lap due to a muscle injury. USA Cycling coordinator Mark Gullickson told Cyclingnews that "it's a shame that Katie had to pull out but she couldn't ride for two weeks. But I have to give her credit for trying."
How it unfolded
The start
Photo ©: Gregor Brown

Daphny Van Den Brand got the best start with Pavla Havlikova (Czech Republic) and Vania Rossi (Italy) on her wheel. Defending champion Maryline Salvetat didn't start well and was back in 20th position, with Compton 10 positions further back.
After one lap Kupfernagel was riding in the first part of the bunch where Havlikova and Van Den Brand were still pulling. After a couple of mistakes, Wendy Simms took over the lead halfway through the first lap, with only Kupfernagel, Van Den Brand, Ferrier-Bruneau and Havlikova on her wheel. These five women led the race after one complete circuit.
Rachel Lloyd and Helen Wyman were trailing at less than 10 seconds from the leaders. Salvetat was in 15th and Marianne Vos in 22nd, 30 seconds down. Last year's runner-up Katie Compton pulled out before the end of the first full lap, not sufficiently recovered from a recent muscle problem.
Ferrier-Bruneau and Kupfernagel rode away from the rest during the third lap, while Lloyd, Van Den Brand and Havlikova formed the first group of chasers.
Kupfernagel approaches the finish
Photo ©: AFP

With three laps to go, the two in front had 15 seconds on the North American duo of Lloyd and Simms who were joined by Marianne Vos and Laurence Leboucher just after the finish line. Former World Champion Vos was spotted hammering past everyone on the uphill finishing straight, while Salvetat was getting closer as well but missed the right breakaway.
Lloyd was beginning feel the pain and lost positions during this lap. Meanwhile, in the lead Kupfernagel overpowered Ferrier-Bruneau and halfway through the third lap the German champion had 13 seconds on the Frenchwoman. By the end of this lap Vos had left Simms behind, while Ferrier-Bruneau had Kupfernagel back in sight. Wyman continued dropping back and was now in 15th position at 1'16".
The women's podium
Photo ©: AFP

During the penultimate lap Kupfernagel was comfortably leading the race with Ferrier-Bruneau now falling back for good. Her compatriot Leboucher was the only woman able to follow Vos. Kupfernagel was now assured of gold while Vos, Ferrier-Bruneau and Leboucher battled for the other medals.
Going into the last lap Kupfernagel had extended her lead over Ferrier-Bruneau, who managed to keep Vos and Leboucher at bay. Salvetat had now overtaken Simms for fifth place.
On the 'rampa piscine' - a steep climb at one third distance through the lap - Kupfernagel made a small mistake, but more importantly Ferrier-Bruneau was caught by Vos and Leboucher. The young Dutchwoman kept her speed and Leboucher and Ferrier-Bruneau could only watch as Vos rode away from them.
With 300 metres to go Kupfernagel threw her fist in the air for the first time, and on the uphill finishing line she raised both hands - no mean feat on this stretch of the course. Vos withstood a comeback from Laurence Leboucher, and after overtaking almost the entire bunch, grabbed the silver medal. Leboucher had to settle for third while defending champion Salvetat finished fifth.
Photography
For a thumbnail gallery of these images, click here
Images by Roberto Bettini/www.bettiniphoto.net
Images by AFP Photo
Images by Gregor Brown/Cyclingnews
Images by Davide Tricarico/www.ladiescycling.net
Results
1 Hanka Kupfernagel (Germany)                 45.15
2 Marianne Vos (Netherlands)                   0.13
3 Laurence Leboucher (France)                  0.17
4 Christel Ferrier-Bruneau (France)            0.26
5 Maryline Salvetat (France)                   0.52
6 Mirja Melchers-Van Poppel (Netherlands)      0.58
7 Wendy Simms (Canada)                         1.04
8 Daphny Van Den Brand (Netherlands)           1.09
9 Rachel Lloyd (United States Of America)      1.23
10 Caroline Mani (France)                      1.42
11 Saskia Elemans (Netherlands)                1.45
12 Reza Hormes-Ravenstijn (Netherlands)        2.12
13 Stephanie Pohl (Germany)                    2.14
14 Nadia Triquet-Claude (France)               2.18
15 Sanne Van Paassen (Netherlands)             2.24
16 Pavla Havlikova (Czech Republic)            2.39
17 Susanne Juranek (Germany)                   2.54
18 Helen Wyman (Great Britain)                 2.58
19 Vania Rossi (Italy)                         3.18
20 Kerry Barnholt (United States Of America)       
21 Amy Dombroski (United States Of America)    3.44
22 Susan Butler (United States Of America)     3.53
23 Elke Riedl (Austria)                        4.44
24 Sanne Cant (Belgium)                        4.54
25 Francesca Cucciniello (Italy)               5.01
26 Daniela Bresciani (Italy)                   5.02
27 Loes Sels (Belgium)                         5.10
28 Milena Cavani (Italy)                       5.15
29 Veerle Ingels (Belgium)                     5.50
30 Kelly Jones (Canada)                        6.07
31 Mika Ogishima (Japan)                       6.19
32 Gabriella Day (Great Britain)               6.40
33 Lise Müller (Switzerland)                   7.18
34 Masumi Sakai (Japan)                        8.05
35 Veronica Alessio (Italy)                    8.21
36 Ayako Toyooka (Japan)                       9.56
DNF Birgit Hollmann (Germany)                      
DNF Katherine Compton (United States Of America)