2008 Cyclo-cross World Championships - CM
Treviso, Italy, January 26-27, 2008
Race 1 - January 26: Junior Men
Jouffroy conquers La Bandie
By Brecht Decaluwé and Gregor Brown in Treviso
Arnaud Jouffroy (France)
Photo ©: Roberto Bettini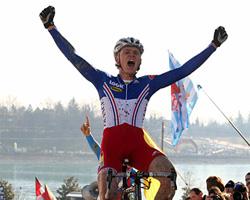 In the sun-drenched city of Benetton and Pinarello, the junior riders battled for their rainbow jersey, and forty minutes later Arnaud Jouffroy turned his favourite role into a gold medal. The French champion screamed out in joy when he crossed the line, clearly delighted that he could live up to expectations.
"This is a dream come true. It was my last chance on the title in this category and I didn't want to blow it," Jouffroy said. He enjoyed a small lead over the chasing duo when going into the last lap, but the dream almost shattered into pieces when the 17 year-old hit a barrier with his knee halfway through the last lap. Peter Sagan (Slovakia) and Lubomir Petrus (Czech Republic) were able to come back but stayed on Jouffroy's wheel.
"I felt a lot of pain, but in my head I had forgotten it and then gave all I had," the new junior world champion explained.
Despite being a junior rider, Jouffroy is hoping for a career among the big guns. "I have no idols – maybe Niels Albert – but I hope to become a professional rider eventually," the newly crowned world champion said. "Next year I will step up a level as I become an U23 rider and I hope I will be selected for all the World Cup races and the World Championships. I hope that I can continue my improvement – technically, I improved a lot this year. I will keep focusing on cyclo-cross – it's my passion."
Luke Keough (USA)
Photo ©: Brecht Decaluwé

Jouffroy is a true Frenchman and he talked about how he encouraged his compatriots during the race. "I had a bad start and gave my team-mates a shout when I passed them. This is a great victory for me, but also for France. We have riders with a chance for the podium in every race this weekend. Hopefully France can become a true rival for the big cyclo-cross countries like Belgium and the Czech Republic," the patriotic rider expressed noted.
USA Junior National Champion, Luke Keough, was able to finish with the main group of chasers to finish and place a respectable tenth in his first cyclo-cross worlds. "This is my first year as a junior able to do worlds," he explained afterwards.
"I raced one world cup over here – my first race in Europe – Hoogerheide. That race was an experience to say the least; racing over here is so much different from the US. I was not really having too many expectations because I did not know how the racing would be over here. Coming in tenth was my plan, and I was able to meet that expectation. I am completely happy.
As a result of the poor organiser setup at the post-race press conference, it was impossible to talk with Lubomir Petrus and Peter Sagan.
How it unfolded
Riders hit the deck
Photo ©: Gregor Brown

Local boy Domenico Salviani managed the hole shot, but a chain problem ruined his championship as he was forced to run for the rest of the opening lap. Petrus took over the command, with Sagan on his wheel. Many riders were blocked by a big crash after only 100 metres. No big attacks were spotted during the opening lap, but seven riders were clearly stronger than the rest even if nobody wanted to play their cards just yet.
The corners were slippery as the Slovakian in second position lost control of his front wheel halfway in the second lap, allowing Petrus to get a gap. Marek Konwas was the only rider that bridged up towards Petrus right away, and after two laps, we had two leaders. UCI leader Jouffroy was leading the chase at five seconds from the leaders. Petrus kept hammering in the front, with Konwas barely managing to stay on his wheel.
Petrus dropped Konwas in the second lap, and Jouffroy was now the man in second position. Luke Keogh was hanging at the back of the main chasing group at about 25" from the Czech leader who did all he could to keep Jouffroy at a distance. Sagan was in third position after three laps at 15" from Petrus.
Jouffroy climbs the stairs
Photo ©: Roberto Bettini

Halfway through the race Jouffroy bridged up to Petrus, and it seemed like only Sagan had a chance on a return if things slowed down in front – he was riding only five seconds behind the duo in front.
Things didn't happen for the Slovakian as Jouffroy kept hammering, and with two laps Sagan was riding at 10" from the leaders. Behind these three riders, there was a huge gap on five riders, with Matthias Rupp leading the chase.
During the penultimate lap, Jouffroy was clearly stronger than Petrus, but the Czech managed to stay within touching distance of his French rival.
After half an hour in the race, Jouffroy finally got rid of Petrus and rode off on his own towards the victory, while Petrus dropped back to Sagan. Jouffroy hit the last lap with a gap of six seconds on the two chasers.
In the main chasing group Stef Boden, Sean De Bie, Elia Silvestri, Jonathan Cessot and Rupp were battling for a place of honour at more than 30" from the leaders.
Jouffroy was caught back by the two chasers halfway the ultimate lap and the three were to battle for gold! Eventually the French rider had a small gap when coming into the finishing straight, and despite a strong comeback from Sagan, Jouffroy stood tall and grabbed the gold medal. Local boy Silvestri won the uphill sprint for fourth place at 54" from the winner, before Rupp. The winner's compatriot Pierre Garson sprinted to a sixth place ahead of Belgians Boden, De Bie, compatriot Cessot and Keough.
Photography
For a thumbnail gallery of these images, click here
Images by Roberto Bettini/www.bettiniphoto.net
Images by Gregor Brown/Cyclingnews
Images by Brecht Decaluwé/Cyclingnews
Images by Riccardo Scanferla/riccardo@ciclismoweb.net
Results
1 Arnaud Jouffroy (France)                     40.30
2 Peter Sagan (Slovakia)                        0.01
3 Lubomir Petrus (Czech Republic)               0.04
4 Elia Silvestri (Italy)                        0.54
5 Matthias Rupp (Switzerland)                   0.55
6 Pierre Garson (France)                        1.07
7 Stef Boden (Belgium)                          1.08
8 Sean De Bie (Belgium)                         1.11
9 Jonathan Cessot (France)                          
10 Luke Keough (United States Of America)       1.12
11 Massimo Coledan (Italy)                      1.18
12 Michael Winterberg (Switzerland)             1.43
13 Karel Hnik (Czech Republic)                  1.45
14 Marek Konwa (Poland)                         1.47
15 Vincent Dias Dos Santos (Luxembourg)         1.48
16 Tijmen Eising (Netherlands)                  1.54
17 Arnaud Grand (Switzerland)                   2.01
18 Valentin Scherz (Switzerland)                2.02
19 Jasper Ockeloen (Netherlands)                2.10
20 Luca Braidot (Italy)                         2.18
21 Filip Adel (Czech Republic)                  2.20
22 Pit Schlechter (Luxembourg)                  2.26
23 Kacper Szczepaniak (Poland)                  2.32
24 Andrzej Bartkiewicz (Poland)                 2.34
25 Fabio Aru (Italy)                            2.35
26 Petr Marvan (Czech Republic)                 2.39
27 Lars Van Der Haar (Netherlands)              2.52
28 Michael Schweizer (Germany)                  2.56
29 Max Walsleben (Germany)                      3.00
30 Kevin Smit (Netherlands)                         
31 Matthias Bossuyt (Belgium)                   3.01
32 Gavin Mannion (United States Of America)     3.09
33 Valentin Hadoux (France)                         
34 Sebastian Batchelor (Great Britain)          3.14
35 Fernando San Emeterio Gandiaga (Spain)       3.16
36 Wietse Bosmans (Belgium)                     3.17
37 Kazuya Nakayama (Japan)                      3.18
38 Andrew Williams (Great Britain)              3.24
39 Toni Bretschneider (Germany)                 3.26
40 Steve Fisher (United States Of America)      3.38
41 Ramon Domene Reyes (Spain)                       
42 Zach Mc Donald (United States Of America)    3.40
43 Clement Koretzky (France)                    3.46
44 Igor Merino Cortazar (Spain)                 3.51
45 Jakub Friml (Czech Republic)                 3.59
46 Geert Van Der Horst (Netherlands)            4.04
47 Josep Nadal Magrinya (Spain)                 4.06
48 Simon Geets (Belgium)                            
49 David Larson (Canada)                        4.18
50 Kamil Gradek (Poland)                        4.32
51 Hamish Creber (Great Britain)                4.46
52 Anthony Grand (Switzerland)                  5.11
53 Eric Emsky (United States Of America)        5.49
54 Alex Paton (Great Britain)                   5.53
55 Ińigo Gomez Elorriaga (Spain)                5.58
56 Max Michely (Luxembourg)                     6.19
57 Patrik Stenberg (Sweden)                     6.25
58 Bartosz Rajkowski (Poland)                   6.58
59 Domenico Maria Salviani (Italy)              8.57
 
One lap behind
 
60 Masatsugu Takamiya (Japan)                       
61 Viktor Prozirai (Ukraine)                        
DNF Josef Rauber (Germany)