2007 Cyclo-cross World Championships - CM
Hooglede-Gits, Belgium, January 27-28, 2007
Main Page Results Overall standings Previous Race Next Race
Race 2 - January 27: Under 23
Boom too strong for Albert
Dutch elite champion easily beats U23 field
By Brecht Decaluwé in Hooglede-Gits
The u23 podium:
Photo ©: Brecht Decaluwé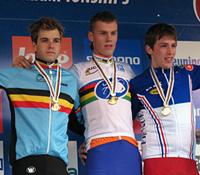 The U23 race was expected to be the most entertaining race of the weekend with two major protagonists, Niels Albert (Palmans) and Lars Boom (Rabobank), who have been outstanding all season, going head to head. Eventually Boom, with a form that put him in a category of his own, outclassed the opposition with his fresh pedaling style. The French would call him a pedaleur the charme.

"Flexibility was most important on this course, and the long straight sections were in my favour with my background as road cyclist," Boom said. On the second lap, the Dutch man unleashed his power on the slippery course of Hooglede-Gits.

"During the first lap I didn't feel that great, especially when Albert was climbing that well," Boom explained his thoughts early on. "But during the next lap, I felt much better and when I noticed the others were making mistakes, I didn't hesitate."

Boom attacked on the hard climb halfway the second lap and managed a serious gap by drilling himself through the 35 metres long sand section just after the climb. From then on, the Dutch elite champion continued to stretch his lead on the pursuers metre by metre ending up with a 1'22" over Albert at the finish line.

"I had one goal this season and I managed to achieve it. Now I can focus on winning a winning a cyclo-cross world title in every category, just like Radomir Simunek did… Simunek senior!" the Dutch man expressed his future ambitions. "This season I'll ride four more cyclo-cross races, and then I'm off with the road team to Portugal, and next year I'll do some more cyclo-cross," the new world champion promised. He also told the Belgian TV station Sporza that he would race the elite category next year, despite being only 21 this year.

Belgian U23 champion Albert couldn't live up to the high expectations and was never in contention for the victory. He tried to fight back, but in vain. Albert initially enjoyed the company of the surprisingly strong French Romain Villa, but easily dropped him later on.

"I came here to win, but Lars [Boom] was super strong, there's nothing you can do about that," a disappointed Albert said. Albert then waxed lyrical," I guess the sun will set tonight anyway, not caring about whether I won or lost today… I really needed a super day to [take a] win from Boom, and I only enjoyed a good day."

Boom's freshnees could have been the decisive factor today as the Dutch man raced only his seventh cyclo-cross race today, but Albert denied this was the deciding factor, "It's somewhat important, but first of all, I needed a super day."

Boom laughed about it saying, "Seven is my lucky number!"

Albert still wants the title and said he would remain an U23 rider next season. "I'll do the same races like last year, so I'll race in the GvA-trophy again where I want to excel. But the most important thing is to get rid of that hole in my palmarès," a competitive Albert said.

Disappointed with the lack of suspense at the front of the race, we looked further back in the field for exciting duels, but third place also enjoyed a race on his own. "I'm not really surprised with this result as I came here to finish on the podium; actually this is the same podium like in Hoogerheide last week," an emotional Villa said about this third place finish.

The US riders couldn't extract any magic from Danny Summerhill's great performance earlier today and finished far back; Jamey Driscoll finished 36th, and all the other US-riders got lapped. Cyclingnews talked with Chance Noble (39th) at the finish line and asked if he was happy with this performance.

"I'm neutral, I wanted to finish in the top-40 but it's been a long season and I'm feeling pretty tired now," Noble said.
How it unfolded
Supported by a winter sun, 62 young riders got under way in Hooglede-Gits, where 15,000 spectators looked on waiting to find a successor for Zdenek Stybar. Lars Boom managed the hole shot followed by all the major favourites like Niels Albert, Zdenek Stybar, Romain Villa and Rafael Visinelli.
US riders Jamey Driscoll and Daniel Neyens were involved in a crash at the back. The top favourites Albert and Boom pulled through by the end of that lap, developing a small gap on the first riders of the bunch. They got caught, but when Boom unleashed his forces on the tough climb before the sandy section, nobody could answer. Albert and Villa got away in pursuit of Boom but kept losing ground on the skinny Dutch man. One lap later, Albert easily escaped Villa and from then on, focused on holding second place.
The rest of the race offered little action. Boom extended his lead continuously on Albert, and of course on the rest of the field. Britain's Ian Field managed an alright 16th place despite being injured recently.
Boom's high speed caused my riders to be lapped. Only 37 escaped the claws of the Dutch champion--Driscoll was the only American to do so.
Photography
For a thumbnail gallery of these images, click here
Images by Brecht Decaluwé/Cyclingnews.com
Images by Nancy Wright/www.wAbbiOrca.com
Images by Mitch Clinton/www.clintonphoto.com
Images by PhotoSport International
Images by John Pierce/PhotoSport International
Images by Mark Legg
Results
1 Lars Boom (Netherlands)                    53.53
2 Niels Albert (Belgium)                      1.22
3 Romain Villa (France)                       1.44
4 Zdenek Stybar (Czech Republic)              2.29
5 Philipp Walsleben (Germany)                 2.49
6 Lukes Kloucek (Czech Republic)              2.56
7 Jonathan Lopez (France)                     3.04
8 Rob Peeters (Belgium)                       3.10
9 Rafael Visinelli (Italy)                    3.22
10 Ricardo van der Velde (Netherlands)        3.25
11 Finn Heitmann (Germany)                    3.37
12 Aurelien Duval (France)                    3.39
13 Robert Gavenda (Slovakia)                  4.23
14 Eddy van Yzendoorn (Netherlands)           4.45
15 Tom van den Bosch (Belgium)                4.55
16 Ian Field (Great Britain)                  5.02
17 Quentin Bertholet (Belgium)                5.07
18 Frantisek Kloucek (Czech Republic)         5.11
19 Davide Malacarne (Italy)                   5.19
20 Thijs van Amerongen (Netherlands)          5.25
21 Jean-Pierre Drucker (Luxembourg)           5.30
22 Romain Lejeune (France)                    5.40
23 Lukas Flückiger (Switzerland)              5.52
24 Renè Lang (Switzerland)                    5.56
25 Dieter Vanthourenhout (Belgium)            6.12
26 Ondrej Bambula (Czech Republic)
27 David Menger (Czech Republic)
28 Patrick van Leeuwen (Netherlands)
29 Marcel Wildhaber (Switzerland)
30 Christian Cominelli (Italy)
31 Sascha Weber (Germany)
32 Florian Lecorre (France)
33 Yannik Tiedt (Germany)
34 Mauro Gonzalez Fontana (Spain)
35 Marcin Sobiepanek (Poland)
36 James Driscoll (USA)
37 Marco Fontana (Italy)

One lap down

38 Hugo-Alfonso Martinez Rus (Spain)
39 Chance Noble (USA)
40 Kim Michely (Luxembourg)
41 David Romanowski (Poland)
42 Yu Takenouchi Japan
43 Sylvester Janiszewski (Poland)
44 David Claerebout (Luxembourg)
45 Adam Bycka (Poland)
46 Daniel Neyens (USA)
47 Charles Marzot (USA)
48 Gabriele Mercante (Italy)
49 Tomaz Repinski (Poland)
50 Kyle Douglas (Canada)
51 Tetsuya Fujioka Japan
52 Brian Kumbiria Zengeni (Zimbabwe)
53 Brian Robinson (Canada)
54 Gordon Martin (Zimbabwe)
55 Aaron Schooler (Canada)
56 Ydai Izawa (Japan)
57 Shaun Adamson (Canada)