Recently on Cyclingnews.com
Cyclo-Cross World Cup #3 - CDM
Pijnacker, Netherlands, November 14, 2004
Results Cyclo-cross World Cup page
Nys beats crashing Groenendaal
Sven Nys (Rabobank)
Photo ©: Dick Soepenberg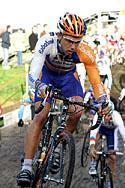 A bit of luck and a lot of strength got Belgian Sven Nys his first World Cup race victory this season, beating his Rabobank teammate Richard Groenendaal by 25 seconds, with Sven Vanthourenhout (Quick.Step) finishing third. Nys benefited from a crash by Groenendaal whilst the Dutchman was leading, and after Nys caught him, he opened up a gap.
World Cup round # 2 winner Kamil Ausbuher was the fastest at first on the 2800 metre Pijnacker circuit in the Netherlands, but Dutch champion Richard Groenendaal quickly caught up on him. After the first of eight laps to ride, Groenendaal was well on top of the situation, leading with 25 seconds over a group including Davy Commeyne, Sven Nys, Sven Vanthourenhout, Petr Dlask, Zdenek Mlynar and Enrico Franzoi.
Groenendaal's lead remained at about 35 seconds, with Nys attacking to get him, until lap four, where the Dutch champ missed his path and crashed. Not badly hurt, the Dutchman immediately remounted his bike but Nys was already there. Behind, Sven Vanthourenhout also tried to catch the front riders, but with the Belgian showing no signs of fatigue, even Groenendaal couldn't follow up. Nys got rid of him during the sixth lap and finally won a World Cup race, his eighth victory this season, 25 seconds faster than Groenendaal.
Photography
Images by Dick Soepenberg/www.wielerfoto.nl
Results
 
1 Sven Nys (Bel) Rabobank                                               
2 Richard Groenendaal (Ned) Rabobank                                0.25
3 Sven Vanthourenhout (Bel) Quickstep - Davitamon                   0.49
4 Ben Berden (Bel) Saey-Deschacht                                   1.10
5 Zdenek Mlynár (Cze) AC Sparta Praha                               1.26
6 Jirí Pospisil (Cze) Stevens International Cyclocross Team         1.32
7 Davy Commeyne (Bel) MrBookmaker.com - Palmans                     1.39
8 Enrico Franzoi (Ita) Saeco                                        1.49
9 Bart Aernouts (Bel) Rabobank                                      2.17
10 Tom Vannoppen (Bel) MrBookmaker.com - Palmans                    2.43
11 Wim Jacobs (Bel) Fidea Cyclocrossteam                            2.49
12 Petr Dlask (Cze) Author Praha                                    2.51
13 Erwin Vervecken (Bel) Fidea Cyclocrossteam                       3.18
14 John Gadret (Fra) Chocolade Jacques                                  
15 Jonathan Page (USA) Cervelo-HotTubes-Adidas-Mavic                3.27
16 Christian Heule (Swi) Stevens International Cyclocross Team      3.47
17 Camiel van den Bergh (Ned) Saey-Deschacht                        3.49
18 Tim Van Nuffel (Bel) Saey-Deschacht                              3.58
19 Václav Jezek (Cze) Author Praha                                  4.06
20 Arnaud Labbe (Fra)                                               4.09
21 Martin Nijland (Ned) Didata                                      4.27
22 Ondrej Lukes (Cze) Tatramleko                                    4.34
23 Michael Baumgartner (Swi)                                        4.39
24 Wilant van Gils (Ned) Rietveld WTC wielerteam                    4.44
25 David Derepas (Fra)                                              4.53
26 Malte Urban (Ger) Stevens International Cyclocross Team              
27 Jens Schwedler (Ger) Stevens International Cyclocross Team           
28 Vladimír Kyzivát (Cze) Johnson Controls AS MB                    5.21
29 Dariusz Gil (Pol)                                                6.16
30 Guillaume Benoist (Fra)                                          6.35
31 Francis Mourey (Fra)                                                 
32 Anders Klinkby (Den) Vejen BC                                    6.43
33 Robert Glajza (Svk) CK ZP Sport A.S.                             6.56
34 Thorsten Struch (Ger)                                            7.01
35 Peter Presslauer (Aut) Stevens International Cyclocross Team     7.41
36 Jean-Pierre Leyten (Ned)                                         7.54
37 Martin Zlámalík (Cze) Cyklo Team Budvar Tábor                    8.19
38 Gusty Bausch (Lux)                                               8.30
39 Igor Tavella (Ita)                                               9.01
 
1 lap behind
 
40 Alessandro Fontana                                                   
41 Finn Heitmann (Ger) Stevens International Cyclocross Team            
42 Mike Muller (Ger)                                                    
43 Mariusz Gil (Pol)                                                    
44 Steffen Weigold (Ger)                                                
45 Jens Reuker (Ger)                                                    
46 Joachim Parbo (Den) Cycling Aarhus                                   
47 Václav Metlicka (Svk) CK ZP Sport A.S.                               
48 Isaac Suarez Fernandez (Spa)                                         
 
U23
 
1 Martin Bína (Cze) Author Praha                                        
2 Geert Wellens (Bel) Fidea Cyclocrossteam                          0.14
3 Dieter Vanthourenhout (Bel)                                       0.23
4 Kevin Pauwels (Bel) Fidea Cyclocrossteam                          0.29
5 Lukas Flückiger (Swi)                                                 
6 Clément Lhottelerie (Fra)                                         0.36
7 Zdenek Stybar (Cze) G.S.Mercedes-Benz Selle Italia                0.37
8 Rob Peeters (Bel)                                                 0.46
9 Tom Van Den Bosch (Bel)                                           1.05
10 Simon Zahner (Swi)                                               1.21
11 Frantisek Kloucek (Cze) Author Praha                             1.37
12 Erik Miorini (Ita)                                                   
13 Eddy Van Ijzendoorn (Ned)                                        1.49
14 Julien Belgy (Fra)                                               1.54
15 Yves Corminboeuf (Swi)                                               
16 Guus Magielse (Ned)                                                  
17 Derik Zampedri (Ita)                                             2.25
18 Romain Villa (Fra)                                               2.34
19 Nicolas Bazin (Fra)                                              2.52
20 Bart Dirkx (Ned)                                                 3.07
21 Sebastian Langeveld (Ned)                                        3.35
22 Pirmin Lang (Swi)                                                4.18
23 Rikkie Dijkxhoorn (Ned)                                          4.45
24 Daan De Jonge (Ned)                                                  
25 Joeri Kouwenhoven (Ned)                                              
26 Lukas Keller (Ger)                                                   
27 Jeremy Powers (USA)                                              5.52
28 Egon Van Kessel (Ned)                                            5.57
29 Marco Wesseling (Ned)                                            6.17
30 Frank Van Grootel (Ned)                                          6.47
31 Roy Van Heeswijk (Ned)                                           7.09
32 Robin Schmuda (Ger)                                              7.51
33 Paul Vos (Ger)                                                   8.47
 
1 lap behind
 
34 Bart Rietveld (Ned)                                                  
35 Bas De Bruin (Ned)                                                   
36 Frank Sikking (Ned)                                                  
37 Jasper Van Heeswijk (Ned)                                            
38 Siebe Breed (Ned)                                                    
39 Kaey Van Rij (Ned)                                                   
40 Remco Kuijlenburg (Ned)                                              
41 Arnaud Van Leest (Ned)                                               
42 Rob Van Der Ham (Ned)                                                
 
Women
 
1 Daphne Van Den Brand (Ned)                                            
2 Laurence Leboucher (Fra)                                          1.32
3 Nadia Triquet (Fra)                                               2.09
4 Maryline Salvetat (Fra)                                           2.22
5 Anja Nobus (Bel)                                                  2.38
6 Helen Wyman (GBr)                                                 2.51
7 Birgit Hollmann (Ger)                                                 
8 Loes Sels (Bel)                                                   3.09
9 Louise Robinson (GBr)                                                 
10 Barbora Bohata (Cze)                                                 
11 Reza Ravenstein (Ned)                                                
12 Arenda Grimberg (Ned)                                                
13 Marianne Vos (Ned)                                                   
14 Hilde Quintens (Bel)                                                 
15 Corine Dorland (Ned)                                                 
16 Nicole De Bie- Leyten (Ned)                                          
17 Aline Parsy (Fra)                                                    
18 Nicol Kampeter (Ger)                                                 
19 Gabriella Day (GBr)                                                  
20 Danielle Janssen (Ned)                                               
21 Klara Nepustilova (Cze)                                              
22 Victoria Wilkinson (GBr)                                             
23 Claudia Marsilio (Ita)                                               
24 Katrien Pauwels (Bel)                                                
25 Susy Godart (Ned)                                                    
26 Joyce Vanderbeken (Bel)                                              
27 Katleen Vermeiren (Bel)                                              
28 Isabelle Wieser (Aut)                                                
29 Roxane Knetemann (Ned)                                               
 
Juniors
 
1 Davide Malacarne (Ita)                                                
2 Ricardo Van Der Velde (Ned)                                       0.30
3 Rik Van Yzendoorn (Ned)                                           0.37
4 Jan Van Dael (Bel)                                                0.46
5 Wim Leemans (Bel)                                                 1.14
6 Martin Nemecek (Cze)                                                  
7 Jo Pirotte (Bel)                                                  1.18
8 Johim Ariesen (Ned)                                               1.23
9 Lukes Kloucek (Cze)                                                   
10 Bart Senders (Ned)                                               1.41
11 Ondres Bambula (Cze)                                             1.46
12 Tom Last (GBr)                                                   1.58
13 Gianni Denolf (Bel)                                              2.11
14 Michal Kohoutek (Cze)                                            2.46
15 Coen Vermeltfoort (Ned)                                              
16 Djuri Van Rijbroek (Ned)                                         2.50
17 Jan Verhaegh (Ned)                                               2.59
18 Savié Van Horik (Ned)                                            3.04
19 Boy Van Poppel (Ned)                                             3.10
20 Richard Van Loon (Ned)                                               
21 Christopher Janssens (Ned)                                           
22 Robert Gavenda (Svk)                                             3.22
23 Jeroen Dekkers (Ned)                                             3.28
24 Ivar Hartogs (Ned)                                               3.34
25 Jan Mikkers (Ned)                                                3.50
26 Geert Van Der Sande (Ned)                                            
27 David Romanowski (Pol)                                               
28 Mark Smit (Ned)                                                  4.02
29 Jorn Van Veen (Ned)                                                  
30 Robert Bachraty (Svk)                                            4.11
31 Karol Bulba (Pol)                                                4.20
32 Mark Broks (Ned)                                                     
33 Paul Cox (GBr)                                                   5.52
34 Richard Sleumer (Ned)                                                
35 Umberto Atzori (Ned)                                             6.05
36 Rens Trommels (Ned)                                              6.20
37 Peter Siman (Svk)                                                6.28
38 Edwin Arts (Ned)                                                 7.08
39 Niels De Boo (Ned)                                               7.45
40 Ronan Van Zandbeek (Ned)                                         7.57
41 Rene Bunnik (Ned)                                                8.10
42 Maurice Vrijmoed (Ned)                                           8.56
 
1 lap behind
 
43 Wout Van Wijk (Ned)                                                  
44 Mitchell Huenders (Ned)                                              
45 Dennis Andriessen (Ned)                                              
46 Marek Canecky (Svk)