Recently on Cyclingnews.com
US Cyclocross championships - CN
Portland, Oregon, USA, December 10-12, 2004
Main Page Results Previous Race Next Race
December 10: Masters Men 45-49, 45 minutes
Steve Tilford (BikeSource)
Photo ©: Rob Karman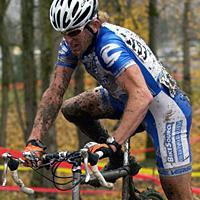 Last minute win for Tilford
By Rob Karman
The 45-49 men's race concluded the first day of the US cyclocross championships with long time veteran Steve Tillford (Bike Source) taking top honors in a hotly contested race with a stacked field of current and past national champions. The former masters MTB World Champ was more focused on Sunday's elite race in post race talks as he related that he "only bought a plane ticket on Wednesday. I was hoping the airfares were going to get more expensive so I didn't come, but they just kept coming down in price. I mean there's like 55 guys that have UCI points, so on Sunday I'm going to have to start behind all of them. I thought It'd be good to ride today to get a flavor of the course, but this was just detrimental to Sunday. There was way too much running. It was like peanut butter here [ed note: think of Nutella for those outside of the US]. It's probably going to change up a lot though. It's supposed to rain a half an inch tonight."
Out on the course after the final race was 2 time defending Elite Champ Jonathan Page who beamed when asked about fatherhood and happily reported that his wife and daughter made the trip with him. He said he was not over the jetlag as they'd only arrived the night before, but he'd make do. When asked what he thought of the course he said, "I think it's going to change again with the rain, but it's nice and muddy. It's a little thick right now, but it'll get thinner.
Photography
Images by Mitch Clinton/www.clintonphoto.com
Steve Tilford took the lead early in the men's 45-49 and never let it go.
Images by Matthew E. Moses/www.moses-images.com
Images by Rob Karman/

Results
1 Steve Tilford (Shimano Moots)                 43.48
2 Geoff Proctor (Montana Velo)                   0.27
3 Mark King (Guinness,/Sunnyside)                0.39
4 Henry Kramer (LeMatin)                         1.31
5 Karl Kiester (Fuji/Pro Cycling)                2.01
6 Robert Bobrow (Louisville)                     2.33
7 Norm Kreiss (Missing Link Bianchi)             3.01
8 Christopher Long (Independent)                 3.16
9 Jim Gentes (Family Cycling)                    3.29
10 Mark Abele (Unattached)                       4.05
11 Ted Mittelstaedt (Unattached)                 4.49
12 David Belknap (Bicycle Link/MBRC)             5.23
13 Tom Stevens (Gear Works/Spin Arts)            5.45
14 R Brook Watts (Cody Racing)                   5.54
15 Randy Shields (Carolina Masters)              6.13
16 Randy Iddings (Redline)                       6.25
17 Glen Conley (Bothell)                         6.35
18 Doug Hatfield (Family Cycling Center)         7.09
19 Richard Cramer (Bike-Hike)                    7.17
20 Kevin Callahan (Bicycle Link/MBRC)            7.25
21 Brian Vickers (Rhodes cycling)                8.05
22 Edwin Rambuski (Southern Sierra)              8.23
23 Joseph Brown (Flying Rhino Club)              8.32
24 Charles Morris (Celo Pacific)                 9.17
25 Tim Shea (Team B.O.B. / Naults)               9.18
26 David Hull (Old Town)                         9.22
27 John Wilson (EWEB Windpower)                 10.13
28 Circ Toepel (Cornerstone)                    10.15
29 Mark Wolowiec (Flying Rhino Cycling)         11.23
30 Dave Reed (dirtworld.com)                    11.24
31 Daniel Davis (Sunnyside Sports)              12.23
32 Douglas Squires (Red Rock Velo)              12.28
33 Steve Lamont (Durango wheel club)            12.38
34 Darrell Davis (Porcupine/Contender)          12.39
35 Michael Romasco (Santiam Bicycles)           13.28
36 Alan Ott (Rock Lobster)                      13.48
37 - - (-)                                      14.11
38 Michael Larson (LCR Larsons Cycle)           15.32
39 Keith Blumhagen (First Rate Mortgage)        15.44
40 Kem Akol (Bike trip Santa Cruz)              15.46
41 Brian Wentz (Valley Athletic/Team)           15.49
42 David Luoma (Guinness Cycling)               15.50
43 Andy Wilson (Team S&M)                       15.55
44 Paul Mautner (Portland)                      16.04
45 James Thicke (Team Rose City)                16.16
46 Dave Burnard (Alan)                          16.24
47 Erik Salander (Peninsula Velo)               16.31
48 Dionicio Ybarra (Missing Link Bianchi)       16.53
49 Chipp Ross (River City)                      21.31
50 Vern Krist (E.F. Design X Team)              21.32
51 Steve Crawford (Lakewood)                    21.34
52 Paul Sadoff (Unattached)                     22.27
53 Mark Kunnecke (Bicycle Centers)              23.12
54 Stephen Hemminger (Team Oregon)              24.28
55 Jim Hinkley (Portland)                       28.51