2004 World Cyclocross Championships - CM
Pont-Château, France, January 31-February 1, 2004
Home Results Previous Race Next Race
February 1 - Elite/Junior Women: 40 Minutes
Leboucher and France reclaim gold
Silver for Salvetat
By Chris Henry in Pont-Château, with additional reporting by Mélanie Leveau
A second rainbow on home soil
Photo ©: Chris Henry/Cyclingnews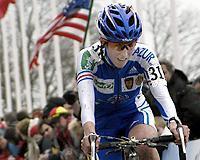 In a hard-fought race between Laurence Leboucher and Maryline Salvetat gave host nation France a 1-2 punch in the women's race in Pont-Château Sunday morning. Multiple world champion Hanka Kupfernagel completed the podium, clearly disappointed to finish on the third step, but unable to counter the impeccable riding of France's two top cyclo-crossers. With the course drying out from Saturday morning's soaking, the women's race was fast and aggressive throughout, with an average speed comparable to the espoir race the day before.
"Without Salvetat, and had the course been as wet as yesterday, I couldn't have won," a delighted Leboucher said after the race. "I had seen that yesterday the winning moves came in the last part of the course, so I tried to attack early today. I had 300 supporters who came to the race today, and I was pushed on by the crowd. I couldn't hear the time gaps because the fans were so loud."
Leboucher's dominant performance was all the more impressive considering her poor start. A perfect first-row starting position was quickly lost as Leboucher found herself scrambling for placement in the top ten after barely riding 100 metres. She more than made up for lost time, however, as she forced her way back through the field in the opening lap to help force an initial selection of ten riders. By the time the field passed through the finish line for the first time, Leboucher was already in control.
Among the early leaders were most of the pre-race favourites, including Kupfernagel, Daphny Van den Brand and two teammates (Hornes Ravenstijn and Vos), and Americans Alison Dunlap and Rachel Lloyd. Vos crashed out of the lead group, and the ten became seven as Leboucher and Salvetat forced the pace before the home crowd in Pont-Château. Dunlap too lost contact with the first group, hampered by a crash in front of her at roughly the same moment Leboucher put in a new attack. Dunlap was joined by Van den Brand, who also had faded, and the two began to form a first chase group of the dwindling lead pack.
Hanka Kupfernagel
Photo ©: CN

Over the course of the second lap, Leboucher was already alone after a successful attack, with teammate Salvetat and Germany's Kupfernagel in pursuit. A former world champion in both cyclo-cross and mountain biking, Leboucher knew how to judge her effort, and steadily put in more time on her chasers. Salvetat, too, was putting the pressure on Kupfernagel and putting this year's dominant 'cross rider in difficulty.
"Laurence attacked at a very hard point in the course, which we sometimes did on foot, others on the bike," Salvetat explained. "I knew I couldn't wait for a sprint against Kupfernagel, so I attacked in the same place as Laurence on the next lap. I wanted to wait until she had a big enough gap, and I also benefited from a small error by Kupfernagel."
With Leboucher gone and Salvetat now on the way to second place, France looked set to claim gold and silver on home turf. The enthusiastic crowd was well aware of the success to come, providing a thunderous applause to the leading French riders.
Knapp leads Dunlap
Photo ©: CN

Meanwhile, Americans Ann Knapp and Alison Dunlap were riding strongly in pursuit, but almost certainly out of the medal hunt.
"I had no idea what position I was in," Knapp told Cyclingnews after her fourth place finish. "I'm really pleased, because coming here I had no expectations and was really here to have some fun."
Knapp was clearly having a great ride, while Dunlap, who had very clear ambitions of victory in Pont-Château, resigned herself to stay with her teammate, even if team tactics were not playing a part.
"I'm not satisfied... I wanted to win," Dunlap told Cyclingnews. "There were no team tactics [with Knapp]. Ann seemed really intent on beating me so I just stayed on her wheel."
Apart from the disappointing 11th place of defending world champion Daphny Van den Brand, the race went largely according to expectations. France came roaring back into the medal race after strong performances in the junior and espoir men's races, and once more today placed three riders in the top ten. The Americans rode well, meriting their place as contenders in international competition, but ultimately had to settled for results just below the podium.
Photography
Images by Chris Henry/Cyclingnews.com
Images by Russ & Nancy Wright/www.AbbiOrca.com
Results
1 Laurence Leboucher (France)           43.06 (22.413 km/h)
2 Maryline Salvetat (France)             0.37
3 Hanka Kupfernagel (Germany)            0.51
4 Ann Knapp (United States)              1.48
5 Alison Dunlap (United States)          1.54
6 Louise Robinson (Great Britain)        2.02
7 Marianne Vos (Nederlands)              2.40
8 Corinne Sempe (France)                 2.43
9 Reza Hornes-Ravenstijn (Nederlands)    2.44
10 Birgit Hollmann (Germany)             2.46
11 Daphny Van Den Brand (Nederlands)     2.54
12 Gina Hall (United States)             3.04
13 Anja Nobus (Belgium)                  3.31
14 Rachel Lloyd (United States)          3.49
15 Corine Dorland (Nederlands)           3.57
16 Nadia Triquet (France)                4.09
17 Carmen D'alusio (United States)       4.24
18 Barbora Bohata (Czech Republic)       4.41
19 Hilde Quintens (Belgium)              4.56
20 Victoria Wilkinson (Great Britain)    5.26
21 Claudia Marsilio (Italia)             5.33
22 Veerle Ingels (Belgium)               5.53
23 Loes Sels (Belgium)                   6.14
24 Helen Saunders (Great Britain)        6.18
25 Paola Bortolin (Italia)               6.29
26 Wendy Simms (Canada)                  6.58
27 Nekane Lasa Agirre (Spain)            7.04
28 Milena Cavani (Italia)                    
29 Masami Mashimo (Japan)                7.13
 
1 lap behind
 
30 Samantha Nicholson (Canada)               
31 Katleen Vermeiren (Belgium)               
32 Francesca Cucciniello (Italia)            
DNF Vania Rossi (Italia)                     
 
Nations Ranking
 
1 France                                   11 pts
2 United States                            21
3 Nederlands                               27
4 Great Britain                            50
5 Belgium                                  54
6 Italia                                   74
7 Germany                                  13
8 Canada                                   56
9 Czech Republic                           18
10 Spain                                   27
11 Japan                                   29