2004 World Cyclocross Championships - CM
Pont-Château, France, January 31-February 1, 2004
Preview
Who will challenge the Belgian armada?
By Chris Henry
Can Wellens repeat?
Photo: © AFP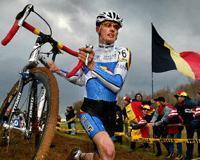 The tiny town of Pontchâteau, France will host the World Cyclo-cross championships for a second time this weekend, as the best in the discipline descend for two days of frantic battle against each other, and quite possible against the elements. Nestled inland from France's Atlantic coast, northwest of Nantes, Pontchâteau offers a challenging up and down circuit of 2.65 kilometres. The town last hosted the World's in 1989, and has also hosted the cyclo-cross World Cup, as well as the French national championships.
The Coët-Roz circuit, situated close to 'downtown' Pontchâteau, a town of some 8,000 residents, features 1,440 metres of meadow, 360 metres of undergrowth, 335 metres of tarmac, and a 25 metre section of stairs to complete the package. The course begins with a technical section that promises to challenge the field with constantly changing rhythms, followed by a gradual drop and a period of recovery- such as it is in a one hour race- before climbing the stairs and heading back to the start/finish area, by way of a forest and more climbing.
Early weather forecasts for the area hint at rain on Saturday, followed by some sun and relatively mild temperatures of 11-14 degrees celsius on Sunday. The festivities begin Saturday morning with the junior men, followed by the U23 men in the afternoon. Sunday will crown the elite women's and elite men's world champions.
Elite men:
Is it more appropriate to ask who can beat the Belgians, or simply which Belgian is the best candidate for victory? Belgians have won four of the past five world titles, and have consistently dominated the top 'cross races in Europe in recent seasons. Defending champion Bart Wellens has more than honoured his 2003 jersey from Monopoli, Italy with numerous victories this season, including the Belgian national championships in January.
Sven Nys continues to figure among the favourites, but the Rabobank rider has yet to win a world title, and this year has had to play second fiddle to Wellens on many occasions. Nonetheless, he stamped his authority in the World Cup series with three straight wins, before Ben Berden stopped the streak in Koksijde.
Former world champion Erwin Vervecken showed a return to top form recently with a victory in the sixth round of the Superprestige series in Hoogstraten, Belgium. Compatriot Tom Vannoppen has also shown a steady improvement, while three-time rainbow jersey Mario De Clercq has had a somewhat quiet season, winning races but in smaller venues than his rivals Wellens and Nys.
Nys' teammate Richard Groenendaal heads the Dutch charge, alongside Gerben De Knegt and Maarten Nijland. Groenendaal has consistently figured among the leaders this season, but with fewer climbs to the top step of the podium.
The French team, competing on home soil, will count primarily on young cyclo-cross sensation John Gadret, who although still in search of his first big international victory, has shown he can challenge in the World Cup events and is not afraid of the Belgian armada. Gadret stormed to an impressive national title earlier this month, showing not only strength but also a fine tactical sense with a perfectly executed attack in the final lap.
American national champion Jonathan Page, dominant on home soil in the December nationals, is still looking for a breakout success in Europe. Hard working and a consistent top 20 finisher in Europe, Page heads a relatively young but ambitious American contingent which also includes Andy Jacques-Maynes, Jackson Stewart, and Marc Gullickson.
Elite Women:
The name to start with in the women's event is Hanka Kupfernagel from Germany. Having won two out of the last four rainbow jerseys, she has established herself as the queen of international cyclo-cross in recent years. Even this season, if World Cup success is anything to go by, Kupfernagel remains the woman to beat. She has won all but the opening World Cup events this year, beaten only by the reigning World Champion, Daphny Van Den Brand (Ned). Kupfernagel has won consistently, but her margins of victory have not been enormous. Her closest challengers have finished within seconds in the World Cup races, and the pressure will be on for what is still a relatively open race for the women.
France's Maryline Salvetat stands a strong chance of taking the rainbow jersey in front of the home crowd. Despite an early winter injury, Salvetat has surely profited from extensive training on the Pontchâteau course, and along with Laurence Leboucher will lead France's medal hopes for the weekend.
The American duo of Gina Hall and Alison Dunlap have each had strong performances in Europe this season, and Hall particularly could spoil the party for the continental riders. Americans face a yearly challenge of finding top form for the World's more than a month after the national championships in the USA.
Cyclingnews will have full coverage of the events, as well as live coverage of the Elite Men's race on Sunday, beginning at 3pm CET.
Past Winners