2003 World Cyclocross Championships - CM
Monopoli, Italy, February 1-2, 2003
Money Time In Monopoli: 2003 World Cyclocross Championships - CM
Mario De Clercq
Photo: © Dick Soepenberg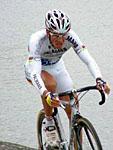 By Tim Maloney / Cyclingnews European Editor
Set amongst the scrub pines and olive groves along the rocky Adriatic coast south of Bari, Italy, the World Cyclo-cross Championships will be contested this year near the heel of the Italian boot, almost 2,000 kilometers south of Belgium, where the heart of the sport of Cyclo-cross beats most true.
Designed by two-time World 'Cross champ Vito Di Tano, the Monopoli course is a flat, fast and sinuous 2.7km circuit that will offer a good test for the top 'crossers in the world. Weather may play a factor in usually warm and sunny Puglia, with a strong cold wind blowing across Italy and some showers expected. However another Italian former World 'Cross champ, Daniele Pontoni, told Cyclingnews that "Monopoli is a fast course; even it rains because there is just hard rock under a thin layer of dirt. There won't be much mud even if it does get wet."
Saturday will see Junior & U23 men, while Sunday features the Elite Men's & Women's World Championships.
The Monopoli course has been changed somewhat from the World Cup course in 2001; the toughest part of the circuit now is on the barrier section, where the obstacles have been placed too close together to jump over. The riders must dismount and the heavy clay soil after the jump makes it difficult to get started again. This more technical course will be tougher still if it does rain. Weather reports Friday indicate 30kph+ winds, rain showers and temperatures around 5 degrees centigrade for the weekend, with more chance of precipitation on Saturday than Sunday. Just another summer day for the Belgians.
In the World Cup Round 1 run in Monopoli in November 2001, Belgian Sven Nijs beat Bart Wellens and Pontoni, with first American Jonathan Page in 23rd. Belgians are expected to dominate much of the weekend's racing.
Men:
In the Elite Men's main event Sunday, old fox Mario De Clercq who won last year in Zolder will be looking to hold off the hordes of young turks like recently crowned Belgian 'cross champ and Superprestige leader Nijs, World Cup leader Bart Wellens. The usually flying Dutchman Richard Groenendaal faded at the last World Cup race and lost his series lead due to a hamstring problem, so the Rabobank rider may not be 100% competitive on Sunday, but his chunky Orange teammate Wim De Vos is another experienced danger man who has likely recovered from an early season crash.
Other outsiders in the elite race to watch are Czech Jiri Pospisil, Italian Daniele Pontoni, Swiss rider Christian Heule and two Americans; US champion Jonathan Page- who has had a great season- and speedy Marc "Gully" Gullickson, both of whom have a chance to crack the top 10 on a great ride.
Women:
Defending champ Laurence Leboucher of France won't be at home on the fast, technical circuit, but the tough mountain biker won't fold easily. However, Dutch rider Daphny Van den Brande has won 12 out of 13 races she's entered and is the top favourite to win in Monopoli after garnering bronze last year.
Former women's 'cross world champ, Zolder silver medallist and German road star Hanka Kupfernagel has not been riding many international 'cross races this season, but she is hard to count out, especially if the race is decided in a sprint finish. With the absence of Alison Dunlap, American Carmen D'Alusio and her long blonde braid will be seeking a podium spot this year after a great season stateside and her top 10 worlds finish last year. Other North Americans who may shine in Monopoli are the tough, experienced American Anne Grande and talented Canadian Lynn Bessette. Italian hopes are riding on Anabella Stropparo, who has had a sore back the last few weeks but is reportedly back in form.
U23:
Defending champion Thijs Verhaagen has dominated the U23 category this year and will be back for a repeat performance. Italian champ Enrico Franzoi was 10th here in '01 among the elites and the speedy 'crosser from Treviso will "gioco en casa" with the home field advantage. Belgians will again have some great gold medal prospects in U23, with Bart Aernouts and Kevin Pauwels. Watch for chip off the old 'cross block Rad Simunek, Jr. too; the 19 year old Czech is already making his mark in the U23 class.
American Adam Craig was 8th in last year's World's, just ahead of Simunek, and the talented Giant rider is in his last U23 season before he moves into the big leagues. Consistent Swiss Michi Muller could also be a possible podium placer on Saturday.
Saturday will see Junior and U23 men, while Sunday has the Elite Men's and Women's World Championships. Look for race reports from Monopoli on Saturday & Sunday, including LIVE coverage from Monopoli of the Elite Men's race on Sunday, 2 February from 1240-1350 CET.
Past Winners