Cyclo-cross news & racing roundup for September 23
Edited by Greg Johnson
Welcome to our regular roundup of what's happening in cyclo-cross. Feel free to send feedback, news and releases to mtb@cyclingnews.com.
Nys crosses back to victory
Bina takes Czech win
By Brecht Decaluwé
Sven Nys wins GP Neerpelt
Photo ©: AFP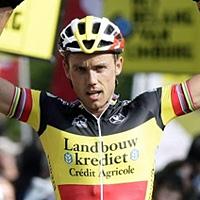 Belgian cyclo-cross champion Sven Nys (Landbouwkrediet-Tönissteiner) has opened his 2008/09 season in style, winning a tough GP Neerpelt in his homeland. The 32 year-old had spent much of the European summer training for, and riding at, the mountain biking event at the Olympic Games in Beijing, China but showed his versatility with a solid transition back to 'cross.
Nys was challenged throughout the event by compatriot Bart Wellens (Fidea Cycling Team), who finished the race just seven second in areas of the rider. Young Czech rider Zdenek Stybar (Fidea Cycling Team) rounded out the podium some 20 seconds behind his team-mate.
"It certainly wasn't the easiest victory of my career," Nys told Sporza. "Wellens was strong today, he did a good job. The power is good, but I still need to adapt to the cyclo-cross techniques a little more."
The race proved a setback to Niels Albert's season, with the rider sustaining injuries following a crash in the race (see separate story).
Elsewhere in Europe Martin Bina claimed victory at this home event the Grand Prix Olomouc in Olomouc, Czech Republic. Bina ou-tclassed Belgian rival Jan Verstraeten (Sunweb Projob) to claim the victory while Petr Dlask (Fidea Cycling Team) filled the podium with his third place finish.
Cannondale team-mates dominate US action
Tim Johnson (Cyclocrossworld-Cannondale) takes the 'sprint'
Photo ©: Mark Zalewski

Cannondale/Cyclocrossworld.com team-mates Tim Johnson and Jeremy Powers dominated the first big weekend of cyclo-cross racing in the United States of America for the season. The duo claimed two podium finishes each, with a win a piece at the weekend's North American Trophy races.
Powers was the first cab off the rank, with the rider taking a win at Saturday's Star-Crossed event in Redmond, Washington while Johnson claimed third place behind Ryan Trebon (Kona). "I didn't do any attacking today, I was just sitting there sweeping wheels," said Powers. "Ryan threw down fifty attacks and I was just trying to stay there. I don't have the high-end yet coming off a 7-day stage race."
The Cannondale/Cyclocrossworld.com team-mates swapped spots for Sunday's Rad Racing GP, with Johnson taking honours in a sprint after a closing Powers wore down second placed Trebon.
Johnson admitted he owes much of his win to his team-mate, which softened Trebon. "Inside three laps to go Jeremy was off the front - we caught him and there was a surge," said Johnson. "We gapped Jeremy off but then Ryan was forced to lead the last two laps, almost the entire way.
"Going into the last lap Jeremy was within 10 seconds so I let Ryan set the pace," he added. "He did a couple of surges, on the climb, but he didn't drop me. That is all I needed to build my confidence."
Johnson and Powers weren't the only winners for the Cannondale/Cyclocrossworld.com squad at the weekend, with Jamey Driscoll also taking a win at the opening MAC Series round. Driscoll came out on top at the Nittany Lion 'Cross event in Fogelsville, PA, where road sprint specialist Laura Van Gilder (C3 Sollay) wrapped up the elite women's win.
Van Gilder added a second win to her weekend on Sunday, claiming the second MAC Series round - the Charm City 'Cross. Van Gilder's C3-Sollay.com team-mate Michael Gallagher also proved strong on the Sunday, winning the elite men's category.
In Michigan it was Jonathan Page (Planet Bike) that proved the force to be reckoned with at the KTR Michigan Double-Cross. Page claimed victory in both Saturday and Sunday's races, while Canadian Natasha Elliott (Emd Serono/Stevens) took the double victory in the elite women's category.
Albert out for two weeks
Niels Albert has been forced to rest for a few days after his fall at the opening cyclo-cross of the season in Neerpelt over the weekend. The rider fell shortly after the start but was able to finish the race. "The X-ray shows that my sternum and ribs are bruised," the 22 year-old Palmans rider told Belgian news website Sporza. "Also my knee is twisted."
Albert attempted to return to riding after checkups on Monday, however the rider had limited success. "I am in a lot of pain at the moment," the Under 23 World Champion explained. "I tried to ride today but that wasn't a success."
The rider expects to be out for two weeks in time for the Zonhoven event. "I have to rest for three or four days," he said. "But in two weeks I hope to return to the top in Zonhoven. My condition is good, so that won't be a problem.
"I don't regret that," she added. "Thanks to the adrenaline I didn't feel much. Only towards the end did I start to feel the pain."
Vanthourenhout out with injury
Sven Vanthourenhout
Photo ©: Brecht Decaluwé
Sven Vanthourenhout will be out of competition for around four weeks after a crash at the Grand Prix Olomouc. Vanthourenhout was contesting the Czech event at the weekend while his main rivals raced at Belgium's GP Neerpelt, in the hope of bagging a load of UCI points. Instead the rider has broken two bones in his hand.
"There were two breaks," he told Sport.be. "On the top of my hand I broke a bone in my wrist. I also broke my scaphoid. That will be put in plaster on Wednesday night."
While Vanthourenhout will be sidelined from competition for four weeks, the rider is hoping to keep up his condition. He expects to be spending lots of time on the rollers while his injury heals.
"I would normally be out of competition for four weeks," he said. "Cyclo-cross is out of the question but ride on the rollers and do some road work. Hopefully I can maintain my condition. My preparation was perfect, recording my best test result ever. Now I have to turn my whole program on its head and re-evaluate my goals."
Vanthourenhout regrets the accident's timing, as he had been aiming at a strong opening to his 2008/2009 campaign. "It's a shame because October is traditionally a good month for me," he said. "Kalmthout, Ruddervoorde...races where I always go well, but that I now have to miss. The Superprestige in Ruddervoorde was one of my goals."
Ian beats strong field
By BikeRadar.com staff
Kent cyclo-cross ace Ian Field took a confident victory in the opening round of the National Trophy Cyclo-Cross Series in Wales on Sunday, attacking as he headed into the final lap and winning by ten seconds from his breakaway rivals at Abergavenny.
Field, a 22-year-old who is riding as a first year senior, has plenty of experience having ridden for the GB Academy in several world cup 'cross and mountain bike events - but he needed all his experience to secure victory with a quality field snapping at his heels.
"It was a good race, and panned out pretty much as I expected," he said afterwards. "The series is definitely an aim for me this year. It's been a while since I did a whole series so it'll be good, especially as there are six races this time."
Last years series winner Paul Oldham (Hope Factory Racing) was driving the leading group, but when Field attacked as they reached the pits for the last couple of circuits, he caught his rivals napping and established a lead which he clung on to.
Oldham held off the challenge of Belgian visitor Dave Willemsens to take second spot, but he will be aiming to improve one place when the second round is staged in Devon in two weeks time.
See Cyclingnews' full coverage of the British race.
Cross ready for Vegas
Ryan Trebon (Kona) won in Vegas last year
Photo ©: Jon Devich

After competing in various cyclo-cross races throughout the United States of America on the weekend, the cream of America's crop will converge on Nevada for CrossVegas tomorrow. Defending champion Ryan Trebon, Tim Johnson and Barry Wicks are amongst the riders scheduled to take part in the event.
After winning both of the weekend's KTR Michigan Double-Cross races, Jonathan Page will take on the likes of Trebon who spent last weekend at the Star-Crossed and Rad Racing GP events in Washington. Adam Craig and Tony Cruz are amongst the riders already confirmed for the event, now in its second year.
CrossVegas, held in conjunction with the Interbike trade show in Las Vegas, will be without its defending women's champion. With 2007 winner Lyne Bessette having retired from the sport, the women's race is assured a first time winner.
Spike Shooter's Katie Compton will be hoping to go one better than last year and get a win under her belt for the 2008/09 season. Compton will be challenged by the linkes of Luna's Katerina Nash and Georgia Gould, as well as Wendy Simms and Rachel Lloyd.
Compton fans will also have the chance to earn themselves a superfan pack at the Las Vegas event. One male and one female Katie Compton superfan - who should be characterized by painted bodies, screaming, signs and bell clanging - will get a swag of goodies valued at $1,000 USD.
"It's awesome to see the crowd cheering us on and really having a great time watching us put on a show," said Compton. "We want to reward our fans who get out there and really put on a show for us while I'm racing with some free swag "
For the first time CrossVegas will feature the Double Down at Mandalay Bay award that will recognize those riders with a vacation prize for the top men and women riders who compete in both CrossVegas the USA Crits Finals scheduled the next night.
Giant Berry/Specialized announce roster
California Giant Berry Farm-Specialized has announced its squad for the 2008-2009 United States of America cyclo-cross season. The squad will feature one elite women, USA National Cyclo-cross silver medalist Rachel Lloyd and three elite men, including World Championship Under 23 team member Chance Noble, Justin Robinson, and top junior Cody Kaiser.
In addition to the 4 Elite athletes, an eight-man master's team will round out the squad. They include World Masters Championship silver medalist Henry Kramer, former national champion Medalist Todd Hoefer and Gannon Myall. .
Elite riders: Chance Noble, Justin Robinson, Cody Kaiser, and Rachel Lloyd.
Masters riders: Eric Bustos, Frank Cauresma, Gannon Myall, Henry Kramer, Norm Kriess, Rob Meighan, Tom Ryan and Todd Hoefer.
HRS/Rock Lobster name roster
The HRS/Rock Lobster squad will

The HRS/Rock Lobster squad has announced its line-up for tis fifth United States of America cyclo-cross season. The team will be sending some elite members to select UCI events and the USA Cyclo-cross national championships.
Last season the team tallied over 20 victories and nearly 100 podium places, swept the podium for the NCNCA cup, and claimed a podium spot at Lebbeke Kleicross, Belgium. With 35 riders the squad is hoping to be one of the most formidable west of the rockies.
Elite Team: Stella Carey, Sarah Kerlin, Ben Popper, Aaron Odell, Aaron Kereluk, David Wyandt and Joshua Snead.
Elite Masters: Max Clifford, Tim Watson, Matt Jordan, Evan Adams, Sean Coffey, Brett Lambert, Steve Gile and Frank Kalcic.
A-Men: Dean Poshard, Scott Chapin, Nick Purtscher, Alex Work and Jeff Patton.
Upcoming UCI Cyclo-cross races
September 24: Cross Vegas, Las Vegas, Nevada (USA) C1 ME/MU/WE
September 27: Mad Cross I, Sun Prairie, Wisconsin (USA) C2 ME/WE
September 27: Nationale Openingsveldrit van Harderwijk om de grote prijs Shimano, Harderwijk (Ned) C2 ME/MU
September 27: TOI TOI CUP, Unicov (Cze) C2 ME
September 27: Schoolhouse Cyclocross, East Montpelier, Vermont (USA) C2 ME/WE
September 28: Catamount Grand Prix, Williston, Vermont (USA) C2 ME/WE
September 28: TOI TOI CUP, Hlinsko (Cze) C2 ME
September 28: Mad Cross II, Sun Prairie, Wisconsin (USA) C2 ME/WE
(All rights reserved/Copyright Future Publishing (Overseas) Limited 2007)