Nittany Lion 'Cross - MAC #1 - C2
Fogelsville, PA, USA, September 20, 2008
Stunned in Pennsylvania
Van Gilder, Driscoll, Bahnson Win MAC Opener
Laura Van Gilder (C3-Sollay.com) showed
Photo ©: Todd Leister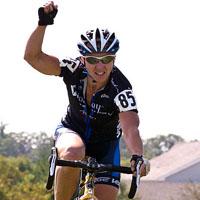 Against the stunning backdrop of the Lehigh Valley's South Mountain, the best of the MAC Cyclocross Series opened their 2008 season with the UCI Nittany Lion Cyclocross at Penn State University's satellite campus in Fogelsville Pennsylvania on Saturday. By the end of the day, some of the results were as stunning as the scenery. Though the UCI races were the main event, the most lasting memory of the race may turn out to be the performance of Jeff Bahnson (Secret Henry's/Van Dessel Factory Team) in the men's "B" race.
Unlike many series, MAC's secondary men's division includes Category 2 men, as well as the usual category 3 and 4, because of the high percentage of UCI-listed races that make up the series. Yet the 15 year-old high school sophomore, who many have tagged as a future superstar, convincingly beat some of the fastest racers in the Mid Atlantic at an age when he should be competing for a spot on his school's Junior Varsity sports teams. It was the Junior 15-16 National Champion's first outright win against adult competition, and it came before he's even eligible to apply for a learner's permit to drive a car.
Like Bahnson, Laura Van Gilder (C3-Sollay.com) took a stunning first win. With a grand total of just three cyclocross races under her belt, two them years ago before her professional career began, Van Gilder toed the line for the first-time at a big-league 'cross race to start a new chapter in her legendary cycling career. One of her main rivals would be defending MAC Champion Maureen "Mo" Bruno-Roy, who was once Van Gilder's soigneur on the dominating Saturn road team.
Bruno-Roy took the hole-shot and deliberately extended her lead throughout the early portion of the race, with Van Gilder and the Velo Bella teammate of Dee Dee Winfield and Anna Milkowski forming the chase. For both Winfield and Milkowski, the race marked the return to top-flight competition following layoffs: Milkowski after suffering a broken leg in a racing crash in the spring and Winfield after giving birth to her second child late last year.
Bruno-Roy seemed to have the race under control when she started getting visibly tired. "I'm at the very end of a four-week training block," she said afterwards. "I was really tired. It's too early in the season to peak for 'cross yet." Winfield drove the chase and even broke free at one point. But with two laps to go, Winfield, Bruno-Roy and Van Gelder were all together. Ten seconds after the announcers, alluding to Van Gelder's road sprinting prowess, said "two of those three riders don't want this race to stay together" Winfield crashed at the tricky double sand pit. "I don't know what happened," she said later, "but my bike got wrapped up in the course tape and I was yelling 'get off my bike!' at the tape." Bruno-Roy was unable to escape the ever present Van Gelder, who took the sprint easily.
Afterwards, Van Gelder said that she had first contacted her C3-Sollay.com team as far back as July after deciding to pursue 'cross. "I'm really happy at C3-Sollay.com because it's a cyclocross focused team. I wanted a team with the experience and guidance to really help me."
The UCI Men's race turned out to be a two-act play, with Matt White (BikeReg.com/Joe's Garage) and Jamie Driscoll (Cyclocrossworld.com/Cannondale) working together to stay ahead of Colovita/Sutter Home Wine's Tyler Wren for most of the race. Wren appeared to be throwing caution to the wind, but couldn't catch the lead duo, who were concentrating on staying smooth together. "We just wanted to maintain the lead," said Driscoll, who was wearing his University of Vermont summer road kit to stay cool in the early season heat. With a little less than two laps to go, Driscoll dropped the hammer and was able to gap White to take the win.
Runner-up White summarized the end game, "When Jamie took off and we sped up, it was just a matter of time before one of use screwed up. I was hoping it would be him, but is was me who spiked a pedal (into the grass) and I was done."
In the Elite Masters Race, defending series champ Roger Aspholm dominated the proceedings and led his Westwood Velo teammates Troy Kimball and Ralf Warmuth to a podium-sweeping 1-2-3 finish.
Photography
For a thumbnail gallery of these images, click here
Images by Todd Leister/leisterimages.com
Images by Anthony Skorochod/www.cyclingcaptured.com
Results

Elite Men
 
1 Jamey Driscoll (Cyclocrossworld.com/Cannondale)          55.09
2 Matt White (BikeReg.com/Joe's Garage)                         
3 Tyler Wren (Colavita/Sutter Home)                             
4 Jonathan Hamblen (Time Pro Cycling)                           
5 Weston Schempf (C3-Sollay.com!)                               
6 Alec Donahue (BikeReg.com/Joe's Garage)                       
7 Josh Dillon (Fiordifrutta / Cannondale)                       
8 Michael Gallagher (C3 SOLLAY.COM)                             
9 Nathan Wyatt (Carolina Fatz/Santa Cruz/Sram)                  
10 Adam Myerson                                                 
11 Bobby Lea (Fuji)                                             
12 Bill Elliston (Fuji)                                         
13 Zoltan Tisza (PNIVO-Betonexpressz 2000)                      
14 Stephen Cummings (Indiana Regional Medical Center)           
15 Greg Wittwer (ALAN North America Cycling Team)               
16 Matt Kraus (RGM WATCHES - RICHARD SACHS - B)                 
17 Nathaniel Ward (BikeReg/Joe's Garage)                        
18 Andrew Wulfkuhle (C3-Sollay.com)                             
19 Mukunda Feldman (Spooky Bikes)                               
20 Christopher Consorto (Human Zoom Cycling)                    
21 Shawn Adams (Lake Effect)                                    
22 John Brewer (Haymarket Bicycles p/b Function)                
23 Sean Galegher (Hunt Valley Bicycles/HVB)                     
24 Chad Totaro (Human Zoom / Pabst Blue Ribbon)                 
25 Todd Hesel (Hunt Valley Bicycles/Marathon R)                 
 
Elite Women
 
1 Laura Van Gilder (C3 Sollay)                             39.46
2 Maureen Bruno Roy (UNATTACHED)                                
3 Deidre Winfield (Velo Bella - Kona)                           
4 Anna Milkowski (Velo Bella-Kona)                              
5 Arley Kemmerer (Hub Racing)                                   
6 Melanie Swartz (Velo Bella - Kona)                            
7 Nikki Thiemann (Human Zoom Pabst Blue Ribbon)                 
8 Kristin Gavin (Human Zoom/Pabst Blue Ribbon)                  
9 Heidi Von Teitenberg (C3-Sollay.com)                          
10 Lauri Webber (Secret Henry's Team)                           
11 Kristen Kelsey (Evolution Racing)                            
12 Kristy Swope (EPS/CSS/Riptide Cycling)                       
13 Kristine Church (Human Zoom/ Pabst Blue Ribbon)              
14 Beth Mason (C3-Sollay.com)                                   
15 Lynda Maldonado (Cadence Cycling & Multisport)               
16 Alicia Hamblen (NC Cycling)                                  
17 Diane Grim (C3-Sollay.com)                                   
18 Tammy Ebersole (Evolution Racing)                            
DNF Jennifer Maxwell (TEAM KENDA TIRE)                          
 
Elite Masters
 
1 Aspholm Roger (Westwood Velo)                                 
2 Kimball Troy (Westwood Velo)                                  
3 Warmuth Ralf (Westwood Velo)                                  
4 Yozell Michael (VisitPA.com)                                  
5 Reisinger Kirk (Club Wissahickon / Engin Cycles)              
6 Cassan Todd (Westwood Velo)                                   
7 Ferguson Greg (Penn State Hershey Cancer Inst.)               
8 Weaver Dave (Alan North America Cylcocross Team)              
9 Staffo Dan (Handlebars cycling company)                       
10 Wieczorek Brian (Freddie Fu Cycling)                         
11 Campos Robert (HVC/wildthyme)                                
12 Kutney Mark (Van Dessel Cycles)                              
13 Turner Glenn (Human Zoom/Pabst Blue Ribbon)                  
14 Pflug Gerry (Speedgoat/SPK/Salsa)                            
15 Long Christopher (GS Gotham/Toga)                            
16 Shields Kerry (Carolina Masters Cycling)                     
17 Piccillo Joseph (Evolution Racing)                           
18 Gorski Andy (SPK / Speedgoat / Salsa)                        
19 Kuhn Michael (Cadence)                                       
20 Kolb Michael (C3-Sollay.com)                                 
21 West Joshua (BIKEMAN.com)                                    
22 Weaver Ransom (Guys Racing)                                  
23 Kruger Todd (Heart House/CADV/CC Evesham)                    
24 Kelsey Sean (Evolution Racing)                               
25 Anestad N. Johan (Evolution Racing)                          
26 Chichester Charles (Guy's Racing)                            
27 Gray Douglass (Christiana Care PT+/FSVS)                     
28 Root Randall (Evolution Cycling Club)                        
29 Featherman Mark (Guys Racing)                                
30 Milne Judd (Squadra Coppi/IM Saab)                           
31 Erndl Charles (3-D RacingTeam/Toms Atlantic cyclery)         
32 Miller John (Guys Racing)                                    
33 Appeltans Jeffrey (Primus Mootry/Denver Boulder Couriers)    
34 Burgess Ed (Hammer Nutrition)                                
35 Lowe David (Human Zoom/Pabst Blue Ribbon)                    
36 McDaniel Tom (Secret Henrys)                                 
37 Cline Kellly (Wissahickon)                                   
38 Zeimet Raymond (Guy's Racing)                                
39 Facas Chris (Westwood Velo/Trade Manage Capitol)             
40 Debartolo Paul (GS Gotham/TOGA)                              
41 Wyatt Dwight (Carolina Fatz)                                 
42 Breckenmaker Kevin (Yellow Breeches Racing)                  
43 Klenk Frederick (Evolution Racing)                           
44 Ball Richard (Watchung Wheelmen)                             
45 Ford Bradley (South Mountain Cycles)                         
46 Strickland William (South Mountain Cycles)                   
 
Cat 2/3/4 Men
 
1 Bahnson Jeff (Secret Henry's Team / Van Desse)                
2 Mihalik Michael (Beaver Valley Velo)                          
3 Collins Rob (Secret Henry's Team)                             
4 Crooks Andrew (NYC Velo)                                      
5 Mathias Ian (Hunt Valley Bicycles / Marathon)                 
6 Vettori Marc (C3-Sollay.com)                                  
7 Spinks Matthew (Team Metra/Wendy's p/b Victor H)              
8 Murphy Kyle (The Bike Lane)                                   
9 Adams Zach (C3-Sollay.com)                                    
10 Culbertson Chad (Guy's Racing)                               
11 Romanovsky Mark (Muddy Cup Cycling)                          
12 Jenks Michael (Highland Park Hermes)                         
13 Sandberg Colin (Pa. Elite Velo)                              
14 Wood Thomas (Philadelphia Ciclismo)                          
15 Spohn Matt (Dynaflo)                                         
16 Broadwater Mark (C3-Sollay.com)                              
17 Woulfe Justin (Tri State Velo)                               
18 Harris Matt (Philadelphia Ciclismo)                          
19 Hess Gale (International Christian Cycling)                  
20 Biese Bob (Team Vortex)                                      
21 Stubna Mike (Indiana Regional Medical Center)                
22 Wanner John (Elite Bicycles)                                 
23 Mancuso Cam (ACT)                                            
24 Lebair Craig (philadelphia ciclismo)                         
25 Kielick Brett (Drexel Cycling)                               
26 Shattuck Trevor (Hunt Valley Bicycles/Marathon Roofing)      
27 Frison Scott                                                 
28 Ammon Andrew (CAROLINA MASTERS CYCLING TEAM)                 
29 Kennedy Peter (C3-Sollay.com)                                
30 Morgan Eric                                                  
31 Moats Joel (Yellow Breeches Racing)                          
32 Goates Nathan (Faulkner Honda / In-Gear)                     
33 Kornbluh Jed (CRCA/Jonathan Adler Racing)                    
34 Beers John (Philadelphia Ciclismo)                           
35 Anemone Ben (Christiana Care PT+/FSVS)                       
36 Doherty James (unattached)                                   
37 Robinson Evan (Pro Bikes)                                    
38 Larino Dan (CRCofA/Petes Bike/Bridgewater M)                 
39 Rothmeyer Brett (Allegheny Cycling Association)              
40 Mitchell Erik (Human Zoom Cycling)                           
41 Ignosh Ray (Gotham Cyclists)                                 
42 Kuklis Andrew (El Camino = Pure Awesomeness)                 
43 Penfield Nathan (High Road Cycle)                            
44 Carlson Eric (Westwood Velo / Trade Manage Ca)               
45 O'Dunne Patrick                                              
46 Macy William (Carolina Masters Cycling Club)                 
47 Hanlon Charles (Guys Racing)                                 
 
Collegiate Men
 
1 Pigga Joe                                                     
2 Leman Adam (Drexel University)                                
3 Webster Andrew (Millersville University Cycling Team)         
4 Chiles Clayton (Penn State University Cycling)                
5 Casale David (Tri-State)                                      
 
U19 Men
 
1 Bergey Gunnar (Unattached)                                    
2 Gordon Ross (Cape Atlantic Racing/Team Beacon)                
3 Bender Zach (GS Park Ridge¥Team Cyclesport)                   
4 Anderson Dag (Somerset Wheelmen)                              
5 Mancuso Max (Sicklers)                                        
6 Bright Jonathan (Vortex Cycling Club)                         
7 Granigan Noah (Team Somerset)                                 
8 Bright Austin (Team Vortex)                                   
9 Skorochod Anthony (Gotham Cyclists)                           
 
B & Masters 55+
 
1 Wittwer Fred (Van Dessel Factory Team Va.)                    
2 Baiamonte Peter (Brooklyn Velo Force / GQ Racing)             
3 Pohndorf Mark (Colavita Racing)                               
4 Wahner Paul (DrWahner.com)                                    
5 Martin James (Cycles 54)                                      
6 Keane Kevin (Skylands Cycling)                                
7 Horan Kevin (Colavita)                                        
8 Hess Wade (Cape Atlantic Racing/Team Beacon/ECA)              
9 Wahner Barry (DrWahner.com)                                   
10 Bowmaster Tom (Liberty Cycle)                                
11 Windh Rolf (Guy's Racing)                                    
12 Parker Harold (Team X Racing)                                
13 Thaler Chris (Evolution Racing)                              
14 Peterson Todd (Team Bulldog/Campmor)                         
15 Mancuso Vin (Unattached)                                     
16 Jacobsen Lars (Skylands Cycling)                             
17 Kenas Joseph (Guy's Racing)                                  
18 Troop David (First State Velo Sport)                         
19 Baker David (Skylands Cycling)                               
20 Czupryna Mike (Christiana Care PT+/FSVS)                     
21 Bilson Richard (C3-Sollay.com)                               
22 Freymann Werner (Pure Energy Cycling/River Horse Brewing)    
23 Bowman Tim (Club Wissahickon)                                
24 Shumaker Jeff (Philadelphia Ciclismo)                        
25 Perkins Tom (bicycle depot)                                  
26 Ruch Nathan (Evolution Cycles)                               
27 Strika Dusan (Kissena Cycling Team)                          
28 Sapsford Travis (Guy's Racing)                               
29 Furman James (Van Dessel Factory Team)                       
30 Kaufman Larry (Van Dessel Factory Team)                      
31 Murray Leyton (Denos Wonder Wheel)                           
32 Padgett Russ (CycleFunattic)                                 
33 Perna Bob (beans bikes)                                      
34 Bauch Richard (Colavita Racing)                              
35 Stine Christopher (Cedar Bike)                               
36 Pomajevich Ryan (Gotham Cyclists)                            
37 Innes Jim (Guys Racing)                                      
38 Ryerson Gerry (Skylands Cycling)                             
39 Snyder Gary (Evolution Racing)                               
40 D'Amelio Louis (Van Dessel Factory Team NJ)                  
41 Baumgardner Dave (Amoroso's Racing Team)                     
42 Kelley Gary (Bean's Bikes)                                   
 
Women 45+
 
1 Waggett Jill (Guy's Racing)                                   
2 Tourian Karen (Guy's Racing)                                  
3 Chambers Christina (Bicycle Depot / TP Racing)                
4 Fetrow Mary (Yellow Breeches Racing)                          
 
Cat 3/4 Women
 
1 Dubeck Kim (Beans Bikes)                                      
2 Briseno Christina (C3-Sollay.com)                             
3 Fennessy Christine (South Mountain Cycles)                    
4 Schumacher Kathrin (Guy's Racing)                             
5 Romanovsky Audrey (Muddy Cup Cycling)                         
6 Trubey Janet (North Carolina Cyclocross)                      
7 Wulfkuhle Kathleen (C3-Sollay.com)                            
8 Mackay Emily (Indiana Regional Medical Center)                
9 Kenwood Kyra (Carl Hart/GSBC)                                 
10 Thompson Caitlin (Human Zoom Cycling)                        
11 Kegel Jennifer                                               
12 Styer Hillary (Velo Bella)                                   
 
U19 Women
 
1 Shields Emily (Carolina Masters Cycling)                      
2 Shields Katherine (Carolina Masters Cycling)                  
3 Lawrence Kaitlyn (Vortex Cycling Club)                        
4 Styer Alicia (Velo Bella)