Cyclo-cross news & racing roundup for November 18
Edited by Les Clarke
Welcome to our regular roundup of what's happening in cyclo-cross. Feel free to send feedback, news and releases to mtb@cyclingnews.com.
Albert still in intensive care
Albert had been enjoying a great season
Photo ©: Isosport

Niels Albert remains in the Intensive Care Unit at the university clinic in Gent, as his torn spleen continues to cause the cyclo-cross rider problems. The 22-year-old crashed over the weekend while warming up for the Superprestige race in Gavere, Belgium.
Albert's manager Christoph Roodhoort had earlier said that the young Belgian was expected to be out of the ICU on Monday. However Albert's spleen was still bleeding. "The doctors didn't want to take any risks," Roodhoort told Sporza.be.
The cyclo-cross rider was still having a lot of pain in his chest and back, and felt poorly, Roodhoort said. "The spleen has to repair itself, and that lasts several days," he said. "It is hoped that Albert will be back on his bike in two weeks."
Niels said on Monday that he now must aim for the UCI World Cyclo-cross Championships, scheduled for January 31 - February 1 in Hoogerheide, the Netherlands. "His condition won't be that of the past few weeks, but he will have time to build it up," said Roodhoort. "I think it will work out."
It's an incredibly bad stroke of luck for the Belgian, whose breakthrough season has been characterised by strong performances against the likes of Sven Nys and Lars Boom, arguably the discipline's two best exponents. He had been leading the Superprestige series before his crash, and looked set to continue shaking up the world cup series, given his second place in Pijnacker on November 9.
Nys still the Superprestige king
The long and short of Niels Albert's misfortune in Gavere is that Sven Nys has lost of the prime contenders for his crown as the best rider in European 'cross - for two weeks, anyway.
It's been refreshing for spectators, commentators and observers that Albert has arrived as a major challenger to Nys in '08-09. Other competitors have welcomed the pique in interest provided by the young Belgian's performances, and many were upset to see him exit the scene for a temporary spell on the sidelines following his crash and consequent broken spleen last weekend.
Albert and Nys had been tied on points heading into the third round of the Superprestige series after the latter's stunning win in Veghel-Eerde. After the Gavere event Nys holds a four-point advantage over Sunweb's Klaas Vantornout, while Albert drops to fifth in the rankings.
Vanthourenhout another casualty in Gavere
Sven Vanthourenhout was another rider to suffer misfortune in last weekend's Superprestige 'cross in Gavere. A fall left him with no fractures but some swelling as a result of ligament damage meant he was sore on Monday morning.
"Only the capsule around the bones and joints of my wrist are damaged," the Sunweb rider told Sporza.be. "And because the ligaments are concerned, my right hand is swollen." Vanthourenhout added that, "I can continue to train, but for two practice sessions I'll wear a protective brace."
It's not been a good season for the Belgian thus far - he remains in the lower realms of the Superprestige series but is fairing better in the world cup standings, lying in 17th after three rounds. His injuries may hamper him a little physically, although he explained that, "My program remains unchanged. Next Sunday I'll ride in Hamme-Zogge, then I'll ride two races per weekend, starting with Koksijde and Gieten."
Where's Wellens? On the podium...
Bart Wellens (Fidea) took the lead
Photo ©: Cyclingnews.com

After an ordinary start to the 2008-09 'cross season, Bart Wellens made the podium for the first time in the Superprestige round held in Gavere. And judging by his description of the race, only bad luck separated him standing on the top step of the dais rather than the lower one.
"An 'old-fashioned cross' - that's the correct term," said Wellens on his personal website, referring to the comment made by race winner, countryman and long-time rival Sven Nys. "The course was spectacular, sometimes dangerous... but that's the same for everyone and individually we must decide how much risk we want to take."
Bart Wellens in the post-race interview.
Photo ©: Bjorn Haake

Wellens explained that despite having some stunning form, bad luck hit one of Belgium's best-loved and known riders. "The start was pretty good, but just not great; the legs felt good immediately though, and therefore I took the initiative fairly quickly. I knew that my condition was perfect so I went for broke. I soon overcame the three strongest riders and I felt the smoothness of my effort. It was at that time that I had bad luck - my cable outside of the back gear split and I couldn't shift gear, so I had to walk uphill and lost a lot of ground."
And with Sven Nys stamping his authority on the race, Wellens needed to keep the current series leader in check. It was testament to his form that the Fidea rider was able to stay in the race given his mechanical misfortune. "I had to quickly close the gap, and I still wanted to chase the victory," said Wellens. "But after the mechanical it was a bit too much."
And if his cable troubles weren't bad enough, Wellens explained the next piece of bad luck he was to suffer. "Everyone thought I had the form, although some mud in my eyes decided the outcome for me. At the foot of the last climb I sat on the wheel of Sven and rode a full 10 metres without sight; my eyes were completely full, I missed the track and came into contact with the crowd. Nys grabbed 10 metres and he was gone."
Compton's Euro odyssey pays off
By Brecht Decaluwé
Katie Compton (Spike) takes the win
Photo ©: Photopress.be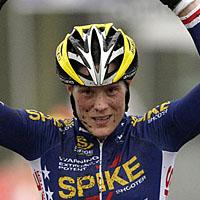 One week after her convincing performance during the cyclo-cross World Cup in The Netherlands, Katie Compton captured the first win of her European campaign in Gavere, Belgium last weekend. The current US national champion managed to overcome trying conditions and beat accomplished Dutch rider Daphny van den Brand and Belgium's Sanne Cant in a breakthrough for American riders racing in Europe this season.
Compton struggled to find traction during the first lap on the extremely muddy course in East Flanders, where rain had reshaped the steep hill into a slippery slide. "After Pijnacker this was the first muddy 'cross of the season, so I had to adapt a little," said Compton. "At the start line I noticed that everybody was using more profiled tyres than me," she added. She soon found out why that was the case. "It was like an ice skating ring out there. During the first lap I touched ground and couldn't ride up the hill."
Despite getting reasonable start, Compton was worried about her prospects for the remainder of the race. "I was riding in fifth position and I wasn't happy with that, but I thought I could blame it on the less-profiled tyres I was using," she explained. The American showed excellent technical prowess on the Belgian course; she was fearless on the steep and slippery downhill sections, opting against using the drops. It worked. "Steadily I was going better and I started moving up while others clearly struggled. I ended up leading with Daphny [van den Brand] for half a lap but then she got dropped," said Compton.
Brecht Decaluwé's news feature can be read in full here.
Who can beat Luna?
Katerina Nash (Luna) leads
Photo ©: Mitch Clinton

After going one-two for both races of the Mercer Cup last weekend in New Jersey, Luna riders Georgia Gould and Katerina Nash have proven themselves an intimidable force for the remainder of the season. On November 15 and 16 they battled the engorging mud of Mercer County Park after heavy rain and came out on top.
The likes of Wendy Simms, Mo Bruno-Roy and Natasha Elliot never really got a look in as Gould and Nash countered each other to share the series leader's jersey, while Gould took both wins on offer. Gould explained the position the duo found themselves in, and how it worked to the advantage of the team. "Katerina and I want Luna to be on the top of the USGP."
That's not to say personal ambitions don't go totally unchecked, however. "I would prefer it was me and Katerina would prefer that it were her. But the second best thing is to have your team-mate up there. We work really well together but once it's down to just the two of us, we don't cut each other any slack."
Powers tops USA Cycling's standings
The USGP of Cyclo-cross continued with the two Mercer Cup races last weekend, the 26th and 27th races on the USA Cycling Cyclo-cross National Calendar. Tim Johnson took the elite men's race on Saturday while Todd Wells came out on top during Sunday's muddy affair in Mercer County Park. Luna teammates Georgia Gould and Katerina Nash dominated the elite women's events and went one-two in both races.
Current standings after 27 contests on the USA Cycling Cyclo-cross National Calendar:
Men
 
1 Jeremy Powers (Cyclocrossworld.com/Cannondale)             367 pts
2 Tim Johnson (Cyclocrossworld.com/Cannondale)               356
3 Ryan Trebon (Kona)                                         350
4 Jamey Driscoll (Cyclocrossworld.com/Cannondale)            254
5 Todd Wells (GT)                                            232
 
Women
 
1 Georgia Gould (Luna)                                       159 pts
2 Rachel Lloyd (California Giant Berry Farms/Specialized)    134
2 Maureen Bruno-Roy (MM Racing p/b Seven Cycles)             134
2 Laura Van Gilder (C3 Sollay)                               134
5 Natasha Elliott (EMD Serono/ Stevens)                      129

For complete 2008 USA Cycling Cyclo-cross National Calendar standings, visit USA Cycling's cyclo-cross National Calendar page.
Recent Cyclo-cross results
Upcoming UCI races
November 22: N. American Trophy #7, Whitmore's Landscaping Super Cross Cup 1, Southampton, NY (USA) C1
November 22: North Carolina Grand Prix - Race 1, Hendersonville, NC (USA) C2
November 22: GP van Hasselt, Hasselt (Bel) C2
November 22: TOI TOI CUP, Mnichovo Hradiste (Cze) C2
November 23: Superprestige Hamme-Zogge, Hamme-Zogge (Bel) C1
November 23: N. American Trophy #8, Whitmore's Landscaping Super Cross Cup 2, Southampton, NY (USA) C1
November 23: Trofeo Città di Lucca - 150° anniversario Giacomo Puccini, Lucca (Ita) C2
November 23: Internationales Radquer Meilen, Meilen (Swi) C2
November 23: Challenge de la France Cycliste 2, Le Creusot (Fra) C2
November 23: Kansai Cyclo-cross Meeting Yasu Round, Yasu City, Shiga (Jpn) C2
November 23: North Carolina Grand Prix - Race 2, Hendersonville, NC (USA) C2
(All rights reserved/Copyright Future Publishing (Overseas) Limited 2008)