Superprestige Cyclo-cross Gavere - C1
Gavere, Belgium , November 16, 2008
Main Page Results Overall standings Previous Race
Race 4 - November 16: Elite Men
Old-fashioned win for Nys
By Brecht Decaluwé in Gavere, Belgium
Belgian Champion Sven Nys (Landbouwkrediet - Tönissteiner) takes the Gavere, the third round of the Superprestige.
Photo ©: Cyclingnews.com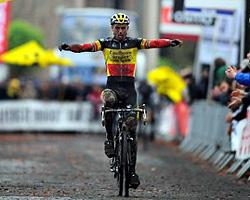 Belgian champion Sven Nys took his fifth consecutive victory in the Superprestige at Asper-Gavere in a race which saw the young guns fall victim to the highly technical, muddy course and the old guard rise to the top. Nys was challenged by former world champion Bart Wellens (Fidea) and Klaas Vantornout (Sunweb-Projob), but a bobble by Wellens on the final half lap gave Nys the opportunity he needed to secure the win. Wellens' teammate Erwin Vervecken came in fourth.
"This was old-fashioned cyclo-cross," Nys said after grabbing the fifth victory of his career in Gavere. "This was one of the races I really wanted to win so I'm very happy to achieve that since the last few weeks showed that winning isn't simple anymore."
The Belgian winner used the full 60 minutes to get rid of all his adversaries on a course that saw almost every rider hit the ground. With thick, slippery mud and deep ruts, the circuit dispatched UCI leader Niels Albert before the race even began. The Palmans-Cras rider crashed on his warm up and was taken to the hospital with abdominal pain. During the race Sven Vanthourenhout and French champion Francis Mourey each dropped out after serious crashes.
Nys started well and after one lap he led the race together with fellow Belgians Bart Wellens, Rob Peeters and Klaas Vantornout and also world champion Lars Boom. Peeters dropped away after a crash while former world champion Erwin Vervecken was trying to come back towards the leaders, chasing at eight seconds from the leader's group after two laps. "A few years ago I would've been able to close that gap but nowadays that seems impossible for me," Vervecken said after the race. Meanwhile Boom was struggling to keep up with the three Belgians. The Dutch rider managed to come back once, but after a crash on the descent he was thrown back for good. "After a week of hard training I wasn't feeling great, I felt that I didn't have super legs today," Boom said.
Three men remained in front halfway through the race and for the first time this season Wellens was putting pressure on the rest of the field in an important race. Nys remained patiently on the wheel of Wellens while Vantornout was dropped a couple of times, although he always managed to come back to Wellens and Nys. Behind the three leaders Vervecken was trying to stay in touch while Sven Vanthourenhout rode in fifth position for a long time before crashing out with a wrist injury.
Bart Wellens (Fidea) took the lead
Photo ©: Cyclingnews.com

With three laps remaining Nys was suddenly leading the race on his own when Vantornout got stuck in the mud and Wellens encountered a shifting problem. Nys couldn't keep up his lead of eight seconds on Vantornout and one lap later Vantornout rejoined the Belgian champion. For a moment Wellens was seventeen seconds down on Nys, but going into the penultimate lap Wellens was able to bridge up to the front as well. Further back Vervecken was the only rider who could keep close to the leaders as he trailed only by 25 seconds, but behind him the gaps quickly ran up to more than a minute like Boom who trailed at 1'20" from the leaders with two laps to go. Vantornout struggled to keep up once more during the penultimate lap but all three riders remained in contention for the victory.
Nys led the last lap and without accelerating spectacularly he dropped his compatriots, first Vantornout and then Wellens who stayed with Nys until the final climb. Vantornout was disappointed that he had lost contact but he admitted that Nys was the best rider today. "It's too bad I had to let go of them on the last lap but I couldn't get into my pedal and had to run up the climb," Vantornout said before referring to his motivation in Gavere. "I proved that I can be on the podium as well after being pushed away by those two brats [Lars Boom and Niels Albert] the last two weeks. I was very motivated to get on the podium today," Vantornout said.
On the last climb of the circuit Wellens was dropped by Nys as well. "I got mud in my eyes and for about ten metres I couldn't see anything and got into all sorts of bad tracks. It's too bad because I knew Nys would accelerate there and I was right on his wheel," Wellens said about the decisive move from Belgian champion Nys. Wellens was gleeful, however, at finally taking a podium position for the first time this season.
Klaas Vantornout (Sunweb Projob)
Photo ©: Cyclingnews.com

Nys seemed to be one of the few riders who managed to stay upright in the mud of Gavere. "The only times that I touched the ground occurred because other riders made mistakes. Bart [Wellens] was very strong, and possibly he would be stronger in a sprint, so I focused on leading the last lap and accelerating on the last climb. I remained cool today and that's what was needed to stay in front. Others gave all they had in the first lap or did unbelievable attacks, like Bart's downhill running in the mud. That must've hurt his knees and they'll likely keep hurting for a few more days but it has to be said that he went extremely fast. Meanwhile, I went slower but I could recover while sitting on the bike. That way I saved the energy that I needed later because today I had to use all 60 minutes to win the race," Nys said.
Nys is now the solitary Superprestige series leader with 43 points since the unfortunate former co-leader Niels Albert grabbed none today. Vantornout moves into second position with 39 points, just four points behind Nys, while Wellens finds himself in third with 35 points. Albert now lies 15 points behind Nys in fifth position with 28 points..
Photography
For a thumbnail gallery of these images, click here
Images by Cyclingnews.com
Images by Bjorn Haake/Cyclingnews.com
Results
1 Sven Nys (Bel) Landbouwkrediet-Tönissteiner                  1.02.04
2 Bart Wellens (Bel) Fidea Cycling Team                           0.10
3 Klaas Vantornout (Bel) Sunweb Projob Cycling Team               0.40
4 Erwin Vervecken (Bel) Fidea Cycling Team                        1.56
5 Kevin Pauwels (Bel) Fidea Cycling Team                          2.06
6 Petr Dlask (Cze) Fidea Cycling Team                             2.11
7 Lars Boom (Ned) Rabobank                                        2.37
8 Wilant van Gils (Ned) Pro Cycling Team ZZPR.nl-Destil-Merida    2.44
9 Bart Aernouts (Bel) Rabobank                                    3.06
10 Christian Heule (Swi) Stevens Racing Team                      3.22
11 Richard Groenendaal (Ned) AA Cycling Team                      3.27
12 Thijs Al (Ned) Be-One Team                                     3.32
13 Radomir Simunek (Bel) Palmans - Cras                           3.42
14 Rob Peeters (Bel) Landbouwkrediet-Tönissteiner                     
15 Gerben de Knegt (Ned) Rabobank                                     
16 Jonathan Page (USA) Planet Bike                                4.53
17 Jan Verstraeten (Bel) Sunweb Projob Cycling Team               5.40
18 Davy Commeyne (Bel) Revor Cycling Team                         6.23
19 Jempy Drucker (Lux) Fidea Cycling Team                             
20 Thijs van Amerongen                                            6.58
21 Marco Fontana                                                  7.35
22 Tom Van den Bosch                                              8.07
23 Ben Berden (Bel) Revor Cycling Team                            8.46

One lap behind
24 Martin Zlámalík (Cze) Prodoli Racing Team                          
25 Pieter Ghyllebert (Bel) Topsport Vlaanderen                        
26 Javier Ruiz (Spa)                                                  

Two laps behind
27 Magnus Darvell (Swe)                                               

Four laps behind
28 Geert Wellens (Bel) AVB-USSspa Cycling Team Kasterlee              

Five laps behind
29 Steven De Schoesitter (Bel) Rudyco Cycling Team                    
30 Vijarona Jackson (Zim)                                             
31 Freddy De Meester (Bel)                                            
 
Standings after three rounds

1 Sven Nys (Bel) Landbouwkrediet-Tönissteiner                       43 pts
2 Klaas Vantornout (Bel) Sunweb Projob Cycling Team                 39
3 Bart Wellens (Bel) Fidea Cycling Team                             35
4 Kevin Pauwels (Bel) Fidea Cycling Team                            32
5 Niels Albert (Bel) Palmans - Cras                                 28
6 Erwin Vervecken (Bel) Fidea Cycling Team                          24
7 Lars Boom (Ned) Rabobank                                          23
8 Rob Peeters (Bel) Landbouwkrediet-Tönissteiner                      
9 Thijs Al (Ned) Be-One Team                                        22 pts
10 Bart Aernouts (Bel) Rabobank                                     20
11 Dieter Vanthourenhout (Bel) Palmans - Cras                       13
12 Petr Dlask (Cze) Fidea Cycling Team                              12
13 Gerben de Knegt (Ned) Rabobank                                     
14 Richard Groenendaal (Ned) AA Cycling Team                         9 pts
15 Wilant van Gils (Ned) Pro Cycling Team ZZPR.nl-Destil-Merida      8
16 Christian Heule (Swi) Stevens Racing Team                         6
17 Jan Soetens (Bel) Revor Cycling Team                              5
18 Sven Vanthourenhout (Bel) Sunweb Projob Cycling Team               
19 Radomir Simunek (Bel) Palmans - Cras                              3 pts
20 Ben Berden (Bel) Revor Cycling Team                               2
21 Tom Van den Bosch                                                  
22 Jonathan Page (USA) Planet Bike                                   1