Cyclo-cross news & racing roundup for October 17
Edited by Laura Weislo & Paul Verkuylen
Welcome to our regular roundup of what's happening in cyclo-cross. Feel free to send feedback, news and releases to mtb@cyclingnews.com.
Belgian, US selection for World Cup in Kalmthout
Sven Nys (Rabobank) is hot on form as usual in October
Photo ©: Isosport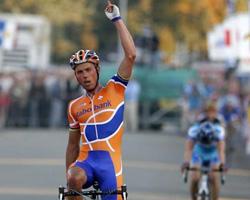 The Belgian selection for the World Cup event in Kalmthout on Sunday October 21 has been announced by national coach Rudy De Bie. Due to the domination that Belgium has in the sport, gaining selection to be part of the ten man squad is an achievement and leads to becoming a target for the national sporting media.
The big names such as Sven Nys, Bart Wellens, Klaas Vantornout as well as world champion Erwin Vervecken have not missed out on selection and will ride alongside Jan Verstraeten (Sunweb), who rode a strong race in Ruddervoorde last Sunday. Opting for youth over experience, De Bie has selected young talents Kevin Pauwels, Dieter Vanthourenhout and Rob Peeters. Rounding out the squad is Sven Vanthourenhout, a surprise considering he only made his comeback to the sport on Sunday after undergoing surgery three months ago.
Reserves are Ben Berden and Davy Commeyne. The US riders don't have such fierce competition for their World Cup slots, as most riders stay stateside until later in the season. However, USA Cycling announced a team of eight riders who will contest the event, including US champions Ryan Trebon and Katie Compton, Worlds silver medalist Jonathan Page, who resides in Belgium, as well as Jonathan Baker and junior Ian Boswell. Christine Vardaros and Sarah Kerlin round out the women's team.
Dutch squad for World Cup
The Dutch national coach Johan Lammerts has also announced his selection for the first round of the cross world cup in Kalmthout. A surprise inclusion to the squad is Lars Boom who, after his win in the recent under 23 time trial world championships, is yet to ride a cross race this season.
The Dutch cross champion who is also the reigning under 23 cyclo-cross world champion has expressed his desire to concentrate more on cyclo-cross this winter. He will be joined in Kalmthout by Stalwart of the Dutch squad, Richard Groenendaal as well as Gerben de Knegt, Thijs Al, Wilant van Gils, Maarten Nijland, Bart Dirkx and Roy van Heeswijk. Van Heeswijk has shown good form recently when he won the national cross in Almelo.
Sunweb hopes to be back on track
By Brecht Decaluwé
Sven Vanthourenhout
Photo ©: Brecht Decaluwé
The Belgian Sunweb cyclo-cross team of Jonathan Page and Sven Vanthourenhout has been rather anonymous during the first races of the season but that is set to change if Vanthourenhout has anything to do with it. "I am back," the local hero said after making his comeback in the first round of the Superprestige series at Ruddervoorde, Belgium. The race was Vanthourenhout's first race back after he underwent abdominal artery surgery three months ago.
Despite being caught up in one of the many crashes along with world champion Erwin Vervecken (Fidea), he managed to make contact with the five leaders of the race with only two laps to go. "When I crashed with Vervecken my hand was hit by something," Vanthourenhout said as he showed the blood marks on his shaking hand. "I was afraid; I didn't want to overcome something now. It would be hard to work on a come back after not even one race," he continued.
Eventually Vanthourenhout finished seventh just 19 seconds behind winner Sven Nys (Rabobank Continental Team), and was pleased with the result. "I'm more than happy about what I did," said Sven Vanthourenhout, "although right after the start I was shocked as it was long ago that I was in so much pain. I think I left my lungs at the first climb," he joked. "I was afraid that I wouldn't recover from those efforts but gradually I got better in this top quality field. It pleases me to see that the form is OK even though all the other riders already rode three or four races. Before the start of this race it was hard to make predictions but now the team will be happy," Sven Vanthourenhout smiled.
Before the race Sven Vanthourenhout pointed out that the team had never put any pressure on him to return too fast. "Being healthy is what really matters," team manager Jurgen Mettepenningen said. Before the start, Mettepenningen expressed his feeling that the team should start to come to the fore, especially Vanthourenhout and American Jonathan Page. "From now on the team should become visible. Sven Vanthourenhout is always expected to finish in the top five. We didn't want to force him in coming back but from now on he knows what to do," Mettepenningen smiled.
"From Jonathan we expect that he becomes a regular top ten finisher, and in his speciality - fast races - he should aim for the podium." When it comes to the World Championships in Treviso, Mettepenningen felt that Page ought to have an advantage on the fast course. "He is the silver medalist from the last world championships and his ambition is to do better this year," Mettepenningen smiled. "There has to be a healthy ambition since this is top-level sport, so you have to deal with the pressure."
After the Superprestige event in Ruddervoorde the Sunweb team was delighted to see they had their man in the finale for the first time this year. "I feel our team is gradually improving, but we have to be honest and say that up until now it wasn't good. We weren't in the picture enough, or allow me to say that we were invisible," Mettepenningen admitted. "For now I feel that Tom Vannoppen is improving, just like Jonathan Page. Our American seems to be like Vervecken, he has a diesel engine." The World Champion has had modest results during the season for the past two years, but still managed to win back to back world titles. If Page can copy that style then nobody needs to worry.
Ben Berden finds new sponsor
By Brecht Decaluwé
Ben Berden displaying his new Revor clothes
Photo ©: Brecht Decaluwé

Ben Berden is known to be a tough man. During the past decade Berden was a serious contender against guys like Erwin Vervecken, Bart Wellens and of course Sven Nys. However, back in December 2004 – while he was third on the UCI-rankings – Berden tested positive for EPO. The Belgian admitted to using the drug, but since has publically regretted taking that step. As a result of the positive test, Berden's team John Saey fired him and the team immediately stopped with sponsorship.
Berden received a 15-months ban from the Belgian federation but the UCI fought this decision and appealed to the CAS because they found the normal two year ban was more appropriate. In December 2005 the judges from the CAS were fired because they had their decision ready before hearing Ben Berden.
During that time Berden heard that he would have to pay €60000 court costs. He appealed against that decision but last month it turned out he made that decision too late. "I'm being punished for my honesty," Berden said. He claimed he would have to ride three cross seasons to pay the money back. "It would all have been better if I would have kept lying," Berden reacted in the Flemish newspapers.
One month later and Berden has a new sponsor and is once again concentrating on his racing. After returning from his doping ban last season with the support of a personal sponsor, Webking, the 32 year-old from Neeroeteren posted some strong results that no doubt attracted the attention of his new team. Before the Superprestige round on Sunday Berden was spotted in front of a mobile home, on a new Focus bike – which was too small – and in the colours from the new Revor team. "With my previous sponsor Webking it was OK, but I had to do everything myself. Now things are more professional so I can focus on what is really important and that is racing my bike," Berden explained to Cyclingnews.
"With this new small Belgian team my goal is to finish in the UCI top-10 by the end of the season." Berden may have visually changed since his doping ban, sporting armfuls of tatoos, but his ambition is still what it used to be. "On Saturday I finished eighth in Mouscron and I'm OK with that. Every race I'm getting better so right now I'm hoping for a World Cup selection. I have always proven that I'm worthy enough to feature in a World Cup event and I feel that I've shown to be better than Davy Commeyne and David Willemsens this year.
"Ruddervoorde isn't my favourite course, but in Kalmthout I'm always good. I received my first World Cup selection for that race and finished third back then," Berden recalled. Sadly enough for the Belgian he finished 20th in Ruddervoorde and that might have inspired national coach Rudy De Bie in his choice to leave him out of the selection. De Bie opted for young riders Rob Peeters (Landbouwkrediet) and Dieter Vanthourenhout instead of Berden, but should one of those ten riders fail to maker it to the start line, Berden stands ready as the first reserve.
Wissahickon 'cross brings history to UCI weekend
The Philadelphia suburb of the Ludwig's Corner Pennsylvania will experience the rush of Verge MAC International UCI cyclo-cross action on Sunday, October 21. Now in its third year at the Ludwig's Corner Horse Show Fairgrounds, the Wissahickon Cyclocross has a proud history that predates the current location. In fact a young Ryan Trebon scored his first-ever UCI victory at this race in 2003.
The race is traditionally run on the same weekend as the UCI C1 Granogue 'Cross just 25 miles to the south, and promoter Kelly Cline had already announced his intention to elevate his race to C1 status as well, but the UCI rules do not allow for C1 events to be held on the same day as World Cups. When the UCI's schedule was announced, the Wissahickon race conflicted with the Kalmhout World Cup.
Even with a C2 ranking, Cline expects a big crowd as all areas in the US have experienced explosive growth in cyclo-cross. "Even non-UCI races around here are getting 300 to 400 entries this year, so we don't know how many more people are going to show up this year," Cline remarked. "This weekend has turned into a carnival that's exceeded our wildest expectations."
Adding to the carnival atmosphere is live music by alt-jam band Murder House and unguarded kegs of Yard's Ale that are conveniently kept under a canopy next to the run-up. With planks to hurdle as they ascend the hill, the run-up slows the racers down in a pivotal spot, so that masses of people holding red plastic cups can either encourage or harass them. "It's one of the noisiest places on the Verge MAC circuit" smiles Cline
For more information about the Granogue and Wissahickon UCI Cyclo-cross race weekend, including directions to the two events and pre-registration, see BikeReg.com.
US Nationals course revealed
Dripping from shoulders to toe
Photo ©: Kurt Jambretz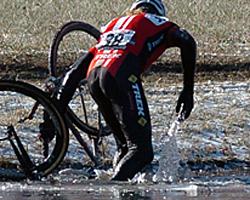 The course for the US Cyclo-cross National Championships in Kansas City, Kansas was unveiled this week by the race organisers. The two-mile-long course through Wyandotte County Park was designed to be technically challenging but spectator friendly, according to race director Bill Marshall. The course highlights the park's natural features, incorporating the rolling terrain in the scenic setting of hillside oaks and lakeside sycamore trees.
"We wanted to make the course very hard," Marshall said. "Cyclo-cross is tough, no matter what. Our intention was to make this course both technical and fast." The signature element is a pair of back-to-back stair sections, each 40-feet in length, that come about a quarter-mile from the finish line.
"You'll run up the first set of stairs, get back on your bike for a brief time, then dismount and run up the second set," Marshall said. "This is going to be crucial as we found out in Providence last year at nationals. They had two run-ups close to the finish and it makes it very interesting if it is a tight race."
Another critical element of the course design was to make it as spectator-friendly as possible, Marshall said. Nearly the entire course is viewable from several vantage points. A barrier section, positioned between a pair of heated spectator tents, will also be a prime viewing spot.
An open start/finish will allow riders to battle for position before they hit the slower, tricky parts of the course, including some hills that could be decisive if the weather is bad. "This course has some decent hills - not the steep ones like you saw in Providence for nationals last year - but ones that are going to be tough in all conditions," Marshall said. "They're long uphills so if it's icy, they'll be particularly treacherous. If it's dry, the course will be rippin' fast."
Racers will also have to negotiate a section of the course that passes close to a pond - one that was covered in ice when four-time national cyclo-cross champion Steve Tilford crashed into it during a race last year. Incredibly, Tilford recovered from the frigid plunge to come back and win.
"We're officially labeling that pond as the 'No Tilly Zone' this year to recognize that feat," Marshall said.
Racers will have the unique opportunity to preview the national championship course on Sunday, Oct. 28 at the Boulevard Cup. For more information regarding this race, go to www.kcbike.com.
There is no admission fee for the U.S. Cyclocross National Championships. Parking is also free, but only in designated areas. There is no fee for pit access. Official race apparel is on sale through the event's official website, www.kccrossnationals.com.
Cross Crusade breaks attendance records
The popularity of cyclo-cross in the Pacific Northwest has long been known, but after the opening race of the Portland, Oregon 'Cross Crusade, it has reached legendary status. The Oregon Bicycle Racing Association (OBRA) announced that its opening race in the series netted a whopping 1,078 registrants for the October 7 event at the Alpenrose dairy. The event smashed last year's record of 750 racers, solidifying its status as the largest one-day cyclo-cross race in North America as well as the largest participatory cyclo-cross bike racing series in the world.
Promoter Brad Ross said, "We are excited at the success of the race series." Brad continued. "We are also proud of that the U.S. Grand Prix of Cyclocross has again chosen our series as the finale for the series. We have truly become one of the hotbeds of cyclo-cross in the world." In its 16th year, the River City Bicycles Cross Crusade offers 16 classes of competition, from elite men and women to masters and junior categories. Races vary from 30 to 60 minutes, depending on the class.
The Cross Crusade is organized and promoted by Club Vivo, 4409 SW Dosch Road, Portland, OR 97201, 503-806-6943. For complete information on the River City Cross Crusade, visit www.crosscrusade.com. Learn more about the Cross Crusade and all types of bicycle racing in Oregon at www.obra.org, site of the Oregon Bicycle Racing Association.
ACA junior camp trains 147 juniors
A recent cyclo-cross camp in Winterpark, Colorado hosted 147 children between the ages of 8 and 17 for its annual free cyclo-cross training camp. The camp, put on by the American Cycling Association, and headed up by coach Scott Meares, was a three-day weekend of skills training held at the Snow Mountain Ranch. The camp, held annually, has become so popular that attendance was limited. The graduates of this program have gone on to great successes - Daniel Summerhill learned his skills from the ACA camp and took them to a silver medal at this year's World Championships in Belgium.
Meares called the camp a "boot camp" for cyclo-cross. "We start with the fundamentals. This is where it has to start. It doesn't matter how old or how good you are. With enough practice the skills become automatic, and that makes riders faster. After teaching basic mount/dismount techniques, the riders progress to barriers of varying distances and configurations. Later on, they hit the obstacle course, which combines obstacles to simulate race situations."
Finally, the riders are taught advanced skills such as power slides, bunny hopping and wheelies. "We teach them what it feels like to be in that situation - a powerslide - when they're going to lose traction and how to not freak out."
The weekend finished off with races where the riders could show off their new skills.
Southeastern 'cross season opens
The 2007 Georgia Cross series kicks off Sunday, October 21st in Conyers, GA. The race will be held at the Georgia International Horsepark, site of the 1996 Olympic mountain bike race. Last year the event saw record turnouts for Georgia Cross only to be surpassed by the Fort Yargo race a few weeks later. Race organizer Shey Lindner said "We had a great year last year and expect it to grow again this year. We're going to let the juniors race for free at the Conyers race to encourage family participation. Georgia Cross has really taken off."
The series consists of seven races, two new venues, held in Conyers, Fort Yargo, Monroe, Macon, Augusta, Blue Ridge, and Dahlonega. Verge is supplying leader's jerseys again and Cannondale will once again provide demo bikes for the series available to the racers on a first come first serve basis. For more information check out www.georgia-cross.com
The North Carolina 'cross series begins on the same day in Raleigh, North Carolina at Meredith College. The eight race series includes the UCI sanctioned North Carolina GP races on November 17-18 in Hendersonville, NC, and wraps up back in the 'Triangle' area in Cary, North Carolina on December 9.
'Cross comes to the District
Cyclo-cross will make its debut in the District of Columbia on October 28th, 2007, when the DCCX race will be held on the Grounds of the Armed Forces Retirement Home. Promoted by the City Bikes DC Mountain Bike Team, the race will be pre-registration only due to government security requirements, so racers will need to sign up early.
"The DCMTB/City Bikes team has always wanted to hold a race within the District since we are based out of Washington," said race promoter Matt Donahue "The AFRH offered us a chance to do this, and the location is great for cyclo-cross." Race proceeds will be donated to benefit the veterans at the AFRH.
Online registration can be found at bikereg.com and closes at 9pm on Friday October 26th. Please note that a valid government issued photo ID will be required for entry to the Armed Forces Retirement Home Grounds. All racers, volunteers, and spectators should enter the Retirement Home Grounds at "Eagle" gate, which is located at Rock Creek Church Rd, NW & Upshur St, NW.
Upcoming UCI Cyclo-cross races
October 18: Kermiscross, Ardooie (Bel) C2
October 20: Granogue Cross, Wilmington (USA) C1
October 20: Kleicross, Lebbeke (Bel) C2
October 21: Coupe du Monde UCI / UCI World Cup, Kalmthout (Bel) CDM
October 21: Wissahickon Cross, Philadelphia (USA) C2
October 23: 7de Nacht van Woerden, Woerden (Ned) C2
(All rights reserved/Copyright Future Publishing (Overseas) Limited 2007)