Cyclo-cross news & racing round-up for September 13
Edited by Laura Weislo and Paul Verkuylen
Welcome to our regular roundup of what's happening in cyclo-cross. Feel free to send feedback, news and releases to mtb@cyclingnews.com.
Easypay team rides on Empella
The bikes that Easypay intends to use
Photo ©: Bjorn Haake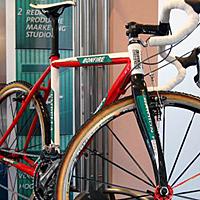 On Thursday, September 6, Belgian team Easypay presented its team for the upcoming cyclo-cross season at the building of the Oost Vlaanderen TV station AVS, just ahead of the first races the team will tackle. Its title sponsor, Easypay, is a software company specialising in payroll and other business management services. Cyclingnews' Bjorn Haake was at the team launch to learn what the team is expecting from the 2007-2008 season.
The Easypay team is one of the Belgian cyclo-cross dark horses for the year. An up-and-coming squad of five riders will head into the muddy part of the season - four of them in the 'elite without contract' category and one elite junior racer. Led by team manager Dirk Vanopbroeke, the team was formed out of a love for the sport of cyclo-cross by long-time 'cross fan and bike sponsor Ad van Empel.
Vanopbroeke, who manages the team on the side as a hobby, has quite a different career as a full time job. "Normally he drives Belgian ministers around in a limousine," explained van Empel. Vanopbroeke shows his enthusiasm for the team from start to finish, and has ambitious plans to start a Continental team next year, along the lines of well-known outfits like Chocolade Jacques, Fidea or Landbouwkrediet-Tönissteiner. To do so, he would have to double his rider headcount, as ten is the minimum required to even apply, but his riders definitely like the idea. Rider Dieter Vanthourenhout felt that "it would be good for us. It would provide us with more opportunities."
The Easypayers, who ride the same Empella bikes that have guided more than one rider to a World Championships title, will line up in the 2007-08 season with Kamiel Ausbuher, Dieter Vanthourenhout, Gert-Jan Opsomer, Tim Van Nuffel and Jerry Kallenfels.
Ausbuher, who hails from the Czech Republic, was World Champion in the junior ranks in 1993. Undoubtedly the most experienced on the team the young ones will look up to him and learn as much as they can throughout the season.
However, the team's most recent successes have been courtesy of young Dieter Vanthourenhout and Tim Van Nuffel. Vanthourenhout, the younger cousin to Sunweb ProJob's Sven Vanthourenhout, won five races last season, and Van Nuffel's last win was in July, which was during his preparation time. While doing road racing to get in shape, he managed to win an event here and there and showed he is dedicated throughout the year. Gert-Jan Opsomer, who also has already had some good results, and Jerry Kallenfels, the junior on the team, complete the team.
The main targets of the team will be the Superprestige and GvA races, but the Belgian national championships will be on everyone's mind even though they realize there is tough competition ahead. "Niels Albert will be hard to beat," said Vanthourenhout.
The team's bicycle sponsor, Empella, had the company's founder, Ad van Empel, on hand for the launch. Van Empel started the line of Empella bikes 25 years ago, and while he doesn't ride himself, he always enjoyed watching bike races and noticed that he could help racers become faster by improving positioning, material and other things he had an eye for.
Sven Nys fears Albert and Boom the most
Nys during the Gieten World cup last season
Photo ©: Bert Geerts

This Sunday will mark the start of the cyclo-cross season for the 'Cannibal from Baal' Sven Nys who is taking part in the Erpe-Mere cross, a race which last year was the first of his 28 wins.
Last year the Belgian won just about all there was to win, with victory in the Super Prestige series, the Gazet van Antwerpen series and the number one ranking in the UCI rankings for cyclo-cross. "And my condition is even better than it was last year" he told the Gazet van Antwerpen during the presentation of his new winter clothing range in Wijmaal, Belgium.
"On March 18 I began training for the new 'cross season. Since then, including racing and training I have 20,000km in my legs. My condition is optimal, better than last year. I showed that when I finished 16th last Sunday in the world mountain bike championships. I have never finished so close to the leaders."
His ride on Sunday in Fort William was enough for him to qualify for the Olympics in Beijing next year, and although he has said earlier that he will definitely not go to Beijing because in August it will be to warm, after his performance in Scotland, he has again start
"I know that in mountainbiking I have my limits and they have not disappeared after my good result in Scotland. But I can improve and that it is really only the temperature that plays a part."
"If I have to chose, cyclo-cross always comes first. This sport has made me huge."
Just like in past seasons, Nys is looking to take the most amounts of wins that he can. "Every year I say that I don't have a specific goal, rather I just want to win as much as possible. That has not changed. I know that if I am in good condition and stay away from accidents and injuries that I will always be close to the front," Nys explained. "But there are always some things that you don't have control over. Look at the worlds last year, I still have the feeling that I was not beaten fairly."
Nys believes that his biggest rivals this year will not come in the form of the usual suspects, Bart Wellens and Erwin Vervecken, but rather youngsters such as Niels Albert and Lars Boom. "They have both shown many times that they have lots of talent. Now it is just a question of whether or not they can take the next step higher. If they can, then the pressure to perform will be divided between us and not only on my shoulders. I wouldn't say that Bart (Wellens) is my biggest rival. The past two years he has only won around 10 races. He shines only from time to time," concluded Nys.
UCI grants mechanics free entry
The new cyclo-cross season is almost upon us and with it comes yet another rule change, this one something that will come as a relief for the riders and teams. As of this winter one care taker and two mechanics will receive free entry to races, but must be officially accredited mechanics or medical personnel.
The new rule comes about after Jonathan Page's mechanic, Franky Van Haesebroucke, was refused entry to the cyclo-cross race in Lille by security guards. The resulting scuffle led the hospitalisation of Van Haesebroucke and Page refusing to race in protest.
Fidea riders help design 'cross training track
Fidea Cycling Team riders, Bart Wellens and World Champion Erwin Vervecken visited Benicàssim, 70km north of Valencia, where their bike sponsor Ridley has its test center at the Intursports Headquarters.
Their visit to Benicàssim was to plan and design a permanent cyclo-cross training track, something which is unheard of in their homeland in Belgium, arguably the worlds number one cyclo-cross area. Already the two riders have been using the facilities at Intursports, running on the latest treadmills and using the swimming pool.
Wellens commented, "A short plane trip away is going to be a facility that when completed will be a great opportunity for us to come and prepare, we´re really looking forward to coming back to Benicàssim to see the completed project."
Registration opens for USA 'cross championships
Cyclo-cross season might be just beginning, but US racers are being encouraged to pre-register for the USA Cycling Cyclo-Cross National Championships early to ensure the best staging position. The race takes place in Kansas City's Wyandotte County Park from December 13-16, and athletes will be staged based on their order of registration, with the exception of those who qualify for seeding position (2006 winners, former national champions, UCI point rankings in elite categories, etc.).
The online registration opens on Saturday, Sept. 15 at 12:01 a.m. CDT, and can be accessed via the race's website, www.kccrossnationals.com. The event's official website already contains the complete race schedule, course and venue information, travel and lodging information and the opportunity to purchase official apparel.
Berden must pay
Belgian Ben Berden has been ordered by a court in Antwepen that he must come up with the 60,000 Euros himself to cover the costs that were associated with his positive doping control for the banned substance EPO according to the Gazet van Antwerpen.
After competing in the Essen round of the Gazet van Antwepen (GvA) in 2004 Berden tested positive for EPO. Shortly afterwards, the crosser from the Limburg region in Belgium admitted to using the substance, and that he drove to Germany himself in order to buy the drug. The prosecutor in Tongeren ordered a search of the riders house, but in the end Berden was not sentenced to serve correctional time, but rather a two year suspension from taking part in any sport.
"This has hit me hard" admitted Berden. "There was a break down of the costs of the enquiry in the letter. DNA tests 12,500 euro a piece, telephone taps for Mobistar: 4,000 euro, the bill from Proximus: 8,000 euro and it keeps on coming. Professors left and right, this much, toxicologist examination, this much. It comes to a total of around 60,000 euro."
Berden disputed the case at the court in Antwerpen, but the judge refused to reverse his decision, remaining adamant that Berden was to pay back the costs involved. Which has made Berden question what he is to do next.
"I don't know what to do anymore, this is almost unachievable. I have worked it out and if I save every cent that I make from start money over the next three years, then I still won't be enough. You tell me: why should I continue with this. I would be better of declaring myself bankrupt and then just do some extra work on the side for cash. I am being punished for my honesty. I gave up all the information straight away so that there would be nothing for them to search for. If I knew that they were going to do this I would have been better of continuing to lie," he said.
International field for Star Crossed 'cross
The North American UCI cyclo-cross season will kick off an international field heading to Redmond, Washington for the Full Speed Ahead Star Crossed Cyclo-cross, presented by Gerk's Alpine Hut. Taking place at King County's Marymoor Park in Redmond, WA on September 22nd, the Star Crossed field will include six current or past national cyclo-cross champions.
UCI number six ranked Swiss National Champion Christian Huele will join US National Champion Ryan Trebon (Kona/Les Gets) and Danish Champion Joachim Parbo (CCV) at the event. "We are very excited to have ranked European riders coming to Star Crossed," stated race director Terry Buchanan. "The scheduling of three excellent events with Star Crossed and Rad Racing GP in the same weekend and Cross Vegas the following Wednesday is a huge asset to bringing international talent together in the US."
Mountain bike champion Geoff Kabush (Maxxis/Litespeed), two time Star Crossed Champion ('04 & '05) Carl Decker (Giant), Barry Wicks (Kona/Les Gets), Troy Wells (Clif Bar) and ProTour roadie Aaron Olson will also be among a strong field for the first races of the UCI calendar.
Meet Jonathan Page at Kinetic Cross
Page racing in France
Photo ©: Brecht Decaluwe

Kinetic Systems Bicycles will be hosting an open house in Clarkston, Michigan with the 2007 World Cyclo-cross Championships silver medalist, Jonathan Page as part of the 'double-cross' weekend in the state. Fans will get to meet Page and Cycle-Smart president Adam Myerson to learn more about training and cyclo-cross racing and technique.
"It's great that fans will be able to meet Jonathan in person. Cyclo-cross is still a growing sport and having the chance to meet the top pros in the world in person is what makes the event so attractive to cyclists and other enthusiasts" says promoter Jeff Noftz, owner of Kinetic Systems bike shop. .
Some host-housing is available to selected UCI registered Elite racers who are interested in attending. Please contact: info@semicxc.org.
Verge MAC gets in gear with SRAM
The ever-growing Verge MAC cyclo-cross series will gear up its game for the 2007/2008 season with additional sponsorship from SRAM. The component maker will support the Elite UCI-sanctioned men's and women's divisions with significant incentives in the form of SRAM merchandise for the top five elite men and women in MAC season points, including full Force gruppos for the men's and women's season champions and full Rival gruppos for the runners-up in the two elite divisions.
The series saw its average per-race attendance grow by 20.9% last year, and promoters expects to continue that growth to continue with a new focus on bringing in the Elite UCI crowd. Gone from the schedule this year are the traditional, though smaller, non-UCI races that played an outsized role in determining the MAC elite season champions in the past. Also gone from the schedule are single race weekends in favor of a compact schedule of two-race weekends that encourage more participation by riders from outside the region.
The series will kick off near Philadelphia for the beautiful scenery in Granogue on October 20th, followed by the wide-open spaces of the Ludwig's Corner Horse Show Grounds the following day. On the second weekend of November, the series heads east for two races in the coastal state of New Jersey, Bridgeton, just a short distance from the famous casinos of Atlantic City and Jamesburg which is easily accessible from either New York or Philadelphia.
The final and deciding weekend of the MAC season takes place on December 1-2 in Carlisle, Pennsylvania and Reston, Virginia. The Capital Cross Classic in Reston will once again offer free shuttle service to Washington's Dulles International Airport to help encourage racers to travel to the event.
For more information on the MAC Cyclo-cross Series, see www.midatlanticcyclo-cross.com.
Register online, win a Fuji
Fuji Bicycles has teamed up with the US online registration website Sports Base Online to help promote cyclo-cross in the USA with a unique program. The bicycle manufacturer will give a Fuji Cross Pro frame and fork to every cross series with six or more races that enlists Sports Base Online to handle online registration. The bikes will be raffled off to athletes who register using the online system.
Each time an athlete registers for an event in a cross series, they will be entered into an online drawing to win a 2008 Fuji Cross Pro frameset. At the end of the series a winner will be announced.
Bamacross is back
Alabama's cyclo-cross series returns in 2007 with four new courses and two new cities. The series also picked up a new sponsor who will be providing a tasty incentive to race in the form of world-famous barbecue, Presenting Sponsor, Jim N' Nick's Bar-B-Q.
Bamacross will feature four challenging new courses, and trips to two new cities: Wetumpka and Tuscaloosa as well as $5,000 in cash and prizes.
10/7 - A fast, first-timer-friendly course at Birmingham's West Oxmoor Park, presented by Birmingham Bicycle Company
10/28 - Swampy, sandy Munny Sokol Park in Tuscaloosa - presented by Velocity Procycle
11/4 - Picturesque Wetumpka, Alabama - presented by Competitive Velo
11/11 - An instant classic: Steep rock staircases and high-speed flat downhills at Avondale Park in Birmingham
11/18 - Tricky double-track and steep run-ups at the park in Anniston, presented by Wig's Wheels
12/2 - Bamacross State Championship at Fain Park in Montgomery, presented by Cycle Escape
12/16 - (Double Points) Sportsman Lake Park in Cullman for the Series Finale!
Visit www.bamacross.com for more information.
Ronde von Evergreen returns
Cyclo-cross returns to Carbondale, Illinois, with the 3rd Annual Ronde von Evergreen to be held on September 30, sponsored by Bike Surgeon of Carbondale and the Carbondale Park District. . The course is one of the Midwest's best-kept cross secrets: a fast, twisty 2.5 kilometre loop that traverses a defunct BMX course and runs dangerously close to a lake. Making the circuit even more challenging will be barriers - natural and unnatural barriers. For a touch of an authentic Belgian 'cross experience, there will be bottles of Chimay for podium finishers.
View the race flyer here: http://www.thebikesurgeon.com/ronde/Ronde2007.pdf
Upcoming UCI Cyclo-cross races
September 16: Steenbergcross, Erpe-Mere (Bel) C2
September 22: Kinetic Systems - Tailwind Cyclo-cross 1, Springfield Township, Michigan (USA) C2
September 22: Star-crossed, Redmond (USA) C2
September 23: GP Neerpelt Wisselbeker Eric Vanderaerden, Neerpelt (Bel) C2
September 23: Kinetic Systems - Tailwind Cyclo-cross 2, Springfield Township, Michigan (USA) C2
September 23: Rad Racing GP, Lakewood (USA) C2
September 26: Cross Vegas, Las Vegas, Nevada (USA) C2
(All rights reserved/Copyright Knapp Communications Pty Limited 2005)