Cyclo-cross news & racing round-up for January 2
Edited by Laura Weislo
Welcome to our regular roundup of what's happening in cyclo-cross. Feel free to send feedback, news and releases to mtb@cyclingnews.com.
Ailing Nys skips Middelkerke, returns to win
After turning himself inside-out just to grab a second place in Loenhout, Sven Nys admitted that he felt terrible. "Normally I'm riding a race based on the sensations my body gives me, now I was riding more against those sensations. Today I crossed my borders to grab that important second place; a result that was the most I could possibly aim for here. I'm feeling miserable now," said Nys in the post-race interview.
The next day, Nys awoke to a fever and cold symptoms, and decided against starting in Middelkerke, despite expressing a strong desire to fulfill his obligation to the race promoters. "The cold is not entirely gone but there is clearly much progress. The extra day of rest on Friday has certainly helped me become healthy more rapidly. I want offer my apologies once again to the people of Middelkerke for my absence." Nys said on his personal website.
After two days of rest, Nys overcame his cold enough to take his 150th career win, and his sixth of six Superprestige wins in Diegem, and then another win at the GP Sven Nys in Baal. Nys is taking every necessary step to regain his top form with an eye to defending his Belgian national title in Hamme-Zogge next week.
Summerhill nets top finishes for US
Danny Summerhill keeps his eyes on the starter
Photo ©: Joseph Sales

TIAA-CREF/CLIF BAR cyclo-cross riders Daniel Summerhill, Jim Lennon, and Troy Wells are continuing their racing season by participating in the 4th annual European cyclo-cross camp in Belgium this winter. The trip didn't start off too well for Summerhill and Lennon, as the pair had their departure date delayed four days due to the blizzard that hit Denver the morning they were set to fly to Brussels. Missing their two days of time zone acclimation and the first junior race they were set to participate in, the pair regained their composure and found success at Loenhout, one of the biggest junior races in Belgium with 72 starters.
Summerhill had his best race ever in Europe, according to US national 'cross coach Geoff Proctor, ""Danny's ride today was extraordinary. He started back row and roared up to 4th before losing the sprint and getting 5th. He could have won for sure with a decent start position. Amazing ride, on just a few hours sleep in the past few days."
In Summerhills' diary, he gives his version of the start. "On the start line though, each rider from their respective countries was called up randomly, but what I found interesting was how un-random it seemed that all five of the American racers were called to the line very last. So with anger throbbing through my veins, the start light turned from red to green, and I was off."
Given another two days to adjust to the time change and get some much needed rest, Summerhill improved on his performance, netting a third place in the Superprestige race in Diegem, and another third at the GP Sven Nys. These results along with Jonathan Page's second places in Middelkerke and Luxembourg give the US four podium finishes over the holiday 'cross races.
Canadians seek financial aid
Friends of Canadian Cyclo-cross Racers, an organization of supporters of the Canadian National Cyclocross Team, are soliciting assistance in sending the Canadian team to Worlds in January. Mike Garrigan, Kyle Douglas, Tara Ross and Greg Reain have all qualified and are planning on attending the Cyclocross World Championships in Hooglede-Gits, Belgium on January 27-28, 2007 but as the Canadian Cycling Association doesn't provide any funding for the National Cyclocross Team, riders must cover their own airfare, accommodations, meals, equipment expenses and even their national team jerseys.
Support, in the form or donations, can be made at the group's Web site: http://www.cyclocrossontario.com/fccr. The group says that no administrative costs will be taken from donated funds.
Lefèbvre in trouble again
By Brecht Decaluwé
Several sources are reporting that French cyclo-cross rider Maxime Lefèbvre (Josan) is in major trouble again. After his strong performance – Lefèbvre finished sixth at the North Sea cross in Middelkerke - the rider apparently forgot to show up at the medic post for the obliged doping control. Sporza reports that the local speaker announced in three languages that the top-10 was obliged to head for the medic. Traditionally, the riders' numbers were also published at the normal location.
This could mean the end of Lefèbvre's career as the Belgium-based rider has been in trouble before. He tested positive (Heptaminol) after a race in Raismes in April 2004 and got sidelined for a year. During the summer of that year he illegally raced with a Belgian license in Zolder and received a UCI-fine. He came back in competition during the spring of 2006 and his best performance was a fourth place in Wachtebeke last week. The normal punishment for this kind of incident is a fine of 300 euros and a ban, but Lefèbvre may face tougher sanctions due to his previous offences.
Orange podium in Wachtebeke
By Brecht Decaluwé
It came as no surprise that Sven Nys (Rabobank) won the first race in a series of many holiday races. The podium in Wachtebeke turned orange as his Rabobank teammates Richard Groenendaal and Sven Vanthourenhout completed the top three. Nys overcame a flat before going on to win the race.
"I was the best of the three men in front," said Nys. "When I punctured I didn't panic and closed the gap quickly. I was able to dig very deep and that pleases me a lot as I felt I had enough power in my legs. Maybe I wasn't that good during the first half of the race, but gradually I got better."
For the full report and results, click here.
Vervecken takes 'tactical' race in Hofstade
By Brecht Decaluwé
Vervacken wins over Dlask and Wellens
Photo ©: Frank Bodenmuller

Around 14,000 spectators around the lake in Hofstade enjoyed a spectacular and tactical race. They saw that nine riders battled for victory, and they will have noticed that UCI-leader Sven Nys (Rabobank) wasn't as strong as usual. When the race gets tactical, Nys gets less comfortable and one rider steps forward: world champion Erwin Vervecken (Fidea).
"In a direct duel with Nys I will often lose, but in a tactical race I've got my chances," Vervecken said. The world champion attacked with one lap to go when Nys was at the back of the group. He claimed his first big win of the season, a victory Vervecken sorely needed. "Until now my season was terrible, especially the last month. I had some podium finishes, but in the end people look at your victories… which I didn't have," Vervecken said.
A surprising face was spotted at second place, Petr Dlask (Fidea). The Czech giant found a course that suited him perfectly, with various running sections through the sand. "My running in the sand was super; I like this course as last year I performed good as well over here. Now I hope my form will get even better as the world championship is still five weeks from here. Meanwhile I'll try to improve my UCI-ranking back to a decent position, top five should be possible. But another goal is to stay healthy for more than five weeks," Dlask laughed.
For the full report, results and photos, click here.
World Cup standings U23

1 Niels Albert (Bel) Palmans Collstrop                    120 pts
2 Zdenek Stybar (Cze) Fidea Cycling Team                  110
3 Lukás Kloucek (Cze) Cyklo Team Budvar Tábor             105
4 Rob Peeters (Bel) Balen BC                              103
5 Dieter Vanthourenhout (Bel) Wielergroep Beveren 2000    103
6 Julien Taramarcaz (Swi)                                  91
7 Jempy Drucker (Lux) Fidea Cycling Team                   77
8 Robert Gavenda (Svk) CK ZP Sport A.S.                    74
9 Romain Villa (Fra) CR Champagne Ardenne                  64
10 Ricardo Van Der Velde (Ned)                             59

Juniors

1 Jiri Polnicky (Cze)                                     135 pts
2 Joeri Adams (Bel)                                       133
3 Thomas Girard (Fra)                                     123
4 Vincent Baestaens (Bel)                                 106
5 Allessandro Calderon (Ita)                               94
6 Ole Quast (Ger)                                          93
7 Lubomir Petrus (Cze)                                     81
8 Ramon Sinkeldam (Ned)                                    80
9 Filip Adel (Cze)                                         60
10 Stef Boden (Bel)                                        56
Czech giant on the way up
Petr Dlask in Hofstade world cup
Photo ©: Frank Bodenmuller

There was a new face on the podium of the world cup event in Hofstade - Czech giant Petr Dlask. The 30 year-old had a terrible start of the season where he just couldn't deliver any decent results, but is beginning to find his good form. Cyclingnews' Brecht Decaluwe spoke to the Fidea Cycling Team rider after the race.
Petr Dlask, the Czech cyclo-cross champion, lives near Loenhout, Belgium - a centrally-located hotbed of UCI 'cross racing where the GvA-trophy holds its fifth event on Thursday. It seems like the perfect place to camp for the season. But after a string of disappointing results in October and November, Dlask decided to return to the Czech Republic for a while.
"I expected this season to be just as good as last year, but for some reason the results didn't come. Mentally it started to be difficult and that's why I returned to the Czech Republic. Even though my wife and child are staying with me in Belgium, I'm 30 years-old and it's a bit harder for me to acclimate to the Belgian habits than it is for my younger compatriots like Stybar and Simunek," Dlask explained.
"At home, I have my whole family around me and I can train in the mountains" he continued, "I don't like to train beside the flat canals in Belgium." The mountain training must have done Dlask a world of good, because last week, the results finally started to come. Dlask took a solid third place in Veghel-Eerde and a very strong second place in Hofstade behind world champion Erwin Vervecken.
Read the full feature here.
Vanthourenhout best in Torhout
By Brecht Decaluwé
The lack of UCI-points in Torhout meant the top-3 of the UCI cyclo-cross rankings stayed away from 'domain Aertrycke'; so neither Sven Nys (Rabobank), world champion Erwin Vervecken (Fidea) nor Bart Wellens (Fidea) were on the startline. Due to their absence it was difficult to predict today's winner but the remaining riders from the UCI top-10 certainly had the best cards.
Gerben De Knegt (Rabobank), Sven Vanthourenhout (Rabobank) and Klaas Vantornout (Fidea) were the main favourites and they enjoyed ideal cross weather; temperatures just above zero degrees and little showers; the coldness must've hurt the riders a lot as the course through the forest was very fast. Spectators apparently took the day off as well, no big crowds today around the castle of Aertrycke.
The first half of the race nobody really knew what to do as the regular initiative-takers were absent. Eventually local hero Sven Vanthourenhout profited most from the Rabobank presence in the front group; with two laps to go he attacked and was able to solo to his fourth victory of the season (after previous wins in Dudzele, Eernegem and Knokke-Heist).
"An attack at the right moment delivered me the victory, and Gerben De Knegt must've done great work behind me so I could complete my solo," the winner explained. Yesterday Vanthourenhout only managed a tenth place at the world cup event in Hofstade.
"Actually it was my best result ever over there; it's a course where I never could perform to my best," Vanthourenhout said. "So it's great to win again and hopefully I will get even stronger for the national championships next week," the winner concluded.

The promising young Belgian who rides for the Fidea Cycling Team, Klaas Vantornout, was sent to the hospital following a crash at the Sylvester 'cross race in Torhout, Belgium today with a suspected fractured arm. Fortunately for the 23 year old Vantornout, who recently scored his first world cup podium finish in Spain there was no break, only deep bruises. Vantornout's injury kept him out of Friday's race in Middelkerke, but he started Sunday's Superprestige race in Diegem.
For the full report, results and photos, click here.
Young ace takes muddy win
By Brecht Decaluwé
Niels Albert, elite winner
Photo ©: Luc Claessen

Nightly showers made sure that the riders were presented with a big puddle of mud in Loenhout, where the fifth event of the prestigious Gazet van Antwerpen-trophy was held; the so-called cross of the aces. Dark clouds during the race created an even more impressive atmosphere for spectators and riders. UCI-leader Sven Nys (Rabobank) and current leader in the GvA-trophy Bart Wellens (Fidea) were expected to battle each other for the overall lead. In the end they only had a walk-on part in the one-man show of 20 year-old Niels Albert (Palmans – Collstrop). After three laps Albert rode away and the other riders only saw the blonde ace again after the finish.
"I was surprised the others allowed me to ride away during the third lap. I didn't mind as riding alone doesn't matter on this tough course, it's even an advantage as you can choose your own line in the mud," Albert explained. The young rider normally rides in the U23 category but choose to race with the elite riders in all the races of the GvA – trophy.
This victory was the first but certainly not the last of the young Belgian; Cyclingnews asked Niels Albert if we will see another great performance in the near future. "There's only one race left for me this year, the U23 world championships. My main rival over there will be Dutchman Lars Boom, but hopefully he won't win. Boom moves up to the elite level next year, so we wouldn't see the jersey throughout the year," Albert said.
For the full report, results and photos, click here.
GvA Trophy standings after five rounds

Elite

1 Sven Nys (Bel) Rabobank                                 167 pts
2 Bart Wellens (Bel) Fidea Cycling Team                   157
3 Niels Albert (Bel) Palmans Collstrop                    141
4 Richard Groenendaal (Ned) Rabobank                      140
5 Gerben De Knegt (Ned) Rabobank                          134
6 Erwin Vervecken (Bel) Fidea Cycling Team                126
7 Sven Vanthourenhout (Bel) Rabobank                      113
8 Zdenek Stybar (Cze) Fidea Cycling Team                  110
9 Bart Aernouts (Bel) Rabobank                             99
10 David Willemsens (Bel) Vos Sportief                     85

U23

1 Dieter Vanthourenhout (Bel) Wielergroep Beveren 2000    105 pts
2 Rob Peeters (Bel) Balen BC                               95
3 Kenny Geluykens (Bel) Palmans Collstrop                  67
4 Tom Van Den Bosch (Bel) Palmans Collstrop                45
5 Quentin Bertholet (Bel) AWS Cycling Team Kasterlee       41
6 Jempy Drucker (Lux) Fidea Cycling Team                   34
7 Bart Verschueren (Bel) Stoepersclub Leuven               32
8 Ondrej Bambula (Cze) Cyklo Team Budvar Tábor             23
9 Eddy van Yzendoorn (Ned)                                 20
10 Lukás Kloucek (Cze) Cyklo Team Budvar Tábor             19

Wellens gets his fifth, Page's comeback
By Brecht Decaluwé
Wellens & Page
Photo ©: Brecht Decaluwé

Bart Wellens (Fidea) easily grabbed his fifth victory of the season on the cold and windy course near the North Sea coast in Middelkerke, Belgium. It took a while before the Belgian – currently second on the UCI cyclo-cross rankings – was able to ride away from his rivals but once he did he cruised to a rather easy victory.
Although after a few laps it looked as though Wellens couldn't follow the first group. "I was really bad during the first half of the race so I was happy the pace from the leaders dropped once in a while. I was able to ride my pace but when Franzoi or Commeyne accelerated up front, I always got distanced. I knew that when I wanted to get away I needed an immediate big gap as they would start looking at each other behind me; that plan worked very well," Wellens explained.
The group behind Wellens started to play a tactical game and eventually four riders fought for second place; American Jonathan Page and three Italians: Enrico Franzoi (Lampre), Marco Bianco (Arcobaleno Carraro) and Marco Aurelio Fontana (Guerciotti). Page gave everything, going into corners like a mad man, to deny the Italians their lead. "I wasn't afraid anymore, not today," Page referred to his abandon during yesterday's race in Loenhout.
Eventually Page grabbed a well deserved second place. Cyclingnews was right there at the finish where Page was welcomed by his wife Cori and little Emma, "It's great... I went down in the dumps yesterday and now I got second! The UCI-points that come with this second place are good but it's not that important as I'm so far back in the rankings now, they just help me to move up at the start a little," Page said. "Calling it a quit during yesterday's race was the best decision I could ever make."
For the full report, results and photos, click here.
Nys hits 150 in Diegem
By Brecht Decaluwé in Diegem
Winner
Photo ©: Brecht Decaluwé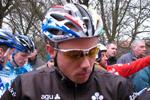 Sven Nys overcame an early-race deficit and the flu to win in Diegem on Sunday. When Bart Wellens attacked during the second lap nobody had an immediate answer. Ailing UCI-leader Sven Nys (Rabobank) tried to get back at his own speed after a solid lead group got away. During the second half of the race things turned around in front: Wellens struggled to find his second breath and was overtaken by Nys; the latter worked his way to his 150th career victory.
After the race, Nys exaplined that the remarkable career-win record wasn't on his mind; he only thought about the overall rankings in the Superprestige competition and the double points at stake in Diegem. "Even when I was alone in front, I was afraid that the bunch would come back and overtake me, which could mean a loss of ten points. Now I pulled off a great deal as the gap (in points) with Wellens is very big now," Nys said. In fact Nys' advantage is so big that he can afford himself to skip a race if he would want to do so.
The main opposition came from Nys' arch rival in cross, Bart Wellens. "I felt great during the first half and I guess he [Nys] felt better during the second half," Wellens said. "I made a slipper just past halfway and then I decided to wait for him. I wanted to sit in his wheel for a lap to attack him with two laps to go. But his pace was just too fast and then I realized that I probably rode past my limit during the first five laps, so I couldn't come back on him." The blonde Belgian didn't feel bad about his loss today. "OK, I passed away with three laps to go but behind the two of us there's a enormous gap and that gives me confidence for next week (at the Belgian National championships in Hooglede-Gits)."
For the full report, results and photos, click here.
Superprestige standings (after six rounds)

Elite

1 Sven Nys (Bel) Rabobank                                  90 pts
2 Bart Wellens (Bel) Fidea Cycling Team                    75
3 Sven Vanthourenhout (Bel) Rabobank                       67
4 Erwin Vervecken (Bel) Fidea Cycling Team                 63
5 Gerben De Knegt (Ned) Rabobank                           56
6 Klaas Vantornout (Bel) Fidea Cycling Team                46
7 Richard Groenendaal (Ned) Rabobank                       42
8 Kevin Pauwels (Bel) Fidea Cycling Team                   37
9 John Gadret (Fra) AG2R Prévoyance                        26
10 Davy Commeyne (Bel) Palmans Collstrop                   22

U23

1 Niels Albert (Bel) Palmans Collstrop                     89 pts
2 Zdenek Stybar (Cze) Fidea Cycling Team                   85
3 Rob Peeters (Bel) Balen BC                               64
4 Jempy Drucker (Lux) Fidea Cycling Team                   48
5 Boy Van Poppel (Ned)                                     47
6 Dieter Vanthourenhout (Bel) Wielergroep Beveren 2000     45
7 Tom Van Den Bosch (Bel) Palmans Collstrop                40
8 Eddy Van Yzendoorn (Ned)                                 39
9 Tom Meeusen (Bel)                                        34
10 Thijs Van Amerongen (Ned)                               33
  
Global cyclo-cross roundup
December 23 Wachtebeke, Wachtebeke (Bel) C2
December 24 Int. Cyclo-cross Veghel-Eerde, Eerde (Veghel) (Ned) C2
December 26 UCI World Cup, Hofstade (Bel) CDM
December 26 G.P. Geba Sarl, Differdange (Lux) C2
December 26 Int. Radquer Dagmersellen, Dagmersellen (Swi) C2
December 27 Sylvester Cyclo-cross, Torhout (Bel) C2
December 28 Azencross / Cross des as, Loenhout (Bel) C1
December 29 Cyclo-cross Middelkerke, Middelkerke (Bel) C2
December 30 Int. Herforderer Rad-Querfeldein-Rennen, Herford (Ger) C2
December 31 Superprestige, Diegem (Bel) C1
January 1 G.P. Hotel Threeland, Pétange (Lux) C2
January 1 GP Zürichsee, Meilen (Swi) C2
January 1 Grote Prijs Sven Nys, Baal (Bel) C1
Upcoming UCI Cyclo-cross races
2 Flüüger Quer, Dübendorf - Air Force Center (Swi) C1
2 Grote Prijs De Ster, Sint-Niklaas (Bel) C2
3 Centrumcross Surhuisterveen, Surhuisterveen (Ned) C2
(All rights reserved/Copyright Knapp Communications Pty Limited 2005)