Kustpijlcross - NE
Knokke-Heist, Belgium, November 2, 2006
Vanthourenhout victorious in Kustpijlcross
By Brecht Decaluwé
The scenery in Knokke-Heist:
Photo ©: Etienne Decaluwé/Cyclingnews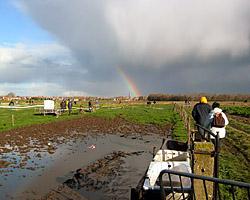 Looking at the results, it appears that there was a major upset in the 'Kustpijlcross', as big gun Sven Nys got beaten by Sven Vanthourenhout. However, there's a good explanation for the defeat of Nys, sadly enough for his namesake Sven Vanthourenhout.
There are many races in Belgium these days. One day after the spectacular muddy race in Melden on the legendary Koppenberg, there was another less 'important' race in Knokke-Heist. Althoug the race is new, the organisers did manage to lure UCI-leader Sven Nys (Rabobank) to start the Kustpijlcross. Sven Nys - also the Belgian champion - was the big favourite as most other top class riders took a day off. The only other big name was Nys' teammate and friend, Sven Vanthourenhout. Perhaps Nys wasn't really motivated to start in Knokke, but there was at least one good reason for his participation - he was allowed to wear his Belgian champion's jersey instead of the UCI-leader's jersey, as there were no UCI-points at stake in Knokke-Heist.
The two riders downgraded the rest of the field and enjoyed a good training session around the lake of Laguna Beach. There was much diversity in the course, with sand sections, stairs and a muddy section in the meadow next to the beach. The two Rabobank riders didn't sprint for victory, as Vanthourenhout was allowed to get the flowers in front of his own crowd. "I really wanted to win here, so I just asked Nys if I was allowed to win," the eventual victor explained. Vanthourenhout continued, "Sven Nys is a big champ and also a good friend. I'm leaving the team in January so we'll be rivals within the race, but I'm sure we'll remain friends outside," Sven Vanthourenhout said.
"I started the race to make the major selection early on in the race, and immediately had a big gap," Nys explained his strong start. "Vanthourenhout had a good day and I allowed him to come back to me. I didn't worry about letting him win," Nys said. It might've been more fun for the spectators if the protagonists would've sprinted for victory, or if Vanthourenhout would arrive solo. "Nobody would believe that he [Vanthourenhout] could ride away from me."
Davy Commeyne finished third in Knokke-Heist, "I'm happy with my performance and hopefully my period of bad luck is over now." Commeyne had a mechanical right at the start in yesterday's race and abandoned there. Today he overcame a little crash where he lost some positions early on in the race.
How it unfolded
Sven Nys and Sven Vanthourenhout
Photo ©: Etienne Decaluwé/Cyclingnews

Sven Nys had the best start of the 45 participants in Knokke-Heist, and the UCI-leader immediately went flat out. The bunch got spread out over the selective course. After three laps Nys slowed down and allowed teammate Sven Vanthourenhout to get to the front as well. Behind the two leaders Davy Commeyne (Palmans) and Tim Van Nuffel (Stevens) were trailing by one minute. They got caught by Belgian amateur champion David Willemsens (Frans Vos), Wim Jacobs (Vandervorst) and Frenchman Maxime Lefebvre (Josan) later on in the race. They were too far behind to threaten the two leaders, who kept riding at a high pace. Nys didn't bother about the win, so Sven Vanthourenhout enjoyed his third victory of the season [also Dudzele and Eernegem]. Davy Commeyne won the battle for third place, and finished one minute behind the two leaders.
Photography
For a thumbnail gallery of these images, click here
Images by Brecht Decaluwé/Cyclingnews
Images by Etienne Decaluwé/Cyclingnews
Results
Elite Men

1 Sven Vanthourenhout       1.00.23
2 Sven Nys                        
3 Davy Commeyne               1.01
4 Maxime Lefebvre             1.09
5 Tim Van Nuffel              1.28
6 Wim Jacobs                  1.46
7 David Willemsens            2.02
8 Arne Daelmans               2.16
9 Jan Soetens                 2.30
10 Jean Pierre Leijten        2.59
11 Marek Cichosz              3.32
12 Bjorn Rondelez             4.11
13 Stijn Penne                4.27
14 Andrzej Kaiser             4.43
15 Nico Clarysse              5.22
16 Kenneth Van Compernolle    5.51
17 Patrick Van Leeuwen        6.11
18 Dries Pauwels              6.54
19 Christoph Roodhooft        7.08
20 Thomas Onghena             7.19
21 Steven Decaluwe            7.47

One lap down

22 Antonio Ortiz Barranco         
23 David Romanowski               
24 Tom Pynaert                    
25 Hugo Rus Martinez 
             
Two laps down

26 Jorge Rodriguez Garcia         
27 Sten Raeymakers                
28 Jo Naert                       
29 Nicky David                    
30 Dirk Bertels                

Past winners
Not available.