Cyclo-cross news & racing roundup for December 12
Edited by Laura Weislo and Paul Verkuylen
Welcome to our regular roundup of what's happening in cyclo-cross. Feel free to send feedback, news and releases to mtb@cyclingnews.com.
Belgians threaten to boycott championships
€3,000 purse too small for some
Bart Wellens works hard for his money
Photo ©: Joel Roberts

A storm is brewing around the Belgian national cyclo-cross championships, and it's not the kind that creates the mud and suffering that makes 'cross what it is. Instead, it's a storm of protest surrounding the prize money for the January 6 event in Hofstade.
According to Sporza.be, Fidea's team manager, Hans van Kasteren is leading a planned protest over the €3,000 prize purse, claiming that the Belgian federation is walking away with a pocket full of money while the riders are being shortchanged. "Boonen wouldn't even ride a half a lap of a criterium for that amount of money," complained Van Kasteren.
"Three thousand euro's prize money, while the federation walks away with the fattest cheque. That is no longer tolerated in this day and age," Van Kasteren said.
Van Kasteren has threatened a boycott of the championships before, but through the Gazet van Antwerpen and Het Belang van Limburg he has re-voiced his complaints. "In August we meet with the federation," said Van Kasteren, "now a month before the championships we hear that: 'We forgot to make a note of that.' This discussion has been going on for years and we are tired of it."
The Fidea manager has threatened the federation with a protest unless they up the prize purse to 25,000 euros. "The riders will start the race because they are required to, but pulling out after 200 meters, no one can stop them doing that," Van Kasteren shrugged. "What we are asking? That the federation gives up the TV rights or divides a prize pot of 25,000 euro's between the under 23's and the elite," he continued
Van Kasteren claimed that all the professional riders were backing the protest, but top 'crosser Sven Nys was lukewarm to the idea. "I am absolutely a supporter of a healthy discussion about the prize money," he told Sporza.be, "but I want to talk about it without an ultimatum in the form of a boycott."
Sven Nys (Rabobank)
Photo ©: Luc Claessen

Nys agreed that the prize purse was too small, but insisted he would race. "[The prize purse] needs to be adapted to this day and age and the value of the championship," Nys said. "Regardless, I will start in Hofstade with the ambition of becoming the Belgian champion," he concluded.
The Belgian Federation's chairman Laurent De Backer reacted to the threat, telling Sporza.be, ""What a load of nonsense!" De Backer continued, "The amount of prize money is not 3,000 but 6,000 Euros... I remain ready to talk - but with the racers, not with Van Kasteren."
Current Belgian champion Bart Wellens threw his weight behind the proposed boycott, saying that the teams need to band together to get results, but the discussion should come from the management. "I think it's not the riders who must talk to the federation. Let the managers do that," Wellens said, but continued that the riders and managers must all have the same mind set or they will get no results.. "I want to convince everybody to pull together, - It's everybody or nobody," Wellens told Gazet van Antwerpen.
"Apparently some of the racers don't have the nerve", Wellens said. "We all want to earn more, but without causing a split. That won't work."
Nys, Van Den Brand extend lead in rankings
Belgian Sven Nys and Dutch woman Daphny Van Den Brand extended their leads in the UCI rankings this week. Nys was able to overcome a mid-race flat to take the win in the Superprestige round in Veghel-Eerde, extending his lead over compatriot Bart Wellens to 490 points, continuing his domination with 1820 points. Nys padded out his tally this week with a win in Spain at the C2 race in Asteasu, after winning the Igorre World Cup.
Klaas Vantornout remained in third place, 101 points behind Wellens, while Czech rider Zdenek Stybar remained in fourth ahead of World Champion Erwin Vervecken. Most of the standings remained unchanged this week due to the cancellation of the men's race in the Milan World Cup.
The Milan World Cup went on as scheduled for the women, juniors and espoirs, allowing Van Den Brand to open up a sizeable gap on second placed American Katie Compton. While Compton rested up after falling ill before the Portland finale of the US Gran Prix, Van Den Brand took victory in Milan and the 300 points for first place, and then jetted back to the Netherlands to take the win in Veghel-Eerde - and now holds a 340 point lead on Compton.
See the complete 'cross rankings here.
Euro 'Cross Camp readies for fifth year
Geoff Proctor talks with a UCI official
Photo ©: Joe Sales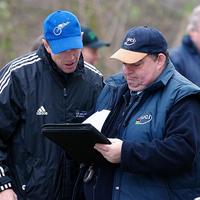 For its fifth consecutive year, the Euro 'Cross Camp will travel to Belgium for two weeks with some of America's most promising cyclo-cross talent. Euro Cross Camp Director and US National Team Coach Geoff Proctor selected 16 male riders to take on some of the toughest courses and strongest riders abroad. He spoke to Cyclingnews' Sue George about the upcoming camp.
This year's camp takes on a more youthful feel with eight juniors and six espoirs joining elite riders like Ryan Trebon and Tristan Shouten. Campers will arrive in Izegem, near Brussels, on December 20 and stay through January 3.
"Each year, I try to choose as many riders as I can who are vying for worlds spots." In addition Proctor selects "those riders I see as hungry, motivated and who love cyclo-cross. These are the riders I want because it's a tremendous leap to move beyond our [American] nationals to international competition in late December. Both mentally and physically, you can't do it if you haven't the will to do it."
Proctor picks his athletes based on their performance at the USGP of Cyclo-cross, a series for which he also serves as technical director. The USGP events represent one of the few opportunities where the top 'cross racers of all categories come together in one place to compete against each other.
The Euro 'Cross Camp supports the mission of USA Cycling to develop medal capable and future medal capable athletes, which requires international experience. "European racing experience and preparation for the world championships are the core objectives. For cyclo-cross, the camp is a great vehicle for that."
As one of this year's two elite riders, Trebon is one of America's most talented 'crossers. "For Ryan, this is a crucial phase," said Proctor. "For him to achieve a spot in next year's European pool of top riders, he needs to have some consistency and strong results for the rest of the current season."
On the other hand Shouten is more of an up-and-coming rider looking to make the world's team. "Tristan has been a mountain bike guy, but he was sick for most of this mountain bike season, and he's had better results in 'cross. Because he had such a light season on the mountain bike, he's pretty fresh."
Sunweb woos Wellens, demotes Vannoppen
The Sunweb-Projob team is continuing to look for riders to build the team's strength, and after signing third ranked Klaas Vantornout for the 2008-2009 season, the team is reported to be looking at Belgian champion Bart Wellens as a possible signing.
"Bart Wellens is a top pick, but I'm also thinking of Niels Albert," said manager Jurgen Mettepenningen. Both Wellens and Albert's contracts are ending in 2008, and Mettepenningen hopes that Wellens will not be too hasty to resign with his Fidea team. "I have three new financial partners starting January 1, with which we can attract another top rider."
The Sunweb ProJob manager has been openly critical of American Jonathan Page and Belgians Tom Vannoppen and David Willemsens, who he views as not getting the kind of results he had expected of them this season, and has made no secret that he is looking for more top riders.
Page agreed last month to end his contract with the team at the end of this season, while Vannoppen has been given a choice to remain with the team as an elite racer without contract after his contract ends on December 31. Mettepenningen extended the same offer to Willemsens.
Motocrosser star to cyclo-cross
Belgian motocross star Kevin Strijbos will hop on a different kind of machine in January, taking to the Belgian cyclo-cross championships as an amateur in Hofstade. The runner-up to this year's motocross world championship is recovering from a knee operation, and is using the bike as a way to rehabilitate, and couldn't resist taking on the championship.
"I am a competitive animal and want to measure myself against the real cyclo-crossers," Strijbos said according to Het Nieuwsblad. "Because I'm recovering from a knee-operation I've hardly been able to walk for the past few months," he continued. "Riding a bicycle, and in particular cyclo-cross is an amusing alternative.
"But I do not see myself becoming the new champion. I will start just for fun and try to do my best."
US Championships draw record numbers
Icy, snowy conditions should greet the riders in Kansas
Photo ©: Ed Collier

Despite a severe ice storm that has coated the state of Kansas in a thick layer of ice, record numbers of cyclo-cross racers are ready to brave the wintry conditions in order to contend for the coveted stars and stripes jersey.
A record 2,045 entries over some 40 races were received for the 2007 USA Cycling Cyclo-cross National Championships in Kansas City, Kansas, which begins Thursday at the Wyandotte County Park. The entries topped last year's participation in Providence, Rhode Island by more than 100 entries.
"We've achieved our first goal - which was to better last year's total," said Race Director Bill Marshall of KLM Marketing Solutions. "Our next goal is to make sure that every racer comes away from the event with a positive experience."
Sean Weide, a media liason for the organization, told Cyclingnews that the weather will be cold but should remain dry for the races. While other cities in the region have had widespread power outages, Weide said the area of the hotels and the airport have not lost power.
"We had a crew out at the course in advance of freezing temperatures today in order to groom the course to make sure it's in good condition if the ground stays frozen," Weide explained. "The freezing rain is predicted to end at midnight Tuesday, and there is no more precipitation predicted through Sunday. It will be cold and the course will get muddy, but there shouldn't even be significant wind chill."
The athletes competing in this year's championships come from 45 states, plus the District of Columbia. California will have the most representatives - 109 - followed by Kansas with 80 and Missouri with 79.
The Masters Men's 35-39 category has the most entries - 171 - followed closely by Elite men, which has 167 athletes registered, and Masters Men's 40-44 division, which has 161.
Defending Elite Men's champion Ryan Trebon and Women's Elite champion Katie Compton are among the nation's best athletes ready to line up at this week's championships.
Compton, of Colorado Springs, Colorado, has won the past three Women's Elite titles and was the silver medalist at the 2007 UCI Cyclo-cross World Championships. The 29-year-old is currently the number two-ranked female cyclo-cross racer in the world, according to the latest UCI ratings. Her strongest competition in the 98-rider Elite Women's field is expected to come from Georgia Gould (Ketchum, Idaho) and Kerry Barnholt (Boulder, Colorado).
Gould took four of six races and the overall series title at the 2007 U.S. Gran Prix of Cyclo-cross presented by Crank Brothers, and currently holds the 2007 USA Cycling Mountain Bike National Champion title. The 27-year-old finished second to Compton last year. Barnholt, 24, finished third last year at nationals and was 15th at the World Championships.
Trebon, a resident of Corvallis, Oregon, won the 2007 overall series title of the USGP. The 26-year-old is expected to be strongly challenged by a host of contenders that includes three-time national cyclo-cross champion Jonathan Page (Sunweb Pro Job), USGP series runner-up Tim Johnson (Leer/Cannondale/Cyclocrossworld), 2003 collegiate cyclo-cross champion Barry Wicks (Kona-YourKey), seven-time Junior and Under 23 cyclo-cross champion Jesse Anthony (Jamis), and 2006 U.S. Cyclo-cross World Championship team member Jeremy Powers (Cyclocrossworld).
In addition to Trebon and Compton, 13 others are defending their national titles in their category:
Junior Women 13-14: Elizabeth White (Bedford, N.H.)
Junior Women 15-16: Coryn Rivera (Tustin, Calif.)
Junior Women 17-18: Danielle Haulman (Denver, Colo.)
Under 23 Female: Amy Dombroski (Boulder, Colo.
Masters Men 35-39: Richard Feldman (Ketchum, Idaho)
Masters Men 45-49: Steve Tilford (Topeka, Kan.)
Masters Men 50-54: Ned Overend (Durango, Colo.)
Masters Men 55-59: Fred Wittwer (Charlottesville, Va.)
Masters Men 65-69: Rob Lea (Taneytown, Md.)
Masters Women 40-44: Sami Fournier (Bend, Ore.)
Masters Women 45-49: Catherine Walberg (Topeka, Kan.)
Masters Women 50-54: Kathy Sarvary (Lunenburg, Mass.)
Masters Women 60-64: Julie Lockhart (Dunstable, Mass.)
Tilford and Walberg are two "local" favorites who will be racing on what can be considered their "home turf." Tilford, 47, is a four-time cyclo-cross national champion who won the 2007 Oklahoma State Cyclo-cross Championship race Sunday. Walberg, 44, is a four-time Kansas State Cyclo-cross champion.
Admission is free and there is no charge for parking. The complete event schedule is available at www.kccrossnationals.com.
Upcoming UCI Cyclo-cross races
December 13 - 16: USA Cycling Cyclo-cross National Championships, Kansas (USA) CN
December 15: GP Rouwmoer, Essen (Bel) C2
December 15: National Cyclo-cross Cup, Kolin (Cze) C2
December 16: Challenge de la France Cycliste 3, Cap d'Agde (Fra) C2
December 16: Ciclocross Del Ponte, Fae di Oderzo (Ita) C2
December 16: Cyclo-cross Rennaz-Noville, Rennaz (Swi) C2
December 16: Vlaamse Druivenveldrit, Overijse (Bel) C1
December 16: XII Ciclocross Ciudad de Valencia, Valencia (Spa) C2
(All rights reserved/Copyright Future Publishing (Overseas) Limited 2007)