Cyclocross news & racing round-up for November 12, 2005
Edited by Steve Medcroft
Welcome to our regular round-up of what's happening in cyclocross. Feel free to send feedback, news and gossip to mtb@cyclingnews.com
Double Dlask
By Steve Medcroft
Besides the fact that it is comprised of a set of cyclocross races, what do the Georgia, USA and World Cup Cyclocross series have in common? Both have unsponsored Czech riders named Dlask tearing up the top of the standings.
In World Cup, Petr Dlask gave Bart Wellens and Sven Nys a run for their money in Tabor, Czech Republic at World Cup stop number one. Dlask teamed up early with countryman and previous Tabor winner Kamil Ausbuher to set a pace so aggressive Nys said, "I won't be good for a few hours after this," at the end of the race.
In the US, Dlask's younger brother Ondrej is giving 2004 Georgia Cyclocross series winner Jed Schneider a challenge; the pair have traded wins in the first two races of the series. Dlask took the second race, held in Macon.
"The racing here is different here," Ondrej Dlask said on Thursday. "Much different than the UCI races in the Czech Republic or Belgium." The terrain is different for sure but Dlask also says that absent the intensity of the pressures of World Cup competition, the approach a racer can take to competing is different in the U.S. "Here, you can ride just for fun," he says. "I'm working during the week and I don't have the time to train to ride as much as I want so it's not so serious."
Dlask says he's in the U.S. on a vacation that never ended. "I just came for a few weeks with my friends at first. I liked it so I stayed one more week. Then a month. Then more." So long, Dlask, who has settled with a girlfriend and works full time in the States, says that he was surprised to look at his original return ticket and see that he's five years late for the flight.
As for racing, Dlask says that we shouldn't be surprised that both he and his brother are competitive riders. "Petr is my older brother. He was born in 1976; he's two years older than me. "When we were kids, we rode every day together. We'd wake up at 7 or 8 and would meet a group of people in the middle of town who would ride together all day."
The two brothers chose different paths as they reached maturity though. "We are different. He has always had just the bike. When I was still thinking about parties and beers and friends, his mind was totally on the bike. He doesn't care about anything else but his training." As for what is the key to brother Petr's success in World Cup 'cross this year, Ondrej says "He is training and he has been patient and he's having a really smooth run."
Ondrej Dlask says that although he sees how privileged the life of a professional cyclist is, he is realistic in knowing that although he will "ride the bike forever" he'll probably remain an amateur. Dlask says he plans to remain in the U.S. at least one more year.
Four races have been completed in the Georgia Cyclocross Series. The remaining races are:
11-06-05 #4 Augusta
11-13-05 #5 Marietta
11-19-05 #6 Hendersonville, NC UCI Race
11-20-05 #7 Hendersonville, NC UCI Race
11-27-05 #8 Covington
12-03-05 #9 Monroe State Championships
12-04-05 #10 Athens Series Finale
Nys closes the gap: Superprestige #2 wrap-up
Sven Nys (Rabobank) has regained some ground over Bart Wellens (Fidea) in the Superprestige series, winning today's third round, the "Bollekescross" in Hamme-Zogge. The World Champion finished with a six second advantage over Wellens, and is now just one point behind him in the Superprestige standings. Third place today went to Tom Vannoppen (Mrbookmaker - Sports Tech).
Coming into the final laps, the three leaders, Nys, Wellens and Vannoppen, had a half a minute advantage over a chase group containing Petr Dlask (Cze), Sven Vanthourenhout (Rabobank), Enrico Franzoi (Lampre), and Gerben de Knegt (AA Drink-Bejan). Nys was the main aggressor and was able to gap Wellens and Vannoppen over the barricades on each lap. On the final lap, he made sure that the gap remained open, and crossed the line with several seconds to spare. In the sprint for second, Wellens easily beat Vannoppen, while Dlask was the best of the rest in fourth.
For full results, click here.
Canadian National Champs wrap-up
Lyne Bessette (Cyclocross World/Louis Garneau, R)
Photo ©: Rob Jones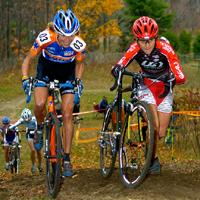 One of the major goals of Lyne Bessette's comeback season in cyclocross was to carry the maple leaf Canadian National Champion's jersey with her over to European World Cups. Chalk up another success for North America's best female 'cross racer. Sporting her familiar red-and-black Cyclocrossworld.com-Louis Garneau kit for the last time this season – she'll get a spanking new maple leaf kit for the rest of the 2005-06 season - Lyne overcame a tentative first lap to win her second Canadian National Cyclocross Championship, Saturday in Ontario.
Faced with one of the best women's fields ever to race a Canadian Nationals, Lyne was unable to shake a tenacious Wendy Simms (Kona) for the opening lap of the rugged course. It was the first time all season Lyne had had company at the end of the first lap of a race, but she quickly buckled down and started flashing the form that had brought her eight consecutive wins going into the weekend.
"I was pretty nervous before the race," admitted Lyne. "Once I started the race I had to think about why Wendy was staying with me. She's really strong this year, but I'd been able to drop her at every race in the States. I had to remind myself to go as hard as I have been all year. I went super hard on the long run-up and got a little gap, once I got that I just stayed on it 100 percent through the next run-up. I went as hard as I could and it worked out."
Lyne added win number 10 to her consecutive win streak on Sunday with a convincing victory in the Aurora 'Cross, the first non-championship UCI race in Canadian 'cross history. She also won Canadian 'cross nationals in 2002.
For complete race report, results and pictures, click here.
Tour de Pittsburgh: the Barbara Howe diary
Cross action
Photo ©: Barbara Howe
November 11, 2005 - This past weekend (Lower Allen Classic and Highland Park cyclo-cross) was fun and all, but most of you have probably already know how the races went. Instead of a race report, this is a short story of the cool bike culture in Pittsburgh. Several years ago, during my first brief bout of road racing, I took part a few Wednesday evening training races held in the Pittsburgh Zoo parking lot. The races cost five or ten dollars (it was cheaper if you brought your own number) and I once won a Furtado Race Day saddle as a prime. It was about as comfortable as sitting on a brick but that prize was worth more than my entry fee so I spent over a year waiting for my butt to become used to it. (I never did get used to it; I eventually put it on an old mountain bike and sold it.)
The zoo extended their business hours into the night and the training races had to find a new venue. Then the city built the Pseudodrome, a half mile long oval track (called the Washington Boulevard Bike Oval) with oddly banked corners and hump in the middle. The Oval was built on the site where I took my driver's license test. You can still see the markings on the road where you had two chances to parallel park.
In Pittsburgh , most of rides were down scary roads rubbing elbows with heavy traffic. Until this trip; while waiting for Josh to drink his coffee at a local shop, I noticed a trail on a local map connecting a quiet road to the Oval. The trail was a short walk and we completely avoided the busy, glass-covered road. This was the perfect place to train in a controlled environment so we did. The Oval even has its own collection of venue records.
Read the entire Barbara Howe diary here.
British 'crossers do well in European Cyclocross Championships
Team Fat Birds United Kingdom
Pontchateau, France, hosted the European Cyclo-Cross Championships Sunday. Great Britain had 5 riders in the event with 2 women and 3 juniors. Helen Wyman, Team FBUK, still with the memories of a last lap double puncture in the same event last year when leading going into the final lap, was out to try to better her position of 4th, while Sue Thomas was entering into the unknown in her first cyclo-cross European championships and her first cross race in Europe this season. With the 2 riders exchanging wins in the UK National Trophy Series, expectations were rightfully high.
The course was very fast, with little rain leading up to the event and high winds, the course was very dry. As expected the race was quick from the gun and Helen Wyman, starting on the second row, managed to get into a group of 8 riders which formed during the first lap. There were 2 Dutch riders, 2 German riders and 3 French riders along with Helen in the first group including 3 current or former world champions. Despite most riders attacking during the race, with Helen making a good effort off the front on the 2nd lap, the fast conditions played into the hands of the chasing pack.
With all of the riders staying together until the finish, it was 2004 World Champion, Laurence Leboucher who made her move first with 500 metres to go. She was however swamped by the other riders before the finish with the Dutch duo of Daphne van den Brand and Marianne Vos who contested the final sprint with the 18 year old, Vos, winning her first major Senior title. Helen, having been outnumbered by the other 3 nations represented in the break finished in 8th place.
Helen was very happy with the result and it looks good for the coming rounds of the world cup in Holland and Belgium, where Helen spends most of the year. Sue Thomas finished an excellent 12th place and was at time lapping faster than the leaders. Having missed the front group on the first lap, it was very hard for Sue to regain contact with them, but finishing only 1 minute 20 seconds down.
In the junior race, Tom Last started in fantastic style taking the lead on the first lap, however by the end of the first lap the race had settled into groups, with Tom taking him place in the second group. Stephen Adams finished in 39th place and David Fletcher in 25th, while Tom raced superbly to finish 13th.
For complete European Cyclocross Championships results, click here.
Global Cyclocross round-up
Felt and Greyhound Juice support Verge NECCS
The Verge New England Championship Cyclo-Cross Series, presented by Cycle-Smart, has announced two new sponsors in Felt Bicycles and Greyhound Juice.
Although the company is based in based in Southern California, Felt has been a big supporter of cyclocross in New England. Last year it sponsored Verge NECCS champion Mark McCormack and in 2005 with the added under-23 national champion Jesse Anthony to the roster. Their feedback has helped develop Felt's F1X 'cross bike.
With that successful association under its belt, "It was a no-brainer for us to say a resounding 'yes' to the opportunity to sponsor the Verge Series," said Felt marketing manager Beverly Lucas. "The Verge Series is the epitome of what cross racing is all about - we learn from it and, most importantly, we bloody love it!"
Greyhound Juice is a maker of skincare products including a pre-race warming balm. It was founded in Seattle by two bike racers, Greg and Sirikit Valentin; Greg Valentin got into cycling through Cyclocross so has an affinity with the wet and muddy branch of cycling.
Remaining Verge NECCS races
October 15 - Downeast Cyclo-Cross, New Gloucester, ME
November 12 - ChainBiter 7.0 Cyclo-Cross, Farmington, CT
November 13 - Cycle-Smart International Cyclo-Cross, Northampton, MA
November 26 - Gearworks Bay State Cyclo-Cross, Sterling, MA
December 3 - W. E. Stedman Co. Grand Prix of Cyclo-Cross, S. Kingstown, RI
December 4 - Castor's Grand Prix, Warwick, RI
Northampton Verge NECCS double preview
As the season's temperatures hover near freezing through fall's ever shortening days, the Verge New England Championship Cyclo-Cross Series, presented by Cycle-Smart, enters the heart of its ultra-competitive schedule. In the first of the Series' two "double dip weekends" the Verge NECCS makes stops in Farmington, Conn. and Northampton, Mass. November 12-13.
Saturday's Chainbiter 7.0 at Farmington's Winding Trails Park offers one of the most challenging courses in the Verge NECCS. With a combination of wooded trails, open fields, paved sections, several small climbs and dips, and one massive sand pit the Chainbiter never fails to sort out the strong riders. Last year's race went off under a blanket of snow that quickly turned the races into mud baths, the only muddy race of the 2004 NECCS.
One of the national 'cross circuit's "must attend" events, Sunday's 15
Going into the Farmington/Northampton double dip Verge NECCS leaders are as follows: Elite Men, Mark McCormack (Team Clif Bar); Elite Women, Lyne Bessette (Cyclocrossworld.com-Louis Garneau); Under-23 Men, Jesse Anthony (Team Clif Bar); Masters 35+, Jonny Bold (Corner Cycle); Masters 45+, Chris Long (Independent Fabrication-Gotham); Junior Men, Jerome Townsend (Bicycle Alley); B Men, Pascal Bussibres (Abbrsuz LA GoeLiche); Cub Juniors, Jared Reuta (44Velo); Masters 55+, Phil Bannister (Putney-West Hill).
(All rights reserved/Copyright Knapp Communications Pty Limited 2005)