Canadian Cyclo-cross Championships - CN
Canada, November 5, 2005
2004 Results Results Past winners
Former champs regain titles
Rob Jones
Lyne Bessette (Cyclocross World/Louis Garneau, R)
Photo ©: Rob Jones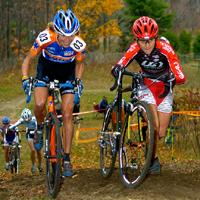 The Canadian national cyclo-cross championships saw two former national champions regain their titles on Saturday at the Hardwood Hills Mountain Bike Centre, 90 minutes north of Toronto. Lyne Bessette (Cyclocrossworld.com-Louis Garneau) won the women's title after an absence of two years, and Peter Wedge (Kona-Les Gets) took his seventh men's title after his winning streak was snapped at six last year.
Bessette is unbeaten in North America this season, with the nationals pushing her streak to nine consecutive wins, and making her a strong contender for the world championships in Holland in January. In the first lap of the women's race, she and defending champion Wendy Simms (Kona-Les Gets) rode away from the rest of the field, with Bessette then dropping Simms late in the second lap of the five lap race. Stacey Spencer (Cycle Smart), who returned to racing this year after a four year absence, finished third.
"Wendy (Simms) was going hard at the beginning, but I have raced her a lot this season and know how she going," explained Bessette. "It was good to be together for the start, and we could get a gap. She got ahead of me on a flat section before the first big climb, but then I went by on the climb and got a gap on her which I kept."
Bessette led into the first long run-up climb, but hopped off her bike to run while Simms stayed on her bike and took the lead. The duo dropped Spencer and Tara Ross (Victory Brewing), who would battle it out for third. Early in the second lap Simms again took the lead, but this time could not stay with Bessette on the run-up.
"I figured she'd try and go out strong" explained Simms. "I just tried to stay with her as long as possible."
After dropping Simms, Bessette added approximately 20 seconds a lap to her lead, despite the onset of rain halfway through the race.
Eventual winner Peter Wedge (Kona Les Gets)
Photo ©: Rob Jones

Peter Wedge, the perennial favourite in the men's race, had one strong contender to be aware of with the absence of last year's winner Geoff Kabush (Maxxis), and that was Greg Reain (Steven's Racing). Reain has spent the early part of the cyclo-cross season racing professionally in Europe. "I didn't know what to expect from Greg (Reain), I know he's been racing a lot," admitted Wedge.
Reain has struggled in early European racing with what was thought to be allergies (but turned out to be overtraining and stress-related ailments), but still came into the nationals as a favourite. Wedge and Reain rode the first lap neck and neck, with Reain taking the lead after the first lap. While Wedge was running the first climb, Reain was riding, taking the lead. Unfortunately for Reain, he crashed after carrying too much speed on a sandy downhill, and Wedge opened up a gap which he maintained to the finish line.
"I crashed my brains out at the bottom of the sandy descent," Reain ruefully admitted. "I was going too fast, and I got off line and caught my bars in one of the stakes marking the course. That's where Peter got a gap. But he was going good today, so who knows anyway..."
Wedge may have looked in control, but he was having his own problems, which became apparent in the last two laps when Reain slowly began to catch up in pouring rain.
"My left hand was frozen for the last two laps - I couldn't hold onto the bars, squeeze the brakes, anything. My hand kept slipping off the bars - I couldn't even feel it."I had to ride conservatively, and hope that my fitness would get me through. I had heard that Greg was going strong, but all I could do was trust in my fitness."
Race notes
Christian Meier (Symmetrics) repeated as Espoir champion, taking third overall. Coupled with Wedge's win, this put two New Brunswickers on the men's podium, leading Wedge to comment: "New Brunswick is the new powerhouse of 'cross..."
Tim Johnson did an excellent job of playing "race husband" to Lyne Bessette (as an American he wasn't eligible to race). Bessette had to peel off a gauze pad on her right shoulder after the race, a souvenir of the terrible crash she took at the 2001 Redlands Classic. She is forced to wear the pad to protect her shoulder when carrying her bike.
Photographys
(more photos coming soon)
For a thumbnail gallery of these images, click here
Images by Rob Jones/www.canadiancyclist.com
Images by Marek Lazarski/www.lazarskiphoto.com
Results

Elite/Espoir Men Championship
 
1 Peter Wedge (Kona Les Gets)                                1.02.20
2 Greg Reain (Stevens RT:Cycle Logik)                           0.31
3 Christian Meier (Symmetrics Cycling - B.C.)                   2.24
4 Andrew Watson (GearsRacing.com)                               2.55
5 Peter Morse (Chain Reaction)                                  3.22
6 Nathan Chown (Italpasta - Transport Belmire)                  3.34
7 Mike Garrigan (Epic Ride / Digica.ca)                         3.37
8 Nick Friesen (Team Alberta:Bike Shop-AB)                      4.31
9 David Gagnon (Sportif Bromont - Qu╚bec)
10 Aaron Fillion (Ottawa Bicycle Club)                          4.35
11 Ryan Hopping (Team Alberta)                                  4.37
12 Martin Lazarski (RockyMountain BusinessObjects)              5.01
13 Rob Britton (Team Saskatchewan)
14 Benoit Simard (Perigny - Qu╚bec)                             5.28
15 Phil Cortes (UC Sable - New Brunswick)                       5.40
16 Drew MacKenzie (Sugio Factory T:Giant)                       5.53
17 David Coughlin                                               5.55
18 Peter Glassford (Epic Ride / Digica.ca)                      5.57
19 Osmond Bakker (Cycle Logik Racing)                           6.16
20 Per Strom (Bicisport CC - Alberta)                           6.40
21 Alexandre Frappier (Biogen Idec - QC)                        7.56
22 Shaun Adamson (Team Alberta:United Cycle)                    8.04
23 Shawn Bunnin (Team Saskatchewan)                             8.19
24 Tristan Galbraith (Kona Les Gets)                            8.41
25 Myles Romanow (Hampton Velo / Jessie`s)                      8.47
26 Derrick St. John (Ottawa Bicycle Club)                       8.56
27 Mark Batty (GearsRacing.com)                                 9.36
28 Travis Brown (The Cyclery)                           1 lap behind
29 Brooke Boocock (Cycle Logik Racing)
30 Kyle Douglas (Bay Cycle / 3 Rox Racing)
31 Stephane Deshaies (St. Catharines CC)
32 Timothy Carleton (Sports Swap Racing)
33 Cameron Jette (Epic Ride / Digica.ca)
34 Mathew Hewitt (Oak Bay Bicycles)
35 Mike Sarnecki (Team Alberta:Pedalhead - AB)
36 Shawn Marshall
37 Warren Tilbrook (St. Catharines CC)
38 Shawn Clarke (The Cyclery)
39 John Fee (Velocity Racing)
40 Marco Li (Aquila Racing/Racer Sportif)              2 laps behind
41 Paul Ignatiuk (ERTC / Redbike - Alberta)
42 Keith Moore (Waterloo CC/The Flying Dogs)
43 Mark Stables
44 Michael Dennis (Midweek CC)
45 Brent Poulsen
46 Alexander Fulton (Ottawa Bicycle Club)
47 Scott Kelly (McMaster CC:Freewheel Cycle)
48 Kyle Rothwell (Cavern Cycles - Sneaky Dees)
49 Nicholas Vipond (Team Hardwood)
DNS Mathieu Toulouse (Maxxis)
DNS Joel Dion-Poitras (SG / Espoirs de Laval)
DNF Ryan Belliveau (Atlantic Cycling Center NB)
DNF Ian Manning (BikeSports-Pfaff Racing Team)
DNF Dave Brown (BikeSports-Pfaff Racing Team)
DNF Andrew Pinfold (Symmetrics Cycling - B.C.)
 
Elite Women Championship
 
1 Lyne Bessette (Cyclocross World/Louis Garneau)               41.24
2 Wendy Simms (Kona Les Gets)                                   1.34
3 Stacey Spencer                                                2.31
4 Tara Ross (Victory Brewing)                                   3.35
5 Kelly Jones (Sugoi Factory Team - B.C.)                       3.45
6 Jennifer Stephenson (Team Biovail)                            4.20
7 Amanda Shaw (Team Biovail)                                    5.05
8 Sarah Robbins (Team SK Cycledelia)                            6.27
9 Anita Lagler (Wheels of Bloor)                                8.20
10 Maogosha Pyjor (Wheels of Bloor)                             9.07
11 Melissa Chappel (J and J / Tabasco)                         10.37
12 Caroline Lavoie (Biogen Idec - QC)
13 Cynthia Phelan (Velocity Racing)
14 Lesley Chown (St. Catharines CC)
15 Amanda Cox (SG / Espoirs de Laval)
DNS Marie-Pier Bedard (SG / Espoirs de Laval)
DNS Jaymie McGowan (McMaster CC)
 
Junior Men Championship
 
1 Mike Bidniak (Team Alberta:Juventus CC)                      41.19
2 Garrett McLeod (Valley Stove and Cycle - NS)                  1.00
3 Tim Clarke (Canary Cycles - Newfoundland)                     2.50
4 Matthew McCartney (J and J / Tabasco)                         3.20
5 Zachary Winn (Impala Bicycles)                                3.28
6 David Farnell (J and J / Tabasco)                             7.26
DNS Kevin Hazzard (Freewheel Cycle:McMaster CC)
 
U17 Challenge M
 
1 Taylor Pieprzak (Team Hardwood)                              29.30
2 Bennett Winn (Impala Bicycles)                                1.42
 
U17 Challenge F
 
1 Celeste Jones-Baumgardt (Aquila Racing/Racer Sportif         33.58
2 Charlotte Batty (Bay Cycle / 3 Rox Racing)                    1.53
 
U15 Challenge M
 
1 Conor O`Brien (Ride With Rendall)
2 Luke Winn (Impala Bicycles)
3 Kiernan Orange (Ride With Rendall)
 
Open Challenge M
 
1 Chris Cavacuiti (Team Biovail)                               27.39
2 Colin Scott (Sports Swap Racing)                              0.10
3 Erik Box (The Hub Bicycle Club)                               0.11
4 Murray Thomas Wood (Velocity Racing)                          1.07
5 Roderick Olliver (Forest City Velodrome Assoc.)               4.41
6 Michael Towers (Sweet Pete`s)                                 5.40
7 Robert Vanderwouden (The Hub Bicycle Club)                    6.54
 
Open Challenge F
 
1 Lesley Tucker                                                30.25
2 Ingrid Zschogner (The Bike Shop - AB)                         1.33
3 Karen Watson (McMaster CC)                                    1.54
4 Briana Illingworth                                            7.47
DNS Maryclare Haley (Hamilton CC)
DNF Heather Kirkby (Velo Bella - California)
DNF Celeste Merey (Cavern Cycles - Sneaky Dees)
 
Master 30-39 Women Championship
 
1 Heather Kirkby (Velo Bella - California)                     39.11
2 Alana Cassidy (Saskatoon Cycledelia - SK)                     1.42
3 Nicola Mann (Avanti Racing Club-Washington)                   1.59
4 Carolyne Haill (Chain Reaction)                               2.06
5 Martha Handford (IndependentFabrication-MA)                   3.05
6 Vicki Thomas (Ride With Rendall)                              4.25
7 Prisca Natterer (True North Cycles)
 
Master 40+ Women Championship
 
1 Andrea Bacik (Mississauga Bicycle Racing C)                  33.28
2 Patty Tetreault (Rock`N`Road CC - Sackatchewan)               0.48
 
Master 50-59 Men Championship
 
1 Ed Campbell (St. Catharines CC)                              34.04
2 Jim Laird (Multi-Laser Racing)                                0.20
3 Greg Christie (Ottawa Bicycle Club)                           2.10
4 Rob Cheskey (Hamilton CC)                                     2.42
5 David Fabbro (Team Hardwood)                                  2.56
6 Don Fox (Team Alberta:Juventus CC)                            3.50
7 Martin Kohn                                                   4.36
8 Richard Wade (Newmarket Eagles CC)                            4.44
9 Don Perry (Newmarket Eagles CC)                               7.16
10 Rob Galbraith (Bicycle Works)                                7.43
11 Ian Austen (Ottawa Bicycle Club)                             9.52
DNS Bill Buckley
 
Master 60+ Championship
 
1 Jan Kocemba                                                  41.00
 
Master 30-39 Men Championship
 
1 Normon Thibault (Frontrunners - B.C.)                        39.18
2 Pascal Bussieres (Biogen Idec - QC)                           0.07
3 Craig C Hawkes (The Cyclery)                                  1.57
4 Paul Greene (Chain Reaction)                                  3.00
5 Steve Proulx (The Cyclery)                                    3.04
6 Keith Bayly (Deadgoat - Alberta)                              3.18
7 Lorne Anderson (La Bicicletta - J Lindeberg)                  3.26
8 Justin Varney (The Cyclery)                                   3.47
9 Luc Proulx (Equipe Xprezo - Qu╚bec)                           3.57
10 Derek Shiers (Avanti Racing Club-Washington)                 3.58
11 Pavle Stanojevic (Mississauga Bicycle Racing C)              3.59
12 Matthew Berridge                                             4.00
13 Kris Westwood (The Cyclery)                                  4.31
14 Craig Good (Synergy Racing - Alberta)                        4.34
15 Daniel Salter (D`Ornella`s Racing Team)                      4.35
16 Pierre Boilard (Biogen Idec - QC)                            4.36
17 Chris Wood (Waterloo CC/The Flying Dogs)                     4.48
18 Glenn Cameron (BikeSports-Pfaff Racing Team)                 4.50
19 Steve Holditch (Waterloo CC/The Flying Dogs)                 5.06
20 Chris Kiziak (BikeSports-Pfaff Racing Team)                  5.18
21 Marc Boudreau (Ride With Rendall)                            5.48
22 Roberto Vani (Reynolds/Koolini Racing Team)                  6.14
23 Andre Charlebois (Mike`s Bike Shop - NB)                     7.02
24 Brad Collins (Sugoi Factory Team - B.C.)                     7.24
25 Kris Tobias (Sports Swap Racing)                             7.34
26 Ernesto Alvarez (Cavern Cycles - Sneaky Dees)                7.52
27 Thomas Howell (Sports Swap Racing)                           7.54
28 Andrew McRae (FranksRedHot:Aztech)                           8.01
29 Stephane Marcotte (Cycle Solutions)                          8.27
30 Gibson Boyd (Cavern Cycles - Sneaky Dees)            1 lap behind
31 Alex Sanna (Waterloo CC/The Flying Dogs)
32 Clifford Vanclief (The Hub Bicycle Club)
33 Scott Gerrie (Team Biovail)
34 Tom Villano (Sports Swap Racing)
35 Roaul Khan (ZM Cycle & Fitness CC)
36 Philip Moore (Cyclepath Oakville)
DNF Doug Fraser (Cavern Cycles - Sneaky Dees)
 
Master 40-49 Men Championship
 
1 Peter Toth (Team Alberta:ERTC/Redbike)                       40.55
2 David Dermont (True North Cycles)                             0.07
3 Robert Orange (Ride With Rendall)                             1.35
4 Eric Orschel (Sports Swap Racing)                             2.24
5 Jon Gee (Multi-Laser Racing)                                  2.25
6 Roy Andrigo (Team Pusch)                                      2.44
7 Tracy Shearer (Juventus CC)                                   3.00
8 Mike Van Til (Silver Spokes CC Inc)                           3.10
9 Peter Hennessy                                                3.17
10 Paul O`Blenes (The Cyclery)                                  3.21
11 Andrew Stewart (Team Biovail)                                3.44
12 Ian Starke                                                   3.44
13 Hugh Hill (Team Hardwood)                                    3.52
14 Jeff Hehn (Saskatoon Cycledelia - SK)                        4.04
15 Colin Campbell (The Cyclery)
16 Thomas Stevens (Cycle Logik Racing)                          4.32
17 Augy Marmelo (Team Biovail)                                  5.39
18 Ron Spencer (Velocity Racing)                                6.13
19 Garnett Abbey (D`Ornella`s Racing Team)                      6.28
20 Christopher Redden (Speed River CC)                          7.22
21 Pierre Perrin (Midweek CC)                           1 lap behind
22 Gordon Avann (KHS Bicycles Canada)
23 Darko Antic
DNS Marc Chiarelli (Ride With Rendall)
DNF Philip Robinson (Hup United - MA USA)
DNF John E Kalinowski (Chain Reaction)
DNF Terence Dahms (Pedalhead Bicycle Works - AB)

Past winners
2004 Men: Geoff Kabush (Maxxis - Giant)     Women: Wendy Simms (Front Runners/Steed)
2003 Men: Peter Wedge                       Women: Wendy Simms 
 
Past winners by Mario Stiehl, www.world-of-cycling.com