Belgian Cyclo-cross Championships - CN
Ruddervoorde, Belgium, January 10-11, 2009
2008 Results Results Past winners
Day 1 - January 6: Juniors, Novices, Masters
Day 2 - January 7: Elite/U23 Men, Elite Women, Junior Women
Day 2 - January 6: Elite/U23 Men, Elite Women, Junior Women, Masters A, Amateurs
Nys dominates and takes sixth title
Albert's comeback falls 10 meters short
By Brecht Decaluwé in Ruddervoorde, Belgium
Sven Nys (Landbouwkrediet-Colnago)
Photo ©: Cyclingnews.com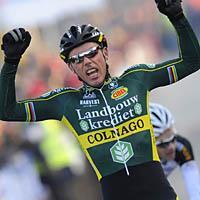 In a tight battle, Sven Nys won his sixth Belgian title over the youngsters Niels Albert and Kevin Pauwels.. Fast and furious, that's how the frozen course in Ruddervoorde could be described. Nys kept the speed high in order to make it hard for others to come back and that's how he tackled the Belgian national championships. Three quarters into the race 32-year-old Nys profited from a crash behind him to storm towards the victory.
A late stumble in the last lap almost cost him the victory as Niels Albert managed to close down the gap of 12 seconds on Nys. Albert had to chase back from the rear of the peloton after suffering a broken spoke in the first lap,but fell ten metres short of catching Nys at the finish line.
After the finish line Nys was bending over his bike, berating himself rather than celebrating his victory. "I was angry at myself and I didn't feel like cheering. I had twelve seconds when entering the last lap and due to a [mistake] I had given away half of it," Nys said.
The defending Belgian champion slipped when climbing one of the artificial hills on the frozen course. "Every lap the course started to be more slippery. I was taking it easier and lacked speed to get over that hill. On foot it was even worse, of course. In the sand sector Niels almost closed the gap as I was running. He was motivated because he saw me while I started to fear. In the end my experience helped me to the victory," Nys said.
Runner-up Niels Albert had a bad start after suffering a broken spoke in his wheel, and it took him more than sixty minutes to recover from that problem. Coming into the final straight, he almost bridged up with sole leader Nys, but was a fraction too late and Albert failed to finish off his remarkable comeback.
Niels Albert (BKCP Powerplus) chased
Photo ©: Cyclingnews.com

"I'm not happy with this second place. I'm disappointed to miss out on the victory," the 22 year-old said. "I had a bad start due to a maneuver from Erwin Vervecken; my wheel was out of true and it touched my brakes. Half a lap later I changed bikes and started my comeback. I was happy to have left Bart Wellens behind and suddenly I was in the main chasing group. I was only thinking about one thing and that was making it as hard as possible for Nys.
"I kept going thinking that he [Nys] could have problems as well. Even in the sprint I kept going because he could clip out of his pedal," Albert said. "If I could've been a few meters closer when turning into the final straight... or if the finish line would've been hundred meters further..."
Third place Kevin Pauwels featured in the front group until the seventh of ten laps, when the crash from Klaas Vantornout took him out of touch with Nys. "Klaas slipped away and I went over him. My bike got stuck and I was even standing on top of his leg.
"I don't know if I could've stayed with Nys," Pauwels said. The young Fidea rider ended up chasing together with Sven Vanthourenhout. "I was stronger than Sven Vanthourenhout. I'm happy with my third place."
The key moment in the race occurred near the end of the seventh lap when Vantornout's crash made the four-man leader's group split apart. Nys was at the front of the group and wasn't affected by the crash. "I didn't notice something had happened," Nys said.
Klaas Vantornout (Sunweb-Projob)
Photo ©: Cyclingnews.com

Vantornout was riding in second position on Nys' wheel and after the race he explained what happened. "My front wheel slipped away on a frozen spot and I crashed hard on my hip," Vantornout said. The Sunweb-Projob rider pulled out of the race a little later.
Kevin Pauwels and Sven Vanthourenhout were riding in third and fourth position. Pauwels got stuck while Vanthourenhout was able to maneuver around the two riders. "All race long it had been so incredibly fast. We were hitting every corner on the limit. The course was getting more slippery during the race and in that corner it went wrong," Vanthourenhout said.. "I avoided them but it was very tight and I was lucky to get around them. In the end I had to settle for fourth place but being the only outsider in the front today I should be happy with that."
In the Elite without contract category the title went to Ben Berden, ahead of Tim Van Nuffel and young Tom Van Den Bosch.
Vanderbeken wins women's race despite protest from Cant
Women's podium (L-R): Sanne Cant, Joyce Vanderbeken
Photo ©: Ruben Verhaeghe

All race long Joyce Vanderbeken had been putting her rivals under pressure on the fast frozen course and in the end it proved to be enough to grab the national 'tricolore' jersey in Ruddervoorde. The 24-year-old got rid of all her adversaries except for Sanne Cant. The latter remained on Vanderbeken's wheel for most of the race and claimed that she was impeded by a person on the course in the final lap. Veerle Ingels finished third at almost two minutes from the duo in front.
"A whole year long in this jersey, it's fantastic," Vanderbeken said. "I've worked hard for this victory. I'm in top form and I'm hoping to get a top five result at the World Championships."
Vanderbeken was in front all race long but halfway through the race she was joined by Cant, who was been the dominating Belgian rider for most of the season. "The first three laps it was looking good for me as I was able to distance everybody, but then Sanne [Cant] came back. I asked her to take pulls on the road but she didn't want to do so. I decided to keep the speed high and make sure that she wouldn't be overtaking me in the field either," Vanderbeken said.
During the final lap she had a late scare as she made it stumbling through the sand pit. "I wasn't confident there but from then on it was OK. I knew I was better in the sprint," Vanderbeken said.
Runner-up Sanne Cant was struggling to follow Vanderbeken in the last couple of laps but after the race she clearly wasn't happy with her result. "The coach from Joyce was on the course and he blocked my way. Because of this I lacked the speed to overtake her in the sand pit. Rules are rules and he should've been behind the barriers," 18 year-old Cant said. "If you're the best Belgian all year long and you're not winning at the national championships due to something that happened beyond your will then you can't be happy; I'm disappointed," Cant said.
Defending champion Loes Sels didn't have a good day on a course that doesn't suit her and she finished in eighth position at three minutes from winner Joyce Vanderbeken.
Baestaens on top of the ice in U23 race
A tactical race on the frozen subsoil in the U23 category proved to be the perfect setting for Vincent Baestaens who jumped away in the last lap to take the 'tricolore' jersey in Ruddervoorde. The sprint for second place resulted in a crash. Stef Boden led out the sprint ahead of defending champion Tom Meeusen but the latter touched wheels with Boden and hit the ground. Boden finished second ahead of Kenneth Van Compernolle, while Meeusen had to settle for sixth.
"I'm super happy. All week long I couldn't sleep, thinking about this race. I proved that I can deal with the pressure," Baestaens said. "Hopefully I can get a top five result at the World Championships, who knows. Halfway the race Baestaens had been riding alone in front for a while but that attack was neutralised by Jim Aernouts and Kenneth Van Compernolle. Some commotion occurred right after Baestaens was caught back as the latter then tapped Van Compernolle on the shoulder with a big smile on his face.
"He gave the impression that he hadn't done an effort to get back to me and I wanted to show that I hadn't gone deep yet either," Baestaens explained on his gesture that was similar to the gesture from Paul Herijgers towards Richard Groenendaal at the World Championships in Koksijde back in 1995 when Baestaens was only six years old. "This course was perfect for me but I didn't want to continue my efforts in that first attack. I felt super strong today and I waited for my final attack until the final lap," Baestaens said.
Stef Boden finished as a surprising runner-up behind Baestaens. "I didn't expect it, to be honest. I had my best race of the season and it pleases me double that it happened today," Boden said. The 18-year-old wasn't featuring in the front during the first few laps but he used the full fifty minutes to grab the silver medal. "I didn't interfere in the pushing during the first laps but steadily I moved up positions. After the crash from Aernouts [during the sixth out of seven laps] I suddenly was riding in front. I wanted to lead the leader's group when entering the meadow during the final lap in order to avoid crashes, and that worked out well. I couldn't react on Baestaens' attack," Boden said.
Defending champion Tom Meeusen was sprinting with Boden for the silver medal but Meeusen crashed and hurt his thigh. "I touched his back wheel," Meeusen explained what happened in the sprint. "Before that my chain went off on the worst moment and then Aernouts crashed in front of me during the penultimate lap. I don't think the others were much better than me," the defending champion concluded before he rode back to the camper.
Early on in the race winner Baestaens and teammate Meeusen were spotted arguing with each other. "We were not really having a fight but I pointed out that we shouldn't be blocking each other in order to get to the front. We didn't discuss anything before the race. At the championships there are no team tactics. We're playing our own cards," Baestaens said.
Photography
For a thumbnail gallery of these images, click here
Images by Cyclingnews.com
Images by Ruben Verhaeghe/www.vrouwenwielrennenbelgie.tk
Results
Elite Men

1 Sven Nys (Landbouwkrediet-Colnago)                          1.04.28
2 Niels Albert (BKCP - Powerplus)                                    
3 Kevin Pauwels (Fidea Cycling Team)                             0.20
4 Sven Vanthourenhout (Sunweb-Projob)                            0.43
5 Bart Wellens (Fidea Cycling Team)                              0.46
6 Bart Aernouts (Rabo Continental Team)                          0.55
7 Dieter Vanthourenhout (BKCP - Powerplus)                       1.06
8 Rob Peeters (Landbouwkrediet-Colnago)                          1.50
9 Jan Verstraeten (KDL Trans NV)                                 2.43
10 Ben Berden (Revor-Jartazi Continental Team)                   3.12
11 Tim Van Nuffel (Rendement Hypo Cyclingteam VZW)               3.15
12 Tom Van Den Bosch (Rendement Hypo Cyclingteam VZW)            3.43
13 Kendric Van Grembergen (Profel-Prorace Continental Team)      4.04
14 Wesley Van Der Linden (Afdeling Oost-Vlaanderen WBV - VZW)    4.12
15 Geert Wellens (Avb - Cycling Team)                            4.52
16 Stijn Huys (Palmans-Cras)                                     5.27
17 Nico Berckmans (Dcm-Gb Vorselaar Cycling Team VZW)            5.31
18 Bjorn Rondelez (Lingier Versluys Beachbikers Team)            5.45
19 Kris Lapere (Mez Team Belgium Snellegem)                      6.06
20 Mike Thielemans (Team-Thielemans & Co)                        6.11
21 Stijn Penne (Sdc - Rogelli Cycling Team)                      6.32
22 Nico Clarysse (Cyclingteam Oost-West)                         6.40
23 Patrick Bassez (Edegem Bicycle Club V.Z.W.)                   6.45
24 Tom De Kort (Avb - Cycling Team)                              6.50
25 Bart Verschueren (Revor-Jartazi Continental Team)             7.00
26 Bert De Wispelaere (Wielerteam Morel - Vandeputte VZW)        7.02
27 Steven De Decker (Foronex - Shanks Vlaanderen Ct)             7.15

One lap behind
28 Steve Gruwier (Sdc - Rogelli Cycling Team)                        
29 Toon Devenyns (C.T.- Dj.Matic-Kortrijk)                           
30 Wim Jacobs (Morgan Blue C.T. VZW)                                 
31 Cédric Gaudy (Union Cycliste Seraing)                             
32 Stefan Nerinckx (Royal Cureghem Sportif - Brussel)                

Three laps behind
33 Michel Bajorek (The Barracuda Company)                            
34 Jo Naert (Lingier Versluys Beachbikers Team)                      

Five laps behind
35 Steven De Schoesitter (Rudyco Cycling Team)                       
36 Freddy De Meester (Rijschool Ah - Gentse Vs)                      
37 Dries Cauwelier (Cycling Team Cauwelier Roeselare)                
DNF Jan Soetens (Revor-Jartazi Continental Team)                     
DNF Davy Coenen (Team Saeco Focus 2012 VZW)                          
DNF Davy Commeyne (Wielergroep Beveren 2000 VZW)                     
DNF Steven De Caluwe (Sdc - Rogelli Cycling Team)                    
DNF Koen Diels (Afdeling Antwerpen - WBV)                            
DNF Kenny Geluykens (C.T. Keukens Buysse Knesselare)                 
DNF Frederik Herpol (Sdc - Rogelli Cycling Team)                     
DNF Nick Sels (Mbk Bicycle Line)                                     
DNF Stefaan Van Rompaey (K.W.C. Heist Zuiderkempen V.Z.W.)           
DNF David Willemsens (Revor - Jartazi Cycling Team)                  
DNF Kay Van Den Brande (Scott Usa Cycling Team)                      
DNF Erwin Vervecken (Revor-Jartazi Continental Team)                 
DNF Klaas Vantornout (Sunweb-Projob)                              

Under 23 Men

1 Vincent Baestaens (Fidea Cycling Team)                                 46.47
2 Stef Boden (AA Drink Cycling Team)                                      0.03
3 Kenneth Van Compernolle (Sunweb-Projob)                                 0.10
4 Kevin Eeckhout (Sunweb-Projob)                                          0.15
5 Tom Meeusen (Fidea Cycling Team)                                        0.19
6 Jim Aernouts (BKCP - Powerplus)                                         0.23
7 Dave De Cleyn (AVB - Cycling Team)                                      0.40
8 Wim Leemans (BKCP - Powerplus)                                          0.41
9 Jan Denuwelaere (Rendement Hypo Cyclingteam VZW)                        0.42
10 Jan Van Dael (Sunweb-Projob)                                           0.51
11 Quentin Bertholet (Fidea Cycling Team)                                 0.52
12 Gianni Denolf (BKCP - Powerplus)                                       0.54
13 Kevin Cant (AVB - Cycling Team)                                        0.56
14 Joeri Adams (Rabo Continental Team)                                    1.01
15 Thomas Vernaeckt (Sunweb-Projob)                                       1.58
16 Brecht Lippens (C.T. Keukens Buysse Knesselare)                            
17 Kristof Zegers (Cycling Team 99 V.Z.W. Schriek)                        1.59
18 Jan Van Zeebroeck (Wk Noord West Brabant)                              2.10
19 Dany Lacroix (Fredir)                                                  2.16
20 Kristof Cop (AVB - Cycling Team)                                       2.23
21 Jelle Brackman (MTB Dreamteam AArtselAAr)                              2.42
22 Bart Bruyndonckx (Rock Werchter-Chocolade Jacques)                     3.11
23 Sven Beelen (Fredir)                                                   3.19
24 Matthias Onghena (Sdc - Rogelli Cycling Team)                          3.30
25 Jonathan Bervoets (Heylen Meubelcentrale Zlwc St.Tru)                  3.31
26 Gregory Franckaert (Asfra Racing Team)                                 3.51
27 Ruben Veestraeten (AVB - Cycling Team)                                 3.52
28 Michiel Dieleman (Vanomobil MTB Cycling Team)                          4.16
29 Robby Cobbaert (Xcluziv Cycling Team)                                  4.39
30 Simon Geets (AVB - Cycling Team)                                       4.47
31 Thomas Boeckx (Edegem Bicycle Club V.Z.W.)                             4.59
32 Dennis Verhoeven (AVB - Cycling Team)                                  5.16
33 Wim Thijs (Edegem Bicycle Club V.Z.W.)                                 5.22
34 Hans Antonissen (Koninklijke Hoboken W.A.C. V.Z.W.)                    5.29
35 Nick De Proost (Off Road Club Bmx 2000 Dessel VZW)                     5.41
36 Arnaud Van Den Abeele (BKCP - Powerplus)                               5.48
37 Niels Beelen (Scott USA Cycling Team)                                      
38 Bart Hermans (Fredir)                                                  6.07
39 Cristian Izquierdo-Sholtobriukh (Heylen Meubelcentrale Zlwc St.Tru)    6.35
40 Tom Desmet (Asfra Racing Team)                                         6.43
41 Zeb Willems (AVB - Cycling Team)                                       7.20

One lap behind
42 Laurent Moulin (Royal Velo Sport Peruwelz - Bury)                          
43 Jonas De Boey (WSC Hoop Op Zegen - Beveren)                                
44 Jordan Becquet (La Royale Pedale Saint-Martin - Tour)                      
45 Lorenzo Messine (Cyclo Cross Team WAArschoot)                              
46 Thomas Demets (Cycling Team Clg)                                           
47 Michael De Meyer (Asfra Racing Team)                                       
48 Kenneth Speltincx (Kon. W.C. De Rupelspurters Boom)                        

Two laps behind
49 Joachim Janssens (Wk Noord West Brabant)                                   
 
Elite Women
 
1 Joyce Vanderbeken (J&G Cycling Team)                                   37.50
2 Sanne Cant (A.D.S. Selle Italia Guerciotti)                             0.01
3 Veerle Ingels (Avb - Cycling Team)                                      1.53
4 Nancy Bober (Casa Verde Race Factory)                                   2.06
5 Katrien Pauwels (Empella Czech Team)                                    2.13
6 Nicolle De Bie-Leyten (Avb - Cycling Team)                              2.35
7 Gertie Willems (Wielerclub De Sprinters Malderen)                       2.43
8 Loes Sels (Topsport Vlaanderen-Thompson Lad)                            3.00
9 Anne Arnouts (Redsun Cycling Team)                                      3.09
10 Laure Werner (Redsun Cycling Team)                                     3.54
11 Patsy Larno (Sport En Vermaak - Maarke-Kerkem)                         4.01
12 Anja Nobus (Gkv Cycling Team)                                          4.22
13 Katia Verstraete (V.Z.W. Royal Antwerp Bicycle Club)                   4.36
14 Ilse Vandekinderen (Casa Verde Race Factory)                           4.56
15 Dorien Raeymaekers (Emversport International C. T. Vzw)                5.09
16 Katrien Van Looy (Topsport Vlaanderen-Thompson Lad)                    5.22
17 Katrien Thijs (Edegem Bicycle Club V.Z.W.)                             6.46
18 Kristien Nelen (Pervelo Race To Victory Team)                          7.00
19 Katrien Vermeiren (Emversport International C. T. Vzw)                 7.48
20 Jo Blanchaert (Wielerteam Morel - Vandeputte Vzw)                      8.23
21 Kim Van Renterghem (Wsc Hand In Hand Baal)                             9.10

One lap behind
22 Sarah Liekens (Illi-Bikes Cycling Team Vzw Hemikse)                        
23 Sharon Defoor (Asfra Racing Team)                                          

Two laps behind
24 Sandie Verriest (Asfra Racing Team)                                        
DNF Inge Joos (Klaipeda)                                                      
 
Junior women
 
1 Karen Verhestraeten (Edegem Bicycle Club V.Z.W.)                       25.37
2 Kaat Hannes (Benelux Team)                                              0.27
3 Lisa Bogaert (Vzw Dynatek Cycling Team)                                 0.28
4 Larisa Jaspaert (Predictor-Lotto-Vc Ardennes)                           1.28
5 Nathalie Nijns (Benelux Team)                                           2.00
6 Steffy Van Den Haute (Afdeling Oost-Vlaanderen Wbv - Vzw)               2.30
7 Jessy Druyts (Dcm-Gb Vorselaar Cycling Team Vzw)                        2.47
8 Lisa Vermeire (K.V.C. Deinze Vzw)                                       3.55
9 Maaike Lanssens (Wc De Molenspurters Meulebeke)                         4.13
10 Sofie Leemans (Kon. Balen B.C. V.Z.W.)                                 4.32
11 Caitlyn La Haye (Hageland Cycling Team)                                5.56


Day 1 - January 5: Juniors, Novices, Masters B & C
Results
Juniors (67 starters)
 
1 Wietse Bosmans (Kalmthout)           41.17
2 Bart De Vocht                         0.02
3 Matthias Bossuyt                      0.32
4 Hendrik Sweeck                        0.48
5 Laudelino Lammens                     0.54
6 Ruben Scheire                         0.56
7 Angelo De Clercq                          
8 Xandro Meurisse                       1.26
9 Gianni Vermeersch                         
10 Vinnie Braet                             
11 Valentijn Van de Velde               1.38
12 Sem Lambrechts                       1.48
13 Tim Merlier                          1.50
14 Guillaume Van Keirsbulck                 
15 Kenzie Boutté                        2.06
16 Jesper Baelen                        2.19
17 Frederik Geerts                      2.30
18 Niels Koyen                              
19 Robin Poelvoorde                     2.48
20 Rinze De Proost                      2.56
21 Niels Wytinck                        3.09
22 Gerry Druyts                         3.24
23 Michael Peeters                      3.32
24 Dylan Desruelle                      3.44
25 Raf Risbourg                         3.52
26 Sieën Veestraeten                    3.58
27 Joeri Hofman                         4.01
28 Floris De Tier                       4.05
29 Tim Deceuninck                       4.21
30 Ritchie Denolf                       4.31
31 Jelle Cant                           4.33
32 Ingmar Uytdewilligen                 4.34
33 Gert-Jan Opsomer                     5.00
34 Kevin Neirynck                       5.03
35 Karl Peeters                         5.11
36 Kris Vermeir                         5.17
37 Jordy Van Staeyen                    5.31
38 Tijs Van Aert                            
39 Rutger La Haye                       5.47
40 Bert Noterman                        5.51
41 Jeffrey Mellemans                    6.01
42 Olivier Vandevyver                   6.09
43 Yoeri Bertels                        6.13
44 Kenny Bultynck                       6.40
45 Stijn Heyse                          6.42
46 Robin De Cnodder                     7.01
47 Olivier Vernaet                      7.18
 
One lap behind
48 Gert Ceulemans                           
49 Joshua Omez                              
50 Thomas Verbeek                           
51 Nick Van den Eynde                       
52 Matthias Botterman                       
53 Wim Allary                               
54 Jens Saey                                
55 Jens Van den Bosch                       
56 Jens Joosen                              
57 Kenneth Goossens                         
58 Kenny Goossens                           
59 Jeroen Popelier                          
60 Giovanni Jacobs                          
 
Beginners (68 starters)
 
1 Laurens Sweeck (Schriek)             27.54
2 Diether Sweeck                        0.18
3 Jens Vandekinderen                    0.30
4 Maxim Panis                           1.00
5 Yorben Van Tichelt                    1.06
6 Niels Van den Driessche               1.11
7 Robin Van Goethem                     1.14
8 Jeroen Eyskens                        1.26
9 James Ysebaert                        1.48
10 Arno Sinnaeve                        1.59
11 Matthias Van de Velde                2.04
12 Wout Van Aert                        2.05
13 Jorn Claes                           2.08
14 Timo Verschueren                         
15 Jens Couckuyt                        2.10
16 Daan Soete                           2.11
17 Jérôme Kerf                          2.14
18 Yoshi Dedulle                        2.22
19 Michael Vanthourenhout               2.23
20 Daniël Peeters                       2.45
21 Lorenzo Pepermans                    3.04
22 Gregory Vandaele                     3.10
23 Daan Myngheer                            
24 Daan Hoeyberghs                      3.15
25 Toon Wouters                         3.42
26 Matthias Ballet                      3.43
27 Michael Dhondt                       3.47
28 Jens Schuermans                      4.02
29 Sebastien Demeulenaere               4.04
30 Gertjan Bervoets                     4.21
31 Dieter Van de Putte                  4.33
32 Emiel Vermeulen                      4.35
33 Rob Leemans                          4.37
34 Thibaut Vandekerckhove               4.46
35 Bart De Zutter                       4.48
36 Uwe Vandecauter                      4.53
37 Jelto Veroft                         5.07
38 Dimitri Soetaert                     5.16
39 Robin Van den Bruel                  5.20
40 Jordy Vermeire                       5.21
41 Jan-Bart Opsomer                     5.23
42 Gianni Vyncke                            
43 Lorenzo Vanderschueren               5.38
44 Kenny Constant                           
45 Niels Verdijck                       5.47
46 Thomas De Ruyck                      5.53
47 Jochen Vervoort                      6.01
48 Stijn Van Hecke                      6.22
49 Jorne Kockaert                       6.27
50 Jeffrey Jansegers                    6.31
51 Joni Geeraerts                           
52 Gillian Veestraeten                  6.57
53 Niels Van Vooren                     7.04
54 Michiel Van Echelpoel                7.11
55 Pepijn Martens                       7.14
56 Niels Boons                          7.18
57 Bart De Keukelaere                   8.12
58 Baptist Vermeulen                    8.20
59 Glenn Maes                           8.26
60 Charles-Etienne Lambert              8.42
61 Christophe Vanbellingen              8.54
62 Jeffrey Verbeurgt                    9.08
 
One lap behind
63 Wesley Van Dyck                          
64 Dieter Coussens                          
65 Glenn Vissers                            
66 Cicke Aneka                              
67 Neals De Graef                           
68 Yolan Brems                              
 
Masters B (34 starters)
 
1 Jan Van Donink (Herentals)           43.03
2 David Laenen                          0.30
3 Marc Druyts                           1.04
4 Erik Teck                             1.29
5 Danny Verhestraeten                   1.39
6 Patrick Sluyts                        1.53
7 Mark Verloo                           2.05
8 Ludwig Gladines                       2.21
9 Dirk Mertens                          2.38
10 Luc Van den Bergh                    2.56
11 Dirk De Keukelaere                   3.19
12 Johan Vanderaerden                   3.21
13 Marc Coolen                          3.34
14 Ivan Smet                            3.54
15 Eric Gys                             4.13
16 Patrick Goor                         4.28
17 Kris Smets                           4.30
18 Jos Verdeyen                         4.37
19 Peter Ballet                         4.58
20 Ward Huybrechts                      5.13
21 Benny Rogiers                        5.53
22 Michel Bastijns                      5.58
23 René Swinnen                         8.22
 
One lap behind
24 Ronny Goethals                           
25 Eric De Graef                            
26 Mark Meys                                
27 Luc Joos                                 
 
Two laps behind
28 Marnik Renier                            
29 Pascal Dysserinck                        
30 Rik De Groote                            
 
Three laps behind
31 Jean-Marc Lambert                        
 
Masters C (49 starters)
 
1 Walter Marynissen (Halle-Zoersel)    37.01
2 Michel Willems                        0.12
3 Ronald De Scheemaeker                 1.10
4 Rudy Sels                             1.55
5 Ivan Coopman                          2.14
6 Dirk Van Sinay                        2.32
7 Daniel Van Oosterwijck                    
8 Jan Guido Geudens                     2.35
9 Rudy Bloemmen                             
10 Alfons Schutters                         
11 Herman Cop                           3.03
12 Eric Van Steerteghem                 3.12
13 Ludo Van Tichelt                         
14 José De Clercq                           
15 Franky Van Tongelen                  3.18
16 Martin De Cock                       3.26
17 Pierrot Potargent                    3.37
18 André Lauryssen                      3.45
19 Luc Vanwesenbeeck                        
20 Alex Weytens                         4.04
21 Ghislain Vanbruaene                  4.16
22 Lucien Van Wambeke                       
23 Leo De Busser                            
24 Alex Spruyt                          4.27
25 Chris Geerts                         4.51
26 Jozef Sas                            5.17
27 Gilbert Walraedt                     5.36
28 Leopold Vermeiren                    5.41
29 Eddy Cobbaut                         5.45
30 Edward Lievens                       6.03
31 François Geenen                      6.16
32 Roger Van Tichelt                        
33 Luc Vanrokeghem                      6.55
34 Robert De Vos                        7.02
35 Guy Ceuppens                         7.17
36 Wilfried Geysels                     7.41
37 Philippe Deheegher                   8.02
38 William Govaert                      8.20
39 Willy Minnen                         8.42
40 Etienne Van de Velde                 8.49
 
One lap behind
41 Johan Govaerts                           
42 Ignace Clarysse                          
43 Jackie De Meester                        
 
Two laps behind
44 Adrien De Cnuydt                         
45 Albert Bertels                           
46 Roland Hurtecant                         

Past winners
Men

2008 Sven Nys (Rabobank)
2007 Bart Wellens (Fidea)
2006 Sven Nys (Rabobankk)
2005 Sven Nys (Rabobank)
2004 Bart Wellens (Spaar Select)
2003 Sven Nys (Rabobank)
2002 Mario De Clercq (Domo-Farm Frites)
2001 Mario De Clercq (Domo-Farm Frites)
2000 Sven Nys (Rabobank)

Espoirs/U23

2008 Tom Meeusen (Fidea Cycling Team)
2007 Niels Albert (Palmans-Sapim-Collstrop)
2006 Niels Albert (Palmans-Sapim-Collstrop)
2005 Jan Soetens
2004 Wesley Van der Linden
2003 Wesley Van der Linden (Brakel)
2002 Wim Jacobs
2001 Sven Vanthourenhout

Women

2008 Loes Sels (Gierle) 
2007 Loes Sels
2006 Hilde Quintens
2005 Veerle Ingels (Vlaanderen - Capri Sonne - T Interim)
2004 Anja Nobus
2003 Hilde Quintens (Lummen)
2002 Anja Nobus
2001 Kathleen Vermeiren

Juniors

2008 Stef Boden
2007 Jim Aernouts
2006 Dennis Vanendert
2005 Pieter Vanspeybroeck (Ruiselede)
2004 Niels Albert
2003 Dieter Vanthourenhout (Wingene)
2002 Kevin Pauwels
2001 Geert Wellens

Novices

2008 Bart De Vocht
2007 Sean De Bie
2005 Joeri Adams (Minderhout)
2004 Tom Meeusen
2003 Pieter Vanspeybrouck (Ruiselede)
2002 Niels Albert

Past winners by Mario Stiehl, www.world-of-cycling.com