Jim Horner Cyclocross Grand Prix - C2
Edmonton, Canada, October 12, 2008
Kabush and Simms new Canadian champions
David Larson and Mike Bidniak (Team Alberta/Juventus) thrill the hometown crowd
Photo ©: Alberta Bicycle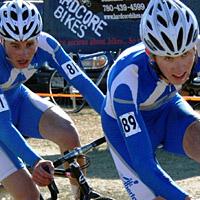 In powerful performances Olympic mountain biker Geoff Kabush (Maxxis) and Wendy Simms (Kona) took the Elite Men's and Women's titles after each broke clear of the field in their respective races on both days. Alberta's Pepper Harlton (Juventus/Alberta) kept it close, pushing Simms all the way to the line to take home silver. But Simms led every lap, scoring back-to-back victories.
In the men's race Edmonton's Tim Heemskerk (United Cycle) showed he was up to the challenge staying with newly crowned National Champion Geoff Kabush for most of the race before Kabush pulled away in the last part and Heemskerk took a well-earned second place.
David Larson (Team Alberta/Juventus) gave the hometown crowd a special treat by winning the Under-23 men's title. In a display of teamwork, Mike Bidniak and Larson rode away from the field by the halfway mark, dropping Andrew Thomas (Team Saskatchewan), Kyle Fry (Cycle Solutions) and Cody Canning (ERTC/Revolution).
The first day (National Championships) day began overcast and very cold, below zero and with heavy frost on the ground for the morning Masters categories. The weather didn't hinder a great turnout on day one of the event. Sian Barraclough (Velocity) and Nancy Burden (Juventus) getting things started off going 1 -2 in the women's masters event. Peter Mogg (The Hub/Devinci Cyclocross Team) and Ed Campbell (D'Ornellas) would take the Master A and C categories in dominating fashion. Hometown rider Ed Sean Barr (Pedalhead Roadworks) took home the Gold in the Master B category – his first in Masters B but 4th as a Masters rider.
In the Junior men's race a group of five riders pulled away early from the rest of the pack with Evan Guthrie (BC) taking long pulls at the front and leading on the run ups before eventually taking the win but it was Kris Dahl (Team Alberta/CMC/Bow Cycle), a first year Junior, who turned heads on the day by taking home the sliver in this hotly contested event.
The second day brought along the Jim Horner GP and despite cold conditions racers were again treated to a great course, competitive fields and lots of fun.
Photography
For a thumbnail gallery of these images, click here
Images by Alberta Bicycle
Results
1 Geoff Kabush (Can) TEAM MAXXIS                          1.02.17
2 Tim Heemskerk (Ned) United Cycle Racing                    0.19
3 Derrick St. John (Can) Stevens Cross                       0.28
4 Eric Batty (Can) Trek Bicycle Store Toronto                0.51
5 Mark Batty (Can) Team Race Pro                             1.17
6 Kevin Noiles (Can) Trek/Red Truck p/b Mosiac Homes         1.48
7 Aaron Schooler (Can) Team H&R Block                        2.02
8 Mike Garrigan (Can) Jet Power/Epicride                     2.10
9 Shawn Bunnin (Can) Team Alberta/bicisport                  2.21
10 Tyler Trace (Can) Trek/Red Truck p/b Mosiac Homes         2.25
11 Mathew Hewitt (Can) Independent                           2.31
12 Kevin Calhoun (Can) Rocky Mountain - Different Bikes      2.34
13 Craig Richey (Can) Team Aviawest - Van Dessel             2.38
14 Kris Sneddon (Can) Kona                                   2.49
15 Nathan Chown (Can) Handlebars CC                          3.38
16 Chris McNeil (Can) Team H&R Block                         3.39
17 Ryan Hopping (Can) United Cycle                           3.57
18 David Larson (Can) Team Alberta/Juventus                  4.01
19 Andre Sutton (Can) Hardcore Cycling Club                  4.13
20 Erik Box (Can) The Hub/Davinci Cyclocross Team            4.40
21 Nick Berry (Can) Mighty Riders                            4.41
22 Mike Bidniak (Can) Team Alberta/Juventus                  5.13
23 Brian Robinson (Can) Bow Cycle / CMC                      5.23
24 David Coughlin (Can) Dukes Cycle/Lapdogs                  5.40
25 Robin Baillie (Can) Team H&R Block                        5.46
26 Kyle Fry (Can) Cycle Solutions                            5.59
27 Matthew Krahn (Can) United Cycle Racing                   6.07
28 Jonathan Benskin (Can) Hardcore Cycling Club              6.17
29 Steve Proulx (Can) EMD Serono/Stevens                     6.35
30 Peter Knight (Can) United Cycle Racing                    6.36
31 Matthew OHagan (Can) Campione/Radcliffe                   7.52
32 Shaun Adamson (Can) Juventus                              9.03

One lap behind
33 Graham Shrive (Can) Pedalhead Road Works                      
34 Stephen Cooley (Can) Team Saskatchewan                        
41 Graeme Thomson (Can) bicisport                                
35 Matthew Weston (GBr) Rivette - DMK                            
37 Joe Wessel (Can) Cycling BC/COBRA                             
38 Alex McCormick (Can) Juventus                                 
39 Nathan Sedgewick (Can) BCW                                    
40 Connor Witzke (Can) Juventus                                  
DNF  Drew Mackenzie (Can) Island Racing Club                     
DNF  Thomas Skinner (Can) Rocky Mountain-K Capital Source        
DNF  Cody Canning (Can) ERTC/Revolution Cycle                    
DNS  Stephen Ferris (Can) ERTC/Revolution Cycle                  
DNS  Dave Brooks (Can) Trek/Red Truck p/b Mosiac Homes           
DNS  Dominik Kubicki (Can) ERTC/Revolution Cycle                 
DNS  Christian Jensen (Can) Cycledelia                           
DNS  David Todd (Can) Juventus  

Elite Women - 18.6 km (6 laps)

1 Wendy Simms (Can) KONA                                    52.27
2 Pepper Harlton (Can) Team Alberta/Juventus                 0.30
3 Dawn Berg (Can) Oak Bay Bikes/Ever Ti                      0.50
4 Natasha Elliott (Can) EMD Serono/Stevens                   1.26
5 Mical Dyck (Can) Team Alberta/Terrascape                   2.54
6 Loni Klettl (Can) Freeskool                                3.10
7 Kelly Jones (Can) Sugoi                                    3.40
8 Melanie Vaughan (Can) Steed Cycles                         4.32
9 Joele Guynup (Usa) Island Racing Club                      4.59
10 Jaymie McGowan (Can) Oak Bay Bikes                            
11 Bridget Linder (Can) Hardcore Cycling Club                5.33
12 Krystyn Ong (Can) Team Alberta/Juventus                       
13 Vicki Thomas (Can) Ottawa Cross                               
14 Christy Love (Can) West Coast Racing/Mighty Riders        7.18
15 Shantel Koenig (Can) Independent                          7.48
16 Susan Clarke (Can) Team Sask/BCW Cycling                  8.24
17 Andrea Bunnin (Can) Team Sask/Doug's Spoke'n Sport       10.23

One lap behind
18 Karen Fedoruk (Can) Hardcore Cycling Club                     
19 Tanya Hopping (Can) Veloplezn                                 
20 Caeli Barron (Can) Team Alberta/Synergy                       
21 Samantha Grover (Can) Team Alberta/Juventus                   
22 Kendra Middleton (Can) Juventus                               
DNS  Sarah Stewart (Can) Total Restoration Cycling Team

Junior Men - 18.6 km (6 laps)

1 Evan Guthrie (Can) Cycling BC                             49.07
2 Kevin Thorpe (Can) Trek/Red Truck p/b Mosiac Homes         0.56
3 Sebastian Sleep (Can) Cycling BC                           1.06
4 Kris Dahl (Can) Team Alberta/CMC/Bow Cycle                 1.14
5 Mackenzie Carson (Can) Team Alberta/Juventus               3.24
6 Nick Holatko (Can) Team BC                                 4.23
7 Stuart Wight (Can) Mike's Bike Shop                        5.10
8 Kiernan Orange (Can) Ride with Rendall                     5.14
9 Colter Young (Can) Blizzard                                6.06
10 Paul Sales (Can) Independent                              6.46
DNF  Mac Garvin (Can) Team Alberta/CMC/Bow Cycle  
              
Master Women 30+ - 12.4 km (4 laps)

1 Sian Barraclough (Can) Velocity                           41.52
2 Lesley Trivett (Can) Wedgewood Cycling                     0.33
3 Joanne Breau (Can) Martin Swiss                            2.17
4 Sandra Yaworski (Can) Speed Theory                         3.28
5 Dana Muma (Can) Cycledelia/BCW                             7.03
6 Yvonne Harnoth (Can) Juventus                              9.03
DNS Martha Handford (Can) Different Bikes 

Master 30-39 Men - 18.6 km (6 laps)

1 Peter Mogg (Can) The Hub/Devinci Cyclocross Team          50.02
2 Dallas Morris (Can) Team H&R Block                         0.49
3 Graeme Martindale (Can) Trek/Red Truck p/b Mosiac Homes    1.31
4 David Roberts (Can) Hardcore Bicycle Club                  1.44
5 David Munden (Can) EMD Serono/Stevens                      2.50
6 Paul Martin (Can) CMC/Bow Cycle                            3.08
7 Scott Book (Can) ERTC/Revolution Cycle                     3.26
8 Todd Barraclough (Can) Velocity                            4.05
9 Neil Clarke (Can) BCW Cycling                              4.27
10 Mike Blennerhassett (Can) Hardcore Cycling Club           4.36
11 Dave Nowak (Can) Comox Valley Cycling Club                4.38
12 Brad Collins (Can) Independent                            5.11
13 John Clark (Can) Hardcore Cycling Club                    5.20
14 Blaine Richter (Can) ERTC/Revolution Cycle                5.26
15 Andrew Brown (Can) Comox Valley Cycling Club              5.47
16 Jason Frank (Usa) Central Alberta Bicycling Club          6.08
17 Patrick Beckstead (Can) Ambleside Cycle/Mighty Riders     6.12
18 Brent Hambleton (Can) Sugoi                               6.33
19 Reid Cummings (Can) CMC/Bow Cycle                         6.45
20 Derek Chipping (Can) Independent                          7.13
21 Tim Bulger (Can) ERTC/Revolution Cycle                    8.11
22 Miles Marshall (Can) ERTC/Revolution Cycle                8.16
23 Kim Liss (Can) Independent                                8.59
24 Peter Steckhan (Can) Cycledelia                          10.05

One lap behind
25 Greg Yanicki (Can) bicisport                                  

Two laps behind
26 Matt Barber (Can) Mighty Riders                               
DNF  Antonio Bilotta (Can) Pedalhead Road Works                  
DNF  Mike Sarnecki (Can) Team ING                                
DNF  Tim Riess (Can) Pedalhead Racing                            

Master 40-49 Men - 15.5 km (5 laps) 

1 Sean Barr (Can) Pedalhead Road Works                      41.51
2 Normon Thibault (Can) Frontrunners                         0.43
3 Marc Boudreau (Can) Ride with Rendall                      0.46
4 Bruce Copeland (Can) Juventus/River Valley Cycle           1.19
5 Mark Rumsey (Can) Hardcore Racing                          1.34
6 Robert Orange (Can) Ride with Rendall                      1.50
7 Kevin Simms (Can) Frontrunners                             2.31
8 Christian Jensen (Can) Cycledelia                          2.44
9 Jay Murray (Can) Trek/Red Truck p/b Mosiac Homes           3.19
10 Shane Rush (Can) Velocity                                 4.32
11 Craig Fraser (Can) Calgary Cycle                          4.40
12 Tracy Shearer (Can) Juventus                              4.54
13 Ed Garvin (Can) CMC/Bowcycle                              5.16
14 Pat Doyle (Can) Deadgoat Racing                           5.41
15 Michael Johns (Can) Central Alberta Bicycle Club          6.05
16 Jay Loder (Can) Mighty Cycling                            7.03
17 Murray Aubin (Can) ERTC/Revolution Cycle                  7.34
18 Chris Redden (Can) SPEED RIVER .COM                       9.44

One lap behind
19 Michael Power (Can) BCW                                       
20 Scott Carter (Can) Independent                                
DNF  Keith Bayly (Can) Veloplzen                                 
DNS  Dan Hunka (Can) Edmonton Juventus Cycling Club              
DNS  Albie Malan (Can) BCW                                       
DNS  Matt Wheatley (Can) Juventus/River Valley Cycle             
DNS  Andy Holmwood (Can) Team H&R Block                          
DNS  David Verveda (Can) Highwood                                
DNS  Andy Achuff (Can) Pedalhead Racing 

Master 50+ Men - 12.4 km (4 laps) 

1 Ed Campbell (Can) D'ornellas                              35.45
2 Roger Clemens (Can) United Cycle                           1.10
3 Peter Wellsman (Can) Rider's Club                          1.27
4 Lance Adamson (Can) Juventus                               1.50
5 Ken Germaine (Can) 109 St. Cycle Logic                     3.09
6 Cornelius Kluge (Can) Cycledelia/Bike Doctor               3.51
7 Kevin Sutton (Can) Cycledelia/Bike Doctor                  5.27
8 Patrick Ferris (Can) Blizzard Bike Club                    7.56
9 Stewart Hutchings (Can) United Cycle                      11.58
DNF  Claude Breau (Can) Martin Swiss                             
DNS  Karl Schneider (Can) Edmonton Masters Cycling Club          
DNS  Karl Wilberg (Can) Juventus                                 
DNS  Michael Zelensky (Can) Terrascape Racing                    

Sport - 12.4 km (4 laps) 

1 Samuel Beaudoin (Can) Juventus                                 
2 Hannah Cooley (Can) Horizon 100                                
DNF Samantha Lam (Can) Velocity Cycling Club                     

Past Winners
2007 Tim Heemskerk (Ned) United Cycle           Wendy Simms (Can) Kona-YourKey Mortgage