US Gran Prix of Cyclocross - Derby City Cup - C2
Louisville, USA, October 25-26, 2008
Main Page Results Overall standings Previous Race
Race 4 - October 26: US GP of Cyclocross #2 - Elite Men
Johnson rebounds in Louisville
By Mark Zalewski, North American Editor in Louisville, Kentucky
Tim Johnson (Cyclocrossworld / Cannondale)
Photo ©: Dave McElwaine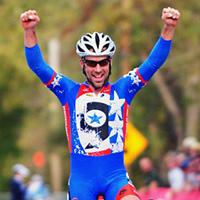 Tim Johnson (Cyclocrossworld-Cannondale) did not have a good day in the opening round of the US Grand Prix series in Louisville — and he knew it. The United States of America Champion finished sixth, the lowest ever for him in a USGP, and it got to him. Fortunately, his teammates and support crew did not let that fester, convincing him to let it go and get it back the next day.
That sixth place motivated Johnson — so much so that he attacked rather early in Sunday's race and held that lead for more than four laps to claim an impressive solo victory, followed by a strong second from Jesse Anthony (Jamis) who took over the series lead from Ryan Trebon (Kona).
"I don't have many bad days, and not one in a long time," Johnson said. "It was hard to take it yesterday. I had a real hard time with it last night, trying to figure out what I was going to do with myself. Luckily I am surrounded by good people — Jeremy, Jaime, Stu and the whole crew. And they made me realize it doesn't matter, one day to the next. I can make up for it and can't go crying that I got sixth place."
Early in the race Johnson found himself on the front with good legs, so he decided to test the water. "I was trying to figure out where everyone else was," he said. "I saw I had Jeremy and Jaime in the group and it wasn't as tight as it was yesterday. I was feeling good and I figured if I could get a little gap and anyone strong enough to bridge up to me at least it would be a smaller battle. But they let me go — give me a few seconds and I will hold them."
Hold them he did. Only Jesse Anthony was able to bridge up to Johnson, and the two rode together for a while — though Anthony was feeling the effects of being off the bike injured for the past couple of months.
Ryan Trebon (Kona) leading a second
Photo ©: Dave McElwaine

"I think part of the comeback process is that the second day is not as easy as the first," said Anthony. "The recovery and that depth of day-in, day-out is still lacking; I haven't been doing three-four days of real hard riding in a row. I just wanted to ride conservative, like yesterday, and not go out too hard and do any attacking. If Ryan or Tim went off I would try to follow, and Tim went, so I went right after him. He's a good guy to get away with because he will ride smooth the whole way.
"But I wasn't as snappy today and a little over the limit for a full hour," he added. "I could have done it for a half-hour so I actually backed off a little. I was hoping Todd [Wells] would come up to me but the other guys chased us down. Todd led our group around the entire race, so I started racing for the [series] jersey half-way through, watching Jeremy and Todd."
With Anthony back in the chase group it was up to Johnson to maintain his lead, though he had some key help from teammate Jeremy Powers behind, who was initially worried that Johnson was still off form, though he himself is battling a nasty cold.
"I was making sure Tim was able to stay off the front and also making sure he and Jesse weren't just showing some flash and then die out there early," said Powers. "I didn't think so but Tim didn't have a great day yesterday and I wanted to make sure those guys were set-up. I went to the front and did my part, and anything that went I covered. It was not an easy day — I was covering Shriver, Todd and Barry. Being under the weather here has not helped either. I would have loved to shoot off and ride with Tim."
Jessie Anthony (Jamis) re-mounting
Photo ©: Dave McElwaine

With one lap to go Johnson held more than 20 seconds on the chase, and the battle was for second. Anthony looked to be riding smart, staying out of the wind, and he made his move in one of the many technical sections on the final lap.
"I tried to lead out of the sand pit, because that was the last technical area of the course," he said. "But there was a big straight after and I wasn't able to get away. Jeremy passed me and I followed him all the way to the green monster."
The green monster is a nine step staircase, with a small flat at the top to remount before flying down a steep ramp. And with its placement about 500 metres from the finish it served as the decider for second place.
"I hit that thing so fast, I was just hoping my feet would keep up with me," said Anthony. "It was either I am going to eat a bunch of green monster or get a jump on them. I went over the top and down with no feet on the pedals and clipped in on the bottom."
Jeremy Powers (Cyclocrossworld / Cannondale)
Photo ©: Dave McElwaine

Unfortunately for Powers, the green monster got him, though he is still happy with his ride — and his teammate's win. "I just came off the green monster and hit my crank crooked on the bottom," he said. "But I was there the whole time, even sick!"
Anthony's two second places gives him the USGP lead heading to the second stop in New Jersey.
Like Johnson felt yesterday, Ryan Trebon (Kona), did not have a good day at all. Trebon crashed in traffic on the second lap, putting him in a hole early. A bike change combined with a banged-up knee put him out of contention early, and he decided to pack it in and live to fight next week in Boulder.
"I crashed because I had a little too low tire pressure," said Trebon. "The course was way different than yesterday, which I liked a lot more. But I just didn't have a great day. I was sitting in the back waiting for some guys to burn themselves out, but guys would open gaps and it's really narrow course. I went too fast in a couple of turns, overcooked it and crashed. I banged my knee up a little bit too."
Photography
For a thumbnail gallery of these images, click here
Images by Dave McElwaine/www.trailwatch.net
Images by Mitch Clinton/www.clintonphoto.com
Images by Jon Safka/www.cyclingphotos.com
Results
Professional men
 
1 Timothy Johnson (Cyclocross World.com/Cannondale)                   
2 Jesse Anthony (Team Jamis Bikes)                                    
3 Jeremy Powers (Cyclocross World.com/Cannondale)                     
4 Todd Wells (Team GT)                                                
5 Matt Shriver (Jittery Joe's Pro Cycling Team)                       
6 James Driscoll (Cyclocross World.com/Cannondale)                    
7 Barry Wicks (Kona)                                                  
8 Andy Jacques-Maynes (California Giant Berry Farms/Specialized)      
9 Troy Wells (Team Clif Bar)                                          
10 Mark Lalonde (PLANET BIKE)                                         
11 Brian Matter (Team Geargrinder)                                    
12 Christopher Jones (Sonic/Louis Garneau)                            
13 Joseph Thompson (Rocky Mountain Chocolate Factory Cycling)         
14 Ben Raby (KCCX-Verde Verge)                                        
15 Justin Lindine (TARGETRAINING/ FASTAR)                             
16 Derrick St. John (Stevens Cross)                                   
17 Nathanael Wyatt (Santa Cruz Bicycles/Carolina Fatz)                
18 Isaac Neff (Alderfer Bergen)                                       
19 Mark Batty (Team Race Pro)                                         
20 Nathan Rice (Michelob Ultra-Big Shark)                             
21 Ryan Knapp (Alderfer Bergen)                                       
22 Ben Popper (HRS / Rock Lobster)                                    
23 Mike Purvis (Barbasol)                                             
24 Grant Berry (Team Rocky Mtn Choc Factory)                          
25 Michael Kennedy (Barbasol/Rapid Transit)                           
26 Richard Visinski (Exodus Road Racing)                              
27 Stephen Cummings (Indiana Regional Medical Center)                 
28 Mitchell Kersting (Barbasol)                                       
29 John Grant (Texas Roadhouse Cycling Team)                          
30 Andrew Reardon (Krystal)                                           
31 William Elliston (Fuji)                                            
32 Greg Lewis (Directory Plus/ Trek)                                  
33 Nicholas Shaffer (Human Zoom/ Pabst Blue Ribbon)                   
34 William Street (Team Geargrinder)                                  
35 Brendan Shafer                                                     
36 Aaron Hawkins (Chrysalis Ventures Cycling)                         
37 Mitchell Graham (Bio Wheels Racing)                                
38 Richard Toler (Team Kreitler Rollers)                              
 
Under 23
 
1 William Dugan (CCB/Volkswagen)                                      
2 Braden Kappius (Clif Bar Development Cross Team)                    
3 Mitchell Peterson (Devo)                                            
4 Kip Spaude (nova/IScorp)                                            
5 Adam Mcgrath (Van Dessel)                                           
6 Nicholas Keough (Sakonnet Technology)                               
7 Dave Hackworthy (Bianchi/Grand Performance)                         
 
Cat 2/3 men
 
1 Donald Galligher (DRT Racing)                                       
2 Andrew Messer (DRT Racing)                                          
3 Keith Lucas (Ohio Valley Velo-ETD-Be Real Racing)                   
4 Ryan Myers (NUVO Cultural Trail)                                    
5 Jacob Virostko (BioWheels)                                          
6 Josh Gerlach (Humana/CyclersCafe)                                   
7 Micheal Jernigan (ProGraphics Cycling)                              
8 Chad Salla (Alderfer Bergen)                                        
9 Eric Wondergem (Hup United)                                         
10 Robert Bush (Texas Roadhouse Cycling Team)                         
11 Cory Rimmer (KHS/KENDA)                                            
12 Christopher Nevitt (Team Louisville)                               
13 Zachary Edwards (DRT Racing)                                       
14 Frederick Drier (Velonews)                                         
15 Hank Campbell                                                      
16 Michael Dulin (Clarksville A Team)                                 
17 Ben Richardson                                                     
18 Kyle Wingler (alan north america)                                  
19 Bruce Pisarek (COBC-National Engineering)                          
20 Adam Jackson (Team Louisville)                                     
21 Todd Braswell (Sledgehammer Charlie's Racing)                      
22 Garrick Valverde (Mesa Cycles Racing Team)                         
23 Christopher Chartier (Alderfer Bergen)                             
24 Nick Tinsler (Darkhorse Racing)                                    
25 Teodoro Ramos (Get a Grip Off Road / Aquaphor)                     
26 Steven Gers (BioWheels/Reece-Campbell Racing)                      
27 Noah Metzler (RGF Solutions)                                       
28 Nathaniel Cornelius                                                
29 David Hutton (Hincapie Development team)                           
30 Josh Biven (Louisville Firefighters)                               
31 Dustin Greer (Maxxis/First Endurance)                              
32 Michael Seek (Tri Cities Road Club)                                
33 Donald Parr (Team Louisville)                                      
34 Mason Morgan (Team Awesome/Jeni's Ice Cream)                       
35 John Breslin (Schellers Racing)                                    
36 Adam Rodkey                                                        
37 Joshua Prater (MOB Squad - U Build IT)                             
38 Peter Thompson                                                     
39 Matthew Johnson (Alderfer Bergen)                                  
40 John Maggard (PBR - Poor Boy Racing)                               
41 Layne Peters                                                       
42 Andrew Millard (ZWS/CycleSport)                                    
43 Clayton Feldman (Kona Grassroots)                                  
44 Joseph Hall (COBC)                                                 
45 Mark Farmer (Ohio Orthopedic-Moro Cycling)                         
46 Rj Harris (Humana/ Cycler's Cafe)                                  
47 Duane Walker (Team Louisville)                                     
48 Dave Aukerman (Some Guys Cycling)                                  
49 David Groen (National Engineering)                                 
50 Edward Krall (Indiana Regional Medical Center)                     
51 Royden Kern (Commonwealth Eye Surgery)                             
52 Ben Reed (Alderfer Bergen)                                         
53 Sean Orr (Bike Clicks / Team Louisville)                           
54 Mark Caffyn (Flying Rhino Cycling Club)                            
55 Russell Melton                                                     
56 Vincent Galatro (Keltic Construction)                              
57 Scott Chapin (Hup United)                                          
58 Martin Bearden (BikeClicks/Team Louisville)                        
59 Mark Trousdale (Speedway Wheelmen)                                 
60 Steven Webster (Team Louisville)                                   
61 John Gore (Team Gran Fondo-Bianchi)                                
62 Katsuhiro Tanda (Team Athens)                                      
63 Ryan Williams (Spin)                                               
64 Tony Wagner (Team Geargrinder)                                     
65 Matthew Light (Alderfer Bergen)                                    
66 Kerry Nordstrom (Team Hungry)                                      
67 Andys Burns (NATIONAL ENGINEERING)                                 
DNF  Nick Barbieri                                                    
 
Cat 4 men
 
1 Andrew Dillman (Red Zone Racing)                                    
2 Kyle Thomas (DRT Racing)                                            
3 Brian Lark (Red Zone Racing)                                        
4 Nathan Roberson (Schellers Cycle)                                   
5 Michael Riley (Ohio Orthopedic)                                     
6 Cory St Clair (Team Turner)                                         
7 Matt Sniegowski (Taser International)                               
8 Brent Mahan (Team Biker's Choice)                                   
9 Gary Burkholder (SnakeBite Racing)                                  
10 Rick Adams (SnakeBite Racing)                                      
11 Micah Fritzinger                                                   
12 Gary Stewart                                                       
13 Mike Mefford (The Bike Shop/Tri-Cities Road Club)                  
14 Todd Nix (River City Cannondale)                                   
15 Luke Stifler                                                       
16 Jurrien Davison (Hup United)                                       
17 Ryan Storm (Lindsey Wilson College)                                
18 Crivello Jason (Barbasol)                                          
19 Ren-Jay Shei (The Black Key Bulls)                                 
20 Luke Mclaughlin (goose creek cycles)                               
21 Rick Smith (Bicycle Sport Inc.)                                    
22 Steven Bivens (RiverCity Cannondale)                               
23 Cody Joel (Calistoga Racing Team)                                  
24 Andrew Sniegowski (Taser International)                            
25 Kyle Davidson (Revolution Bike and Bean)                           
26 Kyle Williams (Iowa City Cycling Club)                             
27 Nathan Newton (Team Biker's Choice)                                
28 Craig Merritts (UPMC Cycling Performance)                          
29 Christoph Uhlenbruch (Commonwealth Eye Surgery)                    
30 Elijah Williams (CKW Racing)                                       
31 Keith Morlen (SONOVELO/BOLLA)                                      
32 Mike Frankeberger (Clarksville Schwinn)                            
33 Scot Herrmann (team Dayton)                                        
34 Chris Zangmeister (All American Bicycle Center)                    
35 Geoff Thielmeyer (Seven Hills Racing)                              
36 Don Hasner (BOLLA Cycling Team)                                    
37 Peter Hills (Team Dayton Bicycling)                                
38 David Johnson (Maumee Valley Wheelmen)                             
39 Chad Needham (Sunrise Bakery)                                      
40 Logan Mcculloch (Team Louisville)                                  
41 William Meek (BikeClicks/Team Louisville)                          
42 Rick Plite (Founders Ale/ Alger Racing)                            
43 Pope Mobley (BickClicks/Team Louisivlle)                           
44 Dan Ramsey (7 Hills/Mercy Healthplex)                              
45 John Eric Haas (bikeclicks/teamlouisville)                         
46 Derrick Young                                                      
47 Scott Belcher (Mercy Health Plex)                                  
48 Thomas Mulpagano                                                   
49 Daniel Reid                                                        
50 Phillip Boydelatour                                                
51 Aaron Benson (Goose Creek Cycles)                                  
52 Chris Halioris (Team Louisville)                                   
53 Brad Titzer (Revolution Bike and Bean)                             
54 Benjamin King                                                      
55 Timothy Omer (Bike Clicks/Team Louisville)                         
56 Scott Wesseler (JENIS ICE CREAM)                                   
57 Doug Roemer (Bike Clicks/Team Louisville)                          
58 Jason Eshleman (Kona Grassroots)                                   
59 John Wischmeier (Century21 Breeden Realtors)                       
60 Brian Segal (Team Louisville)                                      
61 Barry Luckett (Team Louisville)                                    
62 Rodney Roof (Cincinnati Flyers)                                    
63 Brian Schultz (Organic Athlete)                                    
64 Andy Berry                                                         
65 Spencer Walsh (Team Louisville)                                    
66 Larry Bishop (Tricities Road Club)                                 
67 Justin Forbes (Team Koehlinger / Kelley)                           
68 John Molnar (louisville dirt club)                                 
69 Chris Barger                                                       
70 Chris Davison (Hup United)                                         
71 James Young (Planet Bike)                                          
72 David Owen (Twin Spires)                                           
73 Timothy Strege (Half Acre Cycling)                                 
74 Richard Mccreary (Team Dayton Bicycling)                           
75 Randy Morris (One Call Now)                                        
76 Brien Fields (Revolution Bike and Bean)                            
77 John Patrick Rademacher (Queen City Wheels)                        
78 Mark Mckenney (Mercy Healthplex/7 Hills Racing)                    
 
Master 35-39 men
 
1 Will Black (Moots)                                                  
2 Steve Mcnamee (Ridley Factory Team)                                 
3 Michael Wissink (SPECIALIZED)                                       
4 Lance Fagerberg (Calistoga Racing Team)                             
5 Roger Aspholm (Westwood Velo)                                       
6 Richard Feldman (Durance Cycleworks - Lehman Brothers)              
7 Brian Conant (The Pony Shop)                                        
8 Jeff Weinert (Giant)                                                
9 Michael Mcshane (Calistoga Racing Team)                             
10 Phillip Noble (Bio Wheels Racing)                                  
11 Gerald Pflug (Speedgoat/SPK/Salsa)                                 
12 Ralf Warmuth (Westwood Velo)                                       
13 Normon Thibault (Frontrunners)                                     
14 Jon Gallagher                                                      
15 Robert Foshag (Saturn of Toledo/Shell Cycling Team)                
16 Blaine Heppner (Team Louisville)                                   
17 Frederick Rose (BikeReg.com)                                       
18 Andrew Gorski (SPK / Speedgoat / Salsa)                            
19 Ned Dowling (BioWheels/Deltec)                                     
20 Brian Baker (Calistoga Racing Team)                                
21 Philip Webb (Barbisol)                                             
22 Keith Mcmahon (XXX Racing)                                         
23 Timothy Beirne (Calistoga Racing Team)                             
24 Albert Senft (Colavita Racing)                                     
25 Brian Andriot                                                      
26 Brent Evans (Saturn of Toledo/Shell Cycling Team)                  
27 Lorne Anderson                                                     
28 Joseph Ruggery (Freddie Fu Cycling Team)                           
29 Robert Kendall (Barbasol)                                          
30 Steven Roszko (BikeReg.com)                                        
31 John Koury (2 John's Podcast)                                      
32 Charles Garner (Team Louisville)                                   
33 Bill Crank (Pedal the Planet/CES)                                  
34 Todd Turner (BioWheels/Reece-Campbell Racing)                      
35 Dan Werle (Yazoo Brew)                                             
36 Joseph Bellante (Bio Wheels Racing)                                
37 Mathew Baroli (Team Giant-Michigan)                                
38 Everett Baker (Tri Cities Road Club)                               
39 Steel Bokhof (Turin)                                               
40 Christopher Dimmick (Turin Bicycle/Barker+Nestor)                  
41 Michael Seiler (Team Louisville)                                   
42 James Turner (Team IPro)                                           
DNF  Douglas Reid (Veloce Cycles)                                     
 
Master 45-49 men
 
1 Marc Dettman (Bissell Cycling Club)                                 
2 Robert Bobrow (Calistoga Racing Team)                               
3 Jeffrey Craft (Team Lake Effect)                                    
4 Mark Wolowiec (Flying Rhino Cycling Club)                           
5 John Mandrola (Calistoga Racing Team)                               
6 Joe Collins (Team Louisville)                                       
7 Rick Lyons (team bike clicks-team louisville)                       
8 Brad Wunderlich (BikeClicks / Team Louisville)                      
9 John May (Barbasol)                                                 
10 Joseph Brown (Flying Rhino Cycling Club)                           
11 Daniel (Dan) Lach (Cycle Sport)                                    
12 Kenny Sipes (CKW Racing/ Outdoor Venture)                          
13 David Lowe (Human Zoom/Pabst Blue Ribbon)                          
14 Michael Otting (Mercy Health Plex)                                 
15 Scott Young (Tri Tech)                                             
16 Martin Soetaert (Team at&t-Brain and Spine cycling)                
17 Rick Meloff (La Bicicletta)                                        
18 Scott Kuiper                                                       
19 Curtis Tolson (Texas Roadhouse Cycling Team)                       
20 Don Hasner (BOLLA Cycling)                                         
21 Scott Bond (Speedway Wheelmen)                                     
22 Mitchell Beckner (One Call Now)                                    
23 Joe Sohm (Humana)                                                  
24 Jeff Steinrock (LBC)                                               
25 Jonathan Spicker                                                   
26 Jay Mongillo (Keltic Construction / Zanes Cycles)                  
27 Dwayne Letterman (Tri Cities Road Club)                            
28 Dan Ramsey (7 Hills/Mercy Healthplex)                              
29 Matthew Koehn (Speedway Wheelmen)                                  
30 Doug Hamilton (BioWheels Racing)                                   
31 Douglas Dobrozsi (Queen City Wheels)                               
32 Harry Wicks (Bio Wheels Racing)                                    
33 Dell Williamson (QCW)                                              
34 John Mcbride (Bluegrass Cycling Club)                              
 
Master 55-59
 
1 Charles South                                                       
2 Bill Kennedy (Clarksville A-Team)                                   
3 David Moore (Pedal Power Cycling)                                   
 
Junior men
 
1 John Carroll                                                        
2 Will Bain (BikeClicks/Team Louisville)                              
3 Zane Wischmeier                                                     
4 Nick Dietrich (Red Zone Juniors Cycling)                            
5 Eden Webb (Red Zone Juniors Cycling)                                
6 John May (Red Zone Juniors Cycling)                                 
7 Ryan Madis (One Call Now)                                           
8 Alicia Styer (Velo Bella)                                           
9 Nickolas Biere (Red Zone Racing)                                    
 
Junior 10-12 men
 
1 Ian Mcshane (Red Zone Juniors Cycling)                              
2 Gavin Haley (Red Zone Juniors Cycling)                              
3 James Francisco (Red Zone Juniors Cycling)                          
4 Will Mandrola (Red Zone Juniors Cycling)                            
5 Martin Walsh (Red Zone Juniors Cycling)                             
6 Michael Lyle (Red Zone Juniors Cycling)                             
7 Andrew Rademacher (Queen City Wheels)                               
8 Jacob Braswell (Sledgehammer Charlies)                              
 
Junior 13-14 men
 
1 Jonathon Schilling (Mesa Cycles Racing)                             
2 John Francisco (Red Zone Juniors Cycling)                           
3 Spencer Renck (Red Zone Juniors Cycling)                            
4 Cooper Simon (Red Zone Juniors Cycling)                             
5 Erick Madis (One Call Now)                                          
6 Jesse Stidham (Tri Cities Road Club)                                
7 Evan Sennett (Red Zone Juniors Cycling)                             
 
Junior 15-16 men
 
1 Matthew Spinks (Team Metra / Wendy's / Victor Homes)                
2 Andrew Dillman (Red Zone Juniors Cycling)                           
3 Drew Bercaw (One Call Now)                                          
4 Tanner Hurst (Team Biker's Choice)                                  
5 Brian Lark (Red Zone Juniors Cycling)                               
6 Luke Haley (Red Zone Juniors Cycling)                               
7 Mark Renn (Red Zone Juniors Cycling)                                
8 Alex Dayton (Tri-Cities Road Club (TCRC))                           
9 Vincent Nold (Red Zone Juniors Cycling)                             
10 Samuel Dobrozsi (Queen City Wheels)                                
 
Junior 17-18 men
 
1 Chris Wallace (KCCX/Verge)                                          
2 Joseph Dombrowski (National Capital Velo Club/Inova Health)         
3 Jesse Keough (Corner Cycle Cycling Club)                            
4 Tony Wieczorek (Mesa Cycles Racing Team)                            
5 Daniel Williams (Bike Surgeon)