US Gran Prix of Cyclocross - Derby City Cup - C2
Louisville, USA, October 25-26, 2008
Main Page Results Overall standings Previous Race Next Race
Race 3 - October 26: US GP of Cyclocross #2 - Elite Women
Gould, Nash double in 'Luna'ville
By Mark Zalewski, North American Editor in Louisville, Kentucky
Georgia Gould beats Katerina Nash
Photo ©: Dave McElwaine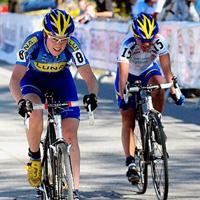 'Second verse, same as the first' is an appropriate way to describe the second day of the USGP series opener in Louisville. The Luna duo of Georgia Gould and Katerina Nash once again had their way with the women's field, with only Rachel Lloyd (California Giant Berry/Specialized) once again able to even put up a fight. But unlike yesterday, where a late-race crash put Georgia Gould out of sprinting her teammate for the podium, the two came hard to the line, with Gould unleashing her powerful sprint for the win.
"Yesterday it felt like a short race and it took us a while to move up," Gould said. "So today we tried to get up and make the pace hard earlier, so that we would have less people to contend with at the end. It worked well because it was just me and Katerina for the last two and a half laps."
As for the sprint tactics, Gould said it was rather straightforward battling her teammate. "I didn't want to let Katerina go around; I felt it would be better to go ahead, be first on the pavement and then start my sprint," she said. "We are teammates, but we don't cut each other any slack – we race hard."
"I gave it all I had but I didn't stay in Georgia's draft, I don't know why!" Nash laughed. "I guess I was trying to make it fair and take my own line, but she is just stronger."
Josie Jacques-Mayne (California Giant Berry)
Photo ©: Dave McElwaine

Nash almost repeated Gould's mistake yesterday, overcooking a turn and nearly crashing into the fence when it was just the two of them off the front. "I was thinking it was another corner going into the flat, so I was carrying too much speed," she said. "You get in this brain mode, and it doesn't always work half-way through the race."
Lloyd again rode impressive, pushing the two Luna riders and the overall pace. "Rachel put in some good attacks and we kept the pace high, so it came down to us three again," said Nash. "I was able to go a little harder in a couple of corners and got rid of Rachel."
"The early part was a bit easier than yesterday so I thought about drilling it through the turns, but I probably used up a little too much energy," said Lloyd. "I thought it was a little less attacking because Georgia was just drilling it. She didn't really attack me, she just rode me off her wheel. Katerina didn't have to play any games either, she just sat on me, waited and then just went around me."
Though losing the sprint, the one-two placings on the weekend gave Nash the overall series lead – something she plans on defending. "I'm doing all the races so I would love to keep it to the end," she said.
Winning the most aggressive rider of the day was newcomer to 'cross Laura Van Gilder (C3 Sollay.com) who won the field sprint.
Photography
For a thumbnail gallery of these images, click here
Images by Dave McElwaine/www.trailwatch.net
Images by Mitch Clinton/www.clintonphoto.com
Results

Professional women
 
1 Georgia Gould (LUNA WOMEN)                                          
2 Katerina Nash (LUNA Women's MTB Team)                               
3 Rachel Lloyd (PROMAN Racing)                                        
4 Susan Butler (MonavieCannondale.com)                                
5 Laura Van Gilder (Cheerwine)                                        
6 Maureen Bruno Roy (MM Racing presented by Seven Cycles)             
7 Deidre Winfield (Velo Bella - Kona)                                 
8 Natasha Elliott (EMD Serono/Stevens)                                
9 Devon Haskell (The Pony Shop)                                       
10 Amy Dombroski (Webcor/Alto Velo)                                   
11 Anna Young (America's Dairyland)                                   
12 Rebecca Wellons (Ridley Factory Team)                              
13 Josie Jacques-Maynes (California Giant Berry Farms/Specialized)    
14 Meredith Miller (Aaron's Womens Pro Cycling)                       
15 Kristin Wentworth (Team Kenda Tire)                                
16 Anne Schwartz (Flying Rhino Cycling Club)                          
17 Shannon Gibson (VeloBella)                                         
18 Amy Wallace (Richard Sachs - RGM Watches - Rex Chiu)               
19 Maria Stewart (Velo Bella)                                         
20 Heidi Von Teitenberg (C3-Sollay.com)                               
21 Robin Williams (Mercy-Specialized)                                 
22 Kristen Bowers (Atomic Race Team)                                  
23 Amanda Mckay (BioWheels/Reece-Campbell Racing)                     
24 Nicole Borem (DRT Racing)                                          
25 Deb Sweeney Whitmore (BMW/Bianchi)                                 
26 Elicia Hildebrand (Gear Grinder)                                   
27 Marne Smiley                                                       
28 Jennifer Maxwell (Team Kenda Tire)                                 
29 Alie Kenzer (NEBC/Cycle Loft/Devonshire Dental)                    
30 Whitney Kroll (Cane Creek)                                         
 
Cat 3/4 women
 
1 Dayna Deuter (Ridley Factory Team)                                  
2 Pamela Loebig (Team Revolution)                                     
3 Tiffany Ballew (Sorella Cycling p/b BVM Engineering)                
4 Christine Mccarthy (Jeni's Ice Cream)                               
5 Michelle Morris (One Call Now)                                      
6 Teri Meek (BikeClicks/Team Louisville)                              
7 Jessica Kates (Keltic Construction)                                 
8 Lee-Ann Beatty (Hershey Cancer Institute-GPOA-Cannondale)           
9 Kim Bishop (Tricities Road Club)                                    
10 Lauren Mitchell (Clarksville A Team)                               
11 April Beckner (One Call Now)                                       
12 Colleenf Morris (One Call Now)                                     
13 Mary Craighead (Sorella Cycling / Chrysalis Racing)                
14 Christina Halioris (Team Louisville)                               
15 Olivia Jaras (Bikeclicks/Team Louisville)                          
16 Jamie Clifton (National Engineering - COBC)                        
17 Trish Albert (Team MedPlan)                                        
18 Sue Semaszczuk (ABD Cycling Team)                                  
19 Sadie Deckard (SnakeBite Racing)                                   
20 Suzanne Webster (Team Louisville)                                  
21 Melissa Corliss                                                    
22 Jeni Roosen (Mercy Health Plex)                                    
23 Lindsay Rodkey (Velo Bella)                                        
24 Laura Collins                                                      
 
Junior 10-12 women
 
1 Rachel Dobrozsi (Queen City Wheels)                                 
2 Frances Haley (Red Zone Juniors Cycling)                            
3 Sarah Hasner (Red Zone Juniors Cycling)                             
4 Cate Mcshane (Red Zone Juniors Cycling)                             
 
Junior 13-14 women
 
1 Hannah Mossman (One Call Now)