N. American Trophy #8, Whitmore's Landscaping Super Cross Cup 2 - C1
Southampton, New York, USA, November 23, 2008
Main Page Results Overall standings Previous Race
Race 2 - November 23: Elite Men
Bad luck for Powers; Good luck for Wells
Trebon "heavy" weight champion of the NACT
By Kirsten Robbins in Southampton, New York
Todd Wells (GT) makes it three wins
Photo ©: Dave McElwaine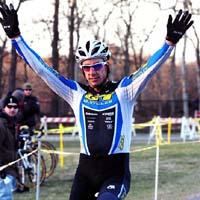 Todd Wells (Team GT) made it to the finish line victorious and unscathed by the mechanical mishaps going on all around him. An untimely flat tire took his nearest competitor Jeremy Powers (Cyclocrossworld.com) out of contention and he soloed in nearly a minute ahead of runner up Jamey Driscoll (Cyclocrossworld.com). Ryan Trebon (Kona) impressively clawed his way back into third place after an early-race flat tire sent him to the rear-end of the field.
"I figured that Powers got me in the sprint yesterday and so if was up to me, I didn't want to come to the line with him again," said Wells regarding his closest competitor Powers, who flatted out of contention for the win on the last lap. "Also toward the end of the race, traditionally he would have been getting tired, too, covering my attacks all the time. I felt good today and I still had a couple good attacks left in me for the last lap, but luckily for me I didn't have to use them, I guess. I still had to ride hard to the finish."
Trebon solidified his overall victory in the North American Cyclo-Cross Trophy (NACT) eight-round points series, one day in advance of the finale. He accumulated 360 points to win the overall, 100 points ahead of Tim Johnson (Cyclocrossworld.com), who could not contest the win due to a knee injury. Third place went to Wells with a total of 204 points.
"I wanted to win both series NACT and the USGP," said Trebon who suffered from an illness mid-season. "I was just racing bad the last couple weeks. But, the NACT is a great series with good money, a lot of points and C1 level racing."
Andy Jacques Maynes (Specialized- Cal Giant Berry) gets his second hole shot
Photo ©: Dave McElwaine

Myles Romanow, NACT co-founder and Whitmore's Landscaping Super Cross Cup race director was pleased with the outcome of the newly created series. The series combined eight of most well-known cyclo-cross races in North America, all sanctioned under the UCI's 2008-09 calendar. It began in September at the FSA Star Crossed and Rad Racing GP and moved on to the Gran Prix of Gloucester, the Boulder Cup, ending with the Whitmore's Landscaping Super Cross Cup.
Some 40 riders lined up for the NACT finale, ready to take on the challenging circuit. The three kilometre course was reversed from the previous day and incorporated much of the undulating terrain. The new additions included two steep run ups and a trio of tree trunks that lay across one of the dirt run up barriers.
Andy Jacques-Maynes (Specialized) took the hole shot onto the grass with a long list of championship worthy names in tow. The tailgating 'crossers included Trebon, Driscoll, the elder Wells and his younger brother Troy Wells (ClifBar), Jesse Anthony (Jamis) and Nick Keough (Sonic-Luis Garneau).
The day turned sour when Troy Wells crashed out of the lead group and found himself off the back of the train in a high speed chase to reconnect with the lead group before the gaps started to open.
Jeremy Powers (Cyclocrossworld.com)
Photo ©: Dave McElwaine

The first of two significant mechanicals of the day happened when Trebon got a rear flat on the second lap sending him to the pits and presumably out of contention for a podium place. With a new wheel and a fresh start, the series leader turned his focus toward catching one tired rider at a time.
"I could ride the flat tire on the flat terrain but not too well on the off camber terrain," Trebon said. "I was thinking 'ah shit', it's so hard to chase from behind when you have so many groups to catch. It's like riding alone because you're not really working with anyone. Then toward the end of the race, you have to start catching faster and faster people. I was tired but still having to working harder. I definitely don't get any extra motivation out of having to chase like that."
At the front of the race, a lead group of four included Todd Wells, Powers, Jacques-Maynes and Driscoll. However, the tight knit formation shred to pieces upon Wells' timely attack on the third lap. Powers was the only rider to respond to Wells' aggressive riding style, on the technical off camber and single track areas that well suited their mountain bike skills. Tactics were thrown into the mix with Driscoll not far behind in third place.
Jessie Anthony (Jamis) leads Jamey Driscoll (Cyclocrossworld.com)
Photo ©: Dave McElwaine

The responsibility was on Wells to perform most of the effort in the wind while Powers saved his legs hoping that his team-mate would join forces with him. "I was attacking a lot at the start, with Jeremy," Wells said. "He didn't have to do much work because his teammate was close behind us." Driscoll also fell into a tactical game with his opponent, Anthony, giving him most of the chasing responsibility.
Driscoll made his move when the time was right; the first, observing Anthony's fatigue setting in and the second, feeling the pressure coming from Trebon who was quickly working his way back into contention and trailed close behind.
"I had my head on my shoulders right today and I was riding well technically," said Driscoll. "I knew he was coming back, especially when I looked back with two laps to go and he was only ten seconds behind me. I was sitting on Jesse because I had Jeremy up the road with Todd. I attacked him because if I waited too long, I would've had a much bigger chance of getting caught by Ryan."
The tactics continued between the well-matched leaders. Wells surged ahead of Powers multiple times in an effort to gain precious space before the finish line. It was a well thought out tactic after losing the two-up sprint against him in the previous day's race.
Men's podium:
Photo ©: Dave McElwaine

However, the second most significant mechanical of the day happened when Powers flatted on the last lap. It rendered him too far back to contend the victory, leaving Wells with a triumphant solo win.
"I hit a rock," Powers said. "It was right in the middle of the track and it sort of dug itself up as the racing went on so I didn't know it was there. There was so much off camber after that section that I couldn't do much with a flat tire. I haven't had much bad luck all year and although I would have liked to win – that's bike racing."
Driscoll successfully shed Anthony from his wheel taking a much deserved second place. Trebon surpassed Anthony on the last lap to take third place. "Set backs and crashed happen in cross all the time," Trebon said regarding the large number of mechanicals during the race. Some times it happens in less opportune times than others – It's just a part of 'cross."
Photography
For a thumbnail gallery of these images, click here
Images by Dave McElwaine/www.trailwatch.net
Results
UCI Elite/U23 men
 
1 Todd Wells (Team GT)                                         57.30
2 Jamey Driscoll (Cannondale/Cyclocrossworld.com)               0.10
3 Ryan Trebon (Kona/FSA)                                        0.20
4 Jesse Anthony (Team Jamis)                                    0.40
5 Jeremy Powers (Cannondale/Cyclocrossworld.com)                1.00
6 Andy Jacques-Maynes (Specialized/KMC pb Cal Giant)            1.10
7 Nicholas Keough (Sonic/ Louis Garneau)                        1.13
8 Matt White (BikeReg.com / Joe's Garage)                       1.15
9 Justin Spinelli (RGM Watches - Richard Sachs - Boathouse Inc) 1.50
10 Erik Tonkin (Kona)                                           2.15
11 Davide Frattini (Colavita Sutter Home p/b Cooking Light)     2.20
12 Derrick St. John (Stevens Cyclocross)                            
13 Brian Matter (Gear Grinder)                                  2.55
14 Adam Myerson (Cycle-Smart/Van-Dessel)                        3.20
15 Sean Babcock (Team S&M)                                      3.35
16 Andrew Wulfkuhle (C3-Sollay.com)                             4.19
17 Matt Kraus (RGM Watches - Richard Sachs - Boathouse Inc)     4.39
18 Nat Ross (Subaru-Gary Fisher)                                4.50
19 Nathaniel Ward (BikeReg.com / Joe's Garage)                  4.59
20 Giancarlo Dalle Angelini (Team Redline)                      5.16
21 Ryan Iddings (Lapierre USA)                                  6.03
22 Troy Wells (TIAA-CREF/CLIF BAR)                              7.30
 
One lap down
23 Guillaume Nelessen (Van Dessel Factory Team)                     
24 Peter Bradshaw (Embrocation/Igleheart/Cambridge/Mad Alchemy)     
25 Zoltan Tisza (PNIVO-Betonexpressz 2000)                          
26 Patrick Bradley (Rutgers University Cycling Team)                
 
Two laps down
27 Christopher Consorto (Henrys Bikes)                              
 
Three laps down
28 Nicholas Shaffer (Human Zoom/ Pabst Blue Ribbon)                 
 
Four laps down
29 Scott Dolmat-Connell (University of Vermont Cycling Team)        
30 Greg Carpenter (DEVO/NSO/Giant)                                  
 
Cat 2/3/4 men
 
1 Dylan mcnicholas (NorEast Cycling)                           45.16
2 Brian Lawney (Cornell Cycling)                                    
3 Rob Collins (Secret Henry's Team)                               40
4 Andrew Crooks (NYC Velo)                                        53
5 Soren Klingsporn (Signature Cycles / DKNY)                    1.37
6 Colin Prensky (GS Gotham/Toga!)                               1.40
7 Colin Reuter (International Bike/Global/crossresults.com)         
8 Alex Cox (UVM Cycling)                                        2.31
9 Mark Broadwater (C3-Sollay.com)                               1.44
10 Cort Cramer (Minuteman Road Club)                            2.34
11 Chad Culbertson (Guy's Racing)                               2.45
12 Brian Wolff (GBSC/Carl Hart Bicycles)                        3.00
13 Michael Jenks (Highland Park Hermes)                         3.22
14 Kyle Murphy (The Bike Lane)                                  3.24
15 Chris Samuel (Pro Pedals)                                        
16 Christopher Gagne (Boston Road Club)                         3.28
17 Charley Rey (GBSC/Carl Hart Bicycles)                        3.58
18 Matt Spohn (Dynaflo)                                         4.51
19 Scott Glowa (Cambridge Bicycle / Igleheart Frames)           5.04
20 Daniel Chabanov (Kissena Cycling Club)                       5.10
21 Matthew Buckley (UVM Cycling)                                    
22 Adam Duncan (CRCA/Avenue A | Razorfish Cycling)              5.17
23 Eric Morgan (Wissahickon)                                    5.51
24 Andrew Eckstein (Human Zoom / Pabst Blue Ribbon)             5.57
25 Robert Wolff (GBSC/Carl Hart Bicycles)                       6.14
26 Todd McLoughlin (Kissena)                                    6.25
27 Ian Sullivan (UVM Cycling)                                   6.45
28 Jake Davidson (Dickinson College Cycling)                    6.55
29 Gary Bell (CRCA/Sid's-Cannondale)                            7.24
30 Benjamin Anemone (Christiana Care PT+/FSVS)                  8.29
31 William Dugan (RGM Watches - Richard Sachs - Boathouse Inc)      
 
One lap down
32 Jonathan Kahler (Human Zoom/Pabst Blue Ribbon)                   
33 David Chiu (NEBC/Cycle Loft/Devonshire Dental)                   
34 Eben Weiss (GS Gotham)                                           
35 Zach Adams (C3-Sollay.com)                                       
36 Saverio Fiorino (Danny's Cycles Racing/ Sebago Footwear)         
37 Adam Rosenthal (CRCA/OrganicAthlete)                             
38 Kyle Peppo (CRCA/Jonathan Adler Racing)                          
39 Ryan Hardy (C3-Sollay.com)                                       
40 Adam Leman (Drexel University)                                   
41 Steven Hopengarten (Union College Cycling)                       
42 Eric Carlson (Westwood Velo/Trade Manage Capital)                
43 Dennis Loebs                                                     
44 Christophe Jammet (CRCA/NYVelocity)                              
45 Stephen Gualano (Genesis Bicycles)                               
 
Cat 4 men
 
1 Gary Bavolar (Cambridge Bicycle / Igleheart Frames)          36.41
2 Matthew Spaits (Boston Road Club)                               24
3 Christopher Gurr (Arlington Master's Velo Club)                 48
4 Jacob Sisson (Cornell University)                               52
5 Robert Mayer (Cambridge Bicycle / Igleheart Frames)             56
6 Nicholas Mashburn (Cambridge Bicycle / Igleheart Frames)          
7 Gary Giacchetto (East End/Kreb Cycle)                         1.07
8 Fred Brown (MTBNJ.com-Halters Cycles)                         1.13
9 Andrew Toews (Unattached)                                     1.28
10 Andrew Kraszewski                                                
11 John Cutler (Century Road Club Association)                  2.21
12 Richard Kassan (Rutgers University Cycling Team)             2.55
13 Erik Peterson (Cambridge/Igleheart)                          2.59
14 Kyle Peppo (CRCA/Jonathan Adler Racing)                      3.37
15 Eric Gottesman (www.ergottwheels.com)                        3.45
16 Max Feldman (UPenn)                                          4.01
17 Will Pisarello (Rochester Institute of Technology)           4.25
18 Eric Rundstrom (Rutgers University Cycling Team)             4.49
19 Eric Robertson (Kissena)                                     4.52
20 Jeffrey Bramhall (HUP United)                                5.16
21 Leonard Klipper (University of Pennsylvania Cycling)         6.38
22 Jonathan Leong (Century Road Club Association)               7.19
23 David Kim (Rutgers University Cycling Team)                  7.27
24 Anthony Mellor (SignatureCycles/DKNY)                        7.35
25 Jason Gay (Brooklyn Velo Force / GQ Racing)                  8.22
 
One lap down
26 Joe Favara (Hampton Velo)                                        
27 Joe Lawler (CRCA/Sids Cannondale)                                
28 Charles Spell (CRCA/NYVelocity)                                  
29 Spencer Wright                                                   
30 Thomas Jenks (Highland Parks Hermes)                             
31 Leon Chou (Prince William Elite Racing (PoWER))                  
32 Edward Johnson (GBSC/Carl Hart Bicycles)                         
33 Tracy Campbell (Cape Atlantic Racing/Team Beacon)                
34 David Hilbert (University of Pennsylvania)                       
35 Neil Ross (Kissena)                                              
36 Richard Russell                                                  
 
U19 men
 
1 Zach Bender (GS Park Ridge-Team Cyclesport)                  45.29
 
Cat 1/2/3 masters men 35+/45+
 
1 Roger Aspholm (Westwood Velo)                                44.17
2 Andrew Gorski (SPK / Speedgoat / Salsa)                       1.29
3 Robert Campos (GS Gotham/Toga)                                1.32
4 Matthew Howard (CRCA/Bandit Racing)                           2.00
5 Greg Ferguson (Hershey Cancer Institute-GPOA-Cannondale)      2.36
6 Mark Kutney (Van Dessel Cycles)                               3.00
7 Christopher Long (GS Gotham/Toga)                             3.26
8 Glenn Turner (Human Zoom Cycling)                             4.00
9 Charles Erndl (3-D RacingTeam/Toms Atlantic cyclery)          4.25
10 Ralph Kline                                                  4.57
11 Kelly Cline (Club Wissahickon)                               5.15
12 Jeffrey Appeltans (Primus Mootry/Denver-Boulder Couriers)    5.52
13 Russell Kelly (HUP United)                                   6.20
14 David Lowe (Human Zoom/Pabst Blue Ribbon)                    6.49
15 Eric Ragot (Kissena Cycling Club)                            7.22
 
One lap down
16 Mark Featherman (Guy's Racing)                                      
17 Todd Kruger (Heart House/CADV/CC Evesham)                           
18 Shawn Downing (Chesapeake Wheelmen/King Pawn)                       
19 Matt Jordan (HRS/Rock Lobster)                                      
20 Wesley Best (East Coasters Cycling Team)                            
21 Mark Robson (Cycle Smart)                                           
22 James Feehan (Kissena)                                              
23 Murray Wilmerding (Team ZAP USA)                                    
 
Cat 3/4 Masters men 35+
 
1 Richard Bilson (C3-Sollay.com)                               36.19
2 Barry Wahner (DrWahner.com)                                   0.14
3 Wade Hess (Cape Atlantic Racing/Team Beacon/ECA)                  
4 Peter Baiamonte (Brooklyn Velo Force / GQ Racing)             0.16
5 Shawn Downing (Chesapeake Wheelmen/King Pawn)                     
6 Kevin Horan (Colavita Racing)                                 0.48
7 Ian Landau (Kissena)                                          1.42
8 Todd Peterson                                                     
9 Doug Spitz (3D RacingTeam / Tom's Atlantic Cyclery)           2.24
10 Eloy Anzola (Kissena Cycling Club)                           3.04
11 Michael Keough (Corner Cycle Cycling Club)                   3.37
12 Percy Zahl (Stonebite/SBRA)                                  4.57
13 Matthew Snow (Breaking Away Bicycles)                        5.23
 
One lap down
14 David Sanossian (Kissena Cycling Club)                              
15 Ted Josberger (Unattached)                                          
16 Patrick Littlefield (CRCA / Avenue A | Razorfish Cycling)           
17 Oscar Rosales (GS Gotham/Toga)             

Masters men 55+

1 Douglas Adams (MosaicSmalti.com)                              44.29
2 Richard Sachs (RGM Watches - Richard Sachs - Boathouse Inc)    1.31
3 Robert Perna (Beans Bikes)                                     3.57
4 Steven Kane (East End Cycling Team/Kreb Cycle)                 4.18
5 Michael Holcomb