N. American Trophy #8, Whitmore's Landscaping Super Cross Cup 2 - C1
Southampton, New York, USA, November 23, 2008
Main Page Results Overall standings Next Race
Race 1 - November 23: Elite Women
Gould sweeps Whitmore Cup to claim the NACT series championship belt
By Kirsten Robbins in Southampton, New York
Georgia Gould (Luna Womens MTB) flies over the barriers
Photo ©: Dave McElwaine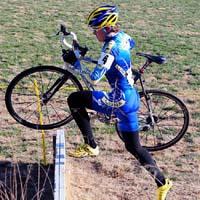 Georgia Gould (Luna) won her second victory of the weekend at the Whitmore's Landscaping Super Cross Cup and accumulated enough points to take the NACT "heavy weight" trophy belt at the seventh and final series event. Gould powered into a solo victory more than one minute ahead of second placed Lyne Bessette (Cyclocrossoworld.com) and Laura Van Gilder (C3/Sollay).
Gould went into the finale sitting in second place just 18 points behind the previous day's leader Amy Dombroski (Velo Bella-Kona). By winning rounds seven and eight, she tallied up 240 points to take the overall NACT title ahead of Dombroski in second and Sue Butler (Monavie/Cannondale) in third place.
"I knew I wanted to be at the front because of the hills today," Gould said. "I had to be first going into those. But I had a much better start than yesterday. I think the event did a great job offering UCI points and great venues for the entire series."
Myles Romanow, NACT co-founder and Whitmore's Landscaping Super Cross Cup race director was pleased with the outcome of the newly created series. The series combined eight of most well-known cyclo-cross races in North America, all sanctioned under the UCI's 2008-09 calendar. It began in September at the FSA Star Crossed and Rad Racing GP and moved on to the Gran Prix of Gloucester, the Boulder Cup, ending with the Whitmore's Landscaping Super Cross Cup. The finale course was three kilometre and reversed from the previous day and incorporated much of the undulating terrain. The new additions included two steep run ups and a trio of tree trunks that lay across one of the dirt run up barriers.
Lyne Bessette (Cyclocrossworld.com) comes back from retirement
Photo ©: Dave McElwaine

Wearing the NACT leader's jersey, Dombroski shot out of the starting gates with nothing but winning the title on her mind. The young talent used her raw strength to gain a large lead on the field. Gould initiated a chase group of four riders that included familiar front row riders Butler, Deidre Winfield (Velo Bella-Kona), Natasha Elliott (Stevens) and Maureen Bruno Roy (Sevens). Gould crossed the distance over to Dombroski by the end of the first lap and she held steadfastly to the Olympian's wheel. By the end of the second lap, Dombroski was forced to rejoin the chase group as Gould made her winning move off the front.
"Amy was right there with me for the first part and I felt the pressure there," Gould said. "She surprised me, but it was a long race, so I just settled in and rode. I figured if she could stay with me, then I'd worry about that them. I settled into a good heart rate and it paid off. I like a variety of terrain, like it was here and it really keeps racing interesting, fun and exciting. I like more on and off the bike stuff. Yesterday it was just the barriers, and today it was two run ups."
The chase group included Van Gilder, Butler, Roy, Elliott and Dombroski. One notable rider missing from the front runners was Lyne Bessette, who was busy working her way back up to join leaders after a start in the back row. The former Canadian National Champion came out of retirement specially to compete in the final NACT event. She bargained with Romanow, event director and owner of the WidThyme restaurant, for a chance to spend time learning how to cook from the chef. Bessette attacked the chase group as soon as she made contact with them.
Amy Domboski (Vello Bella) does everything in her power to hang onto the series
Photo ©: Dave McElwaine

It was not long before she was riding in second place, in a solo pursuit to catch Gould. "I would have liked to have seen how long I could have hung on with Lyne," said Van Gilder who lost the Canadian's wheel on the steep run up. "She brings a lot to the sport. She came from the road and learned a lot along the way so to have her here today was good for all of us."
Gould and Bessette never looked back as they individually made their way to the finish line in first and second. "It would have been impossible for me to catch her," said Bessette who had the shortest season in the history of bike racing – two days. "Trying to catch Gould is like trying to catch myself off the front – I can't go double my own speed," said Bessette who borrowed the 'cross bike of her husband, Tim Johnson for the weekend.
"This week I started to get nervous and I wrote down on a piece of paper that there was no reason to be nervous. I miss watching Tim race and I love watching him race. He has inspired me during 'cross, he is so calm and handles being nervous much better than me – It was nice to have him here with me."
Women's race podium
Photo ©: Dave McElwaine

Elliott, Van GIlder and Bruno Roy continued to push the pace while Dombroski's early effort began to show as she faded off the back of her group, followed shortly after by Winfield and Butler. Van Gilder, who earned the MAC series title in her debut season of 'cross racing, proved how far she's come along since her first race. The road racer with more than 300 career victories put it into another gear and used her technical strengths to successfully escape her companions, powering into third place.
"I wanted to have a good ride today, a podium for sure," said Van Gilder who leaves for Belgium to compete in her first World Cup event at Koksijde. "I wanted to have a race where I could hang with the front group, instead of being there and immediately getting thrown out of it. I felt like today was the day. I really fought to be there and I was really happy with my performance. I found it to be a balance of going a little too hard versus going just hard enough to be there. I wasn't as calculating today, the move was initially to stay with Lyne, I came off her wheel on the run up."
Photography
For a thumbnail gallery of these images, click here
Images by Dave McElwaine/www.trailwatch.net
Results

UCI Elite/U23/35+ Women
 
1 Georgia Gould (Luna Chix)                                  0.40.19
2 Lyne Bessette (Cyclocrossworld.com)                             36
3 Laura Van Gilder (C3 Sollay)                                    41
4 Amy Dombroski (Velo Bella - Kona)                               52
5 Deidre Winfield (Velo Bella - Kona)                           1.01
6 Susan Butler (MonavieCannondale.com)                          1.11
7 Natasha Elliot (EMD Serono/Stevens)                           1.15
8 Maureen Bruno Roy (MM Racing p/b Seven Cycles)                1.17
9 Kathy Sherwin (Velo Bella - Kona)                             2.21
10 Sally Annis (NEBC/Cycle Loft/Devonshire Dental)              2.31
11 Rebecca Wellons (Ridley Factory Team)                            
12 Barbara Howe (www.barbrides.com)                             3.06
13 Amy Wallace (RGM Watches - Richard Sachs - Boathouse Inc)    3.51
14 Sarah Kerlin (HRS/ Rock Lobster)                             4.09
15 Cris Rothfuss (NEBC/Cycle Loft/Devonshire Dental)            4.15
16 Kristin Gavin (Human Zoom/Pabst Blue Ribbon)                     
17 Carolyn Popovic (Team CICLE)                                 5.19
18 Linnea Koons (international bicycle/global)                  5.32
19 Nikki Thiemann (Human Zoom Pabst Blue Ribbon)                5.41
20 Anna Milkowski (Velo Bella-Kona)                             6.11
21 Callie McDowell (Boston University / Scantily Plaid)         6.27
22 Jennifer Maxwell (Team Kenda Tire)                           6.30
23 Sinead Fitzgibbon (Team Hops)                                6.50
24 Marci Titus Hall (DeSalvo Custom Cycles)                     7.11
 
One lap down
25 Kristine Church (Human Zoom/ Pabst Blue Ribbon)                  
 
Two laps down
26 Elizabeth Harlow (c3-sollay.com)                                 
DNF Heidi von Teitenberg (C3-Sollay.com)                            
 
Cat 3/4 Women
 
1 Christina Briseno (C3-Sollay.com)                          0.40.57
2 Kim Dubeck (Beans Bikes)                                        39
3 Kathrin Schumacher (Guy's Racing)                             1.43
4 Kristin Gavin (Temple University)                             2.19
 
One lap down
5 Evelyn Stevens (CRCA / Radical Media)                             
6 Natalia Gardiol (Cambridge Bicycle / Igleheart Custom Frames)     
7 Angela Vavasori (Hunt Valley Bicycles)                            
8 Kyra Kenwood (Carl Hart/GSBC)                                     
9 Janis Sandlin (Tough Girl / Contessa)                             
10 Cathy Wilson (GBSC/Carl Hart Bicycles)                           
11 Hillary Styer (Velo Bella)                                       
 
U19 Women
 
1 Alicia Styer                                               0.35.54