Toronto International Cyclocross - C1
Centennial Park, Toronto, Ontario, Canada, November 8-9, 2008
Main Page Results Previous Race
Race 4 - November 9: Toronto International Cyclo-cross #2 - Elite Men
Johnson wins solo in Toronto's round two
By Kirsten Robbins in Toronto, Canada
Tim Johnson wins in Toronto
Photo ©: Jon Safka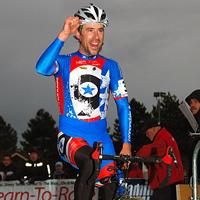 Tim Johnson of Team Cyclocrossworld.com used his strong technical skills in Toronto day two to take victory. His lead grew to more than one minute and he soloed in ahead of teammate and the previous day's winner, Jeremy Powers, and Andy Jacques-Maynes in third place.
"I made a choice to go with the mud tires right off the bat and Jeremy went with the other ones again," said Johnson, who partially attributed his victory to his meticulous selection of equipment based on the course conditions and gracious Canadian hosts. "Yesterday I wasn't feeling that great and Jeremy just rode away. But I'm usually known to have a better race on the second day so I'm definitely happy with this win.
"We both stayed with a great host family, the owner of Team Race Pro, Paul DeVries who took vary good care of us -- Thank you to them for having us."
The race for second place saw a showdown between a reshuffling chase group that included Powers, Jacques-Maynes, Dan Timmerman (Reynolds) and Nicholas Weighall (Rad Racing). A slippery pair of tires led to a slower start for Powers, but after a quick bike change the runner up steadily moved up into the runner up position on the last lap.
Jeremy Powers
Photo ©: Kirsten Robbins

"It started raining at the start and I'm always cautious if when I use my mud tires when it is not super muddy," said Powers. "I noticed on the first time down the hill I wiped out pretty good and I had to readjust and get back into the rhythm of the new tires."
Some fifty-five men lined up under dry and chilly conditions to start round two of the Toronto Cyclo-cross International. The men's 60-minute race took place on a redesigned course compared to round one's wooded mud trail on the opposite side of the ski area. The new circuit was created using two ski slopes, snaking up one slope and down on the other. Barriers and a series of U-turns made the flat section located at the base of the hill challenging.
"I saw the course yesterday and I thought it would be straight up and straight back down," said Johnson. "It was all power on the way up and all skills on the way down, and I was hoping to have the advantage. I ran once but generally the course was tacky all day. People were psyched and cheering so much. The course has a lot of special Belgian-style features with nice grass and a lot of off-cambers."
Timmerman took the hole shot onto the green and continued to put pressure on the riders who tried to follow. He created a slim lead that grew to 10 seconds picking up the free case of Cameron's Brewing Co. prime over the first set of barriers. An early chase group formed to include Johnson, Jacques-Maynes, Powers and Weighall along with Matt Shriver (Jittery Joe's), Davide Frattini (Colavita/Sutter Home), Mike Garrigan (Jet Power), Matt White (BikeReg.com).
Dan Timmerman
Photo ©: Kirsten Robbins

Johnson was the only rider capable of flying around the slippery corners fast enough to bridge the gap. The pair increased their lead to more than 20 seconds when Timmerman fell off Johnson's pace on the descent.
"My goal today was to place better than fourth and to win the case of beer," said Timmerman, who has placed one step off the podium on half a dozen occasions this season. "I was still a little timid because of having bad traction with my tires yesterday. I wanted to stay with Tim for as long as possible without blowing up. To compete for the win. But he was just flying on the down hill and I couldn't hang with him."
Johnson continued to power away from his competition with a quick pace and smooth technique. The race behind the two leaders was reduced to a small group of three that included Jacques-Maynes, Shriver and Weighall. After a slow start and a bike change, Powers followed the trio several bike lengths off the back for more than two-thirds of the race. Former Canadian national champion Mike Garrigan was forced to abandon the race after a broken chain on the third lap.
"Tim just kind of checked out of the race early which was smart just to stay out front after a race like yesterday," said Jacques-Maynes. "I had a cleaner start today and starting the big hill with a little gap meant that I could go my own pace up it. The race was all about nailing the hill as hard as you could and then resting a little on the other parts. I don't consider myself a very good climber so I surprised myself today."
Jacques-Maynes proved to have a better second half when he rode away from his companions in order to bridge the gap to Timmerman. With two laps to go and Johnson in a safe lead, the pair of chasers prepared for a sprint finish for second place. However, Powers clawed his way back into second place when he caught and passed both Timmerman and Jacques-Maynes on the ultimate lap.
"Getting back in there took a lot longer than I thought and the climb was really steep," said Powers. "It took me the whole race to catch back up and it was a really close finish."
Photography
For a thumbnail gallery of these images, click here
Images by Kirsten Robbins/Cyclingnews.com
Images by Jon Safka/www.cyclingphotos.ca
Results

1 Tim Johnson (Cyclocrossworld.Com / Cannondale)        58.27
2 Jeremy Powers (Cyclocrossworld.Com / Cannondale)       0.59
3 Andy Jacques-Maynes (Specialized/Kmc Pb Cal Giant)     1.09
4 Dan Timmerman (Reynolds)                               1.22
5 Matt Shriver (Jittery Joe's Pro Cycling Team)          1.34
6 Andrew Watson (Norco - Evolution Team)                 1.53
7 Matt White (Bikereg.Com / Joe's Garage)                2.36
8 Davide Frattini (Team Colavita/Sutter Home)            2.51
9 Molly Cameron (Vanilla Bicycles Cyclocross Team)       3.01
10 Derrick St. John (Stevens Cross)                      3.28
11 Nicholas Weighall (Radracing Northwest / Hagens-B)    4.02
12 Steve Tilford (Trek)                                  4.14
13 Josh Dillon (Fiordifrutta / Cannondale)               4.23
14 Aaron Schooler (Team H & R Block)                     4.28
15 Osmond Bakker (Emd Serono / Stevens)                  5.17
16 Alec Donahue (Bikereg.Com / Joe's Garage)             5.55
17 Cameron Jette (Trek Bicycle Store Team)               6.09
18 Benjamin Popper (Hrs / Rock Lobster)                  6.31
19 Aaron Fillion (Ottawa Bicycle Club)                   6.47
20 Peter Morse (Jet Fuel Coffee)                         7.00
21 Nathaniel Ward (Bikereg.Com / Joe's Garage)           7.15
22 Nathan Chown (Handlebars Cc)                          7.25
23 Justin Hines (Handlebars Cc)                          7.29
24 Ryan Atkins (Ironwood Racing)                         7.39
25 Chris Mcneil (Team Hr Block)                          8.17
26 Mark Batty (Team R.A.C.E. Pro)                        8.51
 
One lap behind
27 Ryan Hopping (United Cycle Racing)                        
28 Isaac Smith (Aquila Racing/Racer Sportif)                 
29 Kyle Fry (Cycle Solutions/Angry Johnny's)                 
30 John Van Arragon (The Hub Bicycle Club)                   
31 Warren Macdonald (Emd Serono / Stevens)                   
32 Marco Li (Cycle Solutions/Angry Johnny's)                 
33 Sylvain Jean (Espresso Sport)                             
34 Timothy Carleton (Trek Bicycle Store Team)                
35 Michael Loranty (Spooky/Wachovia)                         
36 David Freeman (Cycle Solutions/Angry Johnny's)            
37 David Coughlin (Lapdogs Cycling Club)                     
38 Nick Bishop (The Hub Bicycle Club)                        
 
Two laps behind
39 Scott Kelly (Paris 1880)                                  
40 Brandon Throop (Reynold Cycle)                            
DNF Mike Garrigan (Jet Power/Epic Ride)                      
DNF Tim Heemskerk (United Cycle Racing)                      
DNF Guy Vankrimpen (Rapid City Cycle)                        
DNF Ian Gartley (Independent)                                
DNF Benoit Simard (Bluberi/Martin Swiss-Specializ)           
DNF Nicholas Vipond (Ride With Rendall)                      
 
Points standings
 
1 Tim Johnson (Cyclocrossworld.Com / Cannondale)           35 pts
2 Jeremy Powers (Cyclocrossworld.Com / Cannondale)         32
3 Andy Jacques-Maynes (Specialized/Kmc Pb Cal Giant)       30
4 Dan Timmerman (Reynolds)                                 28
5 Matt Shriver (Jittery Joe's Pro Cycling Team)            26
6 Andrew Watson (Norco - Evolution Team)                   24
7 Matt White (Bikereg.Com / Joe's Garage)                  23
8 Davide Frattini (Team Colavita/Sutter Home)              22
9 Molly Cameron (Vanilla Bicycles Cyclocross Team)         21
10 Derrick St. John (Stevens Cross)                        20
11 Nicholas Weighall (Radracing Northwest / Hagens-B)      19
12 Steve Tilford (Trek)                                    18
13 Josh Dillon (Fiordifrutta / Cannondale)                 17
14 Aaron Schooler (Team H & R Block)                       16
15 Osmond Bakker (Emd Serono / Stevens)                    15
16 Alec Donahue (Bikereg.Com / Joe's Garage)               14
17 Cameron Jette (Trek Bicycle Store Team)                 13
18 Benjamin Popper (Hrs / Rock Lobster)                    12
19 Aaron Fillion (Ottawa Bicycle Club)                     11
20 Peter Morse (Jet Fuel Coffee)                           10
21 Nathaniel Ward (Bikereg.Com / Joe's Garage)              9
22 Nathan Chown (Handlebars Cc)                             8
23 Justin Hines (Handlebars Cc)                             7
24 Ryan Atkins (Ironwood Racing)                            6
25 Chris Mcneil (Team Hr Block)                             5
26 Mark Batty (Team R.A.C.E. Pro)                           4
27 Ryan Hopping (United Cycle Racing)                       3
28 Isaac Smith (Aquila Racing/Racer Sportif)                2
29 Kyle Fry (Cycle Solutions/Angry Johnny's)                1
30 David Coughlin (Lapdogs Cycling Club)                    1
31 Timothy Carleton (Trek Bicycle Store Team)               1
32 John Van Arragon (The Hub Bicycle Club)                  1
33 Marco Li (Cycle Solutions/Angry Johnny's)                1
34 Warren Macdonald (Emd Serono / Stevens)                  1
35 Nick Bishop (The Hub Bicycle Club)                       1
36 Sylvain Jean (Espresso Sport)                            1
37 Scott Kelly (Paris 1880)                                 1
38 Brandon Throop (Reynold Cycle)                           1
39 Michael Loranty (Spooky/Wachovia)                        1
40 David Freeman (Cycle Solutions/Angry Johnny's)           1