Toronto International Cyclocross - C1
Centennial Park, Toronto, Ontario, Canada, November 8-9, 2008
Main Page Results Previous Race Next Race
Race 3 - November 9: Toronto International Cyclo-cross #2 - Elite Women
Elliott takes two in Toronto
By Kirsten Robbins in Toronto, Canada
Natasha Elliott of Team Stevens tops the podium
Photo ©: Kirsten Robbins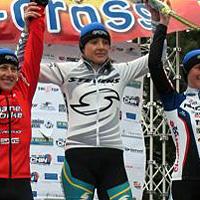 Natasha Elliott of Team Stevens took another convincing victory in round two of the Toronto Cyclo-cross International. The Ottawa native used her smooth technique over the circuit's difficult corners and climbs to gain a sizable separation between herself and Kristin Wentworth (Planet Bike), second, and Rebecca Wellons (Ridley Factory Team), third.
"There was a lot of climbing today which made the race a lot harder," said Elliott comparing the course design to the previous day's flatter terrain. "I didn't go out that hard and I was able to catch Wellons on the next lap. I liked the climbing here. I didn't find the course too technical but you needed to attack the hills and rip into them. It required a lot more effort today."
Some twenty women lined up under dry and chilly conditions to start round two of the Toronto Cyclo-cross International. The women's 40-minute race took place on a redesigned course compared to round one's wooded mud trail on the opposite side of the ski area. The new circuit was created using two ski slopes, snaking up one slope and down on the other. Barriers and a series of U-turns made the flat section located at the base of the hill challenging.
"We really wanted to make a completely different course from yesterday," said Scott Doel, race director. "It's normal for organizers to make slight course variations and the riders have said they tend to get bored with racing twice on basically the same thing. We wanted to change that and have to distinct events."
Centennial Park's 'mini' ski hill
Photo ©: Kirsten Robbins

The women's race kicked off with Wellons taking a strong lead. Her quick start forced the race favourite, Elliott, to chase with Dawn Anderson (Oak Bay Bikes) in tow. The pair of chasers eventually caught up to the leader on the second steep ascent and Elliott continued to push the pace until she was alone off the front.
"I really felt good today and I'm very happy with my start," said Wellons. "It was so much better than yesterday. Yesterday, I wasn't feeling that great especially having a bad week, preparing to come up here and the long drive. I started to fade as the race went on because the hill was just so difficult and draining."
The chase behind Elliott included Wellons and Anderson along with Wentworth, Josie Jacques-Maynes (Specialized), Anna Milkowski (Velo Bella-Kona) and Anna Young (Planet Bike). Wentworth put pressure on her companions until she was in a solo pursuit to catch up to Elliott. Although she came to with in 10 seconds of the leader, the two riders maintained the same speed, separated by a slim margin.
"I like climbing and I felt like I had good power there," said Wentworth who regularly competes in her local Wisconsin series. "It was a fun course but I felt really slow in the technical parts. I had to pass both Anderson and Wellons to move into second place because I had a slower start. These were fantastic courses. Most of the course I've done are big ringable but you definitely had to be able to take the steep climbs well here."
Elliott attributed her victory to the tough course design. "I actually really like the hills and a course that is more of a mountain bike style," said Elliott. "I think it really suited me and it is something that I've been working on. I think my strength was definitely the large amounts of climbing."
Wentworth solidified her second place in a solo finish behind Elliott with Wellons taking a close third place. The battle for fourth saw Anderson sprint ahead of Jacques-Maynes in a tactical dash to the line.
Photography
For a thumbnail gallery of these images, click here
Images by Kirsten Robbins/Cyclingnews.com
Results

1 Natasha Elliott (Emd Serono / Stevens)                  40.55
2 Kristin Wentworth (Planet Bike)                          0.29
3 Rebecca Wellons (Ridley Factory Team)                    0.56
4 Dawn Anderson (Oak Bay Bikes/ Everti)                    1.20
5 Josie Jacques-Maynes (Specialized/Kmc Pb Cal Giant)      1.21
6 Anna Young (Planet Bike)                                 2.20
7 Anna Milkowski (Velo Bella-Kona)                         3.06
8 Kaitlin Antonneau (Nova Cycle Sports Foundation)         3.18
9 Laura Bietola (3 Rox Racing)                             3.40
10 Anne Schwartz (Flying Rhino Cc)                         4.06
11 Vicki Thomas (Ottawa Cross)                             4.14
12 Catherine Walberg (Trek)                                4.50
13 Briana Illingworth (Sweet Pete's)                       6.23
14 Melissa Bunn (The Hub Bicycle Club)                     6.34
15 Jaymie Mcgowan (Oak Bay Bikes)                          7.23
16 Tabitha Ferguson (Cycle Solutions/Angry Johnny's)       7.37
17 Christina Bouchard (The Hub/Devinci Cyclocross Team)    8.21
DNF Sarah Coney (Ride With Rendall)                            
 
Points standings
 
1 Natasha Elliott (Emd Serono / Stevens)                     27 pts
2 Kristin Wentworth (Planet Bike)                            24
3 Rebecca Wellons (Ridley Factory Team)                      22
4 Dawn Anderson (Oak Bay Bikes/ Everti)                      20
5 Josie Jacques-Maynes (Specialized/Kmc Pb Cal Giant)        18
6 Anna Young (Planet Bike)                                   16
7 Anna Milkowski (Velo Bella-Kona)                           15
8 Kaitlin Antonneau (Nova Cycle Sports Foundation)           14
9 Laura Bietola (3 Rox Racing)                               13
10 Anne Schwartz (Flying Rhino Cc)                           12
11 Vicki Thomas (Ottawa Cross)                               11
12 Catherine Walberg (Trek)                                  10
13 Briana Illingworth (Sweet Pete's)                          9
14 Melissa Bunn (The Hub Bicycle Club)                        8
15 Jaymie Mcgowan (Oak Bay Bikes)                             7
16 Tabitha Ferguson (Cycle Solutions/Angry Johnny's)          6
17 Christina Bouchard (The Hub/Devinci Cyclocross Team)       5